Former President Donald Trump addressed his supporters in Texas on Saturday as he faces a possible indictment.
"If we don't win this next election, 2024, I truly believe our country is doomed," Trump said. "I think it's doomed. Prosecutorial misconduct is their new tool, and they are willing to use it at levels never seen before in our country."
The rally at Waco Regional Airport was billed by his team as the first of his 2024 campaign, though he's held smaller events in Iowa, New Hampshire and South Carolina since launching his White House bid back in November.
It was Trump's first campaign event since he claimed last weekend he would be arrested this past Tuesday in connection to a $130,000 payment made to adult film star Stormy Daniels in the final days of the 2016 presidential race.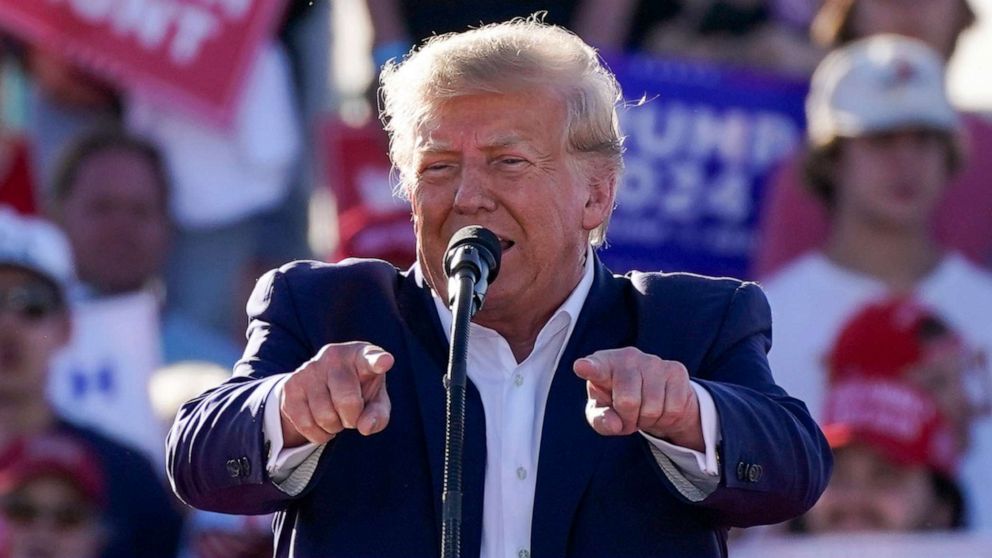 On Saturday, the former president wasted no time firing back against the multiple investigations looking into his conduct and declaring himself "the most innocent man in the history of our country."
The former president has taken on a defiant attitude in assailing New York District Attorney Alvin Bragg and encouraging protests on his social media platforms. He claimed Saturday he was being investigated "for something that is not a crime, not a misdemeanor, not an affair."
In one social media post, he warned of "potential death and destruction" if he were to be indicted. As ABC News has previously reported, Bragg has been presenting a case on the hush money payments for some time and the grand jury is expected to reconvene on Monday.
In an email to his staff this week obtained by ABC News, Bragg vowed to apply the law evenly and reiterated his commitment to employees' safety amid escalating threats to his office over the possible indictment of Trump.
"From the beginning, it's been one witch hunt and phony investigation after another. And you know, because of it, our country never talks about greatness anymore," Trump said Saturday to supporters who were holding up signs that said "witch hunt."
The former president told the crowd, "Every piece of my personal life, financial life, business life and public life has been turned upside down and dissected like no one in the history of our country."
Trump arrived on his private plane and entered on a red carpet lined with American flags. He spoke for 90 minutes. The rally opened with video of people imprisoned due to their actions on Jan. 6 singing the national anthem.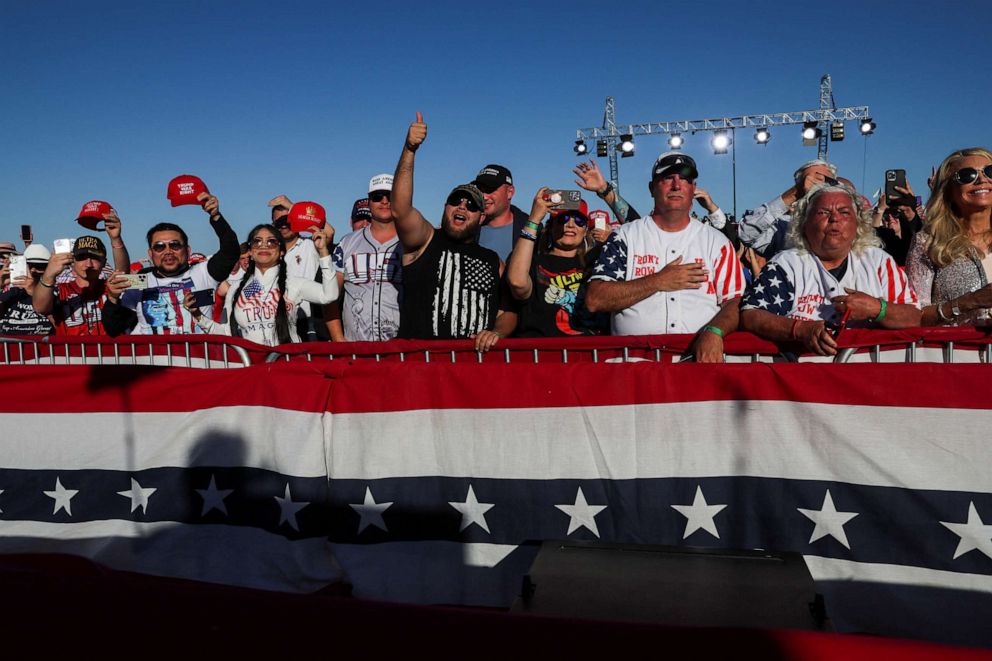 "Put your hands over your hearts for Donald Trump and the J6 Choir," an announcer said as Trump took the stage.
Images of some of Trump's most controversial moments — from January 6th to the former president holding up that bible at St. John's Church played over the music.
Taking his criticism of Florida Gov. Ron DeSantis out on the campaign trail, Trump spent several minutes painting the Florida governor as unsuccessful and desperate for his help, arguing after he endorsed DeSantis, he soared in polls "like a rocket ship."
"I did rallies for Ron that were massive rallies, and they were very successful. So we got him the nomination. We then got him the election. He said, "I don't think I can make it" because the other guy was really popular," Trump said reminiscing on his version of events during DeSantis' first gubernatorial campaign.
However, notably, the crowd stayed mostly silent as Trump lashed out on DeSantis, his potential 2024 challenger.
"See I'm a loyalist. They say 'Sir, don't talk about that, sir. Because people don't want to hear that.' But I do because I'm a loyal person."
Trump, trying to make the argument that Florida was successful long before Gov. DeSantis, even praised Republican-turned-Democrat Charlie Christ.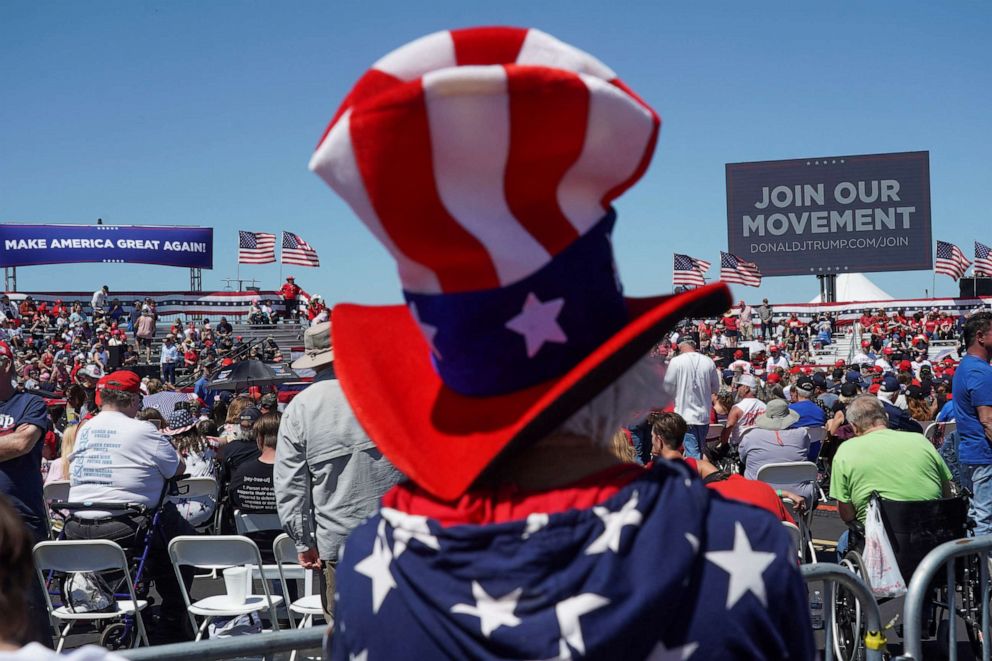 "Florida has been tremendously successful for many years long before this guy became governor," he said. "Florida was tremendously successful under Rick Scott. He was, whether you like him or not, Charlie Crist, it was very successful."
Trump also spoke about several things he would do if he were re-elected including protecting Social Security and Medicare, pushing for one day voting with only paper ballots and signing an executive order "to cut federal funding for any school pushing Critical Race Theory, transgender insanity, and other racial, sexual, and political content on our children." He said he was for "universal school choice," and vowed to "not fund any school that has a vaccine mandate."
"When this election is over, I will be the President of the United States. You will be vindicated and proud, and the thugs and criminals who are corrupting our justice system will be defeated, discredited and totally disgraced," Trump said.
The tone of Trump's posts made Waco a noteworthy backdrop for Saturday's rally. The Texas town was the site of the 1993 face-off between government agents and the Branch Davidian religious sect. The 51-day siege resulted in the deaths of 82 Branch Davidians -- at least two dozen of whom were children -- as well as four federal agents.
The campaign stop is coinciding with the 30th anniversary of the deadly standoff, which lasted from Feb. 28 to April 19, 1993.
"Waco is kind of the genesis of a lot of the discontent about government and the use of violence to be able to react to it," Brandon Rottinghaus, a political scientist at the University of Houston, told ABC News.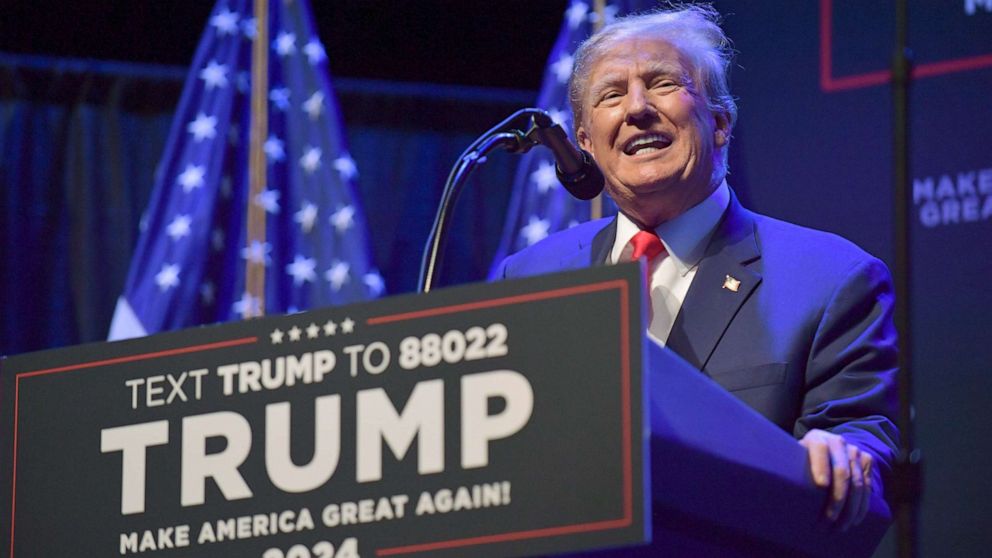 Steven Cheung, the Trump campaign's spokesman, told the New York Times the location was selected "because it is centrally located and close to all four of Texas' biggest metropolitan areas -- Dallas/Fort Worth, Houston, Austin and San Antonio -- while providing the necessary infrastructure to hold a rally of this magnitude." The statement made no mention of Waco's history.
Despite Trump's stop coinciding with the anniversary of the deadly Waco siege, he made no explicit mention of the standoff, referencing the Alamo and the 1835 Battle of Gonzales instead.
"The people of Texas live and breathe the fierce spirit of independence," Trump said.
He added, "This is the state where a small band of patriots. The Battle of Gonzalez you know all about the Battle of drones. Armed with a single cannon stared down a foreign enemy and declared come and take it."
The Lone Star State will play an important role in the Republican primary, as it has the second-highest number of delegates. Republicans in Texas will cast their votes for the party's presidential nominee on March 5, 2024, alongside several other states as part of the cycle's Super Tuesday.
Trump and former South Carolina Gov. Nikki Haley are so far among some of the candidates to officially throw their hat in the ring for the party's nomination, but others -- including former Vice President Mike Pence and DeSantis -- are considered likely contenders.
ABC News' Olivia Rubin contributed to this report.