President Donald Trump and first lady Melania Trump on Monday paid their respects to the late Justice John Paul Stevens who died last week at the age of 99.
They paused before the flag-draped casket -- situated atop the 150-year-old platform first used for President Abraham Lincoln -- bowing their heads, and then stopping to view Stevens' official portrait nearby.
Justice Stevens lay in repose steps from the bench where he served for nearly 35 years, making him one of the courts longest-serving members when he retired in 2010. Hundreds of everyday Americans braved the near-record heat in the nation's capital to line up for a chance to pay their respects.
As Stevens' casket was carried into the Great Hall, dozens of his former law clerks lined the steps to the court in tribute. Many in the crowd were sporting bow ties, Stevens' signature neck ware.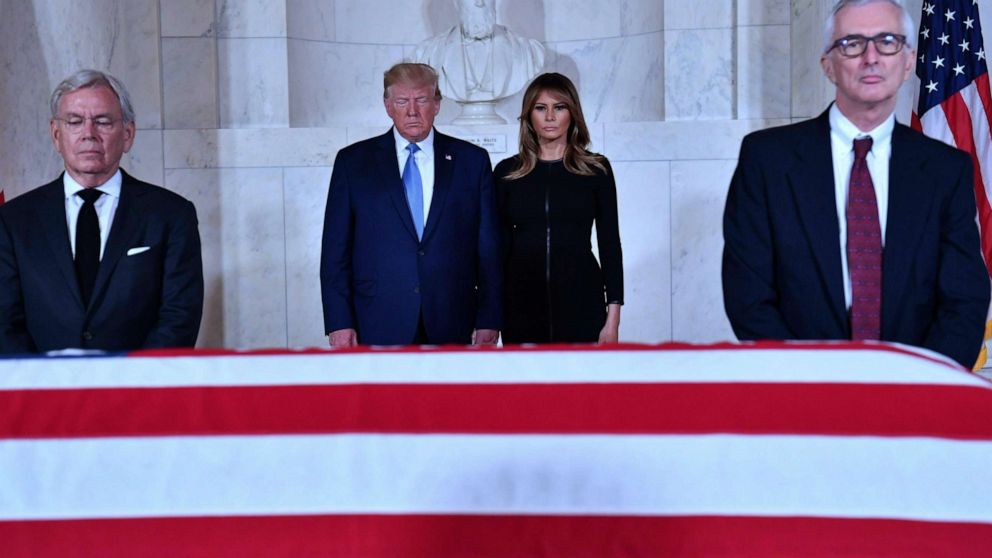 During a brief morning ceremony, the late justice was memorialized by his successor, Justice Elena Kagan. "He was a brilliant man with extraordinary legal gifts and talents which he combined with a deep devotion to the rule of law and a deep commitment to equal justice," she said.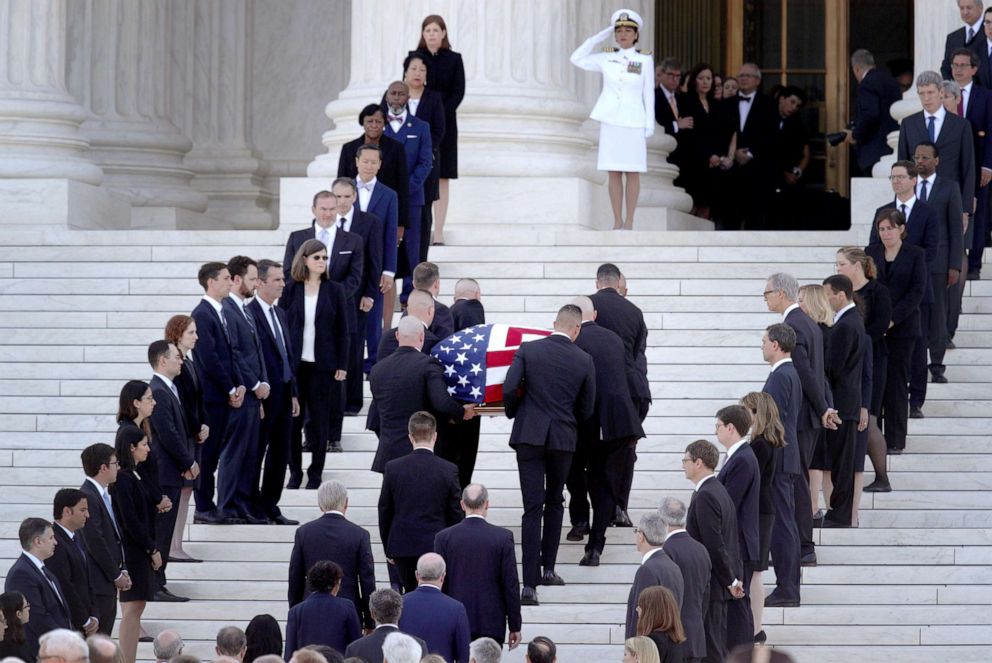 Six of Stevens' former colleagues were in attendance, including Chief Justice John Roberts and Justices Ruth Bader Ginsburg, Samuel Alito and Sonia Sotomayor. Former Justice Anthony Kennedy was also there. Court spokeswoman Kathy Arberg said Justices Gorsuch, Kavanaugh, Thomas, Breyer were unable to attend because of prior commitments.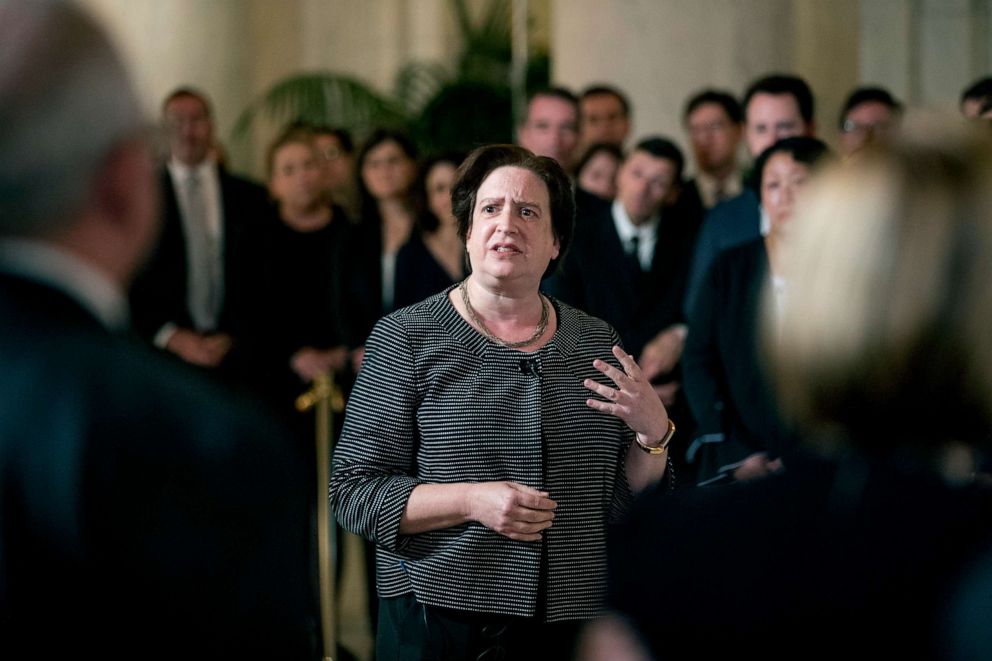 Despite being put on the bench by Republican President Gerald Ford, Stevens became a hero to liberals when he voted to limit the use of the death penalty, uphold affirmative action, broaden the core holding of Roe v. Wade on abortion rights and argued for strict separation of church and state.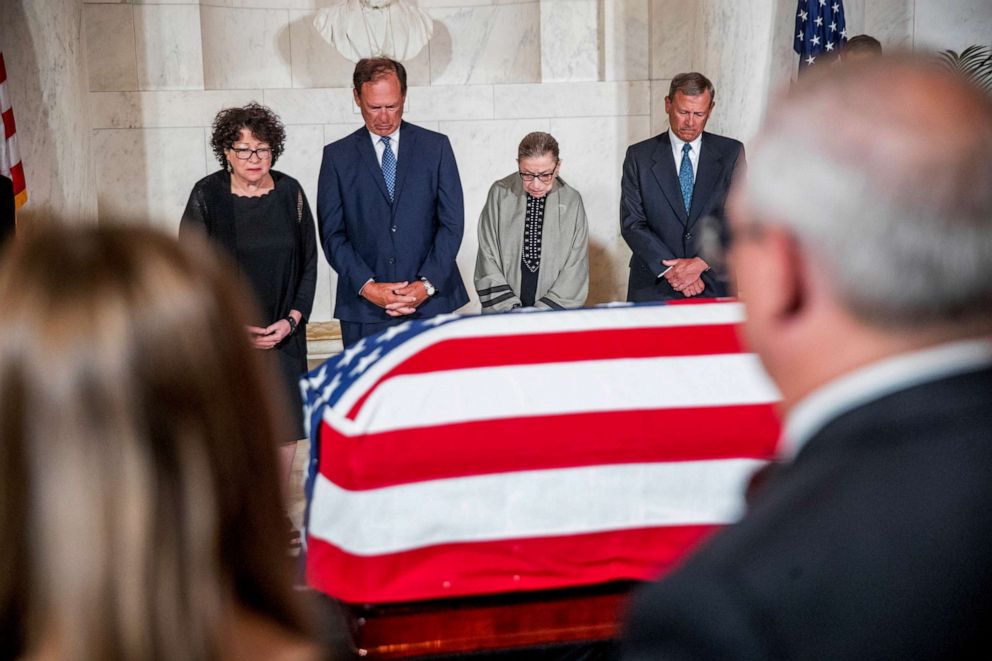 After his retirement in 2010, Stevens became extremely vocal on political issues, even being critical of President Trump.
"The president is exercising powers that do not really belong to him. I mean, he has to comply with subpoenas and things like that," Stevens told the Wall Street Journal in May.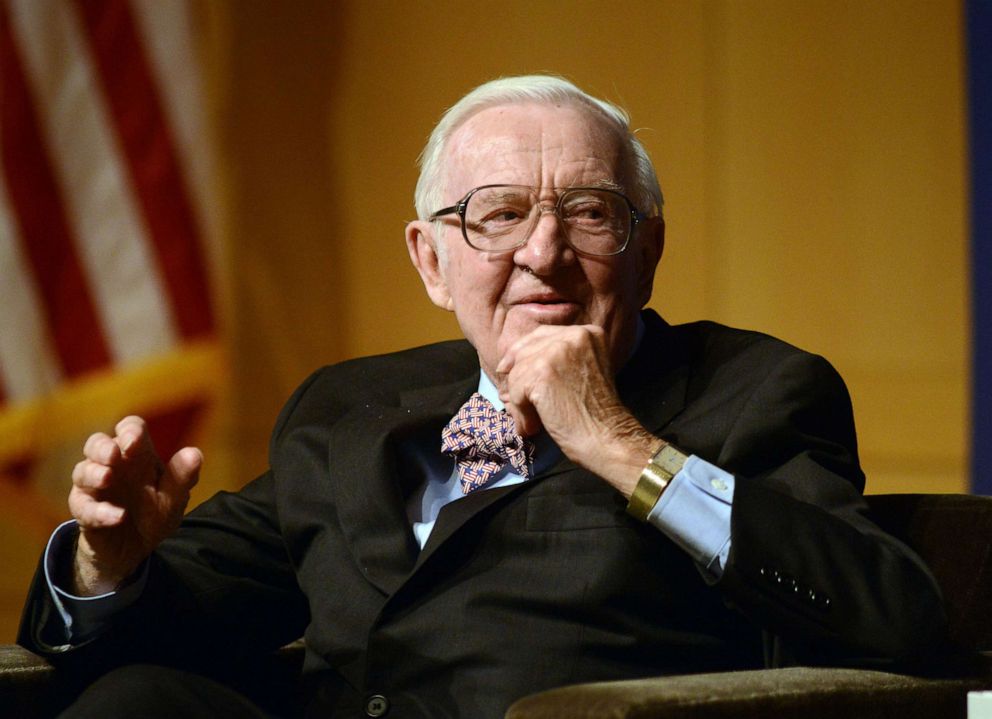 When Justice Stevens penned an op-ed in the New York Times calling for the repeal of the Second Amendment Act, he received backlash from Trump on Twitter.
"THE SECOND AMENDMENT WILL NEVER BE REPEALED!" Trump tweeted in all capital letters. "As much as Democrats would like to see this happen, and despite the words yesterday of former Supreme Court Justice Stevens."
Justice Stevens was lying in repose in the Supreme Court's Great Hall. He is survived by his children, Elizabeth Jane Sesemann and Susan Roberta Mullen, nine grandchildren: Kathryn, Christine, Edward, Susan, Lauren, John, Madison, Hannah, Haley, and 13 great grandchildren.
He will be laid to rest Tuesday in a private ceremony at Arlington National Cemetery, the court said.