Trump to Sessions: Shut down Russia probe
It's the latest example of Trump tweeting messages to Sessions.
President Donald Trump on Wednesday made what appeared to be his most direct public call yet for Attorney General Jeff Sessions to shut down special counsel Robert Mueller's Russia investigation, but his personal attorney later described it as only Trump's "opinion."
Trump took to Twitter to demand that Sessions stop the probe "right now."
"This is a terrible situation and Attorney General Jeff Sessions should stop this Rigged Witch Hunt right now, before it continues to stain our country any further. Bob Mueller is totally conflicted, and his 17 Angry Democrats that are doing his dirty work are a disgrace to USA!" Trump wrote, in the third of a series of tweets.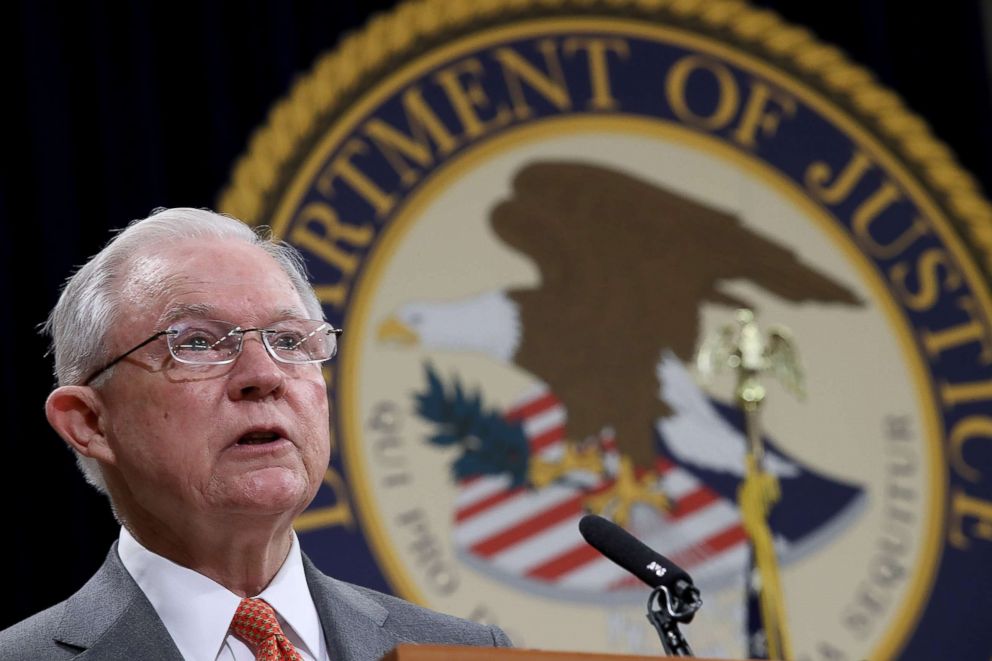 While the president has in the past openly expressed regret about choosing Sessions as attorney general without knowing Sessions would announce he would recuse himself from overseeing the Mueller probe, the tweet appeared to be the most direct message to Sessions yet to withdraw his recusal and end the investigation into Russia's interference in the 2016 presidential election.
While the White House has said the president's tweets amount to official statements, the president's personal attorney Rudy Giuliani later Wednesday issued a statement to ABC News describing the tweet merely as Trump's "opinion."
"We have been saying for months that it is time to bring this inquiry to an end," Giuliani said. "The President has expressed the same opinion."
Soon after, Giuliani issued a statement further clarifying that the president did not and has no plans to issue an official order ending the investigation.
"The President was expressing his opinion on his favored medium for asserting his First Amendment right of free speech," Giuliani said. "He said 'should' not 'must' and no Presidential order was issued or will be."
When asked about the president's comments during Wednesday's White House press briefing, press secretary Sarah Sanders reiterated that president was "stating his opinion."
"The president is not obstructing. He's fighting back. The president is stating his opinion," Sanders said.
"He certainly is expressing the frustration that he has with the level of corruption that we've seen from people like Jim Comey, Peter Strzok, Andrew Mccabe, " she continued. "There is a reason the president is angry, and frankly most of America is angry as well, and there's no real reason he shouldn't be able to voice that opinion."
Since Sessions announced his recusal in March 2017, Deputy Attorney General Rod Rosenstein has been tasked with overseeing Mueller's investigation.
The Justice Department declined to comment Wednesday.
The tweet was one in a series of messages in a thread started by the president in which he quoted lawyer and legal commentator Alan Dershowitz, a vocal critic of Mueller's investigation.
"FBI Agent Peter Strzok (on the Mueller team) should have recused himself on day one. He was out to STOP THE ELECTION OF DONALD TRUMP. He needed an insurance policy. Those are illegal, improper goals, trying to influence the Election. He should never, ever been allowed to remain in the FBI while he himself was being investigated. This is a real issue. It won't go into a Mueller Report because Mueller is going to protect these guys. Mueller has an interest in creating the illusion of objectivity around his investigation." ALAN DERSHOWITZ," Trump wrote in two tweets.
Reaction from Democrats to the president's tweet was swift. House Intelligence Committee ranking member Rep. Adam Schiff said the tweet amounted to "an attempt to obstruct justice hiding in plain sight."
Trump's renewed focus on calling for the end of the investigation also comes as his former campaign chairman Paul Manafort was set to commence his second day on trial in a federal courthouse in Alexandria, Virginia.
In a subsequent tweet weighing in on the trial, President Trump again distanced Manafort's alleged criminal activity from his work while serving with Trump's campaign for six months in 2016.
"Paul Manafort worked for Ronald Reagan, Bob Dole and many other highly prominent and respected political leaders. He worked for me for a very short time. Why didn't government tell me that he was under investigation. These old charges have nothing to do with Collusion - a Hoax!" Trump wrote.