What Trump has said about Syria and Assad
Comes as he admits he's changed his mind after chemical attack.
— -- In the wake of chemical attacks in Syria that killed at least 86, including dozens of women and children, President Trump issued a swift condemnation, saying that the offensive "crossed a lot of lines for me."
"When you kill innocent children, innocent babies, little babies, with a chemical gas that is so lethal — people were shocked to hear what gas it was — that crosses many, many lines, beyond a red line, many, many lines," Trump said during a press conference Wednesday with Jordan's King Abdullah II.
The president also indicated that he had changed his mind about the country's leader, President Bashar al-Assad, for whom he had expressed support for "killing ISIS," though saying he didn't like him.
"I like to think of myself as a very flexible person. I don't have to have one specific way, and if the world changes, I go the same way," Trump said. "It's already happened, that my attitude towards Syria and [President Bashar al-]Assad has changed very much."
During the campaign, Trump discussed Syria principally in the context of refugees, whom he viewed as a potential danger to the U.S., fighting ISIS and as a way to criticize President Obama and former Secretary of State Hillary Clinton.
During the second presidential debate on Oct. 9, Trump and Clinton, his then-Democratic rival, were asked what they would do in Syria if they won.
Trump said "Aleppo is a disaster, humanitarian wise" and said that Mosul had "basically fallen." Rather than proposing any specific plan for how he would handle the situation, he went on to slam "the stupidity of our foreign policy" and criticize the Obama administration's tendency to announce planned attacks in advance.
"Why do they have to say we are going to be attacking Mosul within the next four to six weeks, which is what they're saying. How stupid is our country?" Trump said.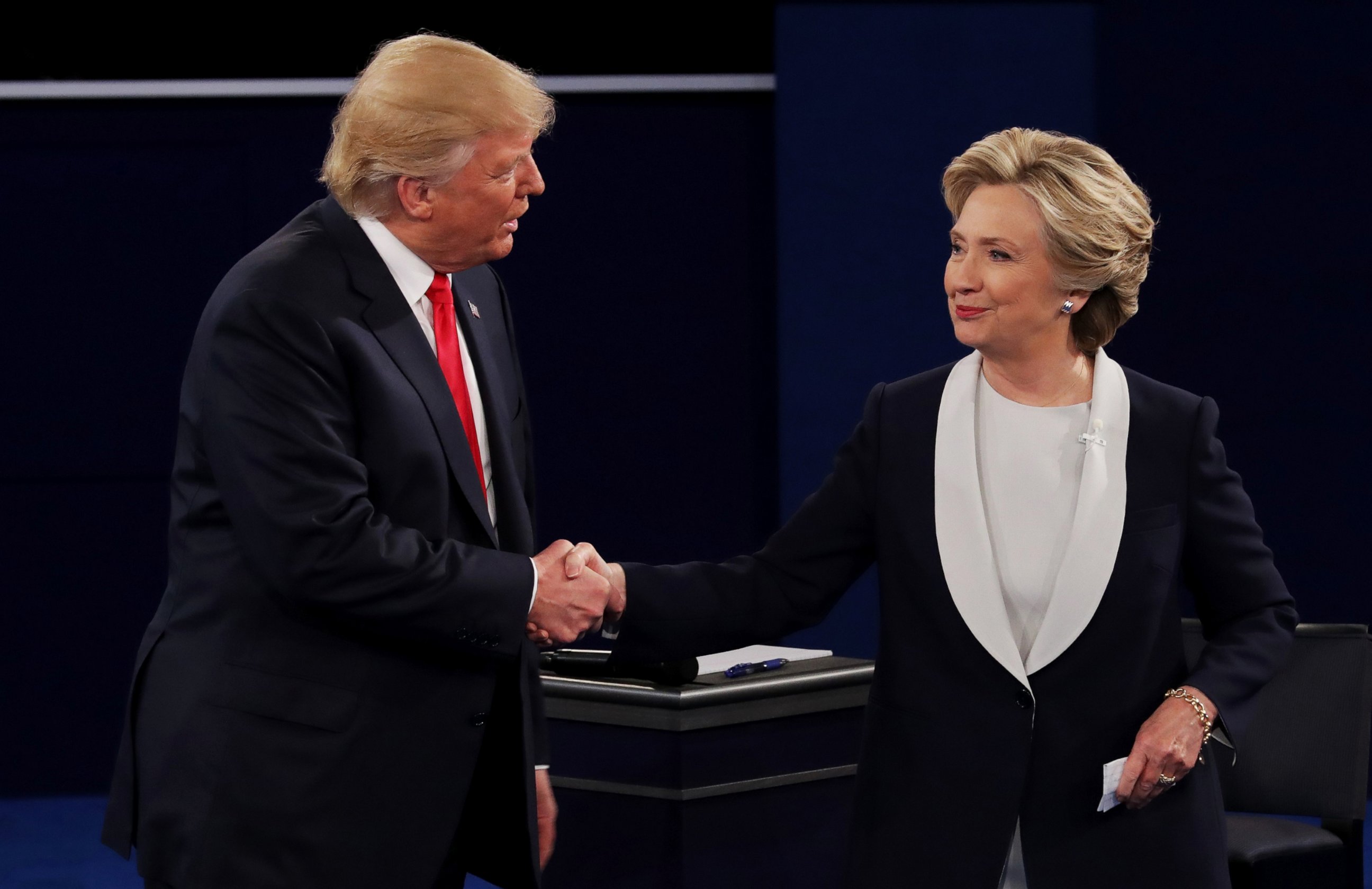 Heated Talk About 'Red Lines'
During that same debate, Trump said that "[Clinton] was there as Secretary of State with the so-called line in the sand," referencing a controversial statement that President Obama had made several times about the use of chemical weapons being a tipping point for the U.S.
During the debate, Clinton responded by saying she was not in office at the time that the "red line" was set.
Obama first used the phrase in August 2012 when he said that "a red line for us is we start seeing a whole bunch of chemical weapons moving around or being utilized."
Clinton was Secretary of State at that time, but she was out of office in the fall of 2013, when the Obama administration sought Congressional approval for a missile strike and when the conversation about red lines resurfaced.
For his part, Trump didn't appear to like the idea of sticking with the red line threat when it came up in September 2013 either, sending a tweet urging President Obama not to attack Syria.
Trump seemingly flipped his stance on whether or not Obama should have followed through on the red line threat by the time he reached the Republican National Convention in Cleveland in July 2016.
In his speech after officially being named the party's nominee, he referenced the decision, saying "Another humiliation came when president Obama drew a red line in Syria – and the whole world knew it meant nothing."
In the last week of the election, Trump worked Syria into a few of his campaign speeches, using it as a dig at Clinton.
"Now she wants to start a shooting war in Syria in conflict with nuclear-armed Russia. Frankly, it could lead to World War III and she has no sense," he said at a rally in Miami on Nov. 2.
His Rhetoric After the Election
In an interview with The New York Times on Nov. 23, Trump said he had "some very strong ideas on Syria," but refused to publicly give specifics.
"I can only say this: We have to end that craziness that's going on in Syria," he said, before taking the conversation off the record.
In a Jan. 25 interview with ABC News' David Muir in the White House, Trump said that he'll "absolutely do safe zones" to provide a space for refugees fleeing the conflict.
"I think that Europe has made a tremendous mistake by allowing these millions of people to go into Germany and various other countries. And all you have to do is take a look. It's -- it's a disaster what's happening over there," he said.
Still Tight-Lipped
Though Trump condemned the recent chemical attack, saying on Wednesday that it "crossed a lot of lines for me," he still refused to say whether or not that would be followed by military or diplomatic action by the United States.
"I watched past administrations say we will attack at such and such a day at such and such an hour ... I'm not saying I'm doing anything one way or the other," Trump said Wednesday alongside Jordanian King Abdullah II.
"I think the Obama administration had a responsibility to solve the crisis a long time ago. And when he didn't cross that line in making the threat, I think that set us back a long ways, not only in Syria but in many other parts of the world, because it was a blank threat. I think it was something that was not one of our better days as a country," he said.
Trump added, "I now have responsibility, and I will have that responsibility and carry it very proudly."
Trump was in Florida Thursday afternoon where he is hosting Chinese President Xi Jinping at his Mar-a-Lago estate, but he suggested that action may be taken in response to the attack in Syria.
"I think what happened in Syria is a disgrace to humanity. He's there and I guess he's running things, so something should happen," Trump said aboard Air Force One.
When asked if he's told members of Congress that he plans to resort to military action, the president said he had not.
"I don't want to mention that, but the answer is no I haven't," he said.