— -- A firm run by Keith Schiller, the loyal bodyguard who followed Donald Trump from the boardroom to the Oval Office and then abruptly departed in September, has been added to the payroll of the Republican National Committee, federal campaign filings show.
Schiller's firm, KS Global Group LLC, has received several payments totaling $75,000 for "security services " beginning in October, just weeks after Schiller left his White House post as director of Oval Office operations.
KS Global Group is a company bearing Schiller's initials and was incorporated in Florida under his name in October 2017. It appears to be a branch of a company formed in Delaware in October 2015, according to corporate records. The story was first reported by CNBC.
An RNC official tells ABC News Schiller's company has been retained to provide security consultation for the RNC's 2020 convention site selection process, which is currently underway.
Keith Schiller has not responded to a request for comment from ABC News.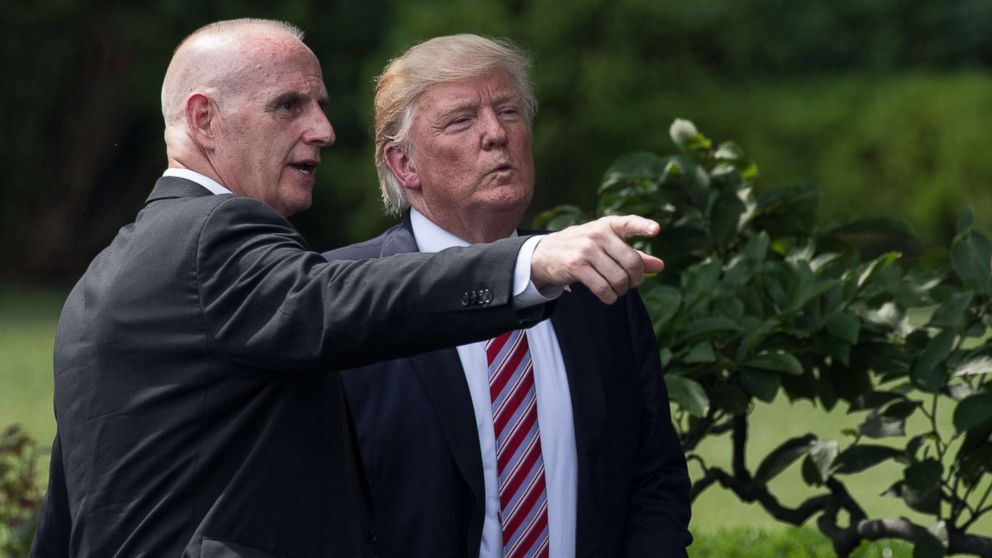 A former New York City police officer, Schiller has been a fixture at Trump's side for decades, serving as a body man for the New York developer, and a previous longtime point of contact for people trying to get in touch with Trump.
Schiller testified before the House Intelligence Committee behind closed doors late last year. At the time, a source familiar with the matter said Schiller was asked in part about Trump's 2013 trip to Moscow for the Miss Universe pageant. Schiller joined Trump on that trip, which is the focus of some of the salacious, unverified allegations in the controversial dossier produced by former British spy Christopher Steele.
Steele was hired by the political research firm Fusion GPS to dig up dirt on Trump. The firm was retained by the Democratic National Committee and Hillary Clinton's presidential campaign after initially working for the Washington Free Beacon, a conservative news organization, during the 2016 GOP presidential primary.
In May 2017, Schiller hand-delivered Trump's letter firing former FBI director James Comey to FBI headquarters. Special counsel Robert Mueller has been investigating the circumstances around Comey's firing.
He was also known on the campaign trail as Trump's enforcer, physically removing Univision anchor Jorge Ramos from a 2015 press conference, and hitting a protester in the face outside another event at Trump Tower in New York.