— -- In the days before the inauguration, President-elect Donald Trump's eldest children, Don Jr., Ivanka and Eric Trump, talked candidly in exclusive interviews with ABC News' "20/20" about the transition to the White House and how their lives may change.
"I've certainly walked into his [Donald Trump's] office and I said, 'Mr. President-elect,' and he smiles," Eric Trump told "20/20."
All three children are taking on different positions. Donald Trump's two eldest sons, Donald Trump Jr., 39, and Eric Trump, 33, will remain in New York, entrusted with running their father's vast business empire.
"I've been there [at the Trump Organization] for 16 years now," Don Jr. said. "I mean, we understand how this business works."
But Ivanka Trump and her husband, Jared Kushner, have been busy packing up their lives in New York to move with their three children, Arabella, 5, Joseph, 3, and Theodore, 10 months, to a $5.5 million home in one of Washington's most exclusive neighborhoods.
"We have boxes coming out of our ears," she said. "We have them piled up to the ceilings."
Ivanka said she also has been explaining to her three kids why they are moving.
"I tell them that their grandfather is going to Washington, D.C., with the goal of helping as many people as he possibly can," she said. "And that their father and I want to contribute to that in any way that we are able."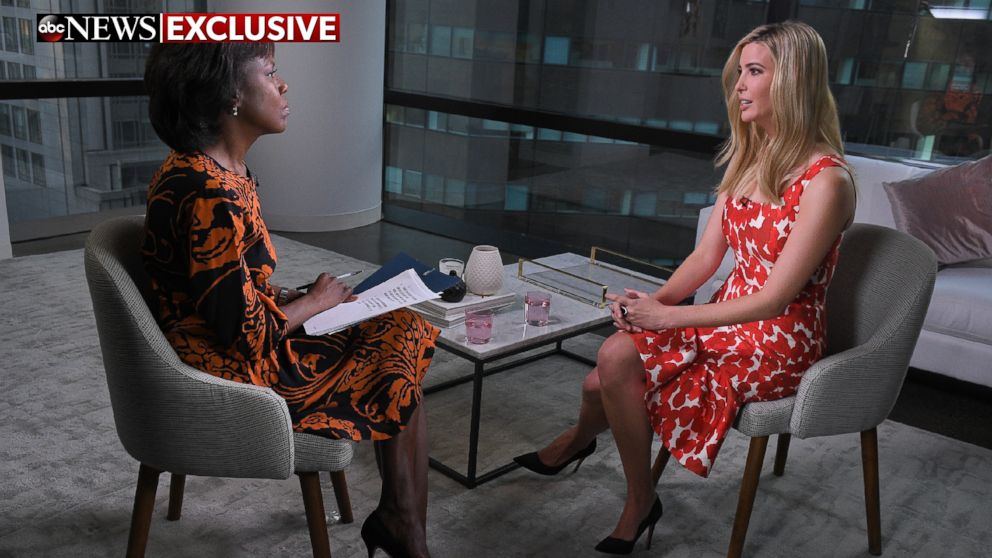 Ivanka Trump's role has not yet been formally announced and she said she is still determining what her role will be, but Trump transition officials announced last week that Kushner is expected to serve as an unpaid senior adviser to the president.
Ivanka Trump dispelled speculation that she will be filling in as a surrogate first lady or occupying the East Wing office of the White House, traditionally reserved for the president's wife.
"There's one first lady, and Melania will be an unbelievable first lady," she said. "I'm incredibly proud of her. She is intelligent, she's warm, she's caring. She's a remarkable person."
Despite the tension between Donald Trump and Hillary Clinton, incoming First Daughter Ivanka called former First Daughter Chelsea Clinton a "very good friend" of hers and someone she hopes to rely on.
"She's been a friend of mine long before the campaign," Ivanka said. "I haven't spoken about the specific challenges about this next chapter with her just yet, but I intend to."
When asked if he was jealous of his sister Ivanka moving to Washington, Don Jr., said, "There is an element" of that. The brothers, both avid hunters, revealed to ABC News they have been given U.S. Secret Service code names -- "Marksman" for Eric and "Mountaineer" for Don Jr.
"Anyone would want to probably be able to do that," he said, referring to having a role in his father's administration. "But I'm very confident with the decision that we've made to be able to stay here and do this."
The move to have Don Jr. and Eric take over the family business has been slammed by critics who are concerned that the move doesn't adequately guard against conflicts of interest for their father to use the office of the presidency for profit.
"My father has the biggest responsibility of any person, arguably, on the planet, and that's to run the United States of America. His focus is going to be running this country," Eric Trump said. "We've taken extraordinary, extraordinary measures to make sure the two are separate and distant."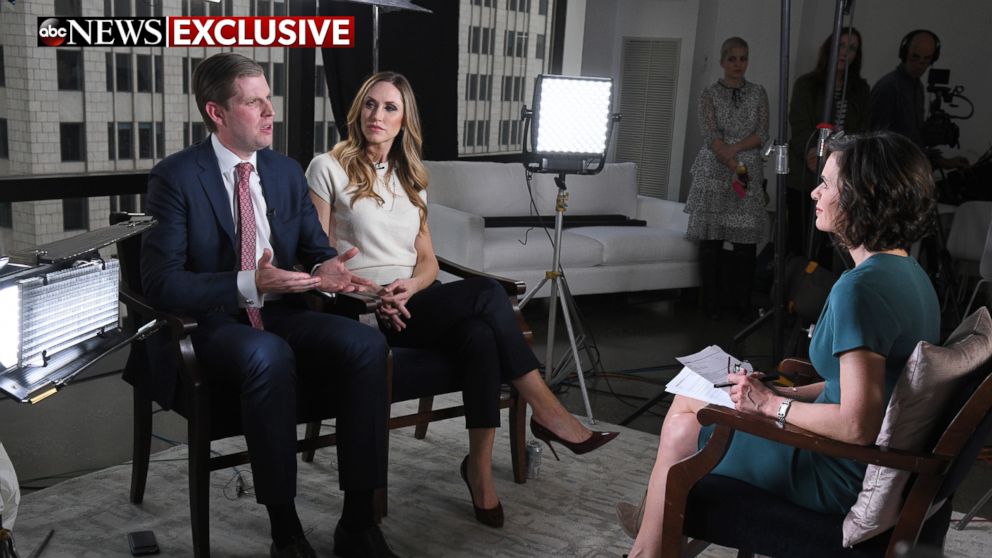 As the brothers take over the Trump Organization, Kushner himself is leaving behind his family's billion-dollar real estate business to take on his White House role, and Ivanka Trump is departing from her clothing and accessories brand that bears her name -- both in an effort to comply with federal ethics laws, the legal and transition team advising the family told reporters last week.
In addition, Ivanka Trump will no longer be participating in the management of the Trump Organization, and she will resign from all office/director positions in her company brand. She will also divest significant assets, including common stock and restructure her participation in Trump Organization transactions.
There is a downside to their new public life. Ivanka and her children were recently harassed by a fellow passenger on a commercial flight a few days before Christmas.
"It's never OK to harass anyone, regardless of what your viewpoints are, especially when you're with children," she said of the incident. "But I think that this is a new world and I'm adjusting."
Don Jr., who has five children with his wife, Vanessa, said he realizes they may be subject to future incidents.
"People can say what they want to me," he said. "You start attacking my kids, and I imagine, that's a different response."
When Eric Trump married his wife, Lara, just two years ago, the couple said they never imagined spending most of their first year of marriage on the campaign trial.
"Certainly was not in the plan. But, you know, you can't really plan for things like this," Lara Trump said. "Election night, which was our two-year anniversary, it was an incredible way to spend it with our whole family."
Through the transition, Ivanka has been working on a new book, "Women Who Work: Rewriting the Rules for Success," which is due out in May. She told ABC News' Deborah Roberts she will be donating the proceeds from it to charity.
Some critics have pointed out the irony that there is expected to be a massive women's march the day after her father's inauguration, where many of the participants are afraid Donald Trump's policies will harm women's rights.
To these women, Ivanka said, "I'd say, give my father a chance. I think that what he's shown his entire life is his support and advocacy of women."
As Donald Trump assumes the role of commander-in-chief of a divided country that is trying to move forward, Eric said he is a "great father" who has a "heart of gold." Ivanka added that critics need to "give him time."
"The country is very divided ... [and] my father is an incredible unifier," she said. "For every critic, I would say, give him time, let him come into office, let him prove you wrong."
Although her life is about to change dramatically, Ivanka said it won't change completely.
"He's always 'Dad,'" she said, laughing. "He's always 'Dad.'"