In October, Dax Tejera was at the home of Dr. Anthony Fauci as ABC "This Week" co-anchor Jonathan Karl prepared to interview the White House's chief medical adviser on the eve of his retirement from public service.
It was the latest of many newsmaker interviews Tejera had supervised in his years as a TV producer, including at the helm of "This Week."
He arrived early that day to Fauci's home, checking in, approving camera setups, making calls.
One small detail did not escape his attention: As prep for the interview, Tejera had wanted the "This Week" team to track down a Fauci bobblehead to potentially use during questions about Fauci's sudden fame the last few years. Once the interview wrapped, "Dax asked me for the Fauci bobblehead so he could have Dr. Fauci sign it. He told me he would give it to his two daughters so they could have a part of history," Lauren Lantry, a segment producer on "This Week," recalled.
"That was Dax -- thinking creatively, making sure his team had what they needed, working around the clock, and always thinking about his family," Lantry said.
Tejera died on Dec. 23 from a heart attack, leaving behind a wife, Veronica, and daughters Sofia and Ella. He was 37.
"Dax's energy, passion and love for that show, ABC News, and you, shined every Sunday morning. That same love was extended to his precious girls," ABC News President Kim Godwin said in a note to staff.
A Miami native and Dartmouth College alum -- where a fateful conversation with former NBC correspondent Bob Hager put him on the path to TV journalism when he had been considering becoming a banker -- Tejera joined ABC News in 2017 after stints at MSNBC and Fusion, where he was the executive producer of "America with Jorge Ramos."
He took over at "This Week" shortly before the onset of COVID-19. Storytelling, he said last year, was where the show thrived. Since he was named executive producer, "This Week" has been the No. 1 Sunday show.
"When we talk to the voter, when we explore issues, when we go into the field, we go out into the country and right now we have the space to do that," Tejera told Adweek in 2021. "There's a connection that the audience is validating," he added.
As deeply as Tejera cared about his work, friends and colleagues say, he cared just as deeply for the people around him.
Below, the "This Week" team remembers Tejera.
Pushing for excellence
"Dax led our team with a passion that was unparalleled, setting an exceptionally high bar that pushed us all to be better," said Kendall Heath, a senior producer at "This Week."
"He championed the professional growth and celebrated the personal milestones of every member of our team. He was an incredible mentor and wonderful friend who will be missed beyond measure," Heath said.
Coordinating producer Mitch Alva echoed that: "I feel so lucky to have called Dax a boss, mentor, and friend. Everyone who worked for him was held to the same high standard, and his staff at 'This Week' benefitted greatly from his patient nurturing of all of our careers."
"He brought out the best in us. His passing is a tremendous loss to all who worked with him," Alva said.
Lantry, who was with Tejera in October producing the Fauci interview, remembered how he "was always working at 120%."
"I am honored and grateful to have spent the last year and a half working for Dax. He was able to focus both on the big picture and the tiny details. On Sunday mornings, he was always working at 120%. Two minutes after one show finished, he was already thinking about the next; meanwhile, I was more concerned about a nap or my next cup of coffee," she said. "He was kind when needed, direct when necessary, and valued a close team. I am devastated by his passing, and heartbroken for his family."
A family man
In a tribute on Instagram, Karl reflected on how Tejera's sudden death was more painful because of the promise it cut short.
"I can't quite comprehend those words. Dax is gone. How is that possible? He [was] as full of life as anybody I have ever known. He adored his family and he loved his work. Dax had big plans and big dreams that were just beginning to be fulfilled," Karl wrote. "Death has taken him like a thief in the night, leaving those of us touched by Dax shocked and hurt – and cheated to lose him so soon, so suddenly, so inexplicably."
"Say a prayer for Veronica and their two beautiful girls Sofia and Ella. Dax believed he was blessed to have you – and he was right," Karl wrote. "His life was far too short, but there was a reason Dax smiled so much – he was truly happy. His life was too short, but it was filled with passion and joy and meaning.
"Dax, my friend, I miss you. My life is better because you were part of it."
Martha Raddatz, Karl's fellow "This Week" co-anchor, likewise shared her shock and grief on social media.
"I traveled the world with this talented, passionate and loving executive producer. We lost him last night suddenly and tragically. ... We are all devastated. I can't quite believe it is real. He was so good to all of us. But his real loves were his wife Veronica and 2-year-old Sofia and 6 month old Ella. Please keep them in your prayers. I am heartbroken," Raddatz wrote on Instagram.
'He truly fought for me'
Some of Tejera's lasting contributions will be as a mentor with an exacting ability to identify and nurture talent.
"Dax believed in me before I ever believed in myself. He knew what I was meant to do well before I figured it out. He truly fought for me and encouraged me in a way no one else ever has. Like the rest of my team members, I'm devastated to lose my mentor, my champion and my friend," said segment producer Quinn Scanlan.
There was so much about working with Tejera that will stay with her, Scanlan said.
"I'll miss his shoes clicking down the edit bay hallway on Sunday mornings. I'll miss his somehow always terrible Wi-Fi connection that made him impossible to clearly make out when he worked from home. I'll miss hearing him talk so loudly on the phone that we could all hear him even though he was in his office with the door closed. I'll miss him waving to me from that immaculate office as I walked into our workspace," she said. "I'll miss almost always sitting to his right in our conference room meetings. I'll miss hearing his voice on headset, even though sometimes I was so over what he was saying. I'll miss how he said, 'Hi Quinn,' with this knowing smile. And I'll miss how he always made a point to check on me, and to tell me he valued me and my opinions. He's irreplaceable, and I'll miss him so much for the rest of my life."
Associate producer Julia Cherner, like others on the team, said Tejera changed the course of her career.
"Dax advocated for me in a way no one ever has before. He was competitive and kind. He challenged me, mentored me and invested in my growth. He talked with me about my goals and how I could achieve them. He recognized my potential before I could see it in myself," she said. "He was trustworthy, honest — a real straight shooter — and always kept his word."
"Dax cared deeply about every detail of our show and everyone who worked on it. He took his duty to inform the American public seriously and with passion and pride. He was an incredible television producer — always with a vision. No idea was ever too big," Cherner said. "He represented the very best in all of us and I feel so lucky to have known him and to have learned from him. The loss of our leader is devastating, and I'm heartbroken for Dax's wife, Veronica, and for his beautiful girls, Sofia and Ella."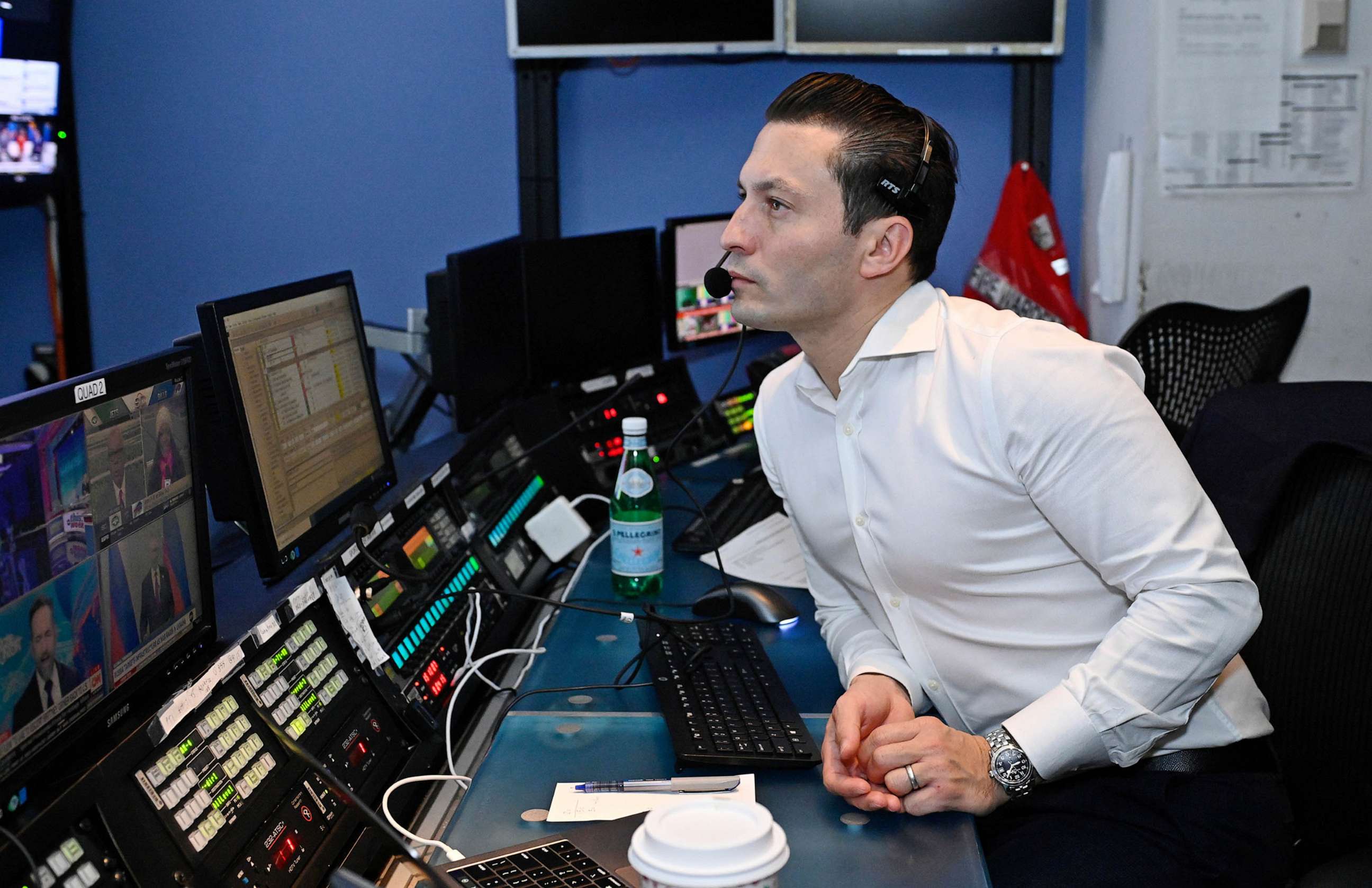 Producer Meg Mistry, too, said Tejera's discernment and readiness to encourage more junior producers pushed her to her best.
"Of all the years I've spent in this industry, no one person has had a more profound impact on me or my career than Dax. I had long ached for mentorship in my career and upon joining 'This Week,' Dax presented that immediately," Mistry said. "He agreed to mentor me, transforming into more than just that, and into a confidant and a friend."
"Every Sunday after the show we met briefly, breaking down how the show had played out. Each week he took time to rewatch my pieces from the previous show and give notes for improvement. He analyzed each meticulously -- critical of the smallest details. It wasn't always fun -- and he didn't ever go easy on me, but as the weeks went on, I grew into a stronger and more savvy producer," she said. "He was thorough. He challenged me to do and be better every single day. He sought my opinion and valued it, showing me how and why to be confident in my abilities."
'I am so grateful'
Mistry tells these two stories:
"One of my favorite memories was with Dax in Phoenix for a live, remote episode of 'This Week.' We worked well into the late evening on a Saturday from the hotel lobby together, splitting a bottle of wine and talking between our work calls and emails. He encouraged me not to let work become my whole life -- saying 'every moment of down time I get, every time there's a lull, I go and hug my girls, because you never know when the next shoe will drop.' That line stuck with me, a reminder of who and what is important in an industry that can become all-consuming. A message he reiterated in our last conversation, which was about the holiday credits we were producing together. While they were a relatively straightforward piece, like everything Dax touched, he wanted them to be perfect.
"He called me on Friday afternoon, hours before he passed, to thank me for working on my days off and to enjoy my Christmas holidays. That's who he was -- someone who sought to be the very best in their field, who brought out the best in those around him and always built them up. I am so grateful to have worked under his leadership, to have watched him at the helm of the show, and to simply have known him."