New York Attorney General Eric Schneiderman said he will resign at the end of the day after reported allegations from four women that he abused them.
"It's been my great honor and privilege to serve as Attorney General for the people of the State of New York," Schneiderman said in a statement late-Monday night. "In the last several hours, serious allegations, which I strongly contest, have been made against me. While these allegations are unrelated to my professional conduct or the operations of the office, they will effectively prevent me from leading the office's work at this critical time. I therefore resign my office, effective at the close of business on May 8, 2018."
The four women -- three of whom said they were ex-girlfriends of Schneiderman and one who said she had an interaction with him at an event -- told The New Yorker about the alleged abuse. The three who said they had romantic relationships with him, which included the two women named in the article -- Michelle Manning Barish and Tanya Selvaratnam -- said Schneiderman abused them after drinking and often while in bed.
Neither of the named woman went to police but told the magazine they sought medical attention.
"After I found out that other women had been abused by Attorney-General Schneiderman in a similar manner many years before me, I wondered, who's next, and knew something needed to be done," Selvaratnam said in a statement obtained by ABC News. "So I chose to come forward both to protect women who might enter into a relationship with him in the future but also to raise awareness around the issue of intimate partner violence."
Schneiderman denies assaulting the women.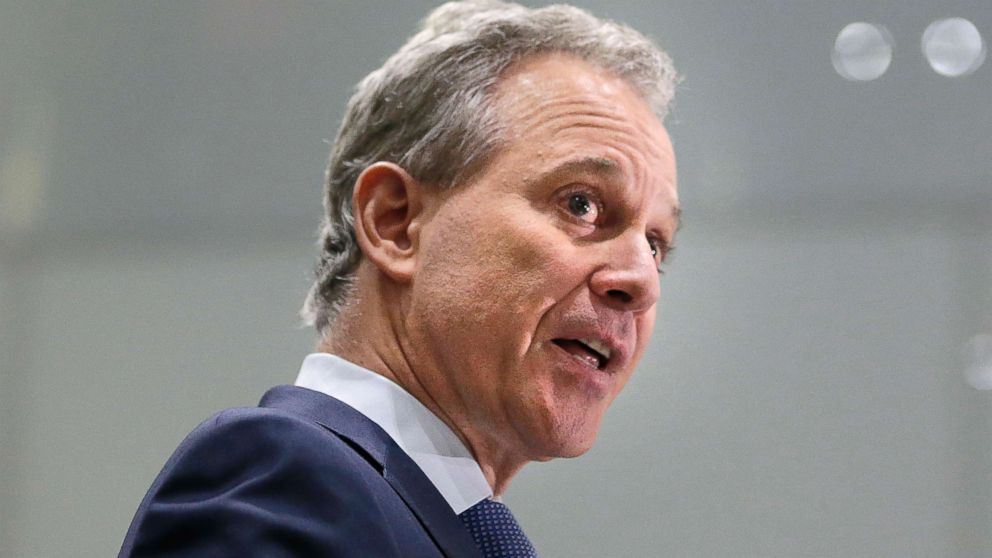 "In the privacy of intimate relationships, I have engaged in role-playing and other consensual sexual activity," Schneiderman said in a statement earlier Monday. "I have not assaulted anyone. I have never engaged in non-consensual sex, which is I line I would not cross."
Manhattan District Attorney Cyrus Vance's office released a statement late Monday saying his office would investigate the allegations against Schneiderman.
"Our office has opened an investigation into the recently reported allegations concerning Mr. Schneiderman," Danny Frost, Vance's communications director, said.
The attorney general is leading an investigation into how police and prosecutors, including Vance, handled sexual-assault allegations against Harvey Weinstein.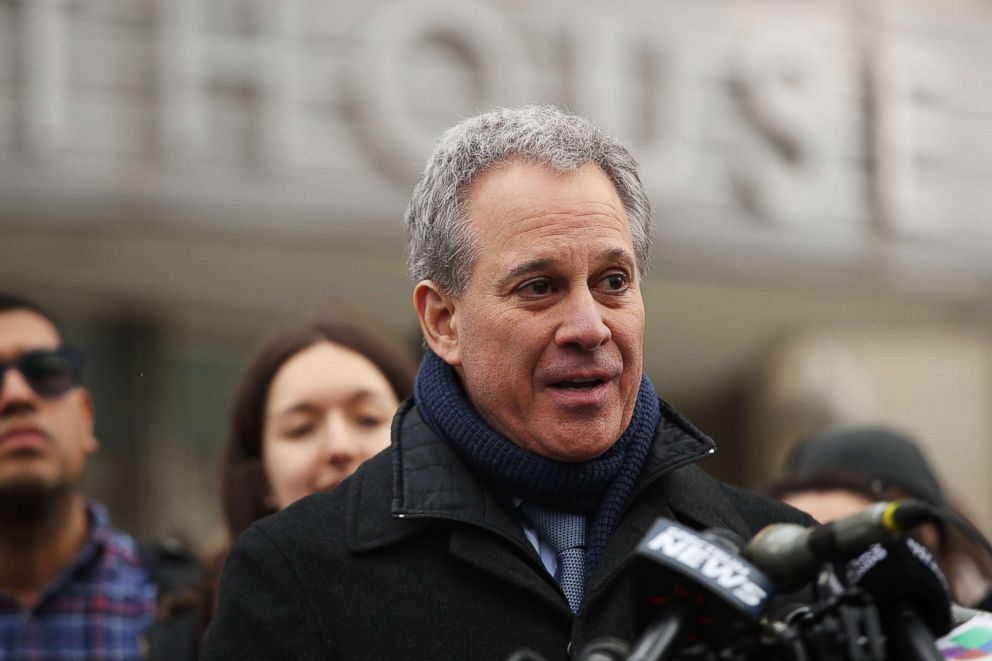 Jennifer Cunningham, Schneiderman's former wife, released a statement supporting him, calling the allegations "impossible."
"I've known Eric for nearly 35 years as a husband, father and friend," she said. "These allegations are completely inconsistent with the man I know, who has always been someone of the highest character, outstanding values and a loving father. I find it impossible to believe these allegations are true."
Ronan Farrow, who reported and wrote the story with colleague Jane Mayer, today told ABC News' "Good Morning America" the women had been reluctant to come forward for a long time "because of Schneiderman's power and influence within the Democratic party."
Accusers Manning Barish and Selvaratnam were described in The New Yorker article as "progressive Democratic feminists in their forties who live in Manhattan."
"This was a brave thing these women had to do," said Farrow, who was awarded a Pulitzer Prize last month for his reporting on sexual harassment and abuse allegations against Weinstein, who has denied them.
"It was difficult for them but also in this case doubly so because he is a power player within their world all closely connected to the Democratic Party in various ways and say he used his office and his power to intimidate and threaten them, saying that he could wiretap people. He could intimidate people in various ways."
Manning Barish and Selvaratnam told the magazine they resumed their relationships with Schneiderman after he'd allegedly abused them.
"These women one after another were adamant: This is not 'Fifty Shades of Grey.' This was not in an area of grey at all in their mind," Farrow said of the alleged abuse. "This was assault over and over again and happened when they were fully clothed, not in the context where they gave any consent and one wasn't in a relationship at all."
Gov. Andrew Cuomo, also a Democrat, had called for Schneiderman to resign in a statement earlier Monday evening.
"No one is above the law, including New York's top legal officer," Cuomo said in a statement. "I will be asking an appropriate New York District Attorney to commence an immediate investigation and proceed as the facts merit. My personal opinion is that, given the damning pattern of facts and corroboration laid out in the article, I do not believe it is possible for Eric Schneiderman to continue to serve as Attorney General, and for the good of the office, he should resign."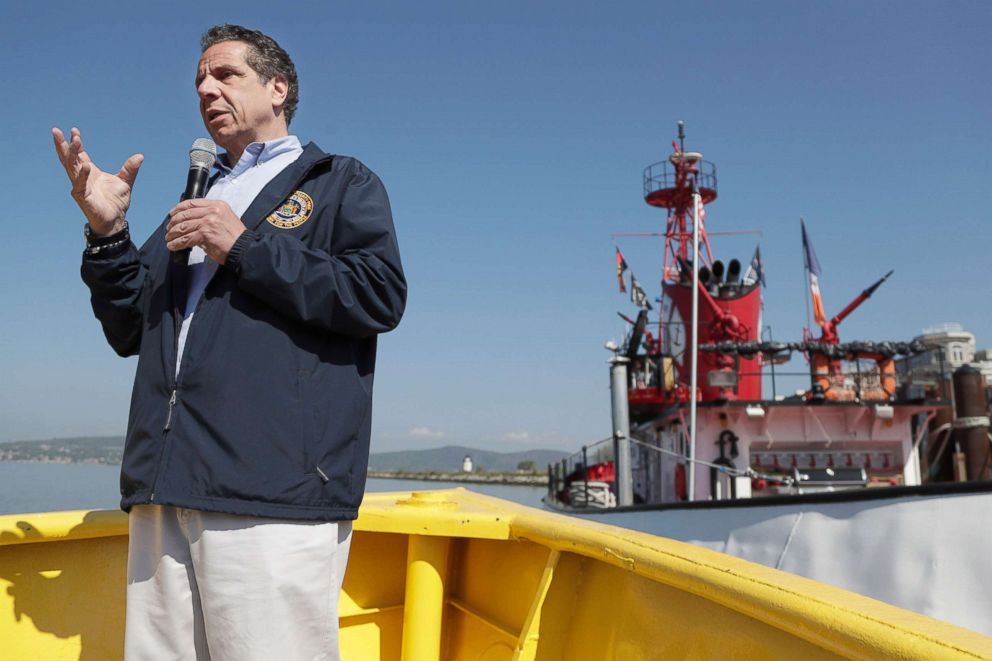 During a public event this morning, Cuomo reiterated his call that "nobody is above the law."
He said that he found the allegations "so shocking and disgusting," prompting his call Monday night for an independent investigation.
New York City Mayor Bill de Blasio said this afternoon that he believes Schneiderman should face charges, though the NYPD says no formal complaints have been filed against him. But the police department and the Manhattan District Attorney's Office are investigating Schneiderman's alleged actions.
Dan Abrams, ABC News' chief legal analyst, said today on "Good Morning America" that potential charges against Schneiderman could range from assault to harassment to choking.
"These threats to use his office in order to protect himself and threaten them," Abrams said. "That's another possible crime."
"One of the great ironies is Schneiderman was ordered to review how the Manhattan D.A. had handled the Harvey Weinstein investigation," Abrams said.
"And now it's flipped. Which the Manhattan D.A. is now investigating the attorney general for this behavior."
The acting-Attorney General Barbara Underwood issued a statement today, not mentioning Schneiderman or the allegations but saying that "this extraordinarily talented, dedicated, and tireless team of public servants will ensure that our work continues without interruption."
Your browser does not support iframes.
How the story broke
The New Yorker and The New York Times had been racing for weeks to report and confirm the story and, by last week, Schneiderman's camp was quietly talking about the ongoing reporting, according to people directly involved in the discussions.
Schneiderman insiders had no clue about the details, the individuals told ABC News, noting that some acknowledged that Schneiderman drank heavily at times but they did not know anything about his sex life.
Schneiderman's inner circle is an amalgam of liberal Democratic staffers who have, at various points, worked for Hillary Clinton, Gov. Cuomo, Sen. Chuck Schumer, former Mayor Mike Bloomberg and the Democratic National Committee.
As the day began Monday, hours before The New Yorker story was published, there was little to suggest events would roll out as they did.
By mid-afternoon, a detailed list of questions had come in from The New Yorker and Schneiderman, his ex-wife and consultant Jennifer Cunningham and other key people were on a series of conference calls going through possible responses.
This went on for hours. They discussed whether any of the assertions could be denied. They considered whether to announce the Attorney General was heading to a rehabilitation program.
One person suggested denying something that seemed true and the group advised against lying, the individuals with knowledge of the discussions told ABC News.
The first public statement – in which Schneiderman denied assaulting anyone but said that he "engaged in role-playing and other consensual sexual activity" -- was issued in an effort to stanch the bleeding while holding back some material that might be suitable for second- or third-day statements, the individuals said.
As the evening progressed, there was no thought about the blow that might come. Schneiderman and Cuomo have disliked each other for quite some time -- a sentiment that only grew when Cuomo ascended to his current post, leaving Schneiderman to replace him as attorney general, the individuals said.
Schneiderman and Cunningham didn't consider that the governor, now facing his own re-election and nervous about a challenge from the left by actress Cynthia Nixon, might throw him to the wolves, the individuals said.
Then, as the group was on yet another conference call, Cuomo's office issued the call for Schneiderman's resignation.
"What does this mean?" one person asked on the phone. The answer came fast: "You resign," the individuals recounted to ABC News.