— -- The Philadelphia Eagles finally notched their first-ever Super Bowl victory with quarterback Nick Foles at the helm. Foles was named Super Bowl LII MVP after going toe-to-toe with his childhood hero, New England Patriots quarterback Tom Brady.
From backup QB to Super Bowl hero, here are 5 things to know about the 29-year-old football star.
1. He contemplated retirement two years ago
Foles started his NFL career with the Eagles in 2012 and was later traded to the Rams for quarterback Sam Bradford in 2015. Foles became a free agent for the first time in his career in the summer of 2016 when his chances of becoming a starter for the Rams fell through.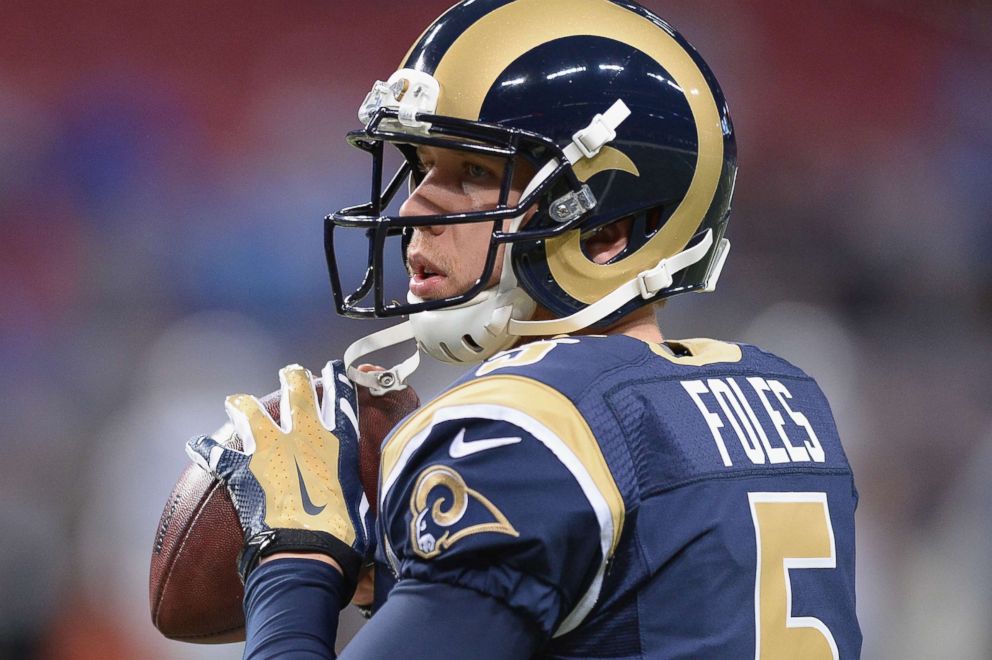 "I had to take a week off when I was a free agent just to think about it, and it was the best thing that ever happened because I think people are fearful of feeling that way because they feel like they're the only ones that feel that way. We're professional athletes and we have moments where we step back and think and assess everything in our life," Foles said in a press conference Sunday after the Super Bowl.
Foles decided to stick with his NFL career and was picked up by the Kansas City Chiefs, where he was a backup for one season behind Alex Smith. The Chiefs released Foles at the end of that season and the quarterback moved to the Eagles for the 2017 season.
2. He is a new dad with an adorable daughter, Lily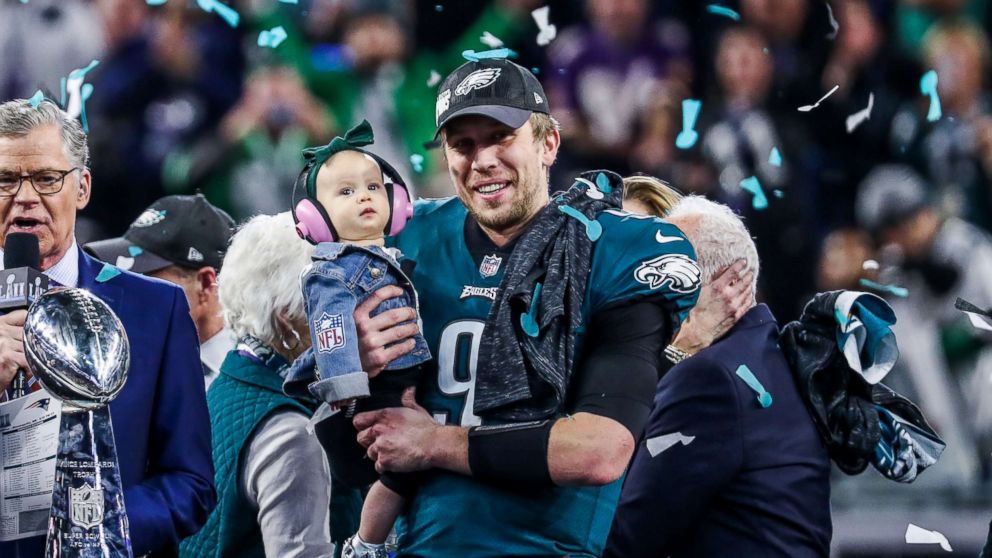 Foles and his wife, Tori Moore, welcomed their first daughter Lily James Foles last June. Lily stole the spotlight Sunday night during the post-game celebrations, sporting baby pink headphones, an NFL denim jacket and a green Eagles bow.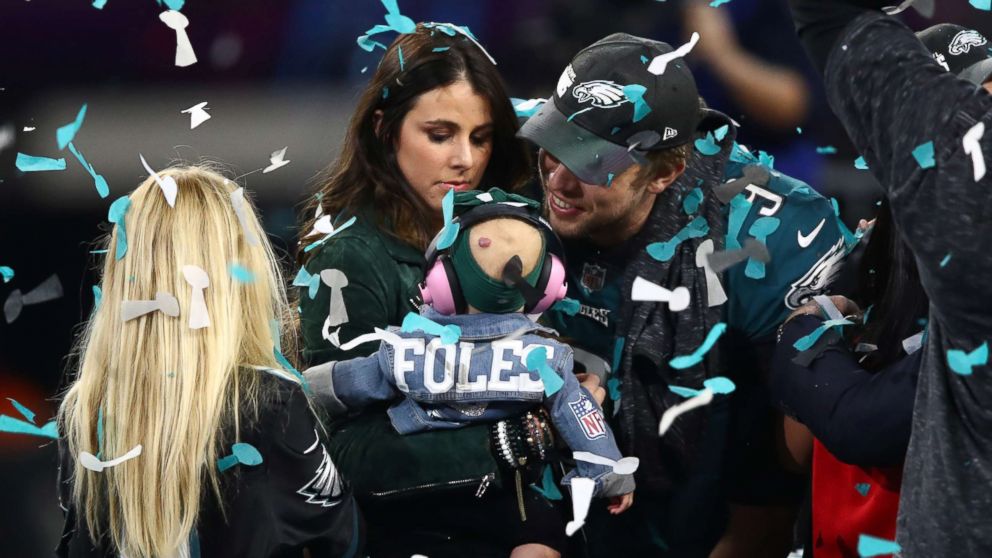 Foles got emotional speaking about his daughter and wife during a press conference ahead of the Super Bowl last Tuesday.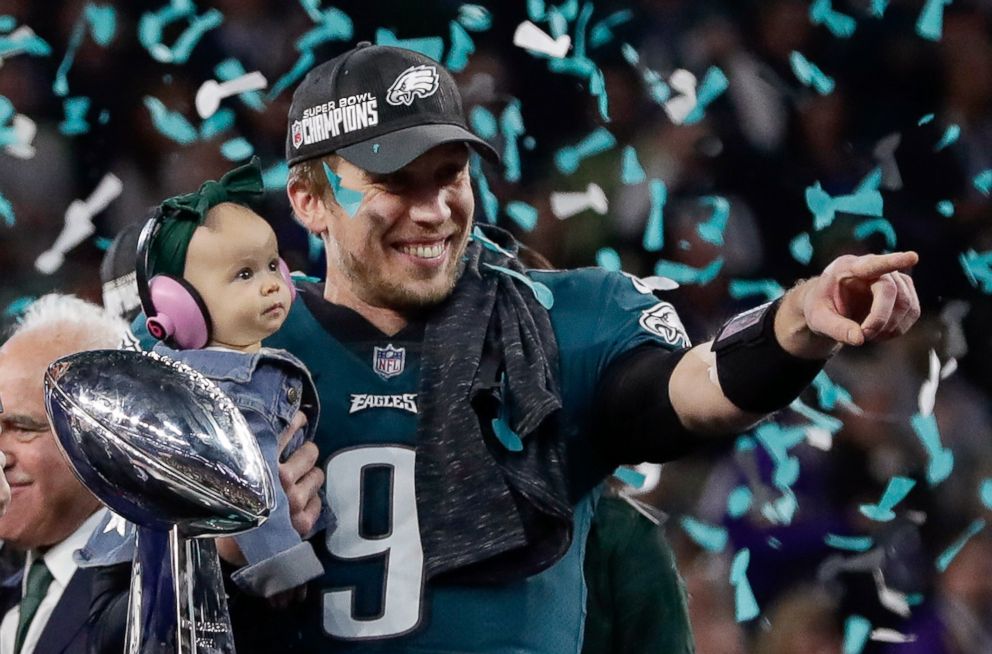 "I know that every time I step on the field, every single thing I do, there's going to be [a day] she looks and wants to know who her daddy was and what he did and that gives you a little extra juice to go out here whenever you're tired, whatever you're doing, doing things the right way," Foles said. "I think about that because I know she's gonna grow up and I want her to be proud of her daddy."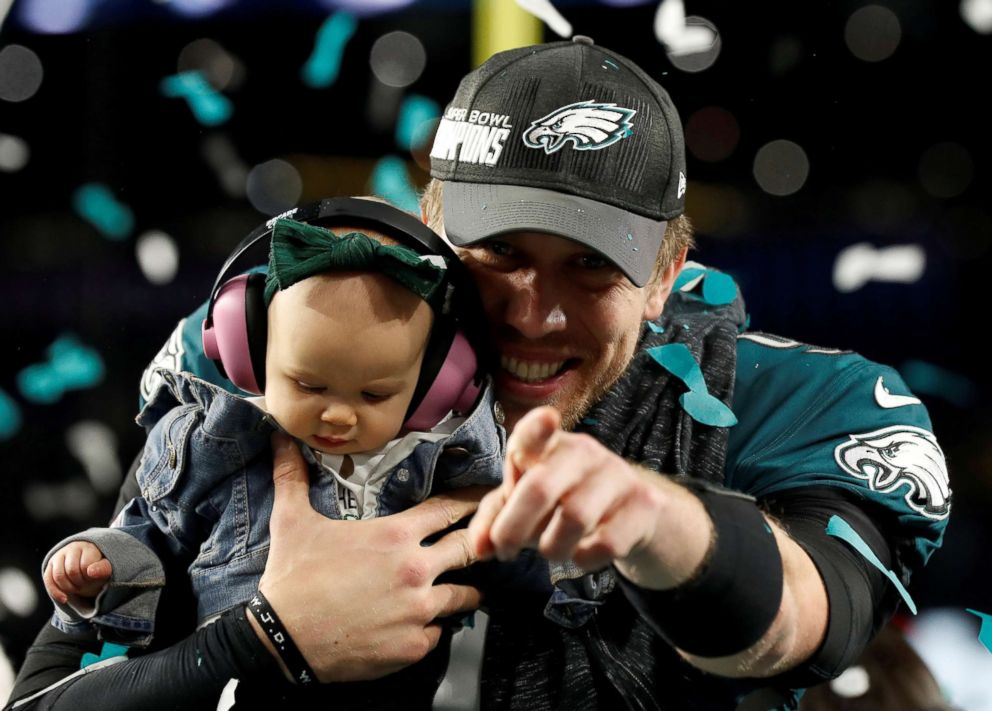 Foles echoed that sentiment while accepting the Super Bowl LII MVP honor.
"To be here with my daughter, my wife, my teammates, this city ... we're very blessed," Foles said when he received the trophy.
3. He's the 1st backup quarterback in 16 years since Tom Brady to win the Super Bowl
The Eagles turned to Foles after starting quarterback Carson Wentz tore his ACL against the Rams in Week 14 of the regular season. Foles became the tenth backup quarterback in NFL history to lead his team to a Super Bowl win on Sunday.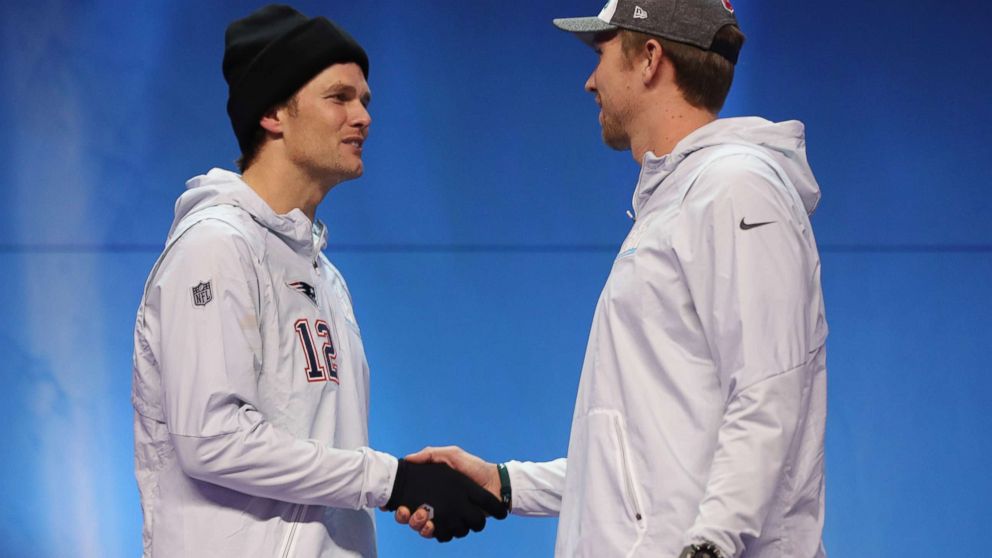 Ironically, the last backup quarterback to do so was Tom Brady. He took over for Drew Bledsoe in Week 2 of the 2001 season and led the team to a 20-17 Super Bowl win over the St. Louis Rams.
4. Foles' touchdown catch was the 1st of his professional career
The Eagles successfully executed a trick play called "The Philly Special" with 38 seconds remaining in the second quarter in which Foles received a 10-yard pass from tight end Trey Burton.
Foles had never caught a pass in his college career or NFL run.
5. He credits his high school basketball skills for his Super Bowl success
"It goes back to my basketball days in high school," he told ESPN's Chris Berman after the game of his touchdown catch.
"Going into this game I sort of went back to when I played basketball. I didn't really worry about the score, I didn't worry about the clock, I just played," he said. "I just played and I wasn't gonna worry about it."