— -- Of the long list of check marks to name a race horse, spell-check isn't one of them.
A little less than 30 percent of names submitted to Rick Bailey at the Jockey Club are turned down, but American Pharoah wasn't one of them.
"It's not too uncommon for the names to be misspelled," Bailey of the horse registry told ABC News today. "In the case of American Pharoah, people are noticing it more since he's a prominent horse."
Zayat Stables picked American Pharoah's incorrectly spelled name from a fan submission contest on their website.
The Zayat family chose the name, which would have been spelled correctly as Pharaoh, because it acknowledges that they're Americans but also reflects the family's Egyptian heritage, a source told ABC News today.
As for the horse fan who entered the contest, she can't remember how she submitted the spelling over a year ago.
"I remember looking up the spelling that I would spell it right," Marsha Baumgartner, 64, told ABC News today. "I guess I could've transposed the letters when I entered it.
"I can't put blame on anyone, but I think it makes him more unique."
Baumgartner and her husband, Dave, of Barnett, Missouri, have been to three of American Pharoah's races this year and were given free tickets to Saturday's Belmont Stakes by Belmont Park CEO Chris Kay.
Bailey, the Jockey Club registrar, noted that names are often misspelled because of carrying on part of the parent horse's name, but the source said that's not the case for American Pharoah.
American Pharoah won both the Kentucky Derby and the Preakness Stakes in 2015 and will be going for the Triple Crown title Saturday at the 2015 Belmont Stakes.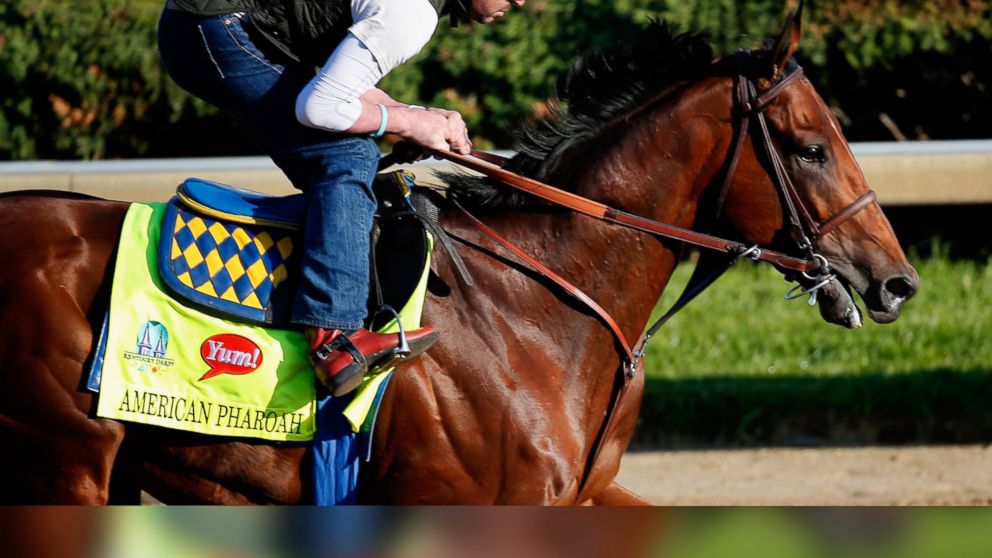 "American Pharoah's name was electronically entered into our registration system on January 25, 2014," Bailey said. "It passed all of our requirements and we spelled the name exactly how it was entered."
Some of the requirements for the names include it being no more than 18 characters, no obscenity and it can't be too similar to another registered horse.
Baumgartner said she and her husband will be rooting for American Pharoah at what she hopes is a historic race on Saturday.
"I have a special bond with him," she said. "I feel like he's my child or something."
Zayat Stables did not immediately respond to ABC News' request for comment.