— -- Former Michigan State University and USA Gymnastics doctor Larry Nassar was sentenced to 60 years in prison after pleading guilty to federal child pornography charges in July.
Investigators said he possessed more than 37,000 videos and images of child pornography.
Michelle Benham, chief deputy clerk of U.S. District County Western District of Michigan, confirmed the sentence to ABC News.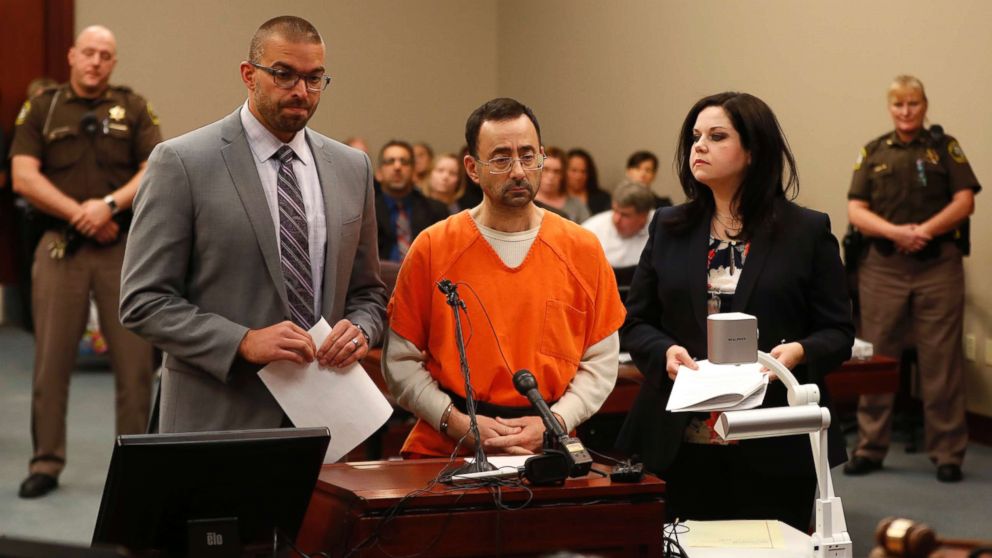 Nassar also faces sentencing in two state courts after pleading guilty last month to seven counts of first-degree criminal sexual conduct involving girls who were 15 years old or younger Ingham County in Michigan, as well as three other counts of first-degree criminal sexual conduct in Eaton County, Michigan.
The charges relate to Nassar's time a faculty member at Michigan State University, from 1997 to 2016, when, the university said, he was fired after the allegations surfaced. As part of his plea agreement, Nassar admitted that touching the women and girls was not a medical procedure, and he will not be able to use it as a defense moving forward.
Sentencing in the state cases will take place in January.
Nassar is also named in civil lawsuits, in which he is accused of sexual misconduct by more than 125 women and girls.
Olympic gymnasts Aly Raisman, McKayla Maroney and Gabby Douglas have publicly said they were abused by Nassar.
ABC News' Rachel Katz contributed to this report.