Meet Ginny Thrasher, the Teen Who Took Home Team USA's First Gold Medal in Rio
The teenager told ABC News she is heading back to school after the Olympics.
— -- American shooter Ginny Thrasher took home Team USA's first gold medal in the Olympics on Saturday.
In an interview with ABC News' Matt Gutman following her victory in Rio, the 19-year-old said she wouldn't be celebrating yet. "I have to go refocus for my next match," the teen gold medalist said, adding that she shoots again on Aug. 11.
"After I shoot that match, I'll be going back, straight to classes for my sophomore year," the Springfield, Virginia, native, who attends West Virginia University, said. "They start the day after I get back."
Thrasher beat out China's Du Li and Yi Siling, who took home silver and bronze respectively, in the women's 10-meter air rifle, to win the first gold medal for Team USA in Rio.
"It's a sport of precision," Thrasher said of shooting. She described shooting for a perfect score, which would require hitting a target that is as small as the period at the end of this sentence.
"Picture a pencil, and if you take the eraser of that pencil, that's the very middle of the circle. And then if you took a period in size 12 Times New Roman font, and you put it in the middle of that pencil eraser, that is the 10. So, I have to hit that dot at 10 meters to shoot a 10. Now that's just a 10.0, if I hit that dot it's just a 10.0, and then if I hit in the very exact center it's a 10.9," Thrasher explained.
Thrasher added that her average during qualification was slightly above a 10.4.
"I mean it's not an Olympic sport for nothing!" the teenager joked.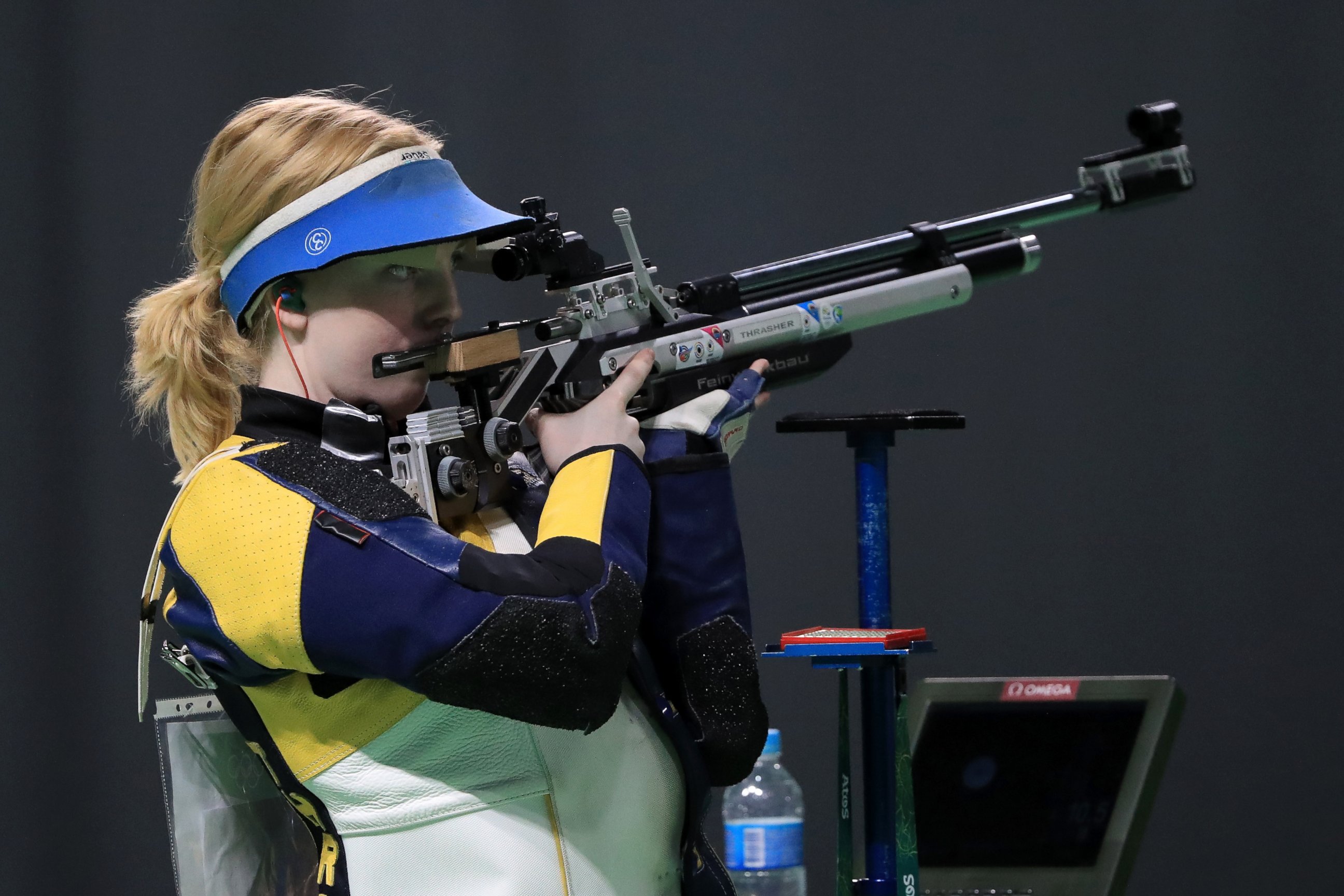 Remarkably, Thrasher said she has only been shooting for five years.
"When I was in eighth grade, my grandpa took me out deer hunting," Thrasher said, "and then the next year I joined my high school's air rifle team.
"For me, I think that the best part about shooting is you get out of it what you put into it and I've had a great five years," she added, "I absolutely fell in love with the sport of shooting, and I love practicing, I love competing, I love everything about it."
She told ABC News she felt incredibly proud to represent her country. "I definitely wasn't the favorite but for me, I just wanted to go out there and shoot the best that I could. I knew that I was capable of this," she said.
"Knowing that I had the first gold medal in the entire Rio 2016 Olympics, that was the moment when I thought I am so proud, I am so proud of being American, I am so proud to stand on that podium, to listen to my nation's anthem and to just be able to represent, and start off this Rio 2016 games on such a positive note," she added.
The teen added that she hopes this will not be her last Olympics.
"I have three more years of NCAA eligibility, and then I'll be shooting the next year after that aiming for Tokyo."