— -- The military group American Veterans (AMVETS) says the NFL has rejected its full-page Super Bowl program ad that contained the hashtag "#PleaseStand." The ad, with the picture a color guard holding the American flag, also included a call to donate $20 to AMVETS.
The ad jumps right into the controversy surrounding NFL players kneeling during the National Anthem, originally stoked by San Francisco 49ers quarterback Colin Kaepernick prior to last season and recharged after inflammatory comments by President Donald Trump last September.
In a letter sent to NFL Commissioner Roger Goodell on Monday, AMVETS National Commander Marion Polk wrote that "freedom of speech works both ways." Polk goes on to say, "We respect the rights of those who choose to protest," but "imposing corporate censorship to deny those same rights to those veterans who have secured it for all is reprehensible."
Goodell said in a letter to teams in October that the NFL believes everyone should stand for the anthem, but added, "We also care deeply about our players and respect their opinions and concerns about critical social issues."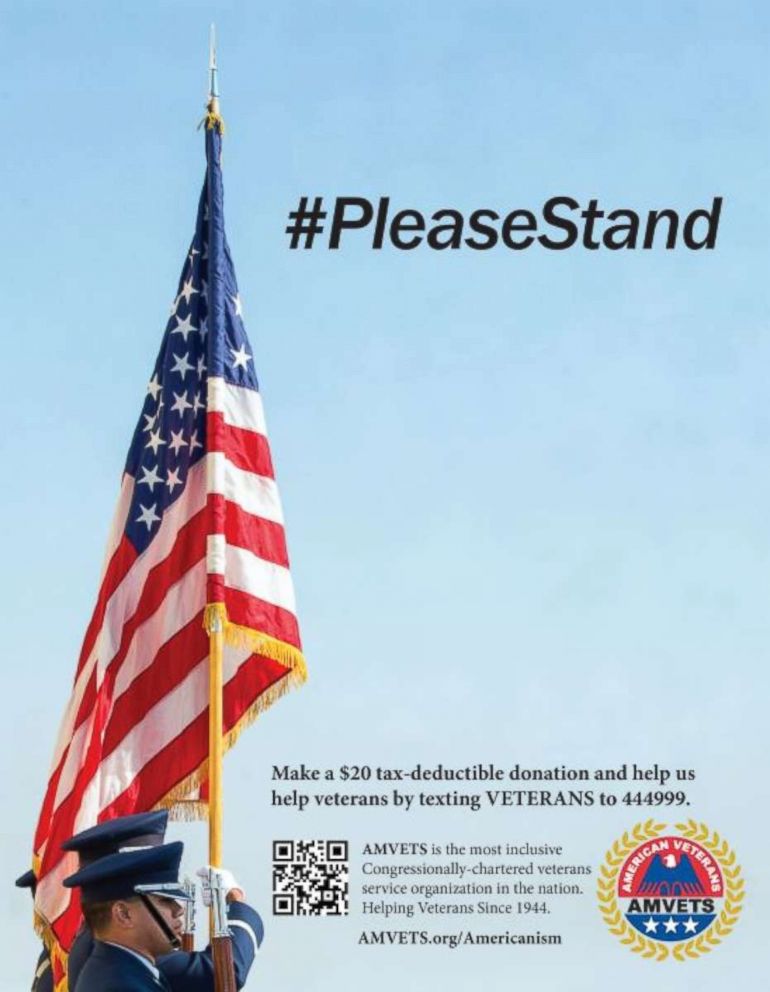 The NFL release a statement on Monday, saying they did not accept the ad due to it making a "political statement."
"The Super Bowl program is designed for fans to commemorate and celebrate the game, players, teams, and the Super Bowl. It has never been a place for advertising that could be considered by some as a political statement," NFL Vice President of Communications Brian McCarthy said in the statement.
McCarthy says AMVETS submitted the "Please Stand" ad (with no hashtag) last Wednesday. McCarthy says the NFL approved other tag lines, such as "Please Honor Our Veterans" or "Please Stand for our Veterans," but the organization did not respond and the program went into production without the AMVETS ad.
McCarthy says the NFL delayed printing of the program specifically to wait for a response. It was only after the program had gone into production that the group asked to add the hashtag, he said.
McCarthy says the NFL will continue to salute service members during the Super Bowl with "on-field moments that will be televised as part of the game."
In the letter to the NFL commissioner, Polk writes that "veterans are good for more than just military aircraft flyovers, photo opportunities during halftime, or props to sell camouflage-style NFL apparel."
Trump told people at a campaign rally in Alabama last September that owners should say, "Get that son of a b---- off the field right now?" if they "disrespect the flag." He returned to the topic multiple times on Twitter during the NFL season, repeatedly criticizing players who kneeled and blaming declining NFL ratings on the controversy.