This is a case of insult added to injury -- two to four inches of rain this weekend, added to mountains of snow that have not completely melted after the stubborn winter of 2010.
Forecasters say the Eastern Seaboard -- the most heavily-populated part from Washington, D.C., north to Philadelphia, New York and southern New England -- is in for a windswept rainstorm that will bring a risk of widespread flooding with it.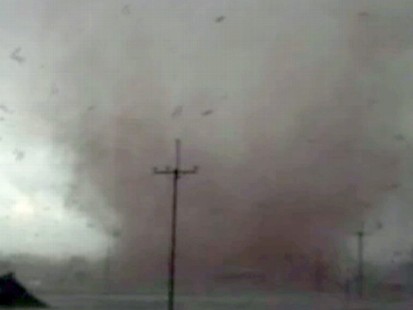 "It's a very large system that's planted over the eastern third of the country," said Mike Sowko of
NOAA
's
Hydrometeorological Prediction Center
in Camp Springs, Md. "It's going to be one of the bigger rain events of the year."
Forecasters say low-pressure systems have planted themselves roughly over Iowa and near the Atlantic coast off of Florida, and aren't goiing anywhere. The result: a mass of moisture that keeps producing rain...and more rain...and more rain.
"It's moving very slowly, so it has time to bombard the East Coast," said Sowko. "If it were winter it would be a blizzard, but fortunately it's too warm for that."
The National Weather Service posted flood watches from western North Carolina up into Ohio, Pennsylvania, New York and Connecticut. In Pittsburgh -- forecast to get heavy rain but less than cities to the east -- the new storm will combine with melting snow to fill the Ohio River to overflowing. The river is expected to crest two feet above flood stage on Sunday afternoon.
Wet, Windy Weekend for Eastern Cities
The weather service office for the New York metro area put out this advisory: "The rain is expected to become heavy at times late Saturday afternoon and Saturday night. Rainfall totals of 2 to 4 inches are possible by Sunday morning." Forecast winds on Saturday were 25-30 mph, with gusts of 40.
"With snowpack still existing across higher elevations," the weather service warned, "river flooding is possible due to excessive runoff. Elsewhere, urban and poor drainage flooding is likely making some flood prone roadways impassable."
Washington, Baltimore and Philadelphia were also forecast to get 2-4 inches of rain starting Friday night, though the winds, at 15-20 mph, were likely to be slightly less intense.
Eastern Storm Leaves Tornado Damage
The storm has already done its share of damage in Florida and Arkansas, where about a dozen tornadoes are believed to have touched down between Wednesday afternoon and today.
"I heard this roar," said Richard Morris of Benton, Ark. "I started closing windows, and I told my wife, 'Get by the wall, get away from the windows.' And that's where we stayed, and we thought we was going to go too." Both the couple's cars were destroyed by the tornado.
Spring -- from March through May -- is typically the roughest time for tornadoes in the South and Midwest, as warm, moist air from the Gulf of Mexico collides with cool, dry air from Canada that has not yet retreated into Canada.
Could this be a worse-than-average year? Meteorologists disagree. Greg Carbin of NOAA's Storm Prediction Center in Norman, Okla., said, "If anything, we've had a relatively slow start."
Tony Lupo of the University of Missouri, on the other hand, said the remaining snowpack, now evaporating, might prime the atmosphere.
"As the warm air is beginning to intrude upon the cold air," he said, "the collisions between the two are going to create the potential for more and stronger storms."
Ryan Owens contributed reporting for this story.