The bad news first: Hurricane Fred is a powerful storm in the tropical Atlantic. Late Wednesday it was reported to have winds of 115 miles per hour. You don't want to be near it.
Now the good news: Barring a tremendous surprise, you never will. The National Hurricane Center says the storm -- about 1,000 miles off the African coast and 3,000 miles from any U.S. city -- will probably veer north and not threaten any major land mass. At last report it was churning northwestward at 13 mph.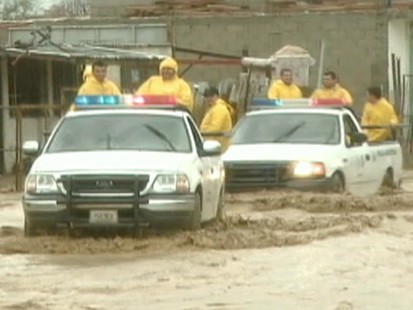 "It is quite unusual to have such a powerful system so far east in the [Atlantic] basin," the hurricane center said in a statement. "Fred is only the third major hurricane noted east of 35 [degrees west longitude] in the tropical Atlantic Ocean and the strongest hurricane so far south and east in our data record."
Fred is the second Atlantic hurricane of the year, after Hurricane Bill in mid-August. It reached Category 3 strength (winds over 110 mph) with remarkable speed.
But the hurricane center says it is expected to weaken over the next 48 hours. Forecast maps show that, by Saturday, it should be back down to tropcial storm strength, with winds below 75 mph, and by next week, it could drop below the level at which the hurricane center tracks it.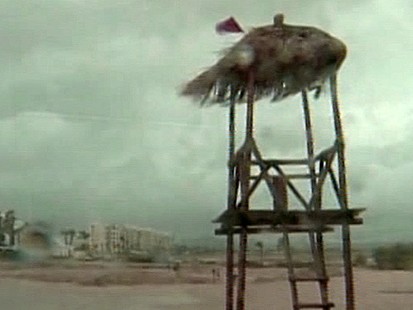 "Don't lose any sleep over it; this Fred is not scary at all," said AccuWeather, the private forecasting service, making lighthearted references to Fred Krueger, the horror movie character from the "Nightmare on Elm Street" films.
United States Dodges Storms
The United States has had it fairly easy this year. The early part of the Atlantic hurricane season was fairly quiet, and the storms that have formed since mid-August have veered away from the U.S. mainland. Hurricane Jimena, in the Pacific, did reach Category 5 off Baja, Calif., but weakened before it made landfall there.
The National Oceanographic and Atmospheric Administration, or NOAA, warns people, though, to be wary, even in what seems to be a quiet season. It reminds people that in 1992, Hurricane Andrew -- in dollar terms, the most destructive storm in U.S. history up to then -- was the first named storm that year, and did not form until the middle of August.
Hurricane Fred Far From Land
Historically, September brings the largest number of storms, though many of the deadliest, including Katrina in 2005, came in August.
Fred, unless there is a major surprise, will be gone in a few days. Hurricane center forecaster Eric Blake wrote, "Some fluctuations in intensity are possible today, but Fred is expected to weaken tomorrow."
There is, in the meantime, a tropical storm called Linda in the Pacific, with 70 mph winds. But it is halfway between Mexico and Hawaii, far from land and moving slowly to the northwest.
Reuters contributed information for this story.