A small plane that delivers people to life-saving medical care crashed Tuesday in the parking lot of a Massachusetts grocery store.
The Federal Aviation Administration said three people are dead. According to government sources, a pilot, patient and spouse were onboard when the plane crashed near a Hannaford supermarket.
According to the FAA, the plane was running what's known as an "angel" flight. Angel flights are free transport flown by a volunteer corps of more than 1,200 pilots that help children and adults get medical care. Angel flights also help transport organs and blood.
Amy Camerlin, spokesperson for Angel Flight New England said a male cancer patient and his wife were en route to Boston for treatment at Dana Farber Cancer Institute. She said that at approximately 10:30 a.m., Angel Flight received a call from the FAA informing the volunteer corps that it had lost radar contact with an Angel Flight about 20 miles southwest of Boston.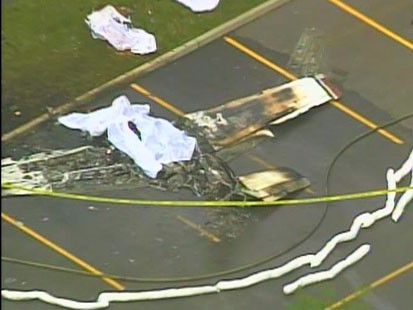 "Our deepest sympathies and thoughts are prayers are (with the families) right now," Camerlin said.
In Easton, Mass., police department deputy chief Allen Krajcik said he was first on the scene and witnessed the crash.
"I was about a half mile away in my cruiser when I heard the plane going overhead," he said at a Tuesday press conference. "It was very low clouds, probably 700 feet, and I couldn't see the plane, I heard 'em."
Krajcik added, "The plane just did a nosedive straight down and impacted the pavement in the parking lot."
The FAA said the flight was flying from Westhampton Beach, N.Y., to Boston.
FAA Eastern Region told WABC there was no indication on air traffic control tapes of a problem with the aircraft prior to the crash.
Camerlin said Angel Flight New England has flown more than 53,000 children and adults on more than 30,000 flights without an injury of fatality until today.
The plane crash has not interrupted business, and the store remains open to shoppers.
In a Tuesday statement, Dr. Edward J. Benz, Jr., MD, president of the Dana-Farber Cancer Institute said he was "deeply saddened" to hear about the death of a patient, his wife and the pilot.
"Angel Flight volunteers give greatly of themselves and their resources," Benz said. "Their selfless work makes it possible for many people to get lifesaving care that might otherwise be out of reach."
ABC News' Brian Hartman and WABC's Howard Price contributed to this report.