— -- For centuries, locals are said to have largely ignored the line that marks the border between Canada and the U.S.A. It physically snakes through side streets, in and out of houses, through the public library and straight down the middle of a main road that residents affectionately call "Canusa Avenue."
Legend has it that the surveyors drawing the international border were drunk when mapping out this part of the continent. Others say it was just a silly mistake. Whatever the real story may be, life along this area hasn't changed much since the early 1700's, and the villages of Derby Line, Vermont, and Stanstead, Quebec, are still essentially one town.
"It's in stark contrast to the southern [U.S.] border, which has a wall, which has a virtually military checkpoint. ... But we use flower pots," said local hobbyist historian Scott Wheeler. He's referring to the line of potted plants downtown that actually represent the international boundary between the two nations.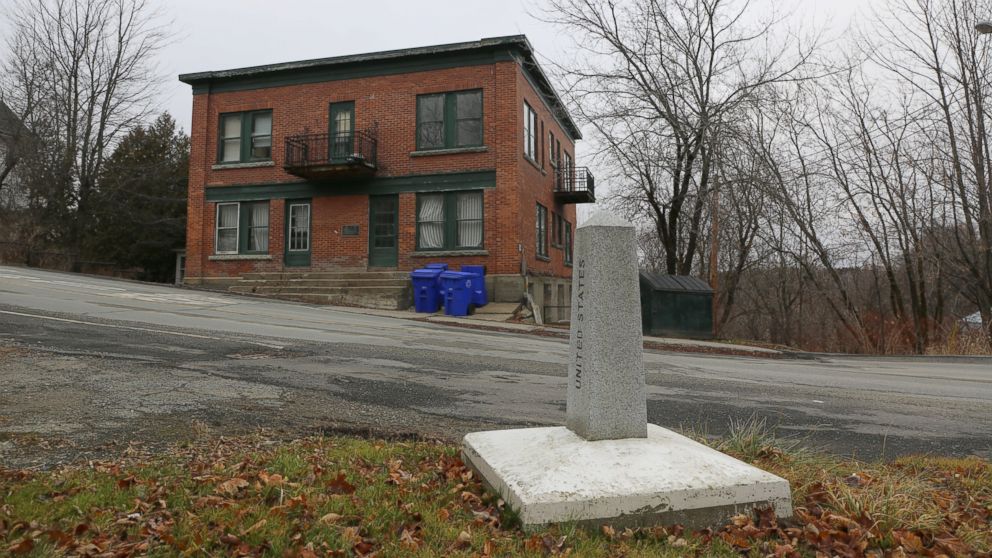 Love Along the Line
Bryan Marovich, an American resident of Derby Line used to live in one of the apartment buildings that sits on top of the line. The local bar, formerly known as "Checkpoint Charlie," sits just a stone's throw away. That's where he met his girlfriend, Tanya Mueller.
"The first night we met, she was singing in this lounge, and she caught my attention," Marovich said.
Mueller smiled as she recounted her version. "He said, 'we should try and do music sometime together.' And I said 'I want to do something with my life. Do you want to come with me?''"
They clicked instantly, and because Marovich's apartment was literally on top of the international line, Mueller, a Canadian, could come over whenever she wanted. The building has two addresses, one for each country.
"Tanya was living in Canada at the time so we didn't need that as a residence for us as two nationalities living together," Marovich said. "But there were definitely people in the building at the time who were using that location for that specific reason."
Today, Marovich runs a local blog and Mueller sometimes helps with the photography. They say they like to meet at the Haskell Free Library to collaborate: a historic building where the international line runs right through the center of the reading areas and shelves.
"The border is kind of arbitrary when you live here, you know? This is my backyard, this is my neighborhood," Marovich said.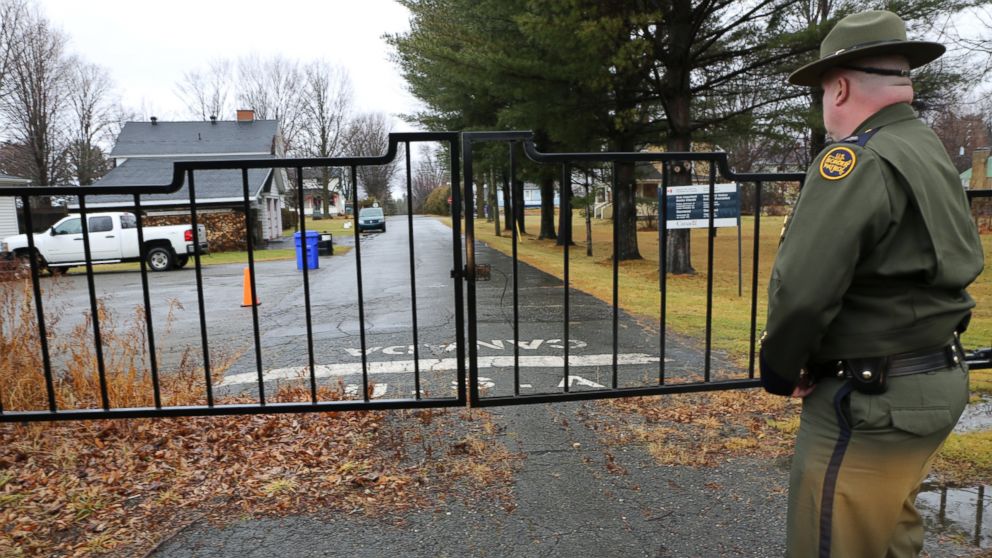 Balancing Border Security With a Centuries-Old Friendship
Though this quiet, peaceful existence seems quaint, for those in charge of guarding the border, the constant crossing can sometimes be a source of anxiety.
Bradley Curtis, an acting division chief for the U.S. Border Patrol, grew up in Derby Line and knows all of the streets like the back of his hand. His dad used to work at the customs house on the border, too, and as a kid, he used to play hockey on the Canadian side every winter. "Derby Line was a great place to grow up," he said.
Then came the terror attacks of Sept. 11, 2001. "Unfortunately, 9/11 pretty much changed the world and there's a lot more of a terrorist threat out there," Curtis said. "We did have to take some steps that were not always the most popular, with the end goal of safeguard and securing our borders and keeping Americans safe."
Some of those steps included building gates on certain side streets, ramping up closed-circuit monitoring, and hiring more personnel.
"When I started, there were approximately 75 agents in our sector, in 1998. Now, there's approximately 310. So that was a big change," Curtis said.
Though the number of agents are low compared to the southern border (around 18,500 along the Southwest border compared to an estimated 2,200 from Washington state to Maine), he doesn't imagine seeing a wall built along the Canadian border anytime soon. But because many of the new personnel hired on were not local to the area, they took a different attitude to sometimes lackadaisical crossings.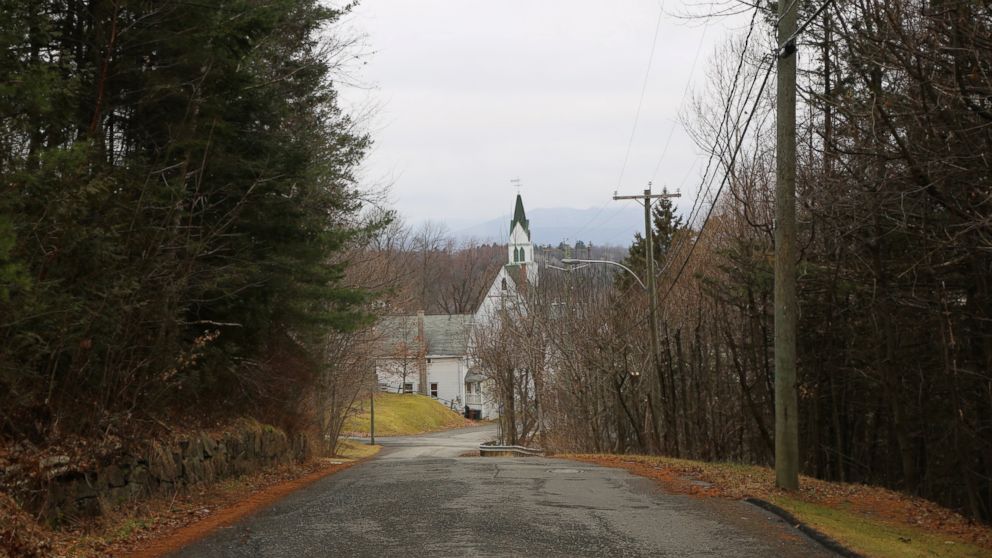 At first, many residents resisted this change to daily life. "A lot of people considered the government coming in here and putting this gate in as an intrusion into their lifestyle," Curtis said. "And while most people support our mission, sometimes not everybody wants us around."
Today, more than a decade after many of the changes were made, it seems most of the townspeople have gotten used to this new normal of living along the line.
"You develop a relationship with customs and border patrol because you see them every day. But they're doing a job, so it's not always friendly, although it can be pleasant. They have to know what you're doing and sometimes it's uncomfortable," Marovich said.
The two towns' relationship "hasn't changed much, but it has gone through its roller coaster," Wheeler said. "It's a hard pill to swallow that you have to prove who you are to go visit your neighbor across the street."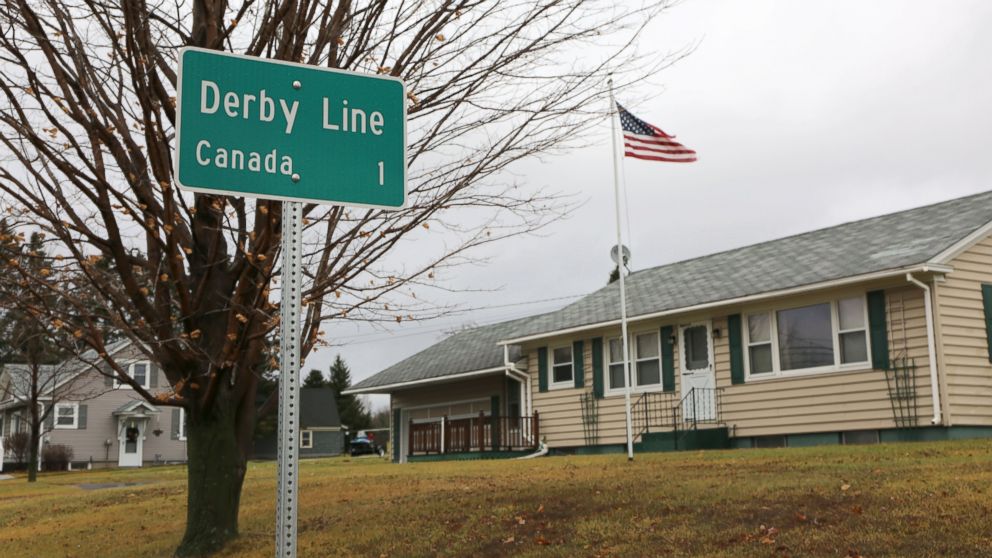 Border Relations on the Rink
More than a decade later, neighbors are still crossing the street to see each other, and for many of the older residents, it's to the Border Curling Club.
The club was founded more than a century ago by Canadians wanting to teach their American neighbors how to play one of their favorite national pastimes. "It's a friendly game, eh? But, we win when we play against Americans," jokes Quebec resident Norman Gilliana.
Every Monday morning, the club hosts friendly matches for local seniors and during the games, it's common to hear both English and French fluttering from the rink. American player Mary Pat Goulden laughs when asked if the language barrier can sometimes pose a problem. "Norm says 'whoooaaahh' a lot and I think that's a universal term," she jokes. "But the commands are obvious. You do what your skip tells you to do, it doesn't matter which country you're from."
As the session wraps up and members go their separate ways, the parking lot looks like any other town on the northern border of the U.S., with only the different license plates giving away clues.
"I think the one thing that makes us special and unique is we don't think we're special and unique," Wheeler said. "We are who we are and we always have been. I think the special and uniqueness is we don't think we are."