As thousands of Colorado school teachers get ready to descend on their state capitol this week to demand billions of dollars in education funding, lawmakers are proposing jailing them if they even consider going on strike.
The proposed law pitched by two Republican legislators threatens jail time for any educator caught "directly or indirectly inducing, instigating, encouraging, authorizing, ratifying, or participating in a strike against any public school employer."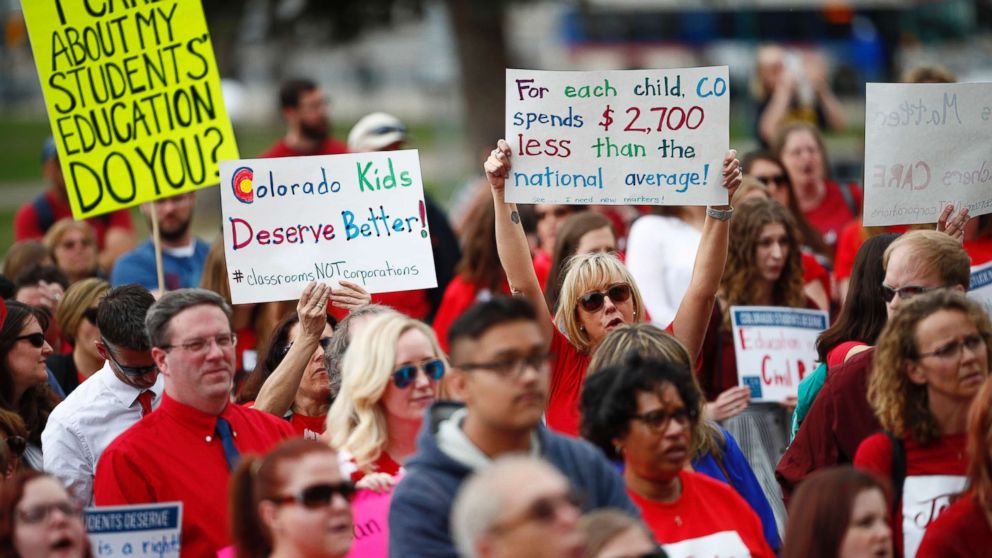 The jail term proposed by the prime sponsors of the bill, state Sen. Bob Gardner and Rep. Paul Lundeen, is six months.
"Clearly it's an attempt to limit the voices of educators," Kerrie Dallman, president of the Colorado Education Association, told ABC News. "All we want to do is talk to our elected representatives about funding our schools appropriately. And here are two Republican legislators who've come out with a bill that is a clear attack on public school teachers in the state."
Colorado teachers are poised to participate in a lobbying effort in Denver Thursday and Friday, prompting at least a dozen school districts in the state to cancel school.
Dallman said she expects "a couple thousand" teachers to gather at the state capitol on Thursday and "7,000-plus" on Friday.
She emphasized the "days of action" at the capitol is not a strike or even a mass teacher walkout. She said most of the teachers participating in the event will be using the two personal leave days they earn annually.
"The fact that they're using one of their two personal days ... is a pretty strong signal about how important this issue is," Dallman said.
Gardner told ABC News today that his bill would not prohibit actions like the one teachers are planning this week, and said it was "absurd" to say the proposal was intended to curb teachers' voices.
"It is not in any way an attempt to silence teachers' voices. They have the right to assemble, protest, associate, demonstrate whatever they wish and I would defend their right to do that," Gardner said.
He said there has been widespread "misinformation" about his bill. He explained that teachers and education unions would only risk going to jail or being fined if they defy a court order forbidding them to strike.
"If this bill were to pass, they won't be silenced. They simply will not be able to walk out of the classroom together collectively and leave the job and shut down schools depriving children of continuity in their education," he said.
He said the West Virginia teachers' strike earlier this year prompted him to propose the legislation.
West Virginia teachers went on a nine-day strike that ended in March when the Republican governor there agreed to give all state workers a 5 percent pay raise. The labor action ignited a string of teacher protests in red states like Oklahoma, Kentucky and Arizona where the governors' offices and state legislatures are dominated by Republicans.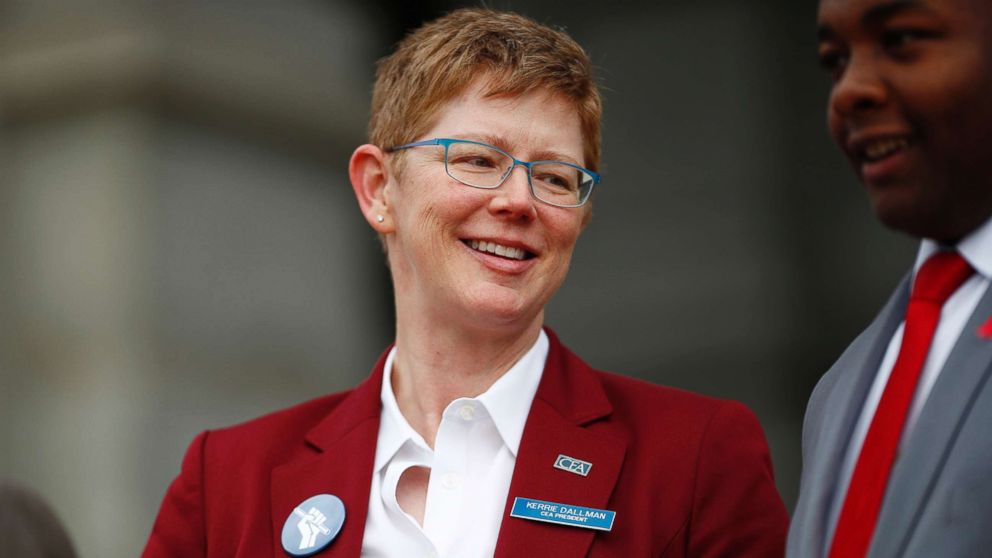 Arizona teachers voted last week to go on strike as early as Thursday in an effort to win a 20 percent pay hike.
Colorado is the exception. The state's governor, John Hickenlooper, is a Democrat and Democrats hold a majority of seats in the State House.
The bill proposed by Gardner and Lundeen will likely not pass. In a tweet Monday, the Colorado Senate Democrats called the proposal "anti-worker trash."
Dallman told ABC News that teachers in Colorado are frustrated that their efforts so far have not swayed lawmakers to adhere to Amendment 23, which was passed by voters in 2000 and requires the state to increase funding for education at the annual rate of inflation.
"We've had over nine years now of chronic underfunding of our schools," Dallman said. "We have lobbied over those nine years and we are fed up at this point. Obviously, those nine years of lobbying around education funding have not achieved the results that we think parents want and what public school educators want."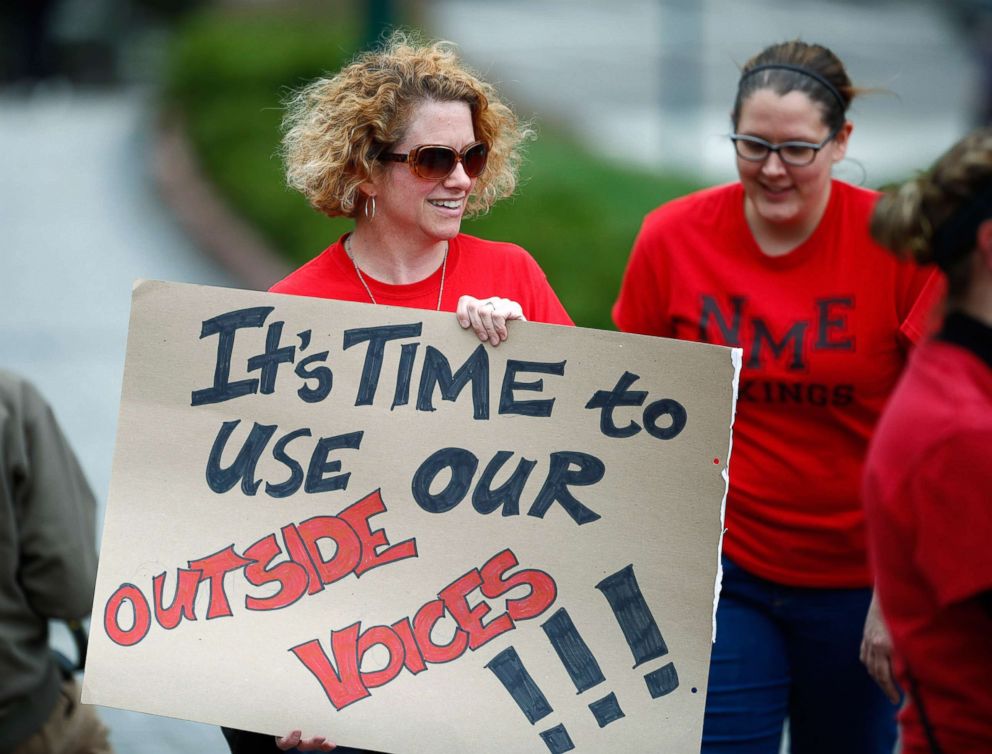 She said Colorado spends about $2,700 less than the national per-pupil average of about $12,000 a year.
Dallman said that over the last nine years, state lawmakers have underfunded education by $6.6 billion.
"This year alone it was $828 million," she said.
She went on, "So we want them to pay off that debt and adhere to Amendment 23 within the next four years. We want no new corporate tax breaks of any kind until we're funding our schools at the national per-pupil average."