It's hard for his mother to believe that 16 years to the day after she arrived with her firstborn son in the United States, he would be killed in the country they had both left behind.
Manuel Antonio Cano Pacheco, 19, was kidnapped and killed May 18 in Zacatecas, Mexico, his mother said. Just weeks before, on April 24, he had been escorted by officers from U.S. Immigration and Customs Enforcement (ICE) to the border at Laredo, Texas, after living in Iowa for nearly his entire life.
"I wanted opportunities for him, for him to study here so that he could be somebody," she told ABC News in Spanish of her reasons for bringing him to the United States at the age of 3 on May 18, 2002.
Instead, he was buried thousands of miles away by his grandparents. His mother, who requested anonymity for fear that she could be targeted because of her own immigration status, said she was unable to attend his funeral.
Now, she said his three siblings -- all U.S. citizens -- are left only with their memories of the teenager who wanted to be a mechanic, played soccer with his friends and hoped to raise his 1-year-old son with his girlfriend.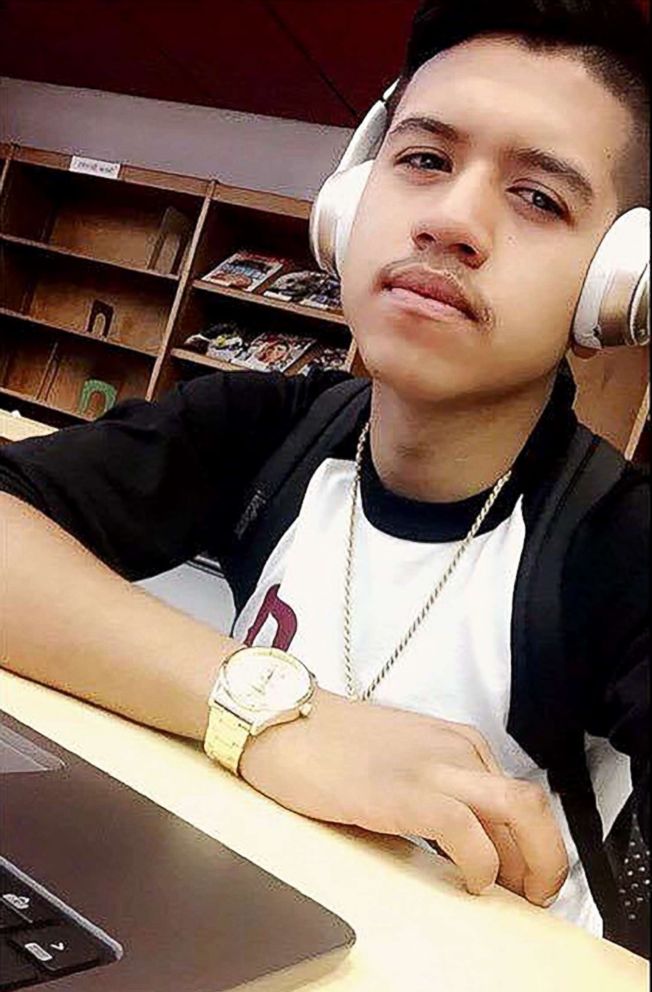 'This time, no one was able to share'
"He was happy, he was easygoing, he brought a lot of smiles," his mother said. "I always thought I would see him again, and with this news, there's so much pain. It's very difficult. I can't believe it and I don't want to accept it."
A "celebration of life" service was held for Pacheco Sunday at Trinity Las Américas United Methodist Church in Des Moines. Rev. Alejandro Alfaro-Santiz led the service, which was attended by about 20 people, he said, but few were able to speak through their grief.
"People were devastated," Alfaro-Santiz told ABC News of Pacheco's widely reported death. "Usually, when we have memorial services -- we call them celebrations of life, so people can celebrate the good times and remember the good times they have shared with their loved ones and keep a memory of something they did together -- people usually talk and share some things. This time, no one was able to share."
"They were crying, they were sobbing," he added. "We have some scripture readings and we usually also have friends and family do the readings, but of the three readings, I ended up doing two because people weren't able to read."
'Voluntary departure'
Pacheco had been in Mexico only three weeks when his mother said he was kidnapped and killed. He grew up in Des Moines with his mother and siblings, and had been granted permission to stay in the United States under the Deferred Action for Childhood Arrivals program (DACA), in May 2015, according to ICE.
An Obama-era program, DACA allows some undocumented immigrants who were brought to the United States as children -- also known as Dreamers -- to live and work. The program is in jeopardy as the courts decide whether President Donald Trump's plans to end it are legal.
In a statement, ICE said Pacheco's DACA status had been terminated after he was convicted of three misdemeanors. Court records show he was convicted on marijuana and drug paraphernalia possession charges as well as traffic violations.
"Manuel Antonio Cano-Pacheco, 19, from Mexico, was an illegal alien who was returned to Mexico on April 24, 2018, under escort by deportation officers with U.S. Immigration and Customs Enforcement (ICE)," Shawn Neudauer, an ICE public affairs officer, said in a statement. "Cano-Pacheco illegally entered the U.S. with his parents on an unknown date. In May 2015, he was granted DACA status and employment authorization. In April 2017, ICE officers arrested Cano-Pacheco at the Polk County (Iowa) Jail following his conviction on a misdemeanor drug charge. About this same time, Cano-Pacheco was also convicted on a separate misdemeanor charge in Polk County.
"ICE issued Cano-Pacheco a notice to appear before a federal immigration judge. Based on his criminal convictions, his DACA status was terminated making him amenable to deportation. After posting an immigration bond, he was released from ICE custody pending an immigration court hearing. While awaiting his immigration hearing, Cano-Pacheco was convicted in Iowa of two more misdemeanors, including for driving under the influence. On April 10, 2018, Cano-Pacheco requested and was granted voluntary departure, 'under safeguards,' by a federal immigration judge. He returned to Mexico at the border in Laredo, Texas under ICE escort April 24," Neudauer said in the statement.
For its part, U.S. Citizenship and Immigration Services said DACA "is not a right or a status" and can be revoked if a recipient engages in "subsequent criminal activity."
"USCIS will not comment on individual cases; however, under the illegal DACA policy as instituted by President Obama, anyone convicted of a felony, significant misdemeanor, or three or more non-significant misdemeanors would generally no longer warrant a grant of deferred action," USCIS told ABC News in a statement. "As such, USCIS has consistently made it clear to individuals receiving DACA that it may be terminated at any time at DHS' discretion if they engage in subsequent criminal activity. The reality is that DACA is not a right or a status, but simply a decision on the part of DHS to temporarily defer the removal of an individual who is otherwise without lawful status or other permission to remain in the United States."
'He was desperate'
Pacheco was detained Sept. 27, 2017, his mother said, and time in the detention center was hard on him, a sentiment echoed by Alfaro-Santiz, the pastor.
"After he was detained in September, the detention conditions were very hard," Alfaro-Santiz said. "That's a problem that's very prevalent, and there is not much light on that. But he was desperate and he ended up signing his paper requesting to be deported in April, even though his mom asked him not to do it because she knew all of the dangers of going back to Mexico, to Zacatecas."
"I think he didn't want to be in jail anymore, to be closed off. He was desperate," his mother said. "But I also think his lawyer told him to sign that."
Pacheco's lawyer, Joseph Lopez-Wilson, told ABC News that "Pacheco confirmed in open court that he wanted to leave."
When Trump announced he planned to end DACA, his mother said, Pacheco was worried, as was she. Her family had told her how Zacatecas in north-central Mexico had grown to be one of the most violent places in the country.
Two municipalities in Zacatecas, including Fresnillo, where Pacheco was living, made it onto the list of the country's 20 deadliest cities, according to the Citizens' Council on Public Security and Criminal Justice, a Mexican nonprofit that tracks such drug-related violence.
The group also found that Zacatecas had the highest rate of kidnappings last year: 14.97 for every 100,000 residents, 15 times the average of the rest of the country.
"He was worried that they were going to take all of this away from him, that he didn't want to go to Mexico, these types of things," his mother said. "I didn't want him to be there, because I had spoken to my family, and they didn't want him to be there either, because it's very ugly there now."
'He was an example to them'
At first, Pacheco had seemed content, she said, meeting his grandparents and aunts and uncles. He was trying to make the best of it despite thinking it was unfair.
Then, on May 18, as she left her job at a restaurant, she called her son for their usual chat, but he didn't answer.
"I wanted to call him to ask if he was OK, if he was getting used to it there. I called him every day," she said. "It was a Friday. I came home at night and called him, and he didn't answer. My family didn't answer either, because they were out looking for him."
"On Saturday, they told me they had found him -- but he was already dead," she said.
His mother said Pacheco's brothers and sisters are struggling to accept that "they are not going to see him again."
"He was a good brother. When my husband was no longer here, he took them to school, he picked them up from school," his mother said. "He was a good boy. He was an example to them.
"They loved him very much," she added.
ABC News' Geneva Sands contributed to this report.