— -- Third-graders in Missouri have sparked a firestorm by selling AR-15 raffle tickets in order to fund their baseball team.
The fundraiser attracted backlash online in the wake of last week's deadly school shooting in Parkland, Florida, where an AR-15-style rifle was used to kill 17 people.
But the baseball team's coach thinks too much has been made of the issue. When ABC News reached Coach Levi Patterson, he said "this has been blown out of proportion."
"My heart breaks for those victims in [Florida.] I simply ask that you pray for them," the Neosho-based coach said.
The raffle, which was launched before last week's bloodshed to boost support for the young baseball players, was promoted online, accompanied by the South Elementary School's Wildcat mascot. According to The Kansas City Star, the baseball team is not affiliated with the school district.
However, in the hours after the shooting at Marjory Stoneman Douglas High School, South Elementary School principal Lee Woodward plugged the raffle on her own Facebook page, pushing for support of the "9u Neosho baseball players, coaches, and parents," according to the Star.
The mascot can be used in connection with non-school functions, a school district official told ABC News. However, approval must be secured beforehand, which it wasn't in this case, the official said.
"Community little league teams in our town have been given permission to use our logos with district approval prior to usage," the Neosho School District said in part in a statement. "The use of our logo on the raffle flyer was not approved but we do not believe it was an action done in ill will. The team removed our logo from the flyer as soon as they were made aware of the situation."
Woodward, the principal, is also a mother of one of the players on Patterson's team and was acting as a concerned mother and not as school principal by supporting the raffle, the official added.
In a statement, Woodward said: "As the mother of a community league baseball player and a school principal, I am truly sorry to any who were offended or concerned by the team's raffle. It was never my intention to offend anyone but to simply support my son and his teammates.
"My family is no longer participating in the fundraiser and because of death threats and other violence toward my family from across the nation, I have chosen not to comment further on this topic."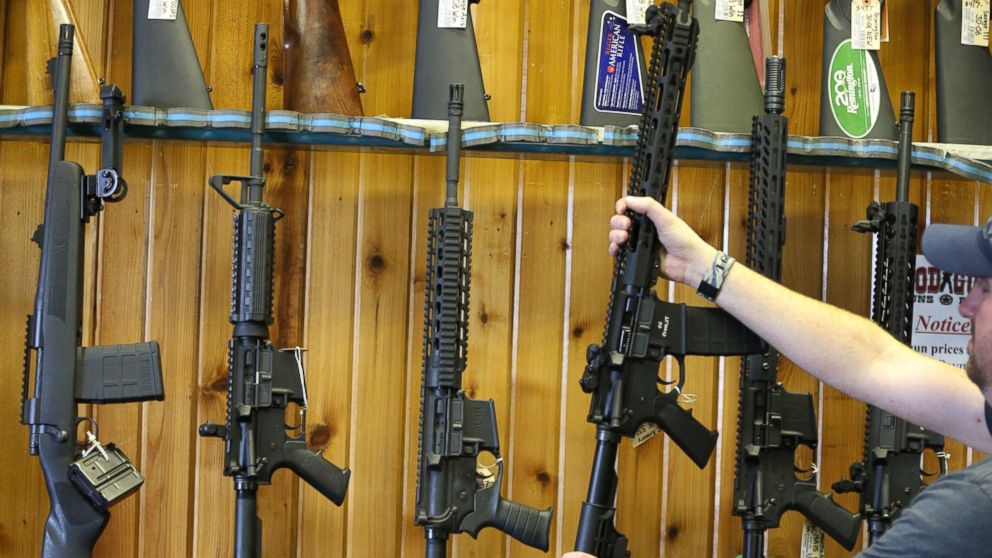 According to its website, the school prides itself on its stewardship.
"The Vision of South Elementary School is to instill positive character traits in our students so they will become both academically and socially productive citizens in society."
In the wake of the attacks, Patterson, who is not an employee of the school district, told the Star he feels he's been pilloried.
"One of the people from the hate group turned in [a Facebook post about the raffle] for I don't know what," he said.
He dismissed the notion that the AR-15 is a "killing machine" and defended his decision to carry on with the raffle in a Facebook post Wednesday.
"We appreciate your 'concern' but please understand, we are not, have not, and will not force one of our boys to sell raffle tickets for the Black Rain AR15 Spec 15, if they are uncomfortable doing so," he wrote, according to the Star. The winner must pass a background check to score the weapon.
"Are you all tone deaf?" wrote one person in a comment on Patterson's page, according to the Star.
Patterson later amended his "hate group" remark to the Star, suggesting instead that critics are merely misguided in their attacks.
"I just think they have feelings to this specific type of gun [that are] different than people around here do," he told the Star.
The coach added that many have come to his defense as well. Patterson said he's had people from other states come forward over Facebook offering to purchase raffle tickets.
One of the players' fathers, according to the Star, co-founded Black Rain Ordnance, the manufacturer that produced the weapon and donated it to the raffle.
Black Rain Ordnance told ABC News: We were approached by a local Neosho youth traveling baseball team to donate a product that we manufacture here in our local gun friendly community of Neosho, Missouri. As always, we do everything in our power to support the community that also supports us as a business. We support other organizations whether it be local, regional or national with firearms donations to help support their initiatives. The winner of these donations must abide by all Federal, State and Local regulations that are set in place for taking ownership of a firearm." .According to the company's website, the variety of AR-15-type firearms sold by Black Rain Ordnance "use only American metal so that each of our products is truly an authentic American creation."
AR-15s shopped on the site range from just under $1,000 to almost $3,000. Specifically, the company claims on its website that its line of AR-15s and pistols are "built to meet bid requirements for law enforcement and military personnel and as an affordable option for civilian use."