Six people were arrested after a peaceful protest over a proposed police training ground turned violent in Atlanta, Georgia, Saturday night, police said.
According to Atlanta Police Chief Darin Schierbaum, people protesting a new police training ground gathered around 5 p.m. and marched peacefully until, once downtown, several of the protestors "started committing illegal acts, which included the breaking of windows and also attacking police cruisers that were in the area."
Police suppressed the violence quickly and no law enforcement officers or citizens were injured, Schierbaum said.
Three businesses, however, sustained damages, he said.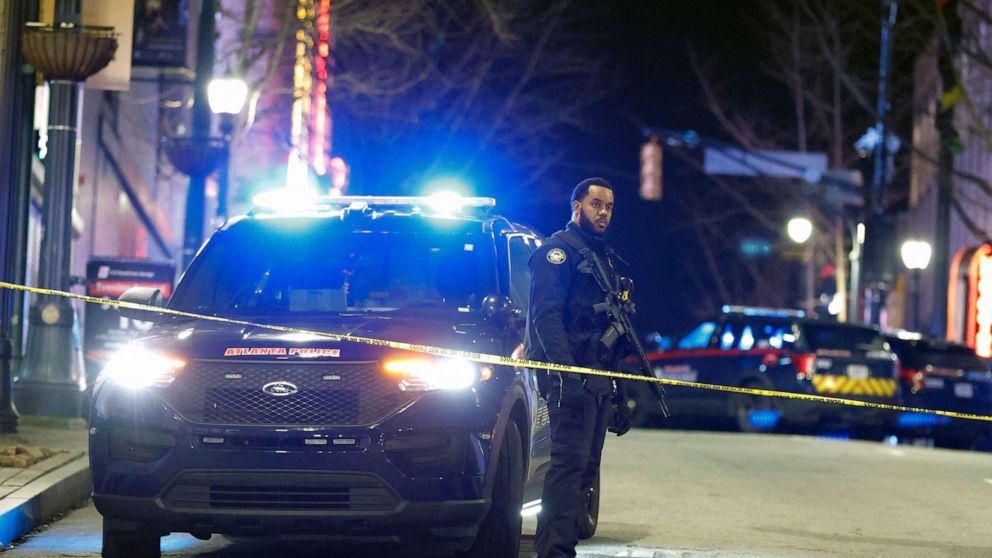 Mayor Andre Dickens said that some of tonight's protestors traveled in from elsewhere.
"Many of them don't even live in Atlanta or in the state of Georgia, and they don't represent the voices of Atlanta," he said, adding that some of the protestors were armed with explosives.
Dickens confirmed that a police car was lit on fire.
Gov. Brian Kemp condemned the acts of violence on Twitter.
"Violence and unlawful destruction of property are not acts of protest. They are crimes that will not be tolerated in Georgia and will be prosecuted fully," he tweeted.
Saturday's protests appear to be the latest development in the opposition to a new training center for the Atlanta Police Department, announced in October 2021 by former Mayor Keisha Lance Bottoms, which would be carved out of a wooded area in DeKalb County.
The Atlanta Police Foundation acknowledged in a FAQ from September that in 2017 the city council approved a plan that would have turned the 85 acres into "greenspace and part of a larger effort to create an environmentally renewed South River Forest Basin."
However, the Foundation claims that the plan "was not well-known" and noted that it was not binding, unlike the 2021 vote to approve the use of the land to build the training center.
The Foundation also addressed criticism from environmentalists and said elected officials were prioritizing the "needs of our citizens to reduce crime and improve the performance of our law enforcement agencies at an affordable cost using existing taxpayer assets."
Earlier this week, police raided the forest where protestors have camped out for months, shot and killed a protestor identified as Manuel Esteban Paez Teran and claimed Teran fired first. An officer was struck in the hip by a bullet and treated at a hospital, police said.
Seven people were also arrested and charged with domestic terrorism following the fatal shooting.
The proposed 85-acre and $90 million construction project -- nicknamed "Cop City" – has been with backlash by activists who have camped out on the construction site for months in order to stop development on the project.
In December, five people were arrested and charged with domestic terrorism and other charges following a joint operation at the planned construction site.
Authorities have stated that crimes have taken place at the protest site following the arrests last month.
"Some of the criminal activities include carjacking, various crimes against persons, destruction of property, arson, and attacks against public safety officials," the Georgia Bureau of Investigation said after the incident. "Law enforcement continues to address the criminal acts committed by the individuals that continue to occupy the area of the proposed training site."
Protesters have claimed the police training center will only serve to further militarize law enforcement and that the conflict between the protesters and authorities have been escalating in recent months.
"What is taking place is a classic example of tyrannical government overreach," activists said in a statement published by the Atlanta Community Press Collective. "The public has a right to defend its interests. We are advocates of a free and peaceful society built on cooperation and mutual understanding. The government is escalating this situation pointlessly."
ABC News' Jon Haworth and Nadine El-Bawab contributed to this report.