Sister Jean Dolores Schmidt, the famous 98-year-old superfan and chaplain of the Loyola-Chicago University basketball team that is on a winning streak in the NCAA Final Four has given permission to license her name and image for her beloved Ramblers.
Loyola has approved more than 25 Sister Jean T-shirts from a variety of companies including Fanatics, which made a Final Four shirt with her phrase, "Worship, Work and Win," reported ESPN.
Some of the companies are seeing major sales increases since announcing their Sister Jean merchandise.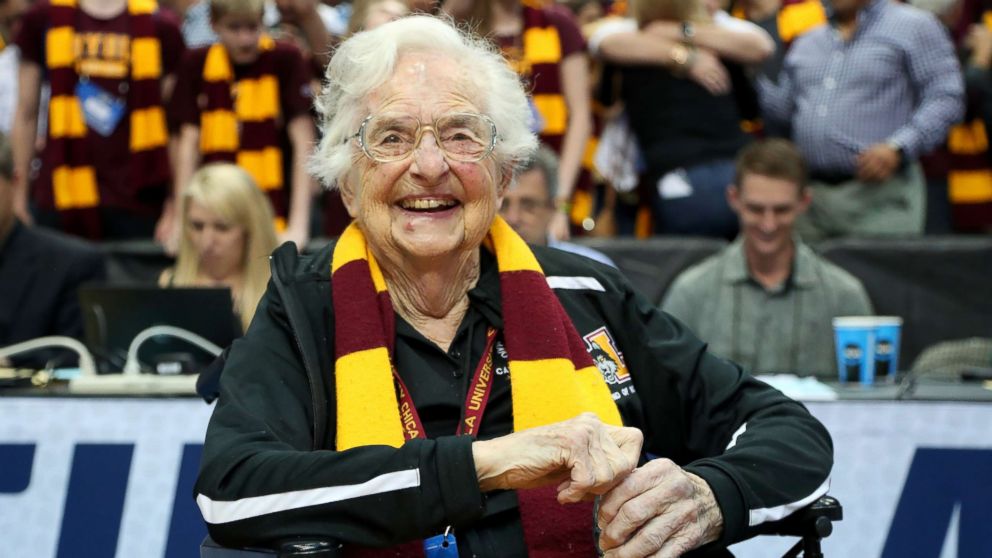 "It is our bestselling bobblehead ever," said Phil Sklar, CEO of the Milwaukee-based National Bobblehead Hall of Fame and Museum, which has made about 500 different bobbleheads in the last three years.
"I think Sister Jean has really captivated the nation," Sklar said, adding that over 65 percent of sales are coming from outside Illinois. "Within 24 hours, we sold at least one bobblehead to someone in all 50 states, D.C., Canada, and the United Kingdom."
The company has been approved to sell Sister Jean bobbleheads and they've already had over 6,000 orders since they went on sale three days ago. The previous record was held by the Clemson National Champions bobblehead with 3,000 units sold.
Another company is rapidly selling Sister Jean socks.
"This is definitely the oldest person and most interesting character that we have put on a sock ever," Rob Starkman, founder of Rock 'Em Apparel told ABC News. "It's great to see her enthusiasm for the [basketball] program turn into the nation's enthusiasm for her character."
Sister Jean has drawn a huge following for her devotion to her team, attending every game while praying for the players, their health, a fair game, and a victory.
She has said she trusts the school to make the decisions on licensing her name and image, ESPN reported.
"We weren't going to do anything until she gave her blessing," Tom Sorboro, a senior associate athletic director at the school, told ESPN about the decision to begin licensing the nun's image and name.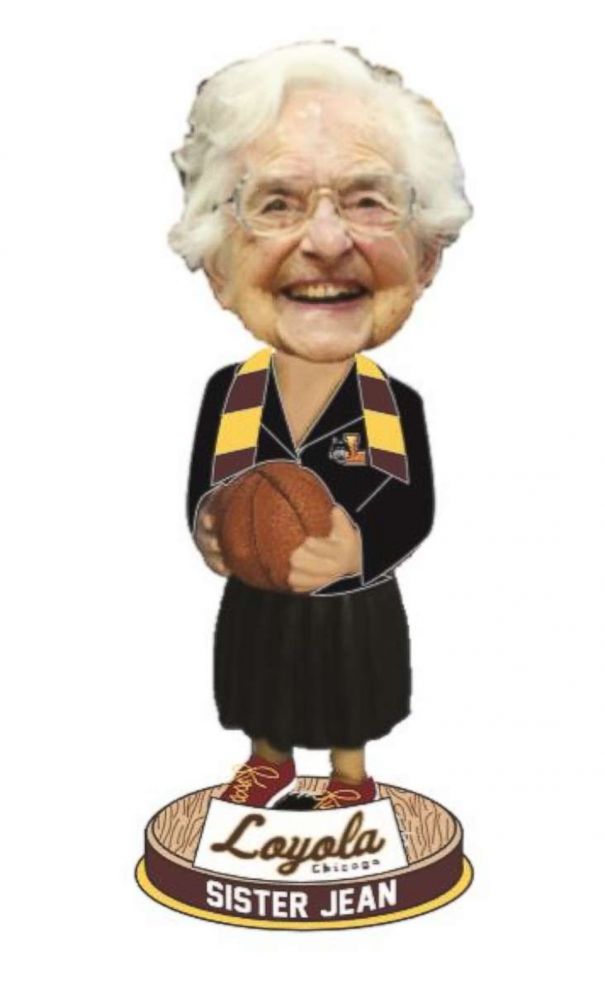 Licensing royalties for Sister Jean products, except for the bobblehead, are set up to support the Loyola Athletic Fund, according to ESPN.
Proceeds from the bobblehead sales are split between the school's fund and Sister Jean's Sisters of Charity of the Blessed Virgin Mary, Sklar said.
Rock 'Em Apparel had as of Monday sold thousands of pairs of Sister Jean socks after they had been on sale less than 24 hours.
"It's just crazy because we got the license at 11 p.m. on Saturday," Starkman said. "Our designers whipped up the design and the school approved them within 30 minutes. Then, it was off to races."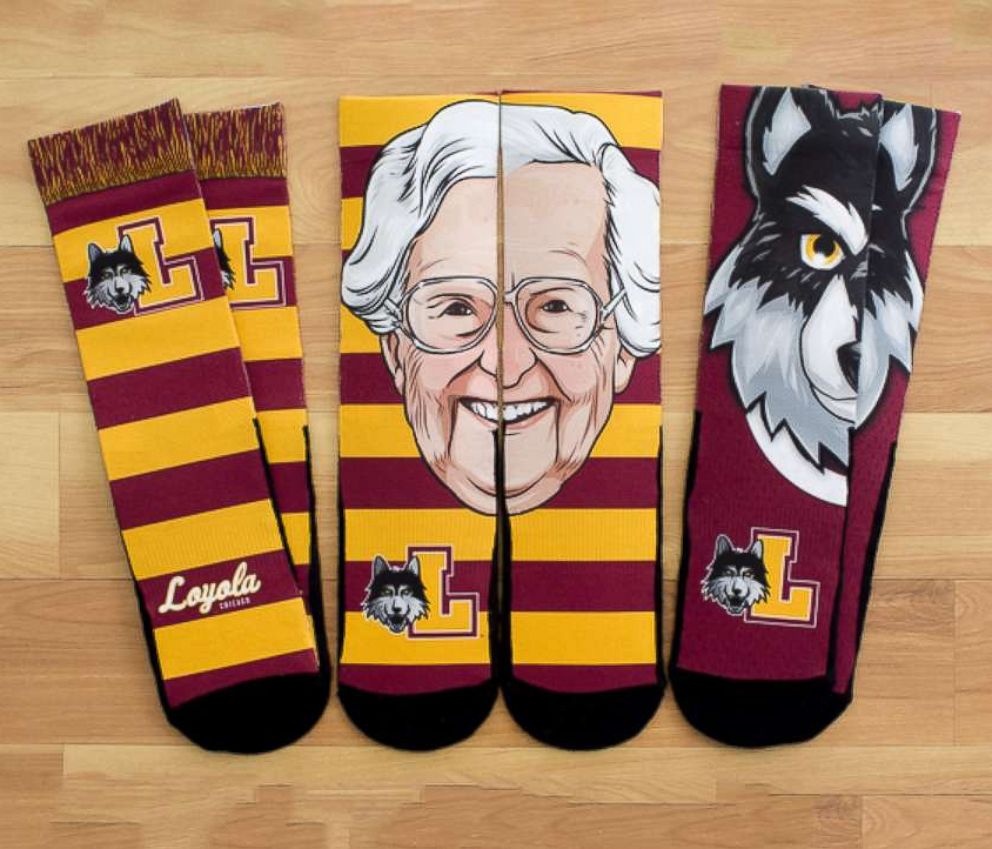 A portion of the sock sales go back into the Loyola-Chicago athletic program, Starkman said.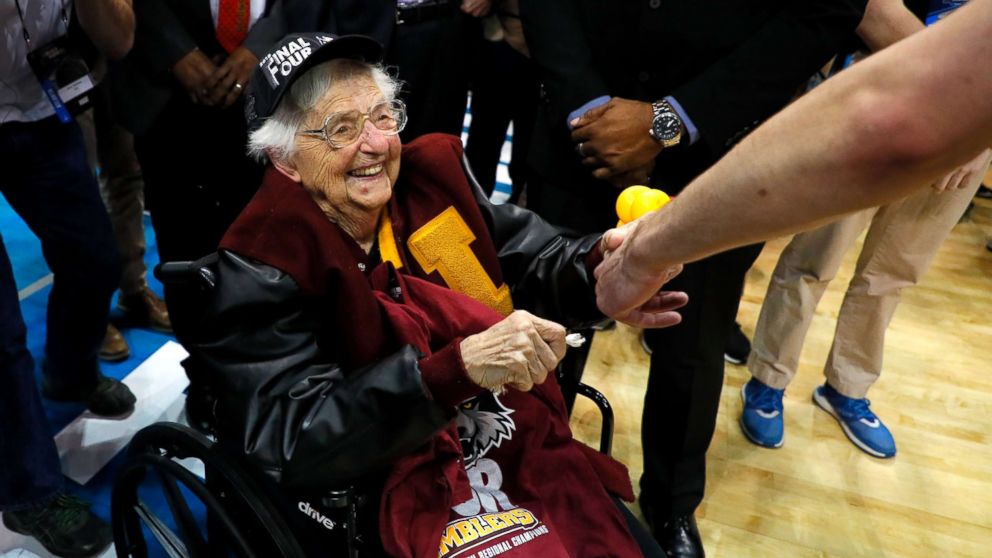 Fanatics, meanwhile, has sold more Loyola products in the past 48 hours than in the rest of season combined, a spokesperson for the company told ESPN.
There are also unlicensed designs, including shirts that put Sister Jean on the Air Jordan logo and a shirt takes the basketball brand And1's logo and makes it "AndNun," reported ESPN.
The Ramblers take on Michigan on Saturday in San Antonio.
Both ABC News and ESPN are owned by the Walt Disney Company.