A jury is being chosen to decide whether a former Louisville, Ky., high school football coach should be convicted of reckless homicide for the death of a player who collapsed during practice one hot August day last year.
The trial of Jason Stinson is believed to be the first time a coach has faced criminal charges for working his players too tough, and other coaches say it could have a chilling effect on their profession.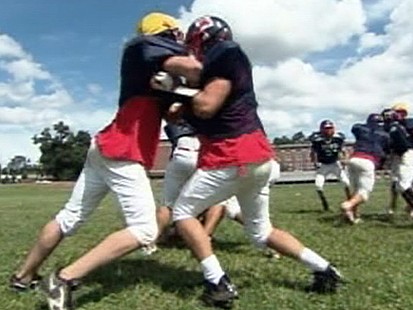 Stinson, who coached at Louisville's Pleasure Ridge Park High School, is charged with reckless homicide and wanton endangerment in connection with the heat stroke-related
death of Max Gilpin
, 15, who was a sophomore offensive lineman on Stinson's squad.
If convicted, Stinson faces up to 10 years behind bars.
Gilpin collapsed last summer during practice after doing wind sprints in 94-degree heat and died three days later.
"I lost one of my boys, a boy that I loved and a boy that I cared for," Stinson said during a January vigil outside his home organized by his supporters.
Stinson may be the first high school coach ever charged with homicide for allegedly working a player to death, but athletes collapsing and dying during the tough summer football workouts are virtually an annual occurrence.
An average of four to five athletes have died every summer of heat-related problem over the last 10 years, according to Michael Bergeron, the director of the National Institute for Athletic Health & Performance and Center for Youth Sports & Health, and a professor in the department of pediatrics at the University of South Dakota's Sanford School of Medicine.
But he said the problem goes far beyond the four or five who die each year, because countless other young athletes have serious heat-related injuries or problems, but because they are not fatal, they get little attention.
The most recent case may be Brent Shinn McGhee, a 13-year-old San Antonio boy who died Aug. 25, the day after his first practice for the Vernon Middle School football team held in temperatures of more than 100 degrees.
"Putting kids through this to win a football game. It makes no sense," Brock McGhee told The Associated Press. He said he believes the heat was at least partly the cause of his son's death, but said he did not blame the coaches.
Prosecutors say Stinson had been unusually brutal during the practice, denying Gilpin water and using peer pressure to push his players. He often forced players to keep running until one of them quit, they say.
Cause of Football Player's Death Disputed
"A reasonable person should have seen that [a death] could have happened," Kentucky Commonwealth Attorney Dave Stengel said.
A Jefferson County Public Schools report on the boy's death, issued July 1, said Stinson threatened to make his players run wind sprints -- "gassers" -- until somebody quit the team, but concluded that he did not break district rules.
Despite that finding, Jefferson County Schools Superintendent Sheldon Berman said, "Such motivational tools are not acceptable."
Stinson's methods may have been harsh, but at least according to the coroner who performed the first autopsy on Gilpin, they were not criminal. The initial report ruled the teen's death an accident.
Dr. William Smock, the head of emergency medicine at the University of Louisville hospital, who has been a frequent prosecution expert witness for the past 25 years, also told prosecutors in March that he believed Gilpin's death was an accident.
The defense maintains that Gilpin's death was a result of his taking the amphetamine Adderall, which he used to treat attention deficit disorder, saying he did not die of dehydration.
The prosecution suffered two blows since jury selection began Monday: First, Jefferson Circuit Judge Susan Schultz Gibson barred prosecutors from using 1,000 pages of evidence that she ruled was handed over to the defense too late; and second, she denied their request to delay the start of the trial.
Even before those rulings, legal experts were split about whether prosecutors would be able to make their case, and some said they have a tough hill to climb.
"The prosecution must prove that the coach failed to perceive a substantial and unjustifiable risk that a death would occur," said Louisville defense attorney Steve Romines, who is not connected to the case. "All over the country that day, football players were being conditioned."
Guilty or not, schools and coaches nationwide are paying close attention to this case. Nearly a dozen coaches' organizations have donated money for Stinson's defense, fearing what a guilty verdict might do to high school sports programs across the country.
"In the days to come, we're going to have a difficult time finding people to coach if situations like this arise," said Mike O'Donnell, a high school football coach in White Plains, N.Y.
Heat Deaths in Youth Football Preventable, Experts Say
With his team, O'Donnell says he takes all the proper precautions during games and practices. Players are given water whenever it's requested, and he carefully times practices to prevent overwork.
His staff is also trained in CPR and defibrillation, but in a tough sport like football, he says nothing can guarantee a player's safety.
"It could happen to anyone," O'Donnell said. "A kid can go down right now as I'm standing here, and you really have no control over it."
According to both the American College of Sports Medicine and the National Athletic Trainers' Association, though, the risk of heat deaths can be minimized by proper training techniques.
In 2005, the ACSM released a set of specific guidlines for how coaches should handle practices to reduce the risk of heat-related death and injury.
Included among the recommendations were that there should be no two-a-days during the first five days of practice; the use of helmets, shoulder pads and other protective gear should be gradually introduced over the first five days; and practices should be limited to no more than three hours during the first five days.
"What I tell coaches is that everything we recommend for safety is going to help performance," said Bergeron, one of the authors of the guidelines.
"All of these deaths happen on the first one or two days of practice, so it's clearly a case of doing too much too soon," he said. "The thing needs to be progressive. Everything needs to be introduced progressively, and if this is done, the athletes will respond positively."
In June, the NATA released its own set of guidelines, essentially echoing the ACSM report.
Football may get the most attention when it comes to heat-related deaths and injuries, but according to a study commissioned by the National Federation of State High School Associations, athletes in other sports and even marching band members are also at risk.
The National Center for Catastrophic Injury Research says that "heat-related deaths continue to be the cause of a majority of indirect deaths" in high school sports, including cross-country running and wrestling.