— -- Former New England Patriots player Aaron Hernandez spent nearly four years in police custody in Massachusetts before he was found dead in his prison cell early Wednesday morning. He was 27 years old.
Here is what we know about the years that the ex-NFL star spent in custody, both in a Massachusetts county jail and a maximum-security prison.
Hernandez's life in custody
Hernandez was taken into police custody on June 26, 2013, on charges related to the death of his friend, Odin Lloyd. He was released by the Patriots just hours after he was arrested.
For more than 18 months, Hernandez was held in the Bristol County House of Corrections. He was convicted of Lloyd's murder on April 15, 2015.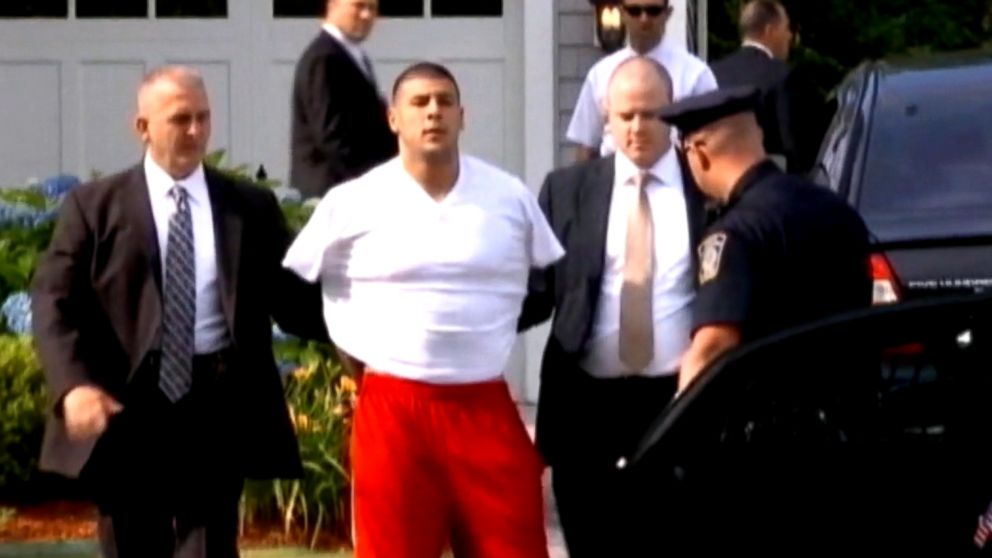 Just days after his conviction, Bristol County Sheriff Thomas Hodgson told the Associated Press that Hernandez knew how to use his charm and wit to manipulate corrections officers at the jail.
"He would make every effort to get extra sandwiches," Hodgson said. "He would just try to convince the officers to give him more than what they otherwise could get."
Staff members were instructed to treat Hernandez like any other inmate, the AP reported.
While housed there, he also got into a fight with another inmate and threatened to kill a security guard and his family, Hodgson said.
After he was convicted of first-degree murder, Hernandez was moved to a single-inmate cell at the Souza-Baranowski Correctional Center, a maximum-security prison in Shirley, about an hour's drive from Boston.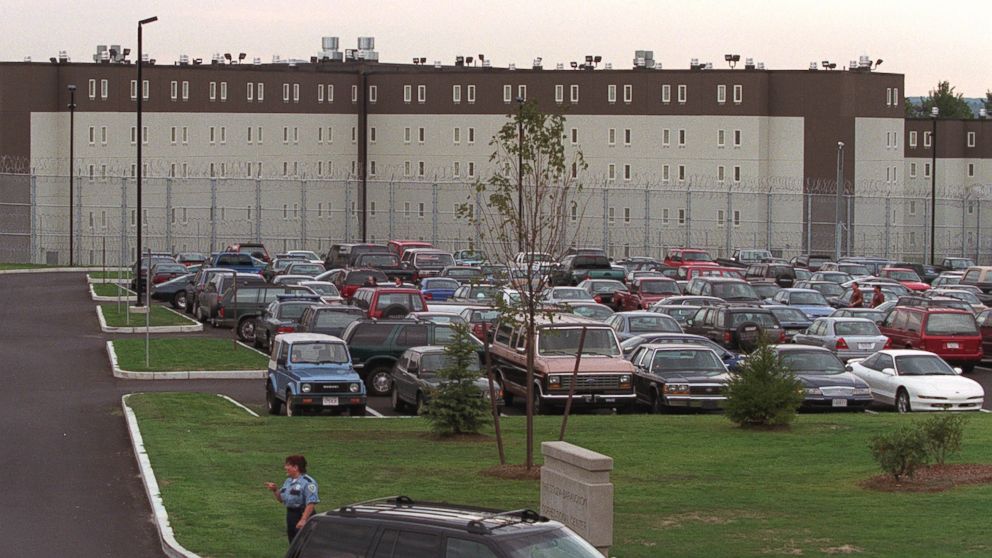 Just one month into his life sentence, Hernandez got into a "two-on-one fight" that sent him into a segregation unit at the prison, law enforcement officials told ABC News at the time. Hernandez was "part of the two," a prison official said. Another source said that the other inmate was beaten in his cell and that the fight appeared to be "gang related."
Hernandez had reportedly gotten a new tattoo that referenced the Blood street gang after the fight, prison officials said. In August of 2015, Hernandez was involved in another fight at the prison, ABC News Boston affiliate WCVB reported at the time. There were no injuries in that fight.
Hernandez's cell, where he was found hanging from a bedsheet attached to his cell window on Wednesday, was part of general population housing, the Massachusetts Department of Correction said in a statement.
He was found with the words John 3:16 written on his forehead, law enforcement sources told ABC News. It is a reference to a Bible verse that reads: "For God so loved the world that He gave His one and only Son, that whoever believes in him shall not perish but have eternal life."
The prison has 366 cameras recording 24 hours a day, according to its website. It offers a full range of "educational, vocational and substance abuse programming," the website states.
In prison, Hernandez missed out on two trips to the Super Bowl
The Patriots made two Super Bowl appearances without its star tight end after Hernandez was taken into custody in 2013. But, it appears that Hernandez was not even permitted to watch his former team play.
In January 2014, when Hernandez was held in a Bristol County jail, Hodgson said he was "not allowed to watch any TV," the AP reported. Hernandez would have to resort to finding out the score of the AFC Championship game against Indianapolis Colts that year by either overhearing a corrections officer's conversation or by asking a fellow inmate, the sheriff said.
On Feb. 1, 2015, the Patriots appeared in the Super Bowl, beating the Seattle Seahawks 28-24 at the University of Phoenix Stadium in Glendale, Arizona. The day before the game, Hodgson told ABC News that Hernandez was not allowed to watch television, have a radio or even read newspapers, and therefore would miss the big game.
Hernandez's lawyers had complained about those conditions and filed a motion for Hernandez to be moved to a Boston jail, saying he was "subjected to unreasonable restrictions" imposed by the Bristol County Sheriff.
In this year's Super Bowl on Feb. 5, the Patriots made a spectacular comeback in overtime against the Atlanta Falcons at NRG Stadium in Houston, overcoming a 28-3 deficit in the second half. It is unclear if Hernandez was able to watch the Patriots' most recent Super Bowl win at the Souza-Baranowski Correctional Center.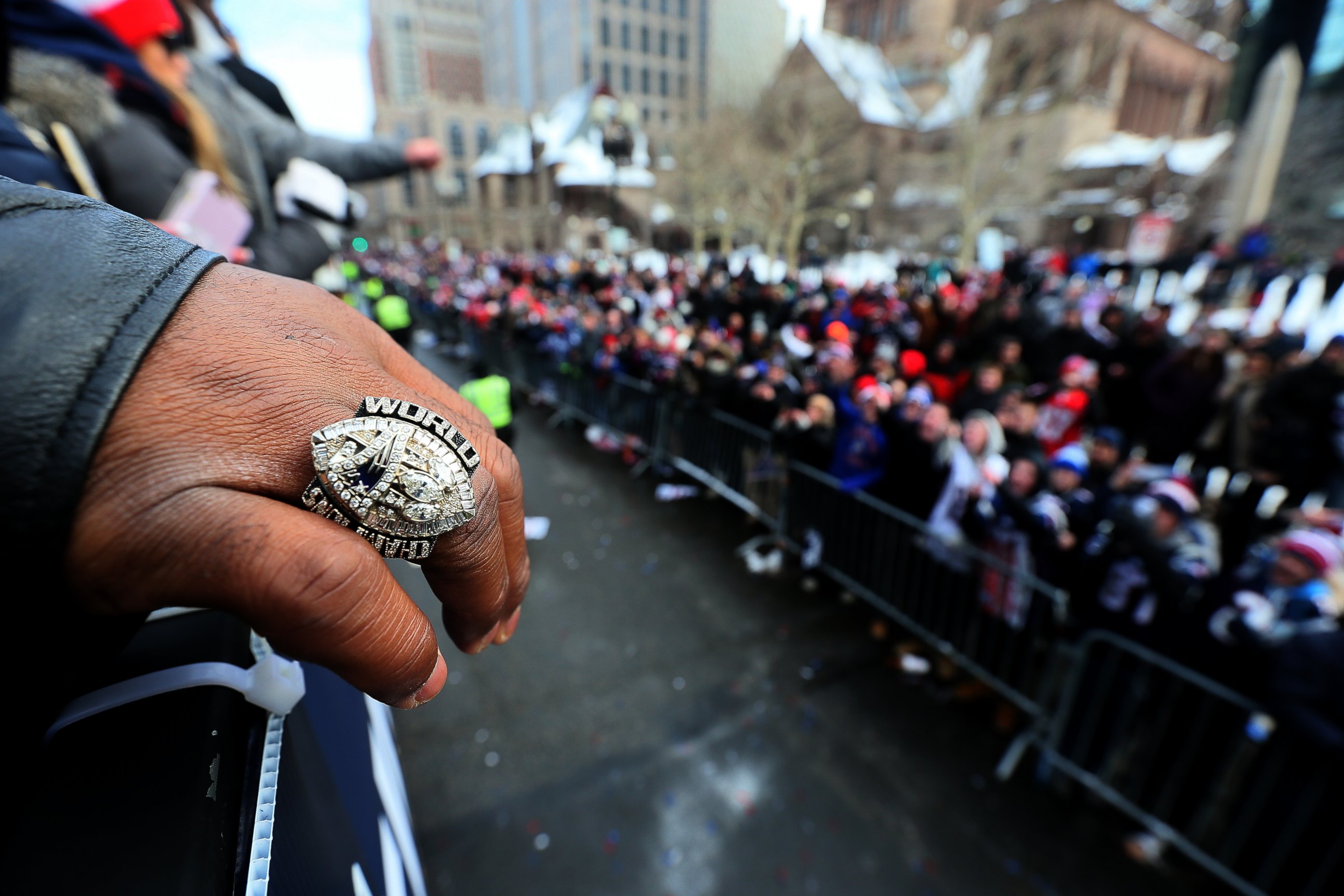 Hernandez would have likely participated in both championship games, as they would have fallen under the five-year contract he signed with the Patriots in 2012.
While Hernandez helped lead the Patriots to the 2012 Super Bowl, he never received the coveted championship ring. The Patriots lost to the New York Giants 21-17 at Lucas Oil Stadium in Center Township, Indiana that year.
Despite the loss, Hernandez found some glory that day by catching Tom Brady's last touchdown pass of the game.
Hernandez's broken family unit
Hernandez spent less than a year helping raise his only child, Avielle Janelle Hernandez, before he was taken into police custody in June 2013.
His daughter was born on Hernandez's birthday on Nov. 6, 2012, the AP reported. Hernandez had just signed the $40 million contract with the Patriots in August 2012 after a strong performance that season.
That same month, Hernandez also got engaged to his girlfriend of five years, Shayanna Jenkins, and the couple moved into a $1.3 million home in North Attleborough, Massachusetts, according to the AP.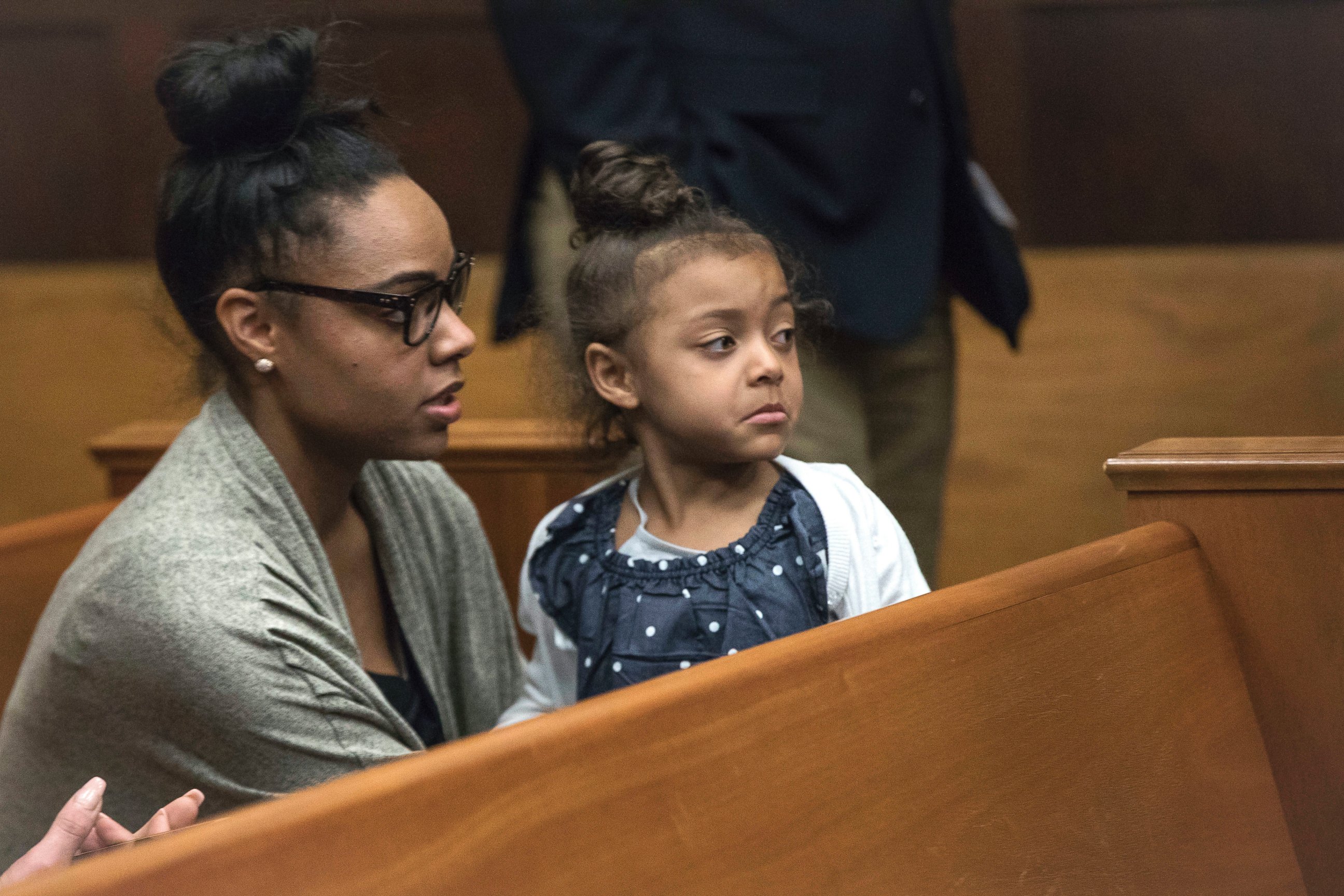 Jenkins appeared in court with the couple's daughter when Hernandez was acquitted of the double murder last week.
Hernandez and his older brother, Jonathan Hernandez, would exchange mail regularly while he was in prison, Sports Illustrated reported last year.
On one of Jonathan Hernandez's visits to the prison, his younger brother walked in wearing a two-piece gray prison suit with a white T-shirt underneath. The two were able to laugh together in that visit, the magazine reported.
A double murder trial while already serving a life sentence
In February, the trial began for the 2012 double murders of Daniel Abreu and Safiro Furtado, who were shot and killed outside of a Massachusetts bar.
Some of Hernandez's final days played out in public when he was found not guilty of first-degree murder on Friday. He was also found not guilty of armed assault with intent to murder, assault and battery with a dangerous weapon and witness intimidation, but he was convicted of unlawful possession of a gun. A judge added four to five years to Hernandez's prison sentence for that charge, separate from his existing life sentence.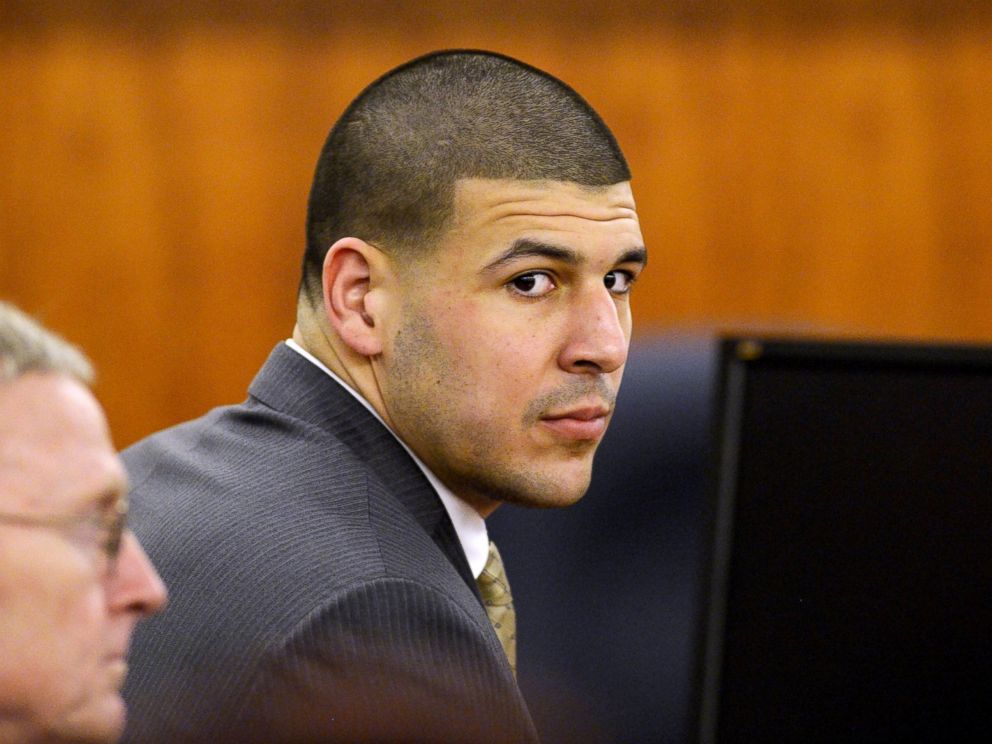 After the verdict was read, Hernandez hugged his attorneys and supporters before he was led away from the courtroom.
Hernandez was already serving a life sentence when he was acquitted. Days later, he was found dead in his prison cell. Prison officials said he committed suicide.
"No signs" Hernandez was suicidal
There were no prior concerns that Hernandez was suicidal, a spokesman for the Massachusetts Department of Correction told ABC News. If there had been concerns, Hernandez would have been on mental health watch in a different part of the prison, the spokesperson said.
It is unknown at this time whether Hernandez left a suicide note, according to the spokesperson. His family and legal team were "shocked and surprised" to learn of Aaron's death, his lead attorney, Jose Baez, said in a statement.
Hernandez was "looking forward to an opportunity for a second chance to prove his innocence" and overturn his murder conviction in an appeal, Baez said.
The Massachusetts State Police and Worcester County District Attorney's Office have launched an investigation into Hernandez's death. Police and prosecutors will look at Hernandez's recent time in prison, including prior fights and any gang-related disputes that might have occurred.
His legal team will also be conducting its own investigation, Baez said.
Hernandez's body is currently in the custody of the Office of the Chief Medical Examiner. An autopsy will be performed in Boston.
ABC News' Aaron Katersky, Morgan Winsor, Emily Shapiro and Michelle McPhee contributed to this report.