— -- New aerial photos show was left behind at the Route 91 Harvest Music Festival as gunfire sent country fans scrambling for their lives on Sunday.
The venue's grounds, where country music fans were enjoying the final night of the three-day festival, remains littered with trash and belongings days after the massacre.
The photos were taken from ABC affiliate KTNV-TV's chopper.
Suspected gunman Stephen Paddock fired into the crowd of more than 22,000 from across the street at the Mandalay Bay Resort and Casino as country star Jason Aldean was performing.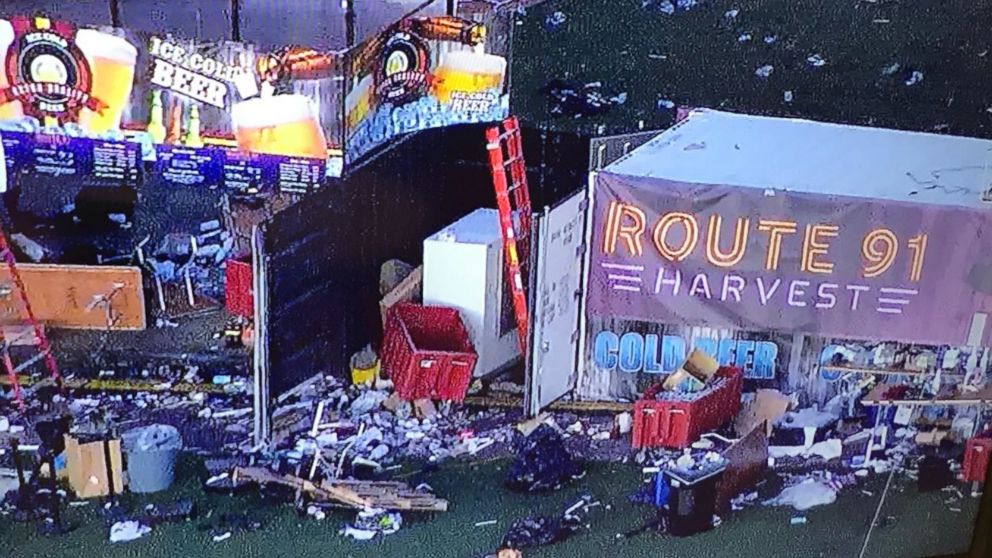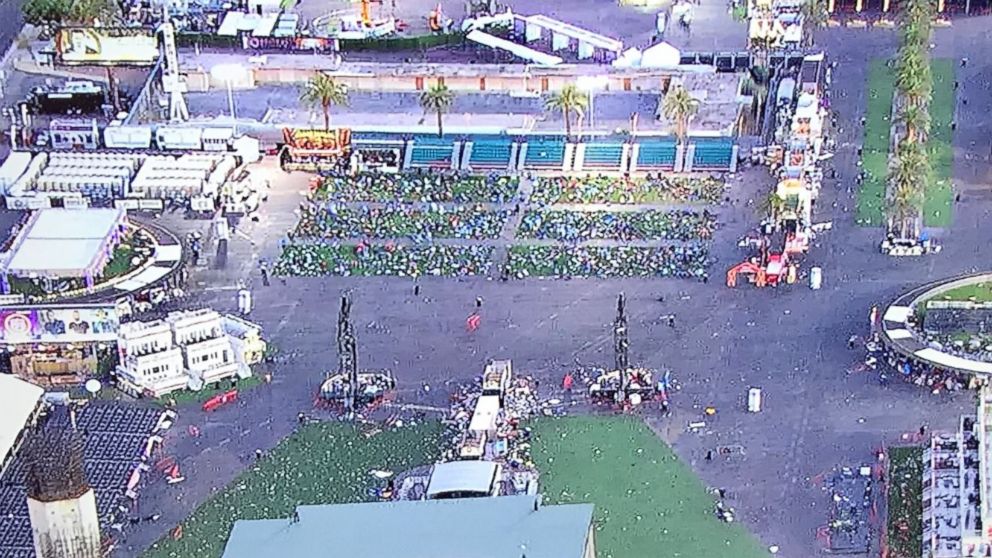 Photographer Brandon O'Neal, who was backstage during Aldean's performance, said it became total panic and confusion as the sound of rapid gunfire echoed throughout the venue.
"We had no idea if there were people in the venue with guns or if they were from the hotel," he said. "We had no idea where to go."
Fifty-eight victims were killed, making Las Vegas the deadliest shooting in modern U.S. history.
Looking back at the Las Vegas mass shooting
At least 58 people were killed and hundreds more were injured when a gunman opened fire on a music festival crowd from the 32nd floor of the Mandalay Bay Resort and Casino, Las Vegas, Oct. 1, 2017. The attack is the deadliest mass shooting in modern U.S. history.

Pictured: People scramble for shelter at the Route 91 Harvest country music festival, Oct. 1, 2017, in Las Vegas.
David Becker/Getty Images
Police said Paddock, 64, had stockpiled weapons in his Mandalay Bay hotel room. He was found dead when authorities stormed his suite.
The motive remains unknown but police say the attack was "obviously premeditated."
Police also say Paddock may have planned to escape the scene.
ABC News' Lauren Effron, John Kapetaneas and Meagan Redman contributed to this report.