— -- One thing will be missing the next time you board a Frontier Airlines flight: the departure time.
Frontier Airlines has decided to eliminate the departure time from boarding passes, and will instead list "boarding begins" and "doors close" on the boarding passes.
The airline began gradually rolling out the new boarding passes last week, and the change went system-wide over the weekend.
But why the change?
Frontier says the idea is to improve on time performance and keep flights on schedule. This is especially important when it comes to the first flight of the day. Ensuring that the first flight is on time prevents against a cascading effect for flights the rest of the day.
"The change is ultimately for the customer experience because if you are running on time you are going to get to your destination on time," Jim Faulkner, a spokesman for Frontier told ABC News. "The on-time performance is probably one of the most important metrics for any carrier."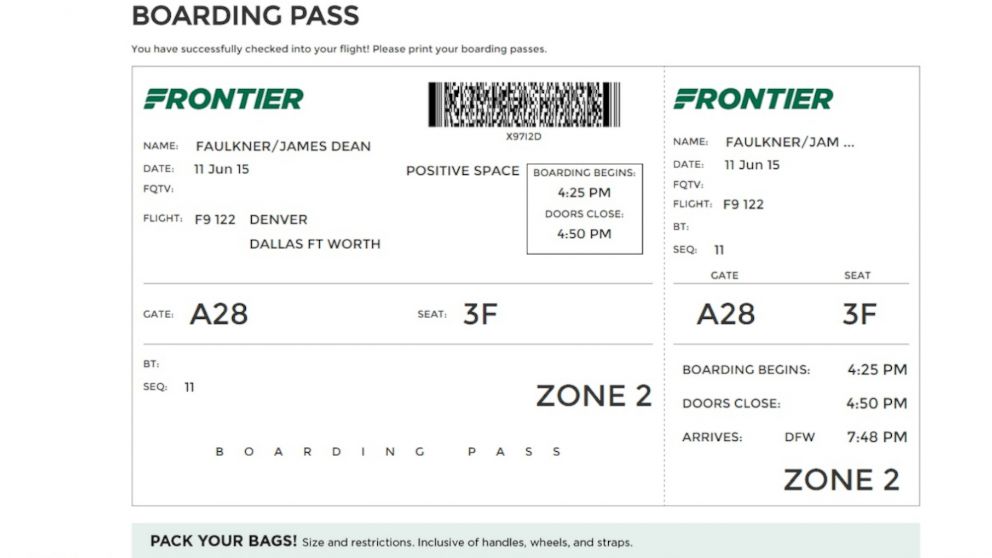 The words "doors close" create more of a sense of urgency for passengers. Of course, once the doors close there are still five to 10 minutes to allow passengers to stow their bags and fasten seatbelts, but the plane still leaves from the gate before the scheduled departure time, Faulkner said.
He noted that is change is about educating the customers. "We know an on-time departure is important to you, and it's just as important to us," Faulkner said.
No other airline has announced similar changes to their boarding passes. ABC News has reached out to several major U.S. carriers for comment. JetBlue and Southwest both say they have no plans to remove departure times from their boarding passes.
American Airlines boarding passes still list departure time and boarding time, however the boarding time appears larger and in bold type on their passes.