Anita Hill, the attorney who publicly accused a U.S. Supreme Court nominee of sexual harassment three decades ago, urged graduates of Rutgers Law School to "enshrine the ideals" of social justice movements, including #MeToo, no matter what legal careers they pursue.
"Movements are important, but so are the efforts that it will take to enshrine the ideals of movements," Hill said in her keynote address to dozens of law school graduates at Rutgers University-Camden in New Jersey on Thursday morning. "I believe that no one is better equipped to make those ideals a reality than you are as trained lawyers."
Long before #MeToo made waves on social media, Hill ignited a national conversation about sexual harassment when she took the stand before the U.S. Senate Judiciary Committee and testified against Supreme Court Justice Clarence Thomas during his confirmation hearing on Oct. 11, 1991. She claimed Thomas had made unwanted sexual advances toward her and carried on inappropriate conversations about sex in the workplace when she was his assistant during his tenure at the U.S. Equal Employment Opportunity Commission.
Thomas fervently denied all of Hill's accusations and he was ultimately confirmed by the Senate, though narrowly, to the nation's highest court.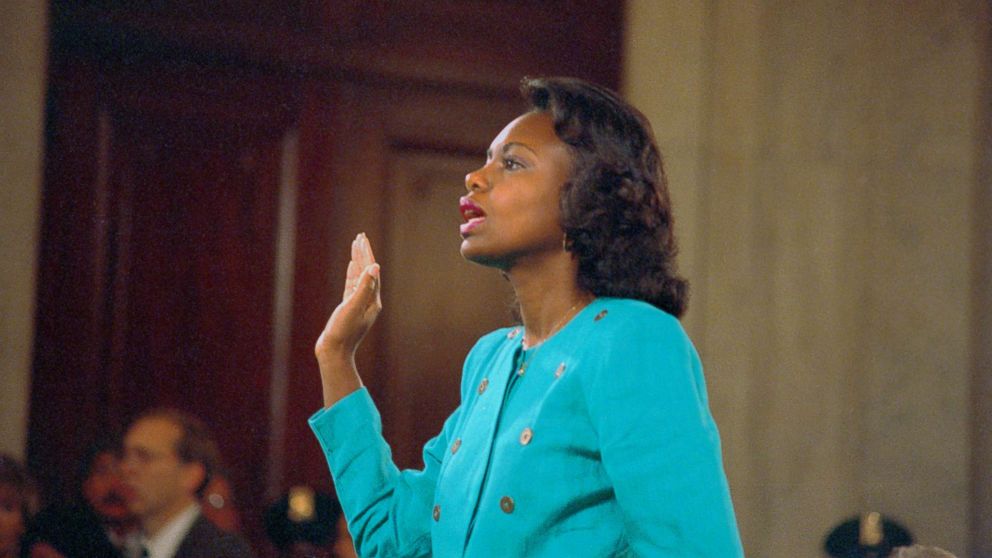 Hill, now a professor of social policy, law and women's studies at Brandeis University in Massachusetts, hardly mentioned her explosive testimony while addressing graduates and their families Thursday. But she strongly invoked the #MeToo movement against sexual harassment and abuse, which was started in 2006 by activist Tarana Burke to aid sexual assault survivors in underprivileged communities and was reignited on Twitter last year as dozens of women spoke out against Hollywood movie magnate Harvey Weinstein.
"We will never be the same after the 'Me Too' movement, after such revelations of sexual violence," Hill, a Yale Law School graduate, told the audience. "We can never as a society ignore it and pretend that it doesn't exist. We can't be the same as were before, and we certainly can't go backwards when we know so many people are hurting and suffering."
Weinstein provided a statement to The New York Times in early October after the newspaper published its investigation into years of sexual harassment allegations leveled against him. In the statement, Weinstein apologizes for "the way I've behaved with colleagues in the past" and acknowledges it "has caused a lot of pain."
But through a spokesman, he denied any allegations of nonconsensual sex.
"Any allegations of nonconsensual sex are unequivocally denied by Mr. Weinstein. Mr. Weinstein has further confirmed that there were never any acts of retaliation against any women for refusing his advances," Weinstein's spokesman has said in a statement released last year.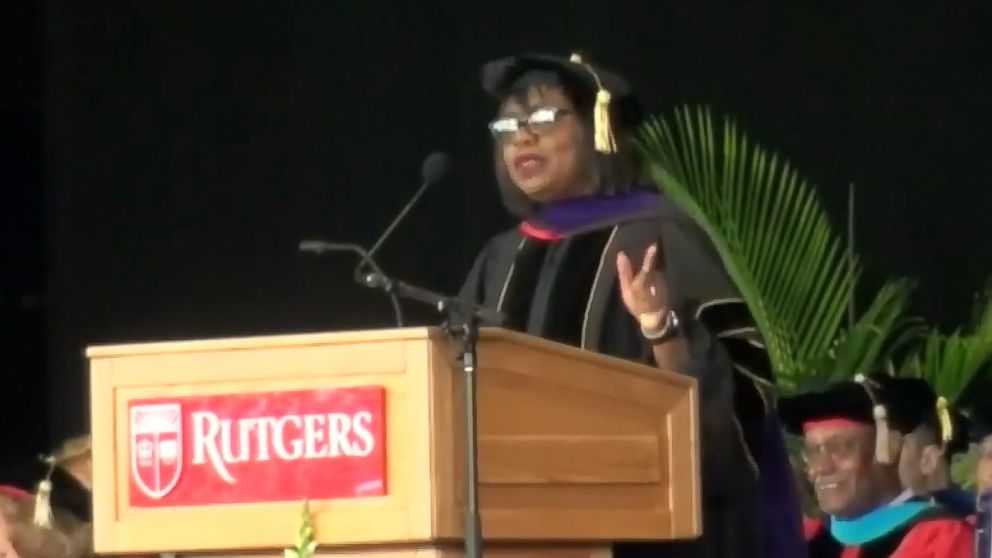 Hill said the #MeToo movement marks a "profound moment in our time," and she asked the newly-minted law school graduates to reflect on the "courage" they have witnessed in the past year.
And in the wake of #MeToo, Hill said, the country needs new legislation and policies to uphold social equality and stamp out sexual harassment.
"You, with your skills and your knowledge and your determination, having lived through this moment, are in prime positions to make sure that that legislation gets introduced and gets passed," she told the graduates.
But Hill acknowledged that many of the graduates may not pursue careers in social justice. So she asked them to commit to making social justice a part of whatever work they do.
"Promise me, whether in times of certainty and clarity or in times of chaos, that you will be your bravest self, the bravest self that you can be to confront the challenges of the world and to confront your own challenges," she said. "When uncertain times call, promise me that you will embrace community and not division. And promise me, finally, that you will live with a commitment to equal justice under the law today and throughout your entire lives."