Apple hopes it has turned its new iPhone devices into magic wands.
On Tuesday, when the company debuted the iPhone 8 and 8 Plus (on sale Sept. 15 for $699 and $799 respectively) and the iPhone X (on sale Oct. 27 for $999) it unleashed to the masses an augmented reality (AR) toolbox known as ARKit.
This technology gives users the means to digitalize their physical world in real-time.
Tech and digital experts agree the move is a big deal.
"Apple needed something to energize both consumers and the developer community," Kevin Burden, vice president of mobility at 451 Research, a research and advisory company focused on innovation and disruption in enterprise technology, told ABC News. "They raised awareness of augmented reality to the masses."
With AR, Apple has placed in the palm of the user's hand a way to shed its 2D past. Users can begin to manipulate surroundings by overlaying the physical world with virtual 3D emojis, faux furniture and storybook characters that come to life.
"We believe augmented reality has the potential to become the next killer app that accelerates smartphone upgrades and drives increased services monetization and growth," Katy Huberty, an Apple analyst with Morgan Stanley, wrote in a report released on Tuesday, praising the company's new batch of AR games like "Warhammer 40,000" and "The Machines."
Now that the secret is out, the key for Apple is to create a new market that wasn't there before.
In this case, the company is banking that iPhone owners will start to demand AR applications and developers will gravitate away from gaming applications and begin building utilitarian ones.
And Burden points out that AR can enhance peoples' daily lives too.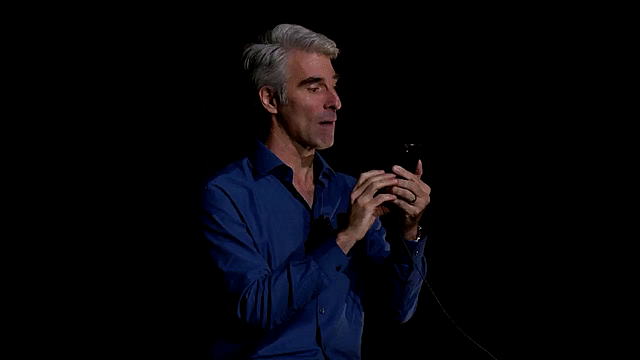 He believes the technology can give future jet plane mechanics who may be colorblind ways to detect particular wires or allow medical students to perform surgeries without relying on cadavers.
AR innovators have been playing with the technology well before Apple's big product reveal.
Some of these workshopped samples run the gamut in the Twitter handle called "Made With ARKit".
For instance, the dining experience at a restaurant may be changing.
Say you're hungry for a bowl of steamed veggies.
Presto, the dish appears on a virtual turnstile.
Want to replay that one-on-one basketball match on your office desk? The ARKit can apparently make that happen.
Launching virtual rockets from your pool is possible.
Or creating a door into another dimension in the middle of a busy city street.
And if you ever wanted to be the lead singer in the seminal music video "Take on Me" by A-ha, you can now.
Burden foresees a kind of AR app race that could spark the same kind of fervor that the viral game "Pokémon Go" did a year ago.
"People realize now they have an augmented reality camera on their phone," he said. "Now people want to know what [it] is and the apps have to be there."