— -- Baltimore Mayor Stephanie Rawlings-Blake today defended the decision to keep fans from attending the Orioles game Wednesday, as well as citywide safety efforts.
"I think that in the heat of an emergency, every decision that is made is going to be scrutinized," she told ABC News. "People have to understand that all of the decisions that are being made are being made with the best resources that we have on the ground at the time."
The Baltimore Orioles and Chicago White Sox played Wednesday afternoon after games for Monday and Tuesday were postponed, although Oriole Park at Camden Yards was closed to spectators. But public schools in Baltimore reopened Wednesday after being closed Tuesday.
Also asked about a Washington Post report that Freddie Gray, the man who died after being taken into custody, tried to harm himself inside the police van, Rawlings-Blake said she had not seen the story, but added that the investigative process needs to unfold.
"The challenge is when so many communities don't trust the process or even understand," she said, "it is painful to get us to this place where we can all be on the same page and get us to the place where we have justice."
Officials, Rawlings-Blake added, have to "get it right ... we have to find a way to trust."
Meanwhile, hundreds of people rallied and marched in New York, Boston, Minneapolis and other cities across the country, protesting the death of Baltimore resident Freddie Gray, who was critically injured after being taken into police custody a week before his death.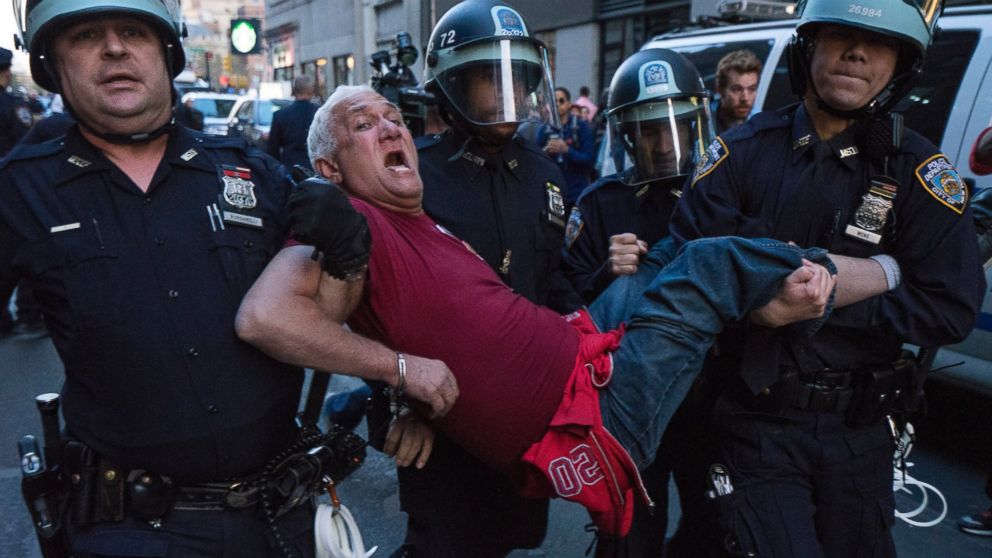 New York City Police made more than 100 arrests by midnight, with most of the arrests for walking in the street, which police said the demonstrators were warned not to do. A crowd of about 1,000 people marched from Union Square at 7:20 p.m., but the group only made it about half a block before police ordered them onto the sidewalk. Those who refused started pushing and shoving with police officers.
Protesters in Baltimore respected an overnight curfew, despite moments of tension as the 10 p.m. curfew approached. It lifted at 5 a.m. today.
Baltimore police said 18 people were arrested in protests Wednesday, and more than 250 people have been arrested in the city since Monday, when riots broke out after Gray's funeral. Dozens of people marched Wednesday, many wearing black T-shirts that said, "Black Lives Matter," which has become the slogan of a nationwide movement against overaggressive policing.
The curfew is slated to continue for a week, Mayor Stephanie Rawlings-Blake said, and could be extended as necessary. A 9 p.m. curfew was already in effect for children 14 and younger.
About 2,000 National Guardsmen were deployed to the city after Maryland Gov. Larry Hogan declared a state of emergency.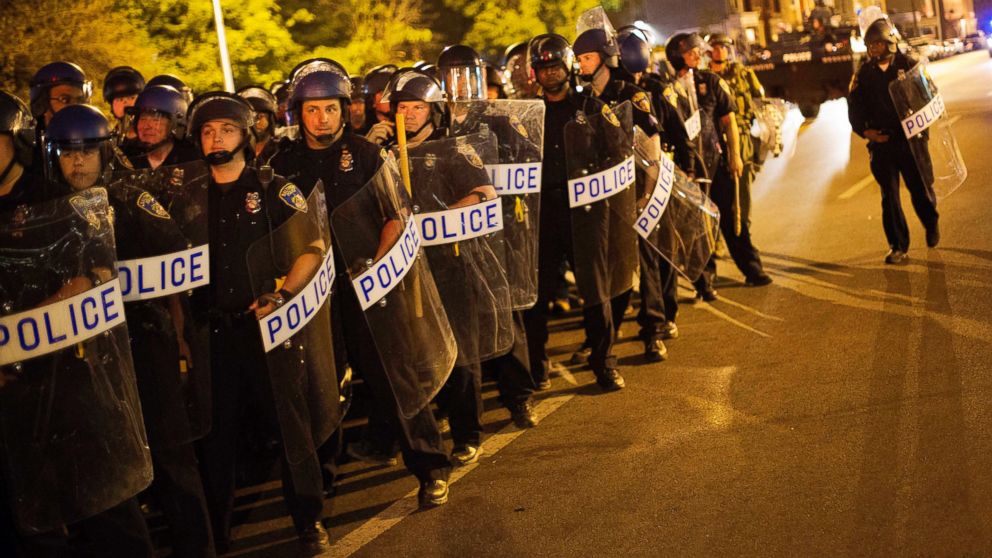 The riots began Monday afternoon shortly after the funeral of Gray, and resulted in at least 20 police officers being injured Monday night into Tuesday. They began after a week of peaceful protests.
Get real-time updates as this story unfolds. To start, just "star" this story in ABC News' phone app. Download ABC News for iPhone here or ABC News for Android here.