Comedian Bill Cosby has fired all seven attorneys on his legal team just months ahead of his September sentencing, replacing them with a single Pennsylvania criminal-defense lawyer.
The move, confirmed by Cosby spokesman Andrew Wyatt, comes on the heels of the entertainer's April conviction on three counts of felony sexual assault stemming from his 2004 drugging and sexual molestation of Andrea Constand, a former basketball coach at his alma mater, Temple University.
The disgraced comedian, who remains on house arrest at his suburban Philadelphia home, is facing as much as a decade in prison when he is scheduled to be sentenced in late September.
Wyatt told ABC News that Cosby has hired attorney Joseph P. Green Jr. to represent him going forward.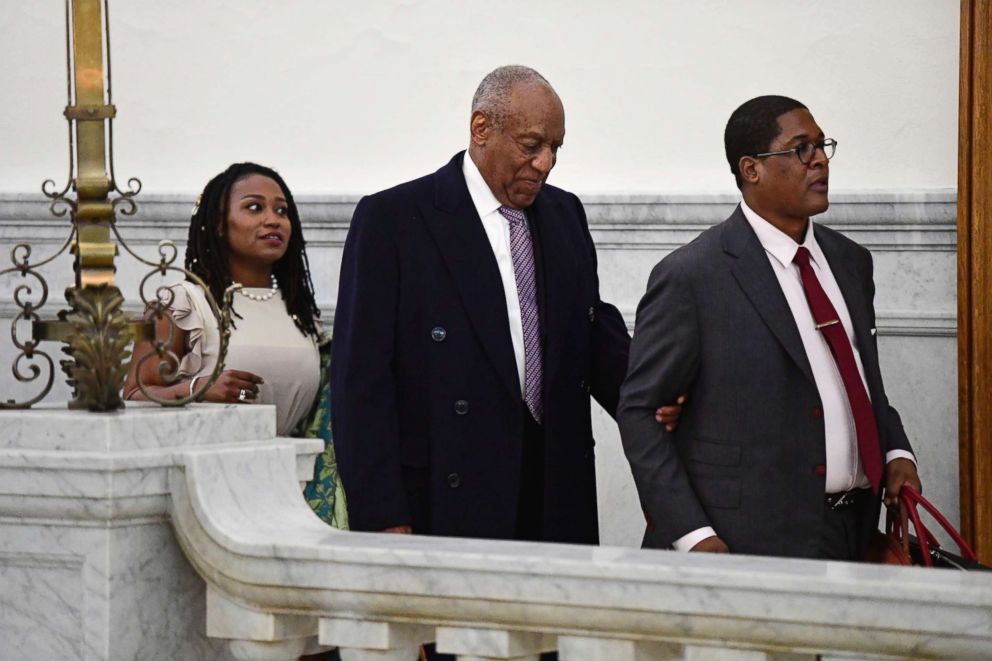 "I am looking forward to representing Mr. Cosby in post-trial proceedings and at sentencing," Green said in a statement released on Friday. "There are complicated legislative and constitutional issues unique to Pennsylvania law that have to be addressed prior to sentencing."
Pennsylvania law restricts criminal appeals from being filed until after sentencing, so Cosby has yet to challenge his convictions in court.
A spokeswoman for Montgomery County District Attorney Kevin Steele said that her office is aware of Cosby's change in counsel but declined further comment.
Cosby has steadfastly maintained his innocence and continues to assert that none of the dozens of women who have come forward in recent years to publicly accuse him of drugging and molesting them are telling the truth.
Cosby, who has been married for decades, has said repeatedly through representatives that any sexual encounters he has engaged in were consensual.
Despite scores of accusations dating back to the 1960s, only Constand's claims were reported within the statute of limitations on sexual assault prosecutions.
'Disappointment and Anger'
A source with direct knowledge of Cosby's legal strategy told ABC News the comedian and his family dismissed his trial team because they were "disappointed" in their representation.
The powerhouse team included Los Angeles defense attorney Thomas Mesereau, who successfully defended Michael Jackson on child-molestation charges, Kathleen Bliss, a former federal prosecutor, and appeals expert Becky James.
"They felt the case should have been tried a lot stronger, and they felt [co-counsel] Kathleen Bliss didn't do a good job and that it should have had more of Mesereau's hand on the wheel," the source told ABC News.
"There's a lot of disappointment and anger there."
Bliss did not immediately respond to a request for comment. Mesereau gave ABC News a one-sentence statement but declined further comment.
"I wish Mr. Cosby, his family and his new defense team all the best," Mesereau said.
Ineffective Counsel?
It's not the first time Cosby has parted ways with a legal team.
Cosby was represented during his first jury trial in 2016 on the same sexual assault charges by attorneys Brian McMonagle, Angela Agrusa and others. That trial ended with a hung jury and a mistrial.
Last August, McMonagle filed a motion to withdraw from the case prior to the retrial and co-counsel Agrusa similarly withdrew.
Both attorneys have repeatedly declined requests to comment on the motivations for their withdrawals.
It remains unclear what Cosby's latest strategy will be moving forward.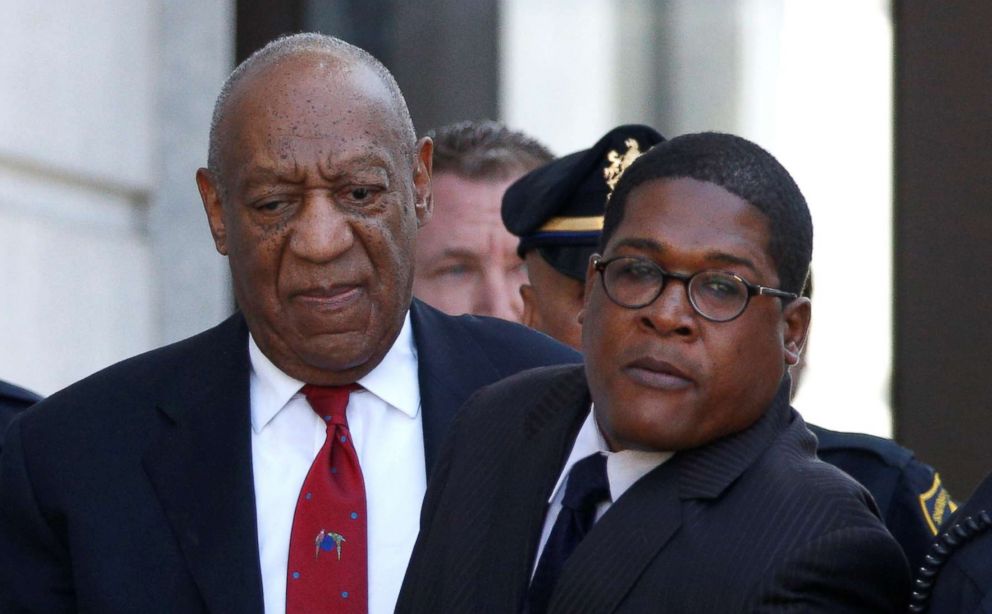 Yale Law School professor Steven Duke said that hiring Green is likely just the first step in building a whole new defense team ahead of Cosby's sentencing.
Duke said that replacing seven lawyers with one "makes no sense at all unless it is a step in a plan to produce a new team."
"This new attorney -- however great he may be -- is not going to be handling this appeal by himself," Duke added. "There's surely going to be some new lawyers involved. Maybe this new lawyer is just a placeholder until he puts a team in place."
While defendants convicted in Pennsylvania courts are expected to be sentenced within 60 days of conviction, trial judge Steven P. O'Neill extended that margin to 90 days after defense attorneys cited scheduling conflicts that prevented them from appearing within 60 days.
Duke said that while in firing his trial team Cosby may be preparing to launch a post-sentencing appeal based on ineffective counsel, such claims rarely succeed and are very unlikely to succeed when the defense team consisted of seven lawyers.
"It is a near certainty that many of his friends are telling Mr. Cosby that his team screwed up and that he should be angry at them -- post-verdict advice that is common in high profile cases -- but I have difficulty imagining what the big screw-up could have been," Duke said.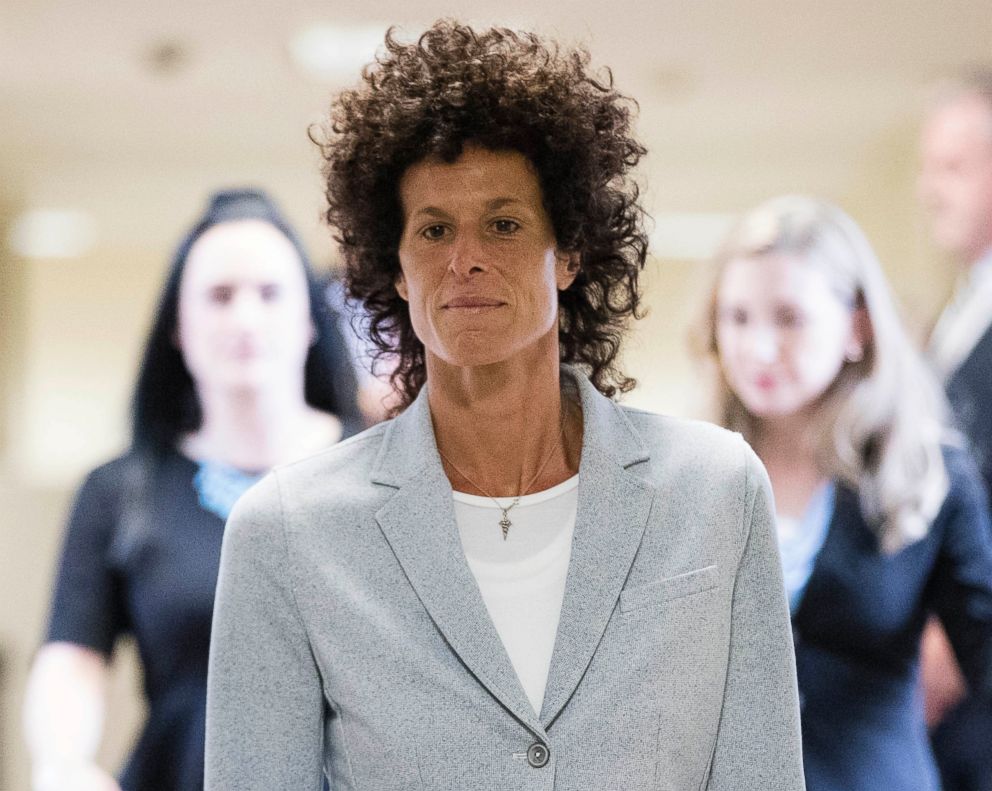 Duke suggested that Cosby's most viable avenue of appeal would be to challenge the pre-trial decision by O'Neill to allow five additional Cosby accusers to testify in the most recent trial. That decision was a significant departure from O'Neill's pre-trial ruling in the first case, when he allowed one additional accuser to testify.
"If [Cosby] has decided that his only shot on appeal is to attack the performance of his attorneys, it is rarely successful, but so are virtually all other appeal issues in criminal cases," Duke said. "It seems to me that he's only got one issue, and that is: Should the judge have allowed the additional [accusers] to testify."
'Smartest Guy in the Room'
Philadelphia criminal attorney William J. Brennan blasted the comedian and his legal advisers: "This guy and his team have a history of making insane decisions, bordering on lunacy."
Brennan contended that Cosby's first trial team should have been kept in place.
"How he let Brian McMonagle go is beyond me," Brennan said. "If [the second trial jury] hung, they would have never prosecuted [the case] again."
Brennan, who has followed the criminal case closely since Cosby was first charged in 2015 and is familiar with the first trial's defense team, also criticized Cosby's stunning, profane outburst in court immediately following his convictions in which he directed a colorful expletive at Montgomery County's district attorney, Kevin Steele.
"Can you imagine him calling district attorney Steele an a****** in front of the judge who will be deciding his sentence?" Brennan said. "Who is advising him?"
Brennan also castigated Cosby for repeatedly changing legal horses in midstream.
"If you're smartest guy in the room, then you're probably in the wrong room -- and it's going to catch up with [Cosby] when [he] faces sentencing in September."