— -- The air was quiet as 12-year-old Cahree Myrick's eyes darted across the old chess board in front of him.
"Check," he said under his breath, slowly moving his piece to an adjacent square.
Across the table, Sundiata Osagie paused to reassess. When it became apparent that the soon-to-be eighth grader had caught the barbershop owner in a corner, he silently threw his hands up in the air, knowing it was all over. He moved a piece but seemed to know it was a futile effort.
Then, with a poker face, Myrick struck: "Checkmate."
"Good game," Myrick told his friend with a grin, shaking Osagie's hand then offering him a fist-bump.
The casual afternoon game could have been an embarrassing defeat for Osagie, the owner of Reflection Eternal Barbershop in Baltimore, were it not for the fact that Myrick is a national chess champion.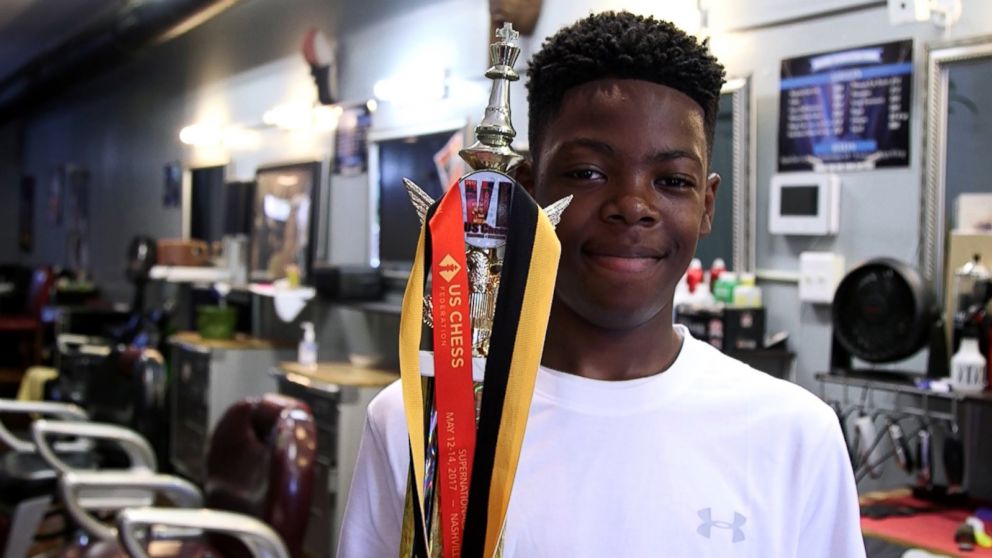 Last May, Myrick made local history after winning first place in his division at the United States Chess Federation SuperNationals in Nashville, Tennessee. According to the Baltimore Sun, he's the first competitor from the city to do so.
"That day, it was a great experience," Myrick told ABC News. "Because I ran back to my teams and said: 'Everyone! I won! I won!' And everyone just congratulated me."
He entered the spring tournament with his team from the Baltimore Kids Chess League, a program open to public school students in the area. He said he gets most of his practice by playing on Chess.com, with his team or with his little brothers, who complain he always beats them. But Myrick credits Osagie's barbershop for shaping him into a true competitor.
"Sundiata, he's been my barber since I was like, 5 years old," Myrick said. "He taught me to be humble more -- count your blessings and be a good person. Don't be like, arrogant, don't walk in like that."
"Just be like: Everyone in this room has a chance to win. I just need to take it," he added.
Osagie described chess as a "staple" at his barbershop.
"That's just the culture we've developed around here," Osagie told ABC News. "People will just stop in and say: 'Who's playing chess? Who's the chess players around here?'"
When one of those chess players happens to be Myrick, Osagie jokes that some people will shy away because they feel like they're being set up.
"His reputation is preceding him and that's a good thing because he's putting in the work," Osagie said.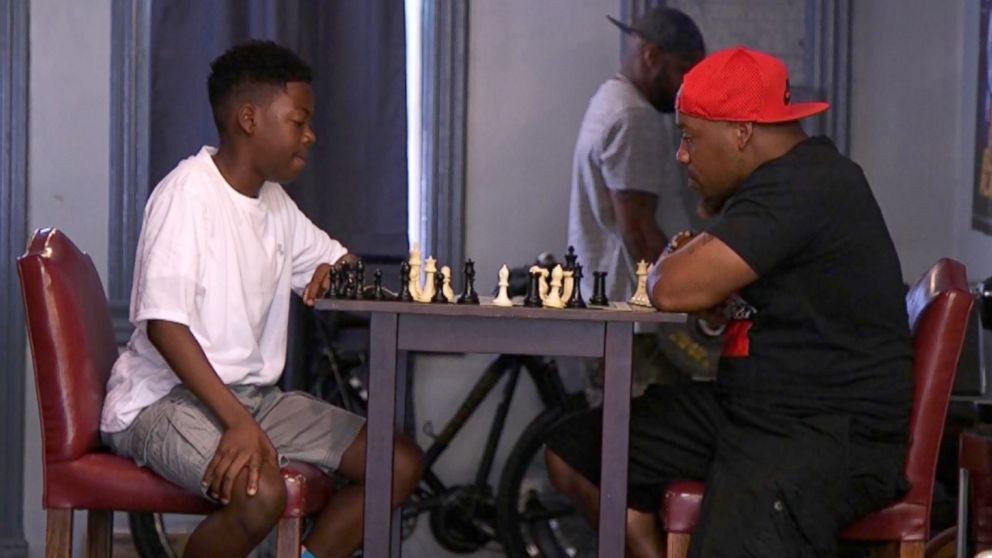 Myrick said he learned to play chess in first grade, entered his first competition in third grade and played in his first national tournament last year. Now, he said he practices about two hours a day.
"First you need to learn the pieces and then you need to learn the strategy and the whole mind game of it," he said. "To get good, you need to focus."
Before Myrick traveled to Nashville for the tournament, Osagie said he dropped by the barbershop for a haircut, a few games and a pep talk.
"I said, 'Bring it home, baby! We want that chip here!'" Osagie said.
When news of the big win made it back to the barbershop, Osagie was excited -- but not entirely surprised.
"He's definitely a special kid," Osagie said. "You know, his drive, his will to be successful. You have to teach that later on in life to a lot of people, but he has it early."
"And he's definitely special on the chessboard, as we can see and bear witness," he added.