— -- Bowie State University honored senior student Richard Collins III during its commencement ceremony on Tuesday, just days after he was stabbed to death at the University of Maryland, College Park.
During Tuesday's ceremony, Bowie State President Mickey Burnim honored Collins with a posthumous bachelor's degree that was accepted by family and fellow cadets on his behalf.
Collins, 23, was stabbed in the chest Saturday, allegedly by 22-year-old University of Maryland student Sean Urbanski, according to police. He was set to graduate Tuesday and was recently commissioned in the Army as a second lieutenant, officials said.
Urbanski has been charged with first-degree murder, second-degree murder and first-degree assault. He is being held without bond and is due in court next month.
Police called the attack random and "totally unprovoked."
The University of Maryland's police department said it has asked the FBI to assist in the investigation after it discovered that Urbanski, who is white, belonged to a Facebook group named "Alt-Reich." The Associated Press said that in the group "members post disparaging material about African-Americans and others." Collins was black.
Bowie State, a historically black college located in Maryland, held a candlelight vigil in honor of Collins on Monday at 7 p.m. local time.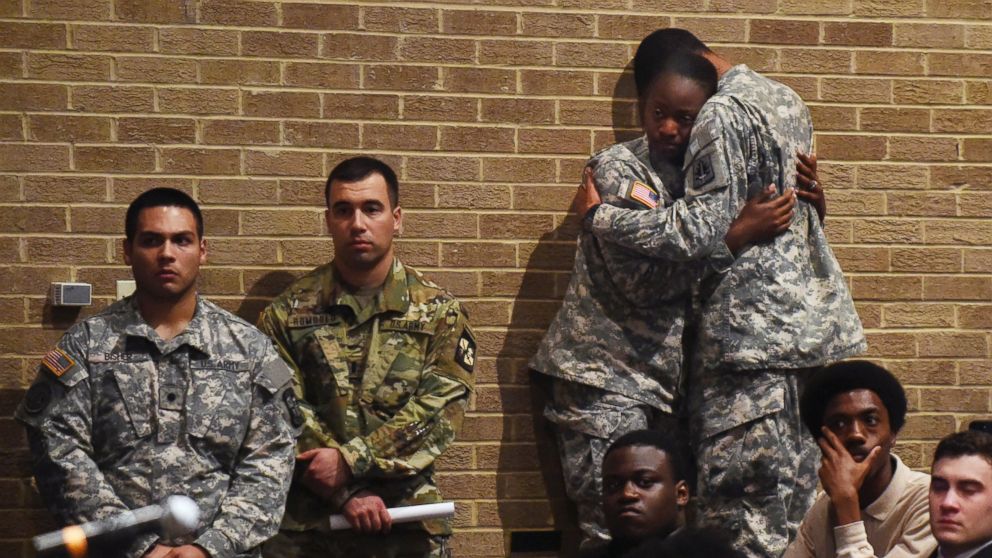 The school honored Collins with a cap and gown draped over a chair at Tuesday's ceremony and with a moment of silence.
"It is a tragic loss to see our national treasure, in the form of Lt. Collins, taken away from us in this manner," FBI spokesman Gordon Johnson said at a press conference Sunday.
People who knew Collins described him as a "good young man" who was excited about his future.
ABC News' Emily Shapiro also contributed to this report.