California murder suspect Eric Abril, who escaped from hospital, captured following massive manhunt
Eric Abril escaped Sunday from a medical facility in Roseville, California.
A murder suspect who escaped from a Northern California medical facility on Sunday has been captured following a massive manhunt, authorities said.
Eric Abril, a suspect in a Northern California hostage-taking homicide and shootout with police, was caught on Monday afternoon, according to the Placer County Sheriff's Office.
Abril was captured at 12:20 p.m. after being spotted in a residential area in Rocklin, California, roughly 6 miles from where he escaped, law enforcement sources told ABC affiliate station KXTV in Sacramento.
Abril was one of three murder suspects to escape in separate incidents across the country between Thursday night and Sunday morning, authorities said.
More than 70 law enforcement officers from multiple agencies, including the Rocklin Police Department, were involved in the search for Abril.
The 35-year-old Abril escaped just after 3 a.m. Sunday from a medical facility in the Sacramento suburb of Roseville, where he was supposed to be under 24-hour surveillance, Placer County Sheriff Wayne Woo said at a news conference Sunday afternoon.
Woo said a sheriff's deputy spotted Abril shortly after he escaped but lost him during a brief foot chase. Woo had described Abril as a "very dangerous fugitive."
Authorities released few details on how Abril escaped while supposedly under around-the-clock guard. He bolted from the Sutter Roseville Medical Center after being taken there Thursday for an undisclosed medical issue.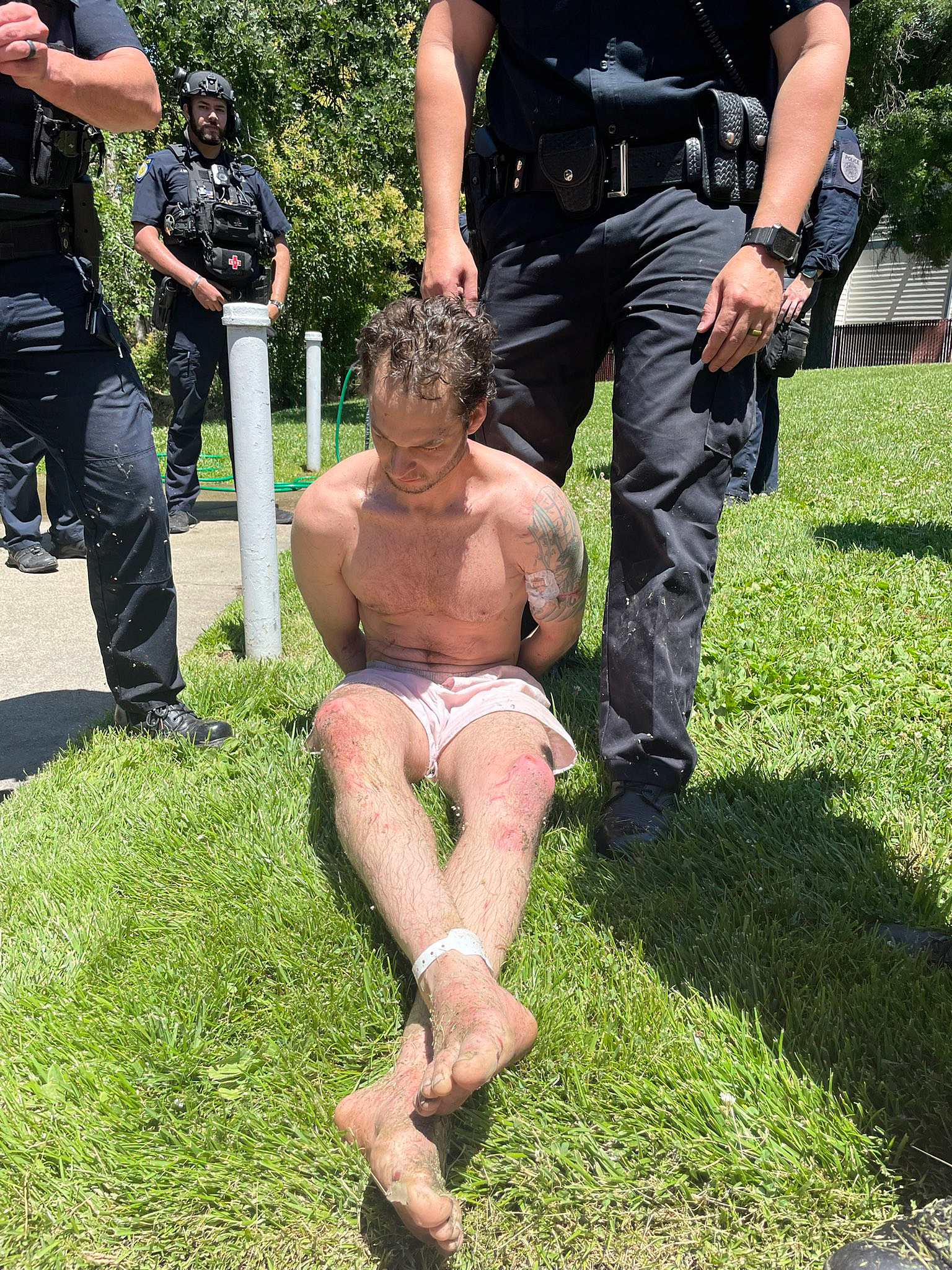 Woo promised that a "thorough investigation" into Abril's escape will include looking into whether there were any policy violations by deputies assigned to guard him.
"I know there's a lot of questions surrounding this case, specifically, surrounding the circumstances regarding the escape. Quite frankly, I have a lot of questions as well," Woo said at a news conference on Sunday afternoon.
In a statement released Monday before Abril was taken into custody, the sheriff's department said, "We can confirm at some point, Abril was able to defeat his restraints."
"Our preliminary investigation reveals the deputy was not asleep during the incident," according to the statement that did not elaborate more on Abril's escape.
The sheriff's officials said they have already begun conducting a review of all corrections policies and procedures regarding inmate transportation, inmate supervision and security when it is necessary for inmates to be transported or housed outside our correctional facilities.
"We are taking every measure necessary to ensure all our policies and protocols are adequate and within industry standards to ensure this does not happen again," the sheriff's statement reads.
Abril was arrested on April 6 after he allegedly shot a California Highway Patrol officer in an ambush while wearing body armor and took two hostages at gunpoint at a Roseville park, killing one and wounding the other, according to police. He was arrested when he was injured during a shootout with law enforcement officers, authorities said.
Abril was one of three murder suspects who escaped from custody in separate incidents over a four-day period, each prompting separate large-scale manhunts in different parts of the country.
Michael Burham, a suspect in homicide and rape cases in Jamestown, New York, escaped from the Warren County, Pennsylvania, Jail late Thursday night, according to the Pennsylvania State Police. He was described by officials as a "self-taught survivalist" with military experience. He remains at large and authorities are focusing their search for him on the Northern Pennsylvania woods.
Fugitive Chadwick Shane Mobley, 42, is alleged to have absconded from authorities in Montana on Sunday while being taken to Michigan to face charges in the 2011 slaying of a 20-year-old woman found fatally shot in the basement of a relative's home, according to officials.
Employees of a private transport company contracted by the U.S. Marshals Service were driving Mobley from the Lincoln County Jail in Libby, Montana, to Michigan on Sunday when he managed to slip out of his handcuffs and ankle shackles and bolt from custody around 10 a.m. local time at a gas station in Plains, Montana, according to the Sanders County Sheriff's Office. He also remains at large.