Dozens of water rescues have been conducted after a 120-foot-wide breach emerged along California's Pajaro River, resulting in an "uncontrolled flow," officials said.
Over 8,500 residents were urged to evacuate immediately after the levee broke around midnight Saturday.
The disaster comes as the state has faced a series of severe storms and is currently getting hit with unrelenting rain which could last until Wednesday.
"My heart hurts tonight for the residents of Pajaro. We were hoping to avoid and prevent this situation, but the worst case scenario has arrived with the Pajaro River overtopping and levee breaching at about midnight," Luis Alejo, chair of the Monterey County Board of Supervisors, said in a tweet.
Monterey County Water Resources Agency and the California Department of Water Resources were conducting onsite flood-fighting efforts at the levee due to the rising waters, though were "overwhelmed by the flows coming down that watershed," Lew Bauman, interim general manager of the Monterey County Water Resources Agency, said during a press briefing Saturday afternoon.
"It continues to flow, it will flow uncontrolled until we are able to secure that with interim protective measures," Bauman said.
The state's Department of Water Resources Agency is currently en route with their contractor to develop a mitigation plan to "close that breach," Bauman said. He did not have an estimate at this time on how long that would take.
The exact mode of failure is yet to be determined, he added.
The Salinas River has flooded in the area of San Ardo and Cattleman Road, which leads into the community, according to Monterey County officials. Approximately 1,700 people in the Pajaro area have been displaced due to the flooding, authorities said Saturday afternoon.
Since the levee break occurred, the sheriff's office has conducted over 90 rescues from the area, according to Monterey County Sheriff Tina Nieto.
"We even rescued a man floating down one of the areas in a tube with his pet on top of them," Nieto said.
Boats and high-water vehicles have been deployed in the rescues. One air rescue was conducted for a person stranded in the middle of the river, Nieto said.
"We've been lucky so far," Nieto said, noting that Monterey County has had no deaths or injuries reported in the incident. She added that a fireman was hurt when a tree fell on him.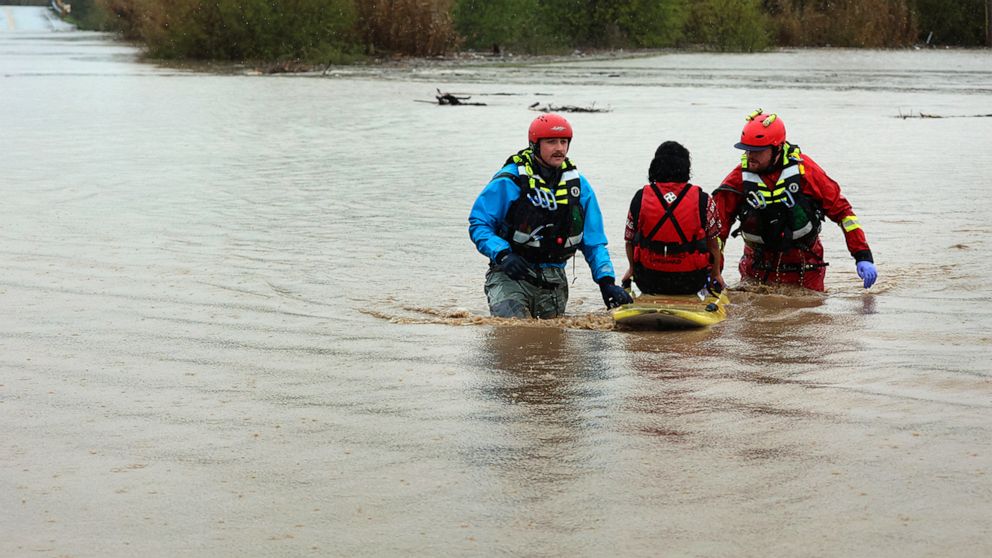 State officials conducted door-to-door notification and evacuation efforts throughout the day Friday and upon the levee break. Residents in the evacuation zone who need help should call 911 immediately, Monterey County officials said.
"Folks, we are not done yet," Nieto said. "We are dealing with rain and wind events that I can only describe as a super-soaker situation event."