CBP rescues 2 people suffering from heat stress in southern Arizona
Both patients had to be hoisted to a helicopter and evacuated to a hospital.
Two people suffering from heat stress had to be rescued via helicopter in a remote area of southern Arizona this week, officials said.
The U.S. Customs and Border Protection said in a press release Thursday that its Border Patrol Station in Tucson was contacted by the Santa Cruz County Sheriff's Office on Monday afternoon for help responding to two U.S. citizens requesting immediate medical assistance near Montana Peak, which is nestled along Arizona's border with Mexico. One person was falling in and out of consciousness, while the other was suffering from extreme heat stress, according to CBP.
Border Patrol agents were dispatched to the area and ascended Montana Peak on foot. They eventually found a man and woman and, due to "the critical nature of the situation," the agents "began field expedient cooling measures," CBP said.
The agents used a small tarp to provide shade and poured cold water from their personal bottles onto the man and woman. A Border Patrol EMT then started intravenous therapy on the patients, while an immediate air evacuation was requested, according to CBP.
"CBP's Border Patrol and Air and Marine agents operate daily in the extreme terrain and excessive heat conditions so common in southern Arizona; often with minimal regard for their own safety and well-being," John Modlin, chief patrol agent of CBP's Tucson Sector, said in a statement Thursday. "Border Patrol agents will literally give up the own water off their backs to save a life knowing they still have to hike out of the remote terrain in 100 plus degree heat."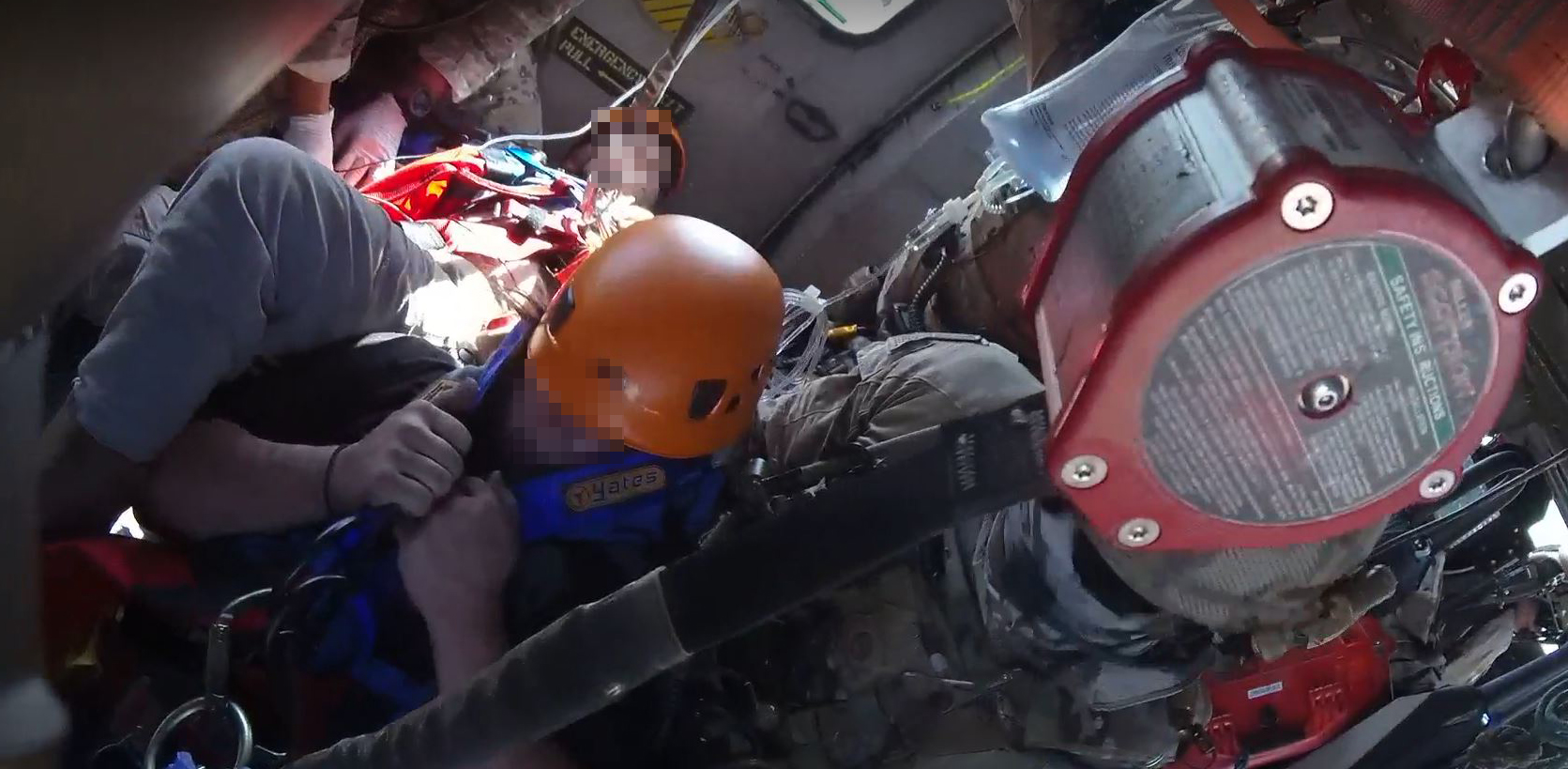 CBP's Air and Marine Operations subsequently dispatched a crew aboard a UH-60 Black Hawk from its Tucson Air Branch on Davis-Monthan Air Force Base. The aircrew was able to find the agents and the two patients in a narrow cut below Montana Peak but was unable to land due to the terrain. So an EMT and a paramedic were lowered to the scene using the helicopter's hoist to assess the patients, CBP said.
It was soon determined that a hoist rescue was required, so the man and woman were packaged for transport and hoisted to the waiting helicopter. The aircrew evacuated both patients to Banner - University Medical Center in Tucson for further treatment and evaluation due to their "fragile state," according to CBP. Further information on their conditions were unknown.
"During the hot summer months people in the deserts of southern Arizona can quickly succumb to the heat," Jose Muriente, deputy director of air operations at the CBP's Tucson Air Branch, said in a statement Thursday. "In this case, the man and woman were able to realize the situation they were in and contact emergency services and CBP was able to respond to the situation. All too often, people wait too long to call for help."