The latest episode of "Impact x Nightline" takes a look at the ongoing scandal in the chess community. "Checkmate: The Great Chess Scandal" is now streaming on Hulu.
September 4, 2022: the third round of the Sinquefield Cup, one of the country's pre-eminent chess tournaments, is underway.
On one side of the board sits Magnus Carlsen: the 32-year old Norwegian is the reigning 5-time World Chess Champion, the top rated chess player in the world, and is widely considered the heir apparent to the title of greatest chess player of all time.
In the chess world, he's seen as a model champion, whose publicly engaged persona and entrepreneurial spirit led to his company, Play Magnus, being sold to Chess.com – the largest chess website in the world – for just under $83 million.
"He has this aura around him that makes other grandmasters sometimes intimidated to play him," Alexandra Botez, a high ranking chess player and streamer, told "Impact x Nightline."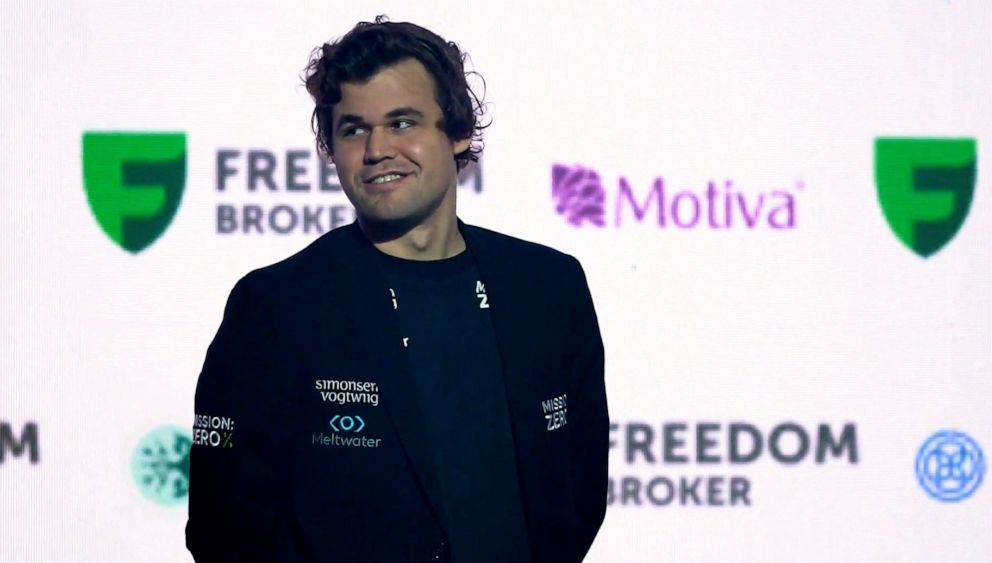 On the other side of the board sits Hans Neimann: the 19-year old American teen titan vaulted up the chess rankings with his stellar play during the pandemic, becoming a Chess Grandmaster in 2021.
Buttressed by his reputation as the "bad boy of chess", Hans is known within the chess community for his boisterous personality, captivating interviews, and extensive trash talking during chess games.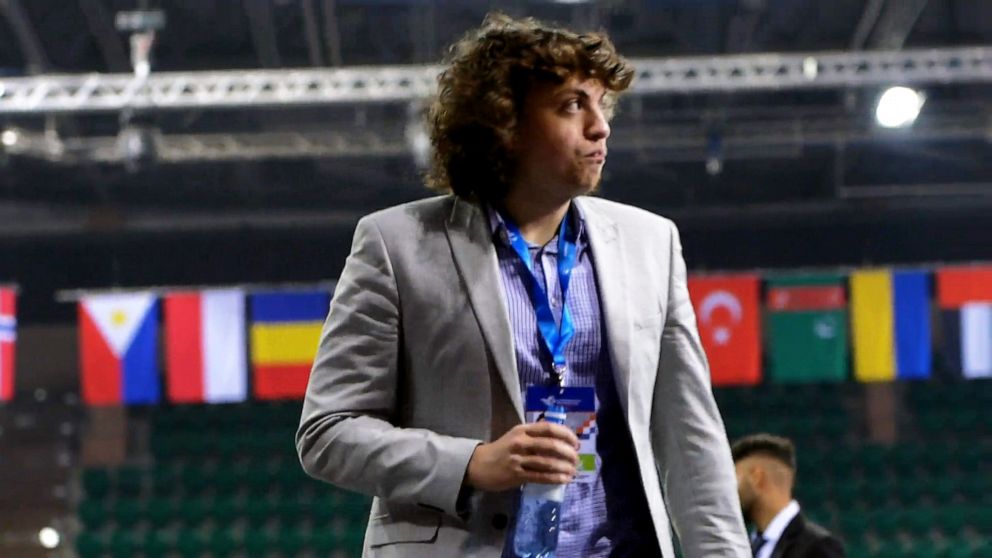 "I played him when he was 9 or 10 years old…I remember he just completely crushed me," Levy Rozman, a longtime chess player and YouTube host, told "Impact x Nightline.
"He was the most brash-talking kid," Max Dlugy, a chess Grandmaster and coach in New York City, said of Niemann.
What would happen, then, if this brash-talking teenager were to defeat the world champion in a high stakes tournament? The greatest scandal in recent chess history.
The Anatomy of a Chess Scandal
The saga capped off when the two squared off for the first time in August in Miami during the FTX Crypto Cup.
The two grandmasters were scheduled to play each other in a best-of-four series.
Carlsen was and is the highest rated player in the world, while Niemann was the lowest rated player in the tournament. Unexpectedly, Niemann won the first match.
"Hans yesterday was a terrible day for you, and today you start out with a masterpiece, how would you summarize it?" Sverre Krogh Sundbø asked Niemann in a post game interview.
"Chess speaks for itself," he responded.
Carlsen went on to win the final three games and Niemann finished last in the tournament.
Two weeks later, Carlsen and Niemann would go head to head once again at the Sinquefield Cup in St. Louis. The tournament is considered to be one of the most consequential chess tournaments in the United States, and is closed to in-person public viewing.
In a few hours, Niemann defeated Carlsen in their sole match.
"I think he's just so demoralized because he's losing to such an idiot like me. You know, it must be embarrassing for the world champion to lose to me, I feel bad for him" Niemann said in an interview with the St. Louis Chess Club after the match.
Carlsen had a 53-game classical unbeaten streak for nearly a year prior to their match.
Al Lawrence, the managing director of U.S. Chess Trust, who was one of the few people allowed into the tournament hall to watch the match, told "Impact" that Carlsen did not take the loss well.
"[Carlsen] stormed out that evening, changed hotels [and] went home to Norway," he said.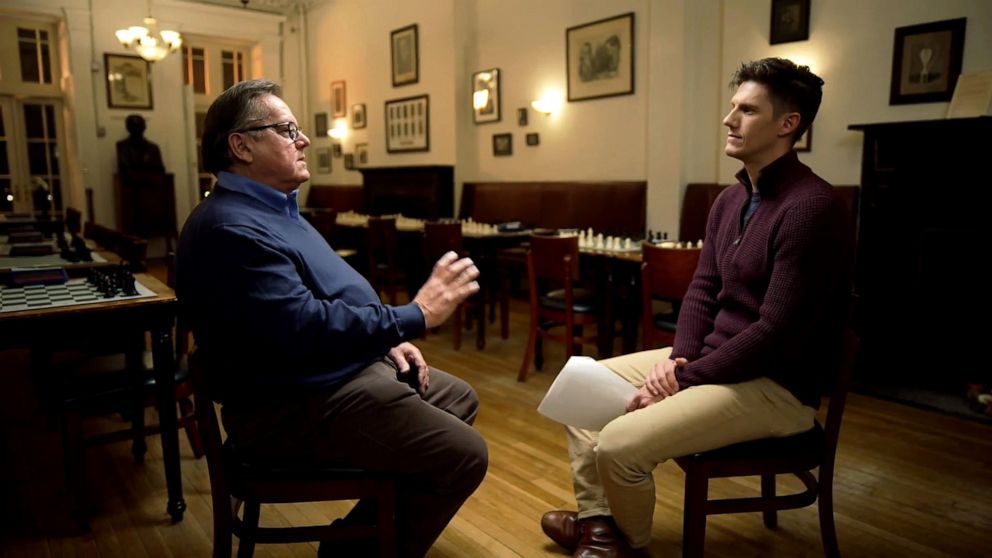 The next day, Carlsen withdrew from the tournament and tweeted a video of the then-Chelsea football coach Jose Mourinho saying after a surprise defeat in 2014, "If I speak, I am in big trouble."
Many chess observers said Carlsen's tweet heavily inferred that Niemann cheated in the match. The tweet went viral and began to fuel wild conspiracies, including one that was re-tweeted and later deleted by Elon Musk, that alleged wireless anal beads were used to give Niemann signals on how to beat his opponent.
Niemann addressed the rumors with the St. Louis Chess Club and said he didn't cheat in his match against Carlsen. However, he did admit he cheated twice in online matches when he was 12 and 16.
Chess.com, the online platform where Niemann played, ended up suspending him from their site, where he played several online matches, and uninvited him from their $1 million global championship.
"We have shared detailed evidence with him concerning our decision, including information that contradicts his statements regarding the amount and seriousness of his cheating on Chess.com," the company wrote in a statement at the time.
Niemann and Carlsen would go up against each other two weeks later in a tournament held by Chess 24, a subsidiary of chess.com, but Carlsen resigned after one move in protest.
Carlsen declined to say why he resigned from the match in an interview, stating, "People can draw their own conclusion."
He added, "I have to say I am very impressed by Niemann's play and I think his mentor Maxim Dlugy must have been doing a great job."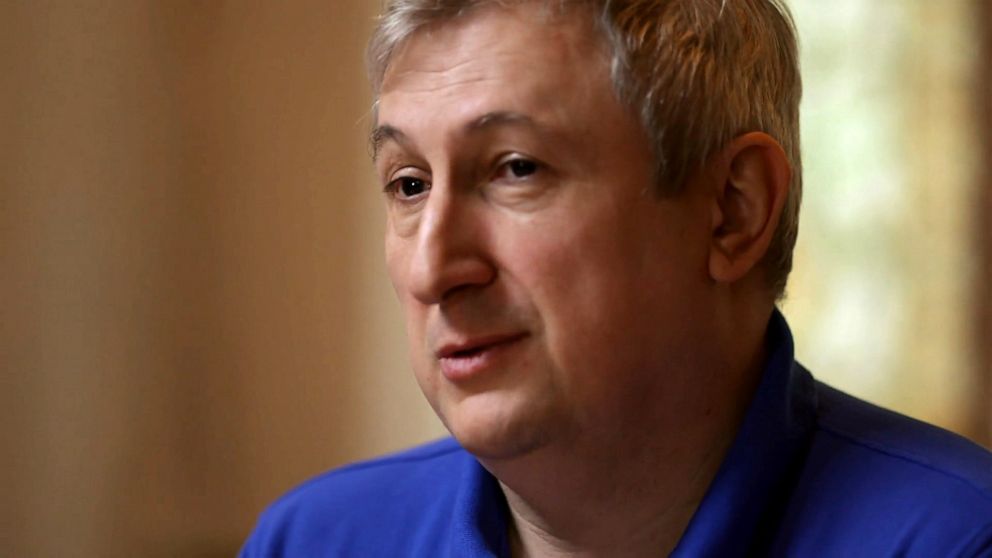 Some in the chess community saw the reference to Dlugy as another insinuation of Niemann's cheating.
Dlugy told "Impact" that he coached Niemann when he was 11 years old, and remains a mentor – although he believes Niemann would consider him more of a friend.
Dlugy was also himself previously twice removed from Chess.com for cheating. In one instance, Dlugy said it was unintentional, and the other he has denied completely.
Dlugy refuted allegations that he helped Niemann cheat in the St. Louis match and told "Impact" he was in the Poconos when it happened.
"It's unfortunate that this is how paranoia works," he said. [Carlsen] is using this kind of very -- very stretched imagination to portray me as a potential accomplice to Hans, which I wouldn't even know what I was supposed to do in this case.
Carlsen would soon cut through the insinuation, and released a very direct statement on the entire saga, writing in part, "I believe that Niemann has cheated more - and more recently - than he publicly admitted...I am not willing to play chess with Niemann."
Ken Regan, a professor of computer sciences at SUNY Buffalo a current chess International Master, was tasked by the governing body of chess – FIDE – to investigate the cheating claims in the match.
Regan, who watched the match, said his analysis showed that Niemann didn't cheat in the match or other over-the-board matches.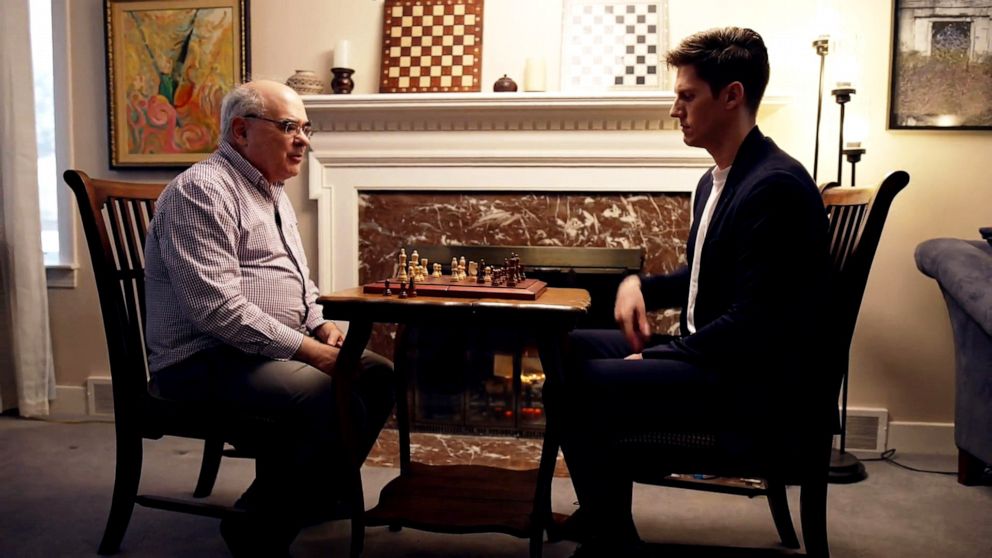 "The main thing is I think that there was some illusion caused by Niemann's known past record, because it is known that he had cheated online, and unfortunately chess players are as susceptible to cognitive illusions as everyone else," he told "Impact."
The Lawsuit
On Oct. 4, Chess.com released a 72-page report that alleged: "Hans has likely cheated in more than 100 online chess games, including several prize money events."
The company added, "while his performance in some of these matches may seem to be within the realm of some statistical possibility, the probability of any single player performing this well across this many games is incredibly low."
The report did state there was no concrete evidence that Niemann cheated against Carlsen, or in any in-person games.
Niemann has denied the allegations and continued to play in other tournaments.
Danny Rensch, the chief chess officer of Chess.com, told "Impact" that he and other officials from the site weighed through all of the facts before making their decision.
"When we felt we were releasing that report, we actually felt that in many ways we were providing truth to the fact Hans hasn't cheated over-the-board. At least there's no evidence to suggest that," he said.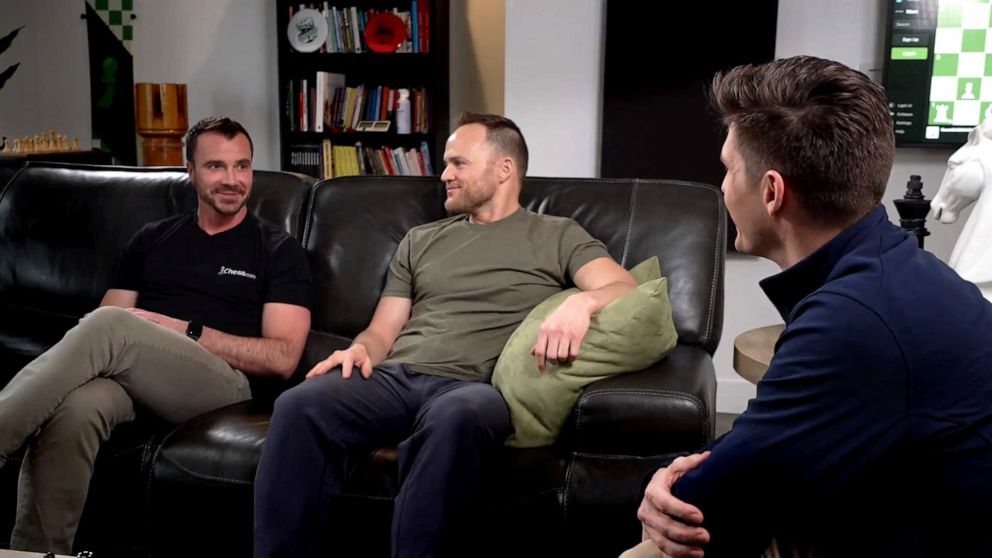 Erik Allebest, who co-created the current version of Chess.com in 2007, told "Impact" that Carlsen, who is an ambassador for the site, had nothing to do with their decision. Carlsen's company, "Play Magnus," was sold to Chess.com in an $83 million deal.
"Magnus Carlsen losing a game is great for the drama of chess. It just is. It's great for the story, it's great for the game," Allebest said.
Niemann, however, took issue against Chess.com, Carlsen and chess streamer Hikaru Nakumara – in late October, he filed a $100 million lawsuit for a slew of reasons among them libel, slander, and antitrust violations, and claiming that he was blacklisted from the chess community
As of April, the lawsuit is ongoing.
Carlsen's attorneys and Niemann's attorneys declined to comment to "Impact" about the lawsuit. Nakamura didn't respond to requests for comment.
Allebest and Rensch said they were surprised by the lawsuit but contend they didn't defame Niemann.
"It's, like, very far away from what happened," Allebest said.
"I don't believe that Hans' chess career is anything but just starting and continuing to take off and positive," Rensch added.
The attorneys for the Chess.com defendants refuted the other charges in their motions to dismiss the suit.
Rozman said that whatever happens in this feud, he doesn't think the chess world will be satisfied with an answer.
"I've sort of decided that there are no winners," he said.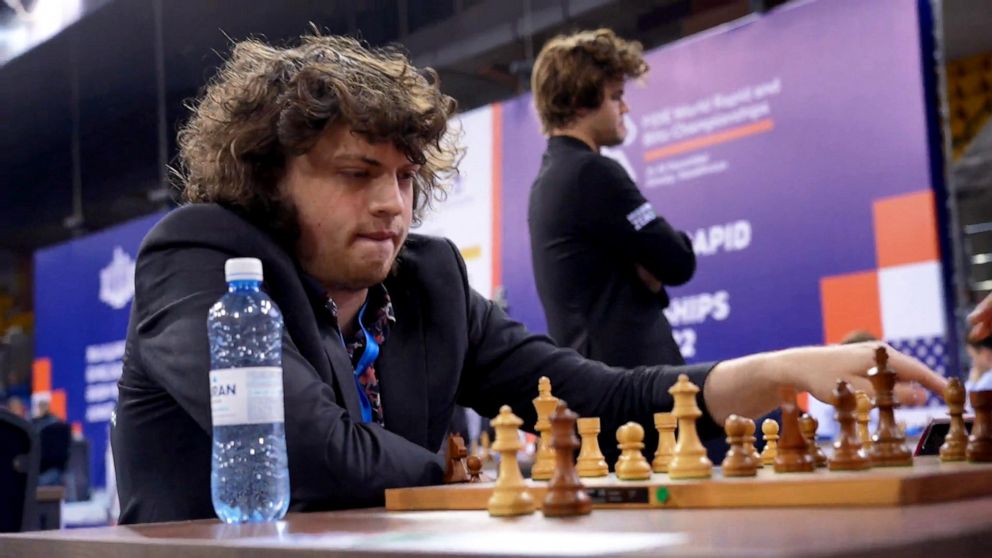 Regan said that he hopes that the grandmasters and the community can put this saga behind them.
"I'm actually going to draw on my philosophical religious background and say I hope it ends with a mutual apology, repentance and forgiveness because I think they both overstepped in certain ways," he said.