Italy's daily coronavirus death toll lowest in nearly a month
The cases in the U.S. have topped 700,000.
More than 2.3 million people have been diagnosed with the novel coronavirus worldwide as the spread of the virus continues.
The global coronavirus death toll stands at more than 160,000, according to data compiled by the Center for Systems Science and Engineering at Johns Hopkins University. The actual numbers, however, are believed to be much higher.
Many cities and states have begun counting probable deaths caused by COVID-19, including New York City, the epicenter of the disease in the United States.
The U.S. has more cases and deaths than any other country in the world, with at least 734,000 and 38,903, respectively.
Today's biggest developments:
US cases surpass 700,000
Illinois food plant to close after outbreak
NJ reports 1,530 deaths at long-term care facilities
Total deaths in Massachusetts exceed 1,500
Here's how the news developed on Saturday. All times Eastern.
9:29 p.m.: Judge strikes down Kansas ban on church gatherings
U.S. District Judge John Broomes ruled late Saturday against Kansas Gov. Laura Kelly's decision to limit churches from holding services with more than 10 people.
"Laura Kelly, in her capacity as Governor of the State of Kansas, is hereby enjoined and ordered to refrain from enforcing the prohibition in Executive Order No. 20-18 and Executive Order 20-25 prohibiting religious gatherings involving more than ten attendees ... so long as those gatherings comply with the social distancing and public health protocols Plaintiffs have indicated in their complaint they are prepared to apply," Broomes wrote in his decision.
The Democratic governor was fighting to keep large church gatherings from meeting in opposition to the Republican-controlled legislature.
Broomes wrote that "churches and religious activities appear to have been singled out among essential functions for stricter treatment."
The ruling will hold at least until May 2.
There have been at least 1,850 confirmed cases of COVID-19 in Kansas, according to Johns Hopkins University, and 85 deaths, mostly in Wyandotte County, which includes Kansas City, and Johnson County.
5:26 p.m.: Trump touts 'big studies' on racial disparities
President Donald Trump said his administration is conducting "big studies" on how COVID-19 is affecting African American and Hispanic communities.
"We're taking care of them, and it's so important because you've all been reading about the disproportionate numbers on African American, and you're reading a little bit less about Hispanic, but, likewise, Hispanic communities," Trump said at his daily White House briefing. "The numbers are disproportionate."
He did not elaborate on the studies.
The president also urged lawmakers to replenish the small business relief fund.
"The Paycheck Protection Program funding is now fully drained. It's out. It's gone," Trump said of the $350 billion relief fund.
He called on Democrats to get "on board," and said lawmakers "must stop blocking these funds."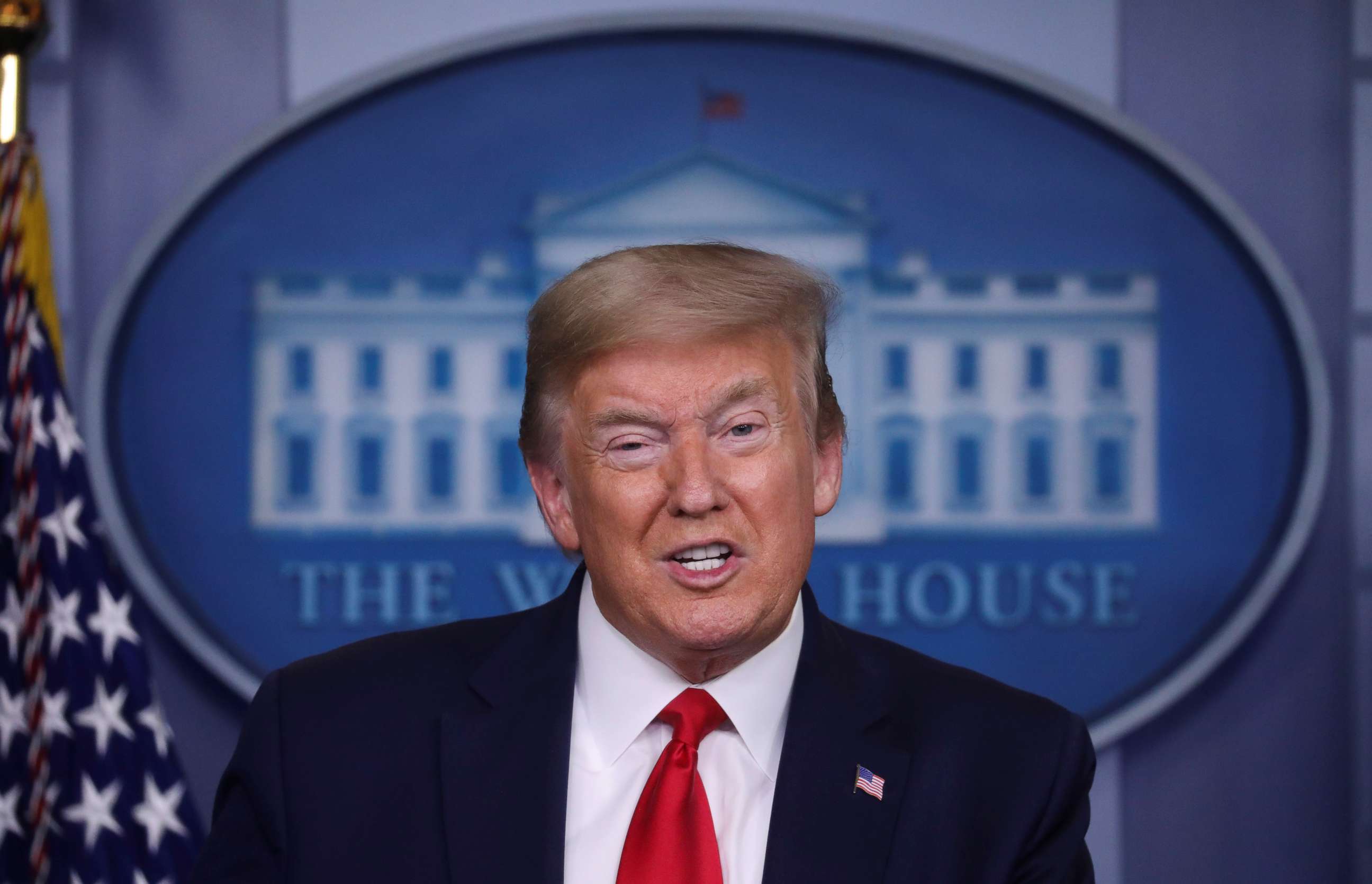 4:33 p.m.: Deaths in Massachusetts top 1,500
There were 156 deaths in Massachusetts over the last 24 hours, the state's second-deadliest day since the start of the pandemic, according to the state's Department of Health.
Total fatalities stand at 1,560. An alarming 52% of those were reported at long-term care facilities, according to the department.
There were 1,970 new cases confirmed over the last 24 hours, putting the state's total at 36,372.
The sobering news came ahead of Patriot's Day, the state holiday that commemorates the Battles of Lexington and Concord, and the day of the Boston Marathon, which, for the first time in its 124-year history, won't be run in April.
"[We] recognize that this will be, to some extent, a marathon for us as well," said Gov. Charlie Baker, following a tour of the city's largest field medical facility at the Boston Convention and Exhibition Center.
3:30 p.m.: CDC did not manufacture COVID test 'consistent with its own protocol': FDA
The Food and Drug Administration (FDA) said that the Centers for Disease Control (CDC) did not manufacture its COVID-19 test "consistent with its own protocol."
The news comes after a report from The Washington Post, claiming that the CDC's facilities that assembled COVID-19 kits violated manufacturing practices. The paper reports that one of the three test components was then contaminated. "The cross contamination most likely occurred because chemical mixtures were assembled into the kits within a lab space that was also handling synthetic coronavirus material," according to the Post.
In a statement to ABC News, the FDA said the following: "CDC made its test in one of its laboratories, rather than in its manufacturing facilities. CDC did not manufacture its test consistent with its own protocol."
"In February, the FDA was not able to determine from information provided by the CDC whether the test issues were due to a design or manufacturing issue. Knowing the underlying cause was important to determine whether the contract manufacturers could proceed to make the CDC's test for distribution and if the CDC could continue to manufacture its test. The FDA sent a renowned diagnostics expert to the CDC to help make that determination and to assist CDC. The FDA expert determined it was a manufacturing issue and worked with CDC to facilitate the production and quality control processing of test kits made by one of its contract manufacturers to expedite test kit distribution to public health and non-public health laboratories. That company—IDT—manufactured the CDC test as the FDA had authorized it. The test manufactured by IDT was distributed and has encountered no issues, thus supporting the conclusion that it was a manufacturing issue. The CDC test design has been used to develop tests by other commercial manufacturers and academic laboratories without any problems."
The CDC did not immediately respond to ABC News for comment.
2:55 p.m.: Canada mandates all air travelers have face coverings
All air travelers departing or connecting through Canada will be required to wear a non-medical face mask or face covering, the government announced.
The new order goes into effect Monday at noon.
Passengers without the necessary face covering during boarding will "not be allowed to continue on their journey." Passengers traveling by rail or motor carrier-bus are also strongly encouraged to wear non-medical masks or face coverings as much as possible, according to the government's statement.
2:32 p.m.: Biden campaign launches new ad against Trump's COVID response
Former Vice President Joe Biden's campaign launched a new paid media campaign and digital ad, pushing back on President Donald Trump's claims that he adequately prepared the nation for the coronavirus pandemic.
In the nearly 2-minute ad, titled "Unprepared," a narrator says Trump "rolled over for the Chinese."
"He took their word for it," the narrator says, before playing news reports of a February tweet from Trump praising China's "transparency" in handling the coronavirus crisis.
The ad also shows Biden's January op-ed in USA Today urging Trump to put American officials in China to monitor COVID-19's spread and Trump's early praise of the Chinese government's handling of the coronavirus pandemic.
"Trump praised the Chinese 15 times in January and February, as the coronavirus spread across the world," the narrator continues, saying that 40,000 travelers from China were allowed in the U.S. despite Trump's claim that he banned entry into the country.
"We have more officially reported cases and deaths than any other country. Donald Trump left this country unprepared and unprotected for the worst public health and economic crisis in our lifetime. And now, we're paying the price. All the negative ads in the world can't change the truth," the ad concludes.
The campaign is not running broadcast ads, but the digital ad will run on Facebook and Instagram in the key battleground states of Michigan, Pennsylvania, Wisconsin, Arizona, North Carolina and Florida, according to a campaign aide. It will target both current and new supporters.
In addition to Facebook and Instagram, the ad will also run on YouTube in Michigan, Pennsylvania and Wisconsin to combat the negative ads being run by Trump and his allies.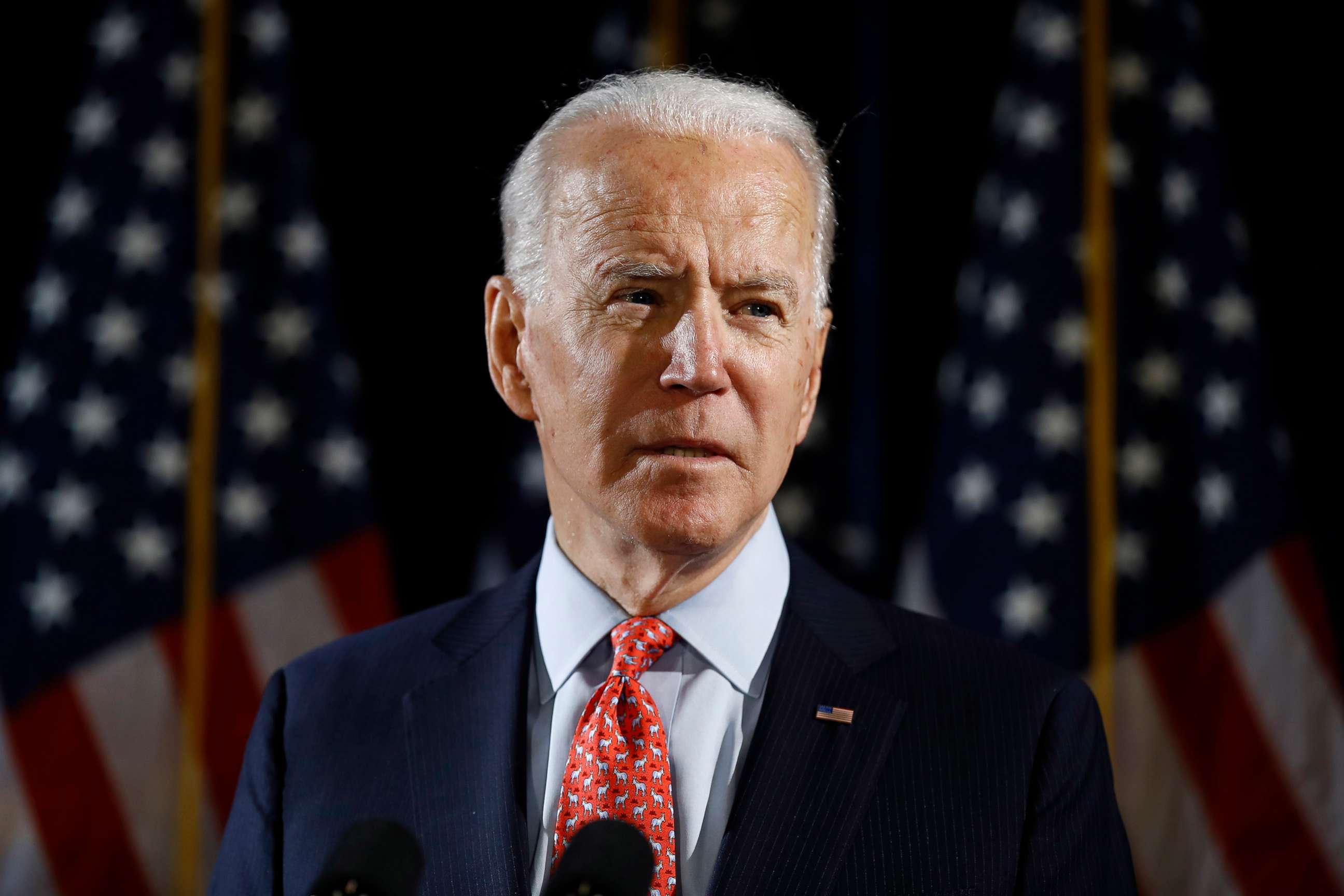 2:13 p.m.: Boeing delivers 540,000 masks to New Hampshire
Boeing delivered 540,000 masks from China to the United States Saturday, marking its first completed COVID-19 airlift mission, according to a statement from the airline company.
The masks will be used by frontline medical workers and first responders in New Hampshire, where the Boeing 737-700 landed.
New Hampshire Governor Chris Sununu and Boeing CEO Dave Calhoun were in attendance as the aircraft filled with personal protective equipment (PPE) was unloaded at Manchester-Boston Regional Airport.
Boeing said more airlift transport missions with its Boeing Dreamlifter and ecoDemonstrator are planned in the future.
1:55 p.m.: At least 18,215 cases in Texas
There are now at least 18,215 confirmed cases of COVID-19 in Texas, according to the state's Department of Health.
More than 1,000 people have been hospitalized and at least 453 people have died, the department reported.
Houston remains the city with the most cases, at 4,460. Dallas and Fort Worth have reported the second- and third-highest numbers with 2,190 and 1,175 cases, respectively. Austin and San Antonio follow.
1:34 p.m.: Over 1,700 California nursing home residents COVID-19 positive
At least 1,740 residents at nursing homes in California have tested positive for COVID-19, according to data released by the state's Department of Public Health. There are also at least 1,290 staff at the homes who have tested positive, the data shows.
It is the first time California has made public the names and case data for nursing homes statewide.
The largest outbreak in a nursing home in the state is at Redwood Springs Healthcare Center, in Tulare County, where 91 patients and 46 employees were infected.
1:10 p.m.: Canada, US extend border closure
Canadian Prime Minister Justin Trudeau announced that Canada and the United States have agreed to extend a border closure for nonessential travel an additional 30 days.
"This is an important decision and one that will keep people on both sides of the border safe," Trudeau said. "It's another example of the excellent collaboration between our two countries."
Essential goods and services will continue to pass through the border.
Daily deaths in Italy drop below 500
There were 482 deaths reported in Italy over the last 24 hours, according to the Civil Protection Agency, the first time since March 19 that figure was below 500.
The total number of fatalities is now 23,227, according to the agency. There were 3,491 new cases, putting the total number of cases, including active, deceased and cured, at 175,925. That's a 2.1% increase from the previous day.
The number of patients in hospital care again declined.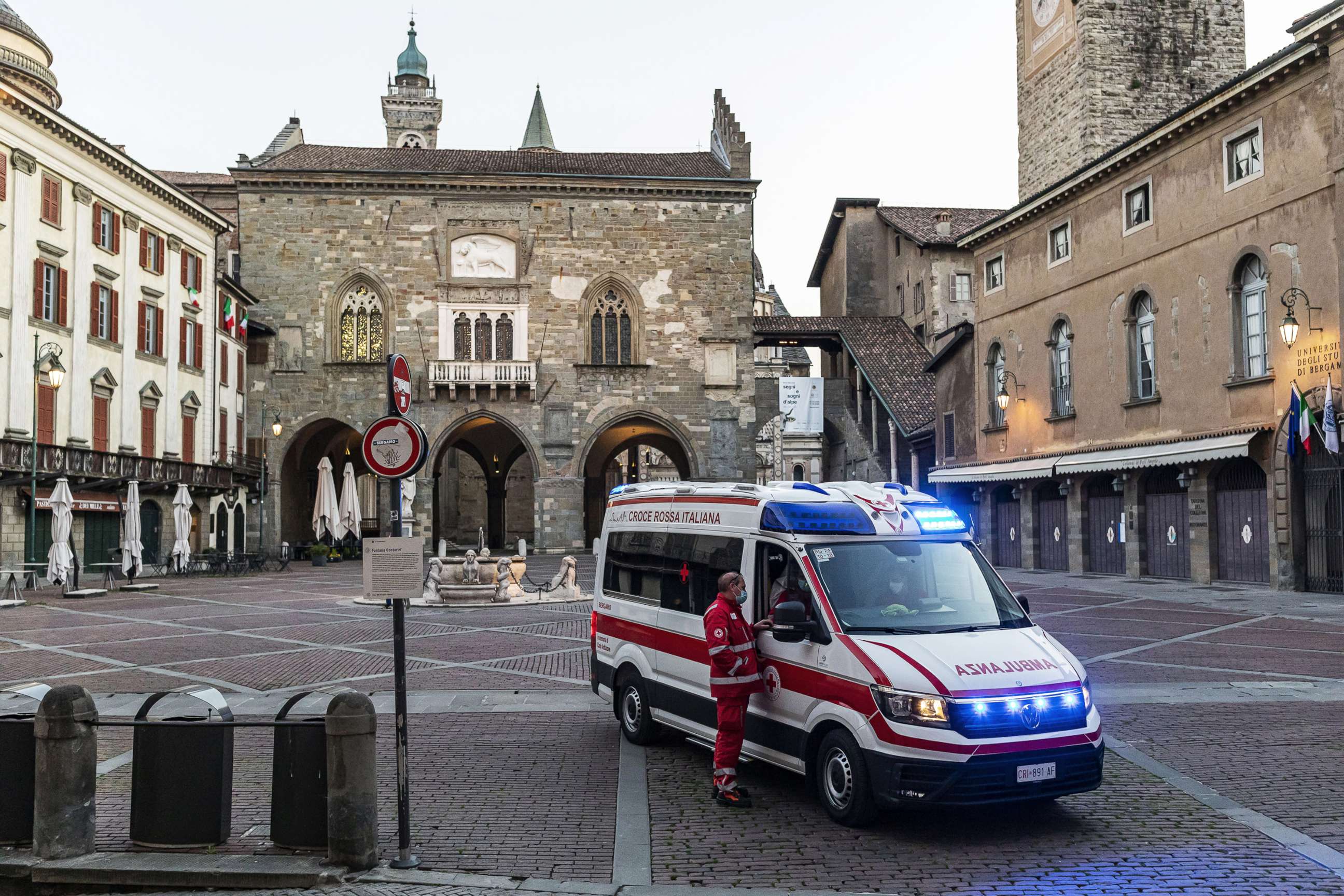 12:25 p.m.: Travel ban for troops extended
Defense Secretary Mark Esper on Monday is expected to extend the ban on domestic and international travel for U.S. troops to June 30. The original bans, announced in March, were through May 11.
Esper hinted that he would extend the ban earlier this week, however he didn't provide specifics. Matt Donovan, the Department of Defense's undersecretary for personnel and readiness, told reporters on a conference call Saturday morning the extension would be revised to June 30.
Under the previous ban, all travel within states and to overseas countries was banned. Only limited waivers were granted for domestic and international travel. The extension will mostly follow those same restrictions, but Donovan said they will "be more liberal and will allow for the deployment and return of troops from combat zones."
"While many areas in the United States may be on a positive trajectory, some areas and many nations are not, as personnel movements continue to present a threat of spreading COVID-19 within our ranks and communities, and from abroad," Donovan said.
12:14 p.m.: Cuomo says labs unable to double testing at this time
New York Gov. Andrew Cuomo said that the top 50 labs conducting tests are not able to double their output because they don't have enough reagents.
Cuomo said increasing testing is crucial in order to safely reopen the state.
He offered cautious optimism about the virus' spread in New York. Based on a number of indications, including net hospitalization numbers, ICU admissions and intubations, Cuomo said it could be argued that the state is "past the plateau" and starting "to descend."
However, he also noted that 2,000 people were admitted into hospitals statewide on Friday.
"That is still an overwhelming number every day," Cuomo said. "If it wasn't for the relative context we were in, this would be devastating news."
In the last 24 hours, 540 people died as a result of COVID-19, according to the governor. The majority of those deaths were in hospitals, with 36 in nursing homes.
Cuomo called nursing homes "the single-biggest fear in all of this," saying that they are a "feeding frenzy" for the virus.
The governor also announced that the federal government has sent 1.5 million cloth masks to distribute to the public.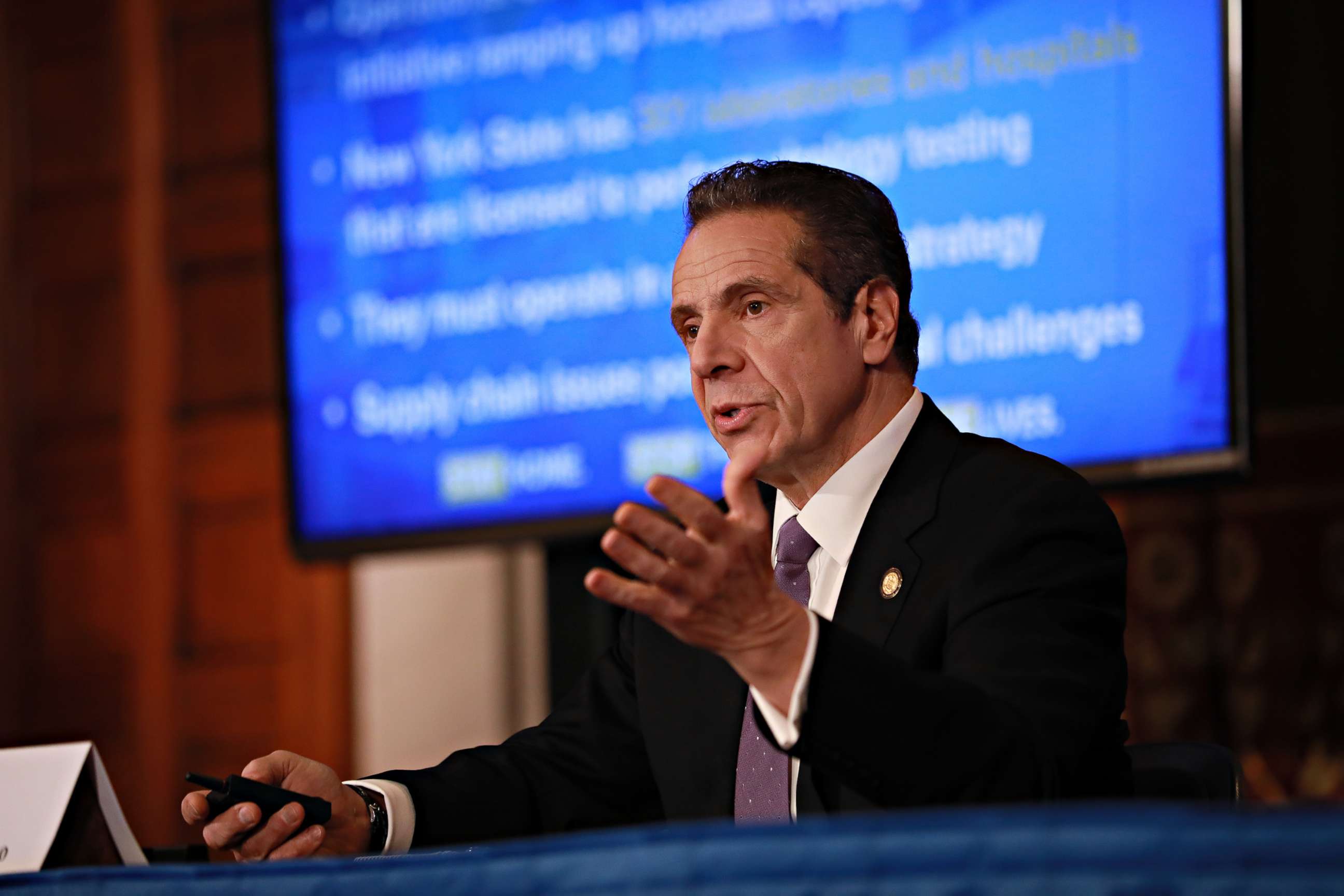 10:20 a.m.: At least 7,300 long-term care residents have died in 19 states
At least 7,300 nursing home or long-term care residents have died as a result of COVID-19 throughout the U.S., a survey of state records by ABC News shows.
The count comes from data provided by governor's offices and departments of health in 19 states. Many states do not yet report such data and did not reply to requests for the information.
New York reported the most deaths at nursing homes in the U.S., with 3,316 residents having died there from the virus.
On Friday, data showed that 10 different nursing homes in New York each have at least 30 confirmed COVID-19 deaths. Nineteen of the state's nursing homes have each had at least 20 deaths linked to the pandemic.
The Cobble Hill Health Center in Brooklyn reported the most deaths at 55, followed by Kings Harbor Multicare Center in the Bronx with 45.
New Jersey reported the second highest figure, with 1,530 long term care facility deaths.
The states reporting such data were Arkansas, Colorado, Connecticut, Delaware, Georgia, Louisiana, Massachusetts, Minnesota, Mississippi, Nevada, New Jersey, New York, Oklahoma, Oregon, Pennsylvania, Texas, Vermont, Virginia and Wyoming. Three states -- Alabama, California and North Carolina -- reported some data, but not statistics on fatalities.
9:37 a.m.: African American Mayors Association asks Trump to fund collection of racial data
As coronavirus appears to disproportionately affect certain races in the U.S., the African American Mayors Association is requesting the Trump administration allocate federal funds to collect a racial breakdown of the data.
The mayors said they, among others, are "on the front lines of this pandemic, and have quickly confronted crucial gaps, which surprisingly includes the availability of basic and accurate data about whom is affected by this virus."
The letter was signed by Mayors Keisha Lance Bottoms of Atlanta, Georgia; Muriel Bowser of Washington, D.C.; and Hardie Davis, Jr. of Augusta, Georgia.
They noted that some data on race and ethnicity has been made available in California, Georgia, New Mexico, Michigan and Washington, D.C.
"However, to enhance the quality of care and to address ongoing disparities in our health system, federal guidelines for COVID-19 data collection and reporting standards are essential," the letter reads.
The states currently lack uniformity in both the collection of data and federal reporting standards for the total number of confirmed COVID-19 cases they report to the federal government each day.
In addition to a breakdown of race and ethnicity, the mayors requested a report on health indicators, such as insurance, education, employment, disability status, primary language and sex.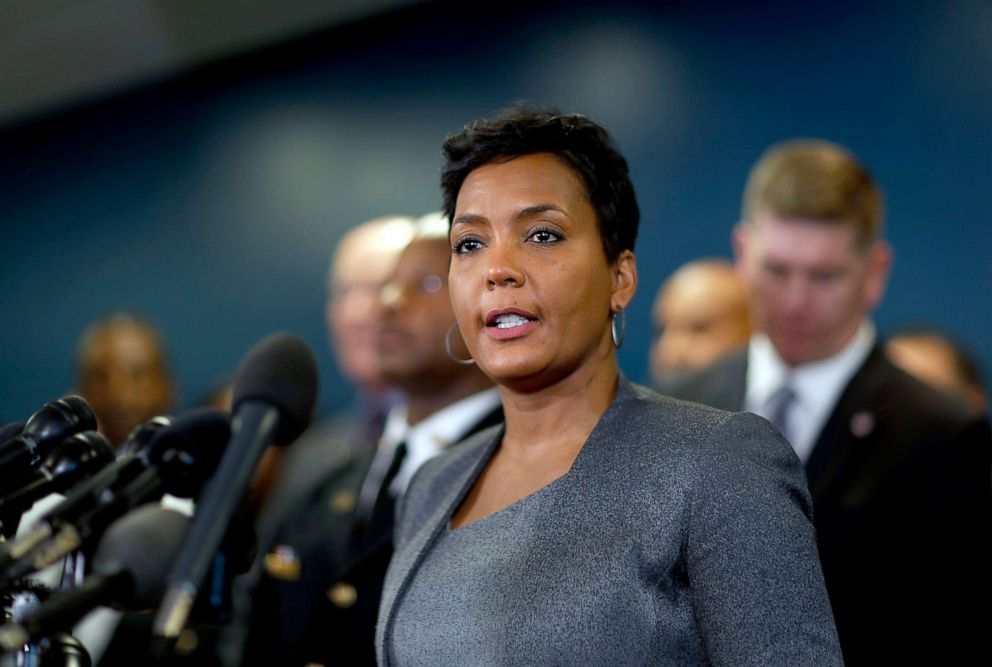 6:37 a.m.: Minnesota governor says he tried to call Trump about 'liberate' tweet
Minnesota Gov. Tim Walz said he tried to call President Donald Trump after the president tweeted "LIBERATE MINNESOTA!" on Friday.
For a couple of hours, the governor had tried calling Trump and Vice President Mike Pence and "got no return," Walz said during a Friday press briefing.
"My first responsibility is protection of Minnesota's people," Walz said, while also stating he supports the protesters right to protest.
"When I called to ask what are we doing differently about moving towards getting as many people back into the workforce without compromising the health of Minnesotans or the providers and that will probably take longer than a two-word tweet," he said.
"I would argue we are doing everything that they're telling us to do, but the difference is I actually have to do it here," Walz added.
Minnesota reported its largest daily increase in diagnosed coronavirus cases Friday, and an additional 17 deaths. The state has at least 2,070 COVID-19 cases and 111 deaths.
4:29 a.m.: Illinois food plant forced to close after outbreak
The Ogle County Health Department has ordered the Hormel Foods plant in Rochelle, Illinois, to close immediately due to an outbreak of the novel coronavirus. Health officials say there are at least two dozen cases linked to the facility.
The plant will be forced to close for two weeks.
"Although many essential businesses are open and operating, we will not tolerate them risking the health and safety of their employees or our community during this pandemic or any other time," Rochelle Mayor John Bearrows said in a statement Friday.
Tune into ABC at 1 p.m. ET and ABC News Live at 4 p.m. ET every weekday for special coverage of the novel coronavirus with the full ABC News team, including the latest news, context and analysis.
The county health department said it made "several attempts" to help control the outbreak, including recommending additional testing, steps for employee monitoring, new sanitation processes and more.
"My team has spent countless hours in collaboration with Rochelle Foods in an attempt to mitigate the virus spread," Kyle Auman, Ogle County Health Department administrator, said in a statement. "Since these efforts were unsuccessful, it is my duty to order a complete closure of the facility."
In a statement, Hormel confirmed it was given a notice of closure on Friday and that it's "working to further understand the closure order and are consulting with our legal counsel to understand next steps," according to ABC News affiliate KAAL.
The company said Rochelle Foods team members would continue to be paid during the closure.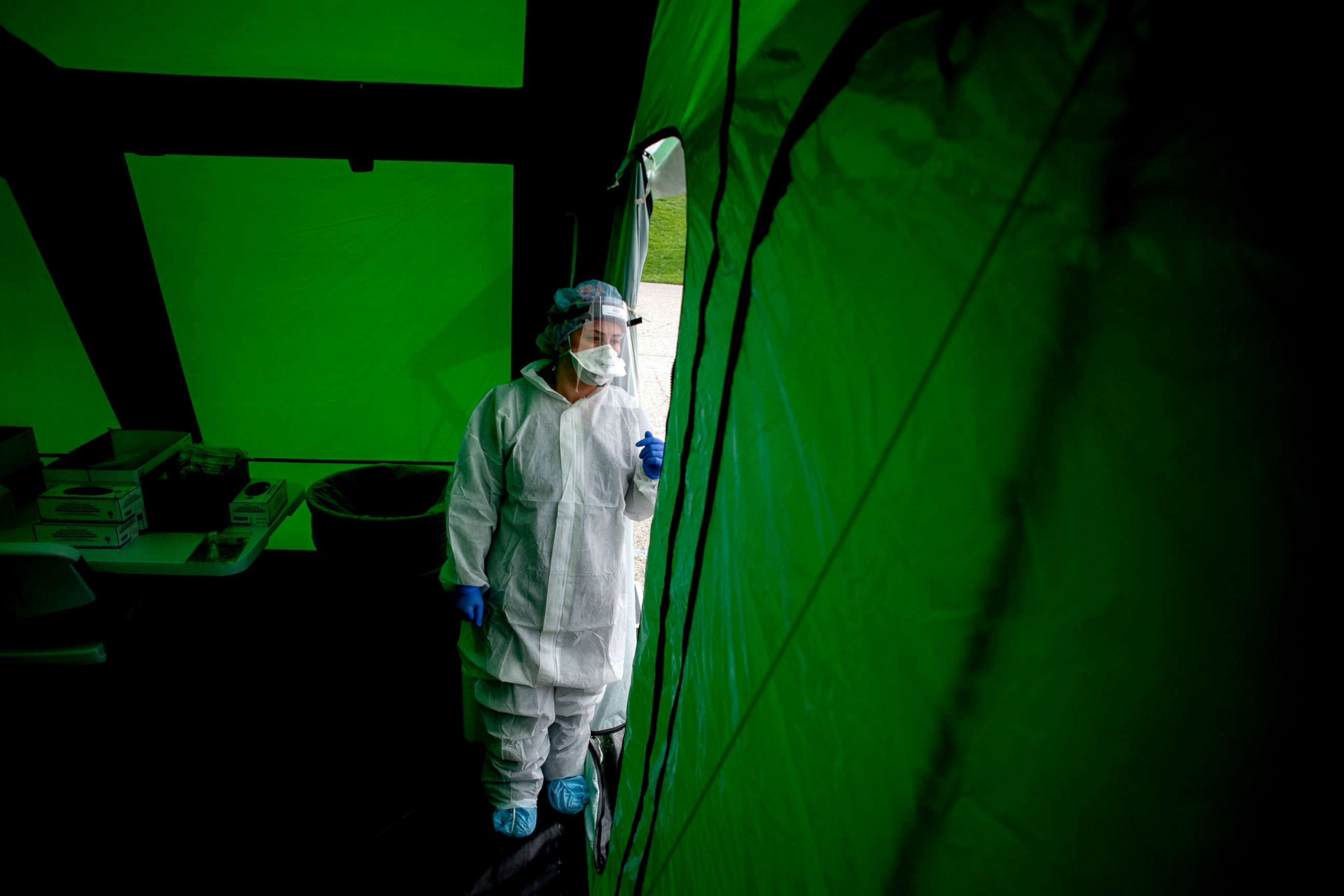 What to know about coronavirus:
ABC News' Matthew Vann, Allison Pecorin, Katherine Faulders, Soo Rin Kim, Olivia Rubin, Luis Martinez, Gina Sunseri, Jason Volack, Joshua Hoyos, Matthew Fuhrman, Mina Kaji, John Verhoveck, Molly Nagle, Matt German, Sophie Tatum and Elizabeth Thomas contributed to this report.