Nick Miller, the guitarist for country singer Adam Craig, already had been in Nebraska, Kansas and Iowa in the days leading up to the Route 91 Harvest Music Festival in Las Vegas.
"We were opening for Luke Bryan as part of the Farm Tour," he said. "I arrived in Vegas around 11 a.m. [Sunday], went straight to the festival and checked in."
As he waited for the call to do a sound check, Miller said he hung out in the hospitality tent. He charged his phone. He mingled with some of the other artists who were there.
"This was only my second time in Vegas," he said. "We had some time after we played and the festival was going to be finishing around 11 p.m. so I was looking forward to just going out with some friends and maybe throwing $5 or $10 on a blackjack table and just having a good time."
Adam Craig was one of the earlier acts on Sunday, and the band went on around 5 p.m. From the stage, Miller could see people singing the songs -- "Just A Phase" is a crowd favorite, he said.
They finished their set about an hour later. While Craig was meeting with fans, Miller said he went out to watch the country duo, Big and Rich. He could see Luke Combs performing on the next stage over.
"The fans who go to country festivals are just so passionate and so loyal to the artists they love and there's a real sense of community," he said. "Fans will just know the words to every song."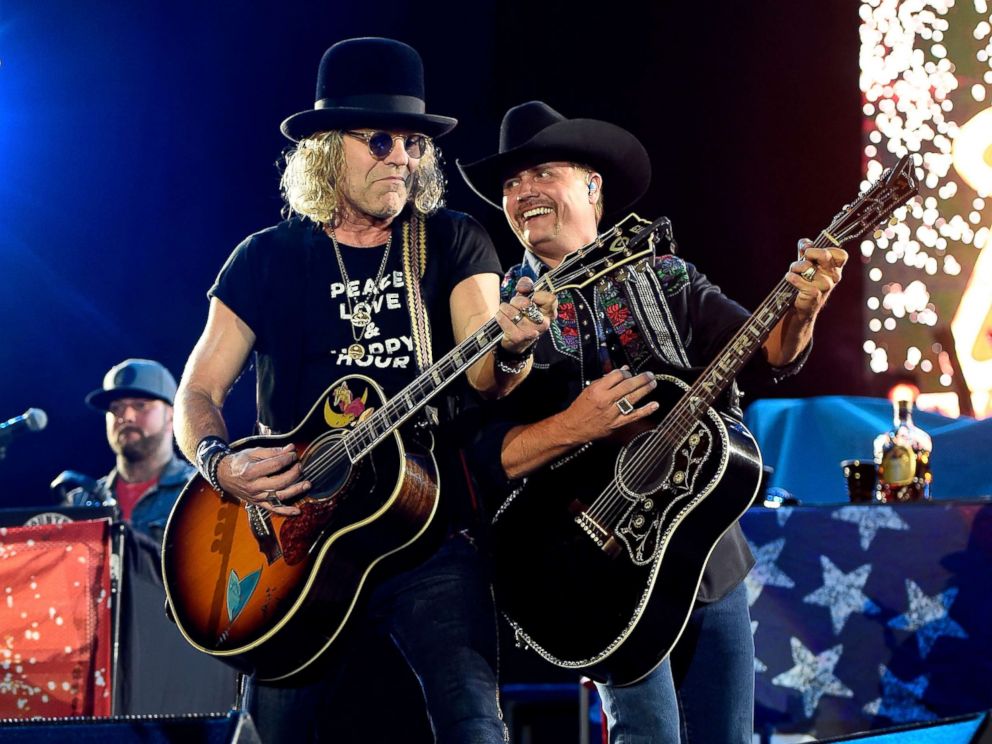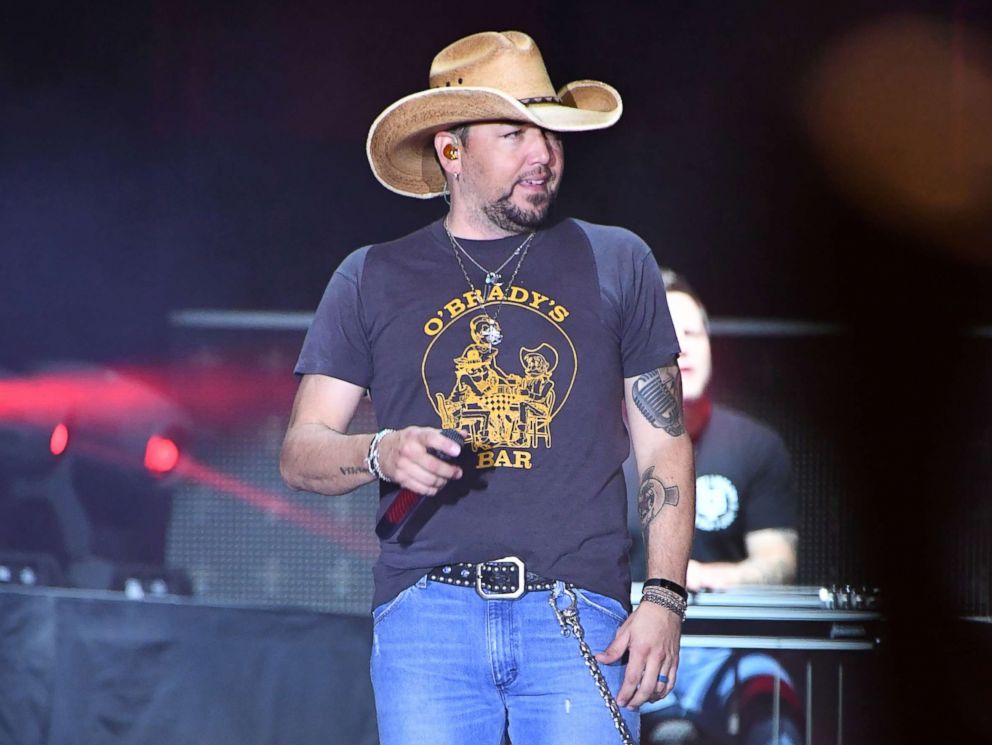 Around 8 p.m., Miller said he and some other bandmates went to their hotel to check in, drop off their luggage, and then he and Craig went back to the festival to catch Jason Aldean's set, which started around 9:30 p.m. They joined the crowd to watch the show just outside the VIP tent area.
"We were a little further back," Miller said. "We heard what to me sounded like fireworks, which I thought, 'Well, we're in Las Vegas, I guess I can shoot off fireworks for any reason.'"
Trying to figure out where the sound was coming from, Miller looked around and thought maybe it was coming from the Mandalay Bay Resort and Casino across the street.
"I saw Jason [Aldean] on stage kind of look over like he was a little bit distracted and Adam [Craig] actually said, 'I hear it but I don't see any fireworks,'" Miller said. "Then it was only seconds later that this gunfire was just continuous."
It only took a split second, Miller said, for him to realize what was happening. The gunman, later identified as Stephen Paddock, had opened fire into the crowd from his Mandalay Bay hotel room on the 32nd floor. Authorities found him dead inside the hotel room when they got there.
Suddenly, Miller said they saw a mass of people running toward them, trying to escape the gunfire. Miller said he turned to run, but slipped on someone's spilled drink. Once he got to his feet, he had lost Craig and others who had gone to concert with him, and the gunfire was still going.
"There were people beside me, there were some people already getting just tired,'" he said. "I remember grabbing someone saying, 'Hey, we got to go.'"
Miller said he ran into the Tropicana Hotel, then ran into the restaurant area, with 60 or so people who had run in with him. The woman behind the bar was stunned, and a manager appeared and asked what was going on.
"There were people diving behind the bar and going in the store room. [The manager] didn't really know what to do," Miller said. "And we said, 'Look there's a shooter, we're trying to get away, we got to hide here.' Then we hear more people screaming downstairs so we didn't know if people were getting shot downstairs."
"The panic was just unbelievable," he added.
Miller said he stayed in the restaurant area for about 30 minutes and tried to get a hold of Craig, Craig's sister and their mother who had been with them. He eventually learned that Craig's mother had made it safely to the Tropicana's sixth floor, where Craig and his sister ended up at different hotels. They started a group text and kept in touch throughout the night.
After a little while, Miller said someone from the Tropicana hotel's staff came into the restaurant area where he had taken cover and said the police had arrived and that the hotel was on lockdown. Miller watched as people he assumed had medical training start walking around and checking people for injuries.
"I must have just looked like I was in shock, because they were like, 'Hey, are you OK,' I'm like, 'Oh yeah, I'm not injured, I'm fine, there's other people around who are injured,' Miller said. "I saw a girl with a bullet wound in the leg, I saw just other people who had been helping, I guess, carrying some wounded people who just had blood on them, so it was all a pretty distressing sight."
Miller said he marked himself "safe" on Facebook, and texted his parents. By about 3 a.m., Miller said they started letting people out of the Tropicana. He met up with Craig's mother and the two walked over to the hotel where Craig had been.
"I got to them," he said. "I saw my friends, the other guys in the band and we all hugged. Adam was there and we were just so happy to see each other and it really hadn't sunk in, everything was just so surreal."
Can't believe last night really happened. My heart is broken for all of the victims... So thankful my family and guys are all safe.

— Adam Craig (@AdamCraigMusic) October 2, 2017
The next morning, they all headed to the airport to fly back to Nashville. Looking around, Miller said he kept seeing "a lot of distressed people." In the end, 58 people had been killed and some 500 were injured. But the magnitude of what he had lived through didn't really sink in for him until he got home, he said.
"Met up with some friends and we hugged each other and I think one of them said to me, 'Dude you have survived the worst mass shooting [in modern US history]' ... I almost broke down and cried then because I realized that's what it was," Miller said. "It was about much more than me and I went through a lot, but it could have been so much worse and I just feel so much for the people who didn't make it."
Being back in Nashville, surrounded by his friends in the music community, has been helpful, he said. He went to an event hosted by the non-profit organization MusiCares Foundation, where he got to listen to Eagles of Death Metal's drummer Josh Homme speak.
"[He] said something that really hit a chord with me," Miller said. "He said, 'This is going to be a marathon for you guys, not a sprint.' ... He said don't just try and deal with it yourself and walk it out and push it away. Get the help."
Eagles of Death Metal know all too well what Miller and other survivors of the attack have witnessed. The band had been on stage for a concert in Paris in November 2015 when they were attacked by a group of terrorists. The concert massacre, where 89 people were killed, was one of six attacks in the city that night. In total, 130 people were killed. The band's merchandise manager, Nick Alexander, was among the victims.
Miller said he's is still in shock after what happened at Route 91, but he's not going to let that keep him from performing.
"People are coming together and that's what music does and that's what I want music to do for me," he said. "I'm not going to let the actions of one person, a cowardly person, stop me from doing what I love so, and that's the power of music. "