— -- In a tense standoff with police in a Dallas parking garage, suspected shooter Micah Xavier Johnson told negotiators he acted alone in the mass shooting, which killed five law enforcement officers and injured seven more, claiming he wasn't affiliated with any group or organization.
Johnson said he was "upset about white people" and the recent officer-involved shootings that left two African American men, Philando Castile and Alton Sterling, dead earlier that week, authorities said.
Johnson also said he was upset about the organization protesting police brutality in Dallas at the time he went on his rampage -- the Black Lives Matter movement.
The Dallas shooter's murky motives, seeming lack of any group affiliations, and involvement in a mass shooting that caused a devastating loss of life, recalls the Orlando nightclub shooter, Omar Mateen.
When Mateen last month opened fire on a popular gay nightclub leaving 49 dead in his wake, he placed a 911 phone call claiming allegiance to ISIS. The following day, FBI Director James B. Comey revealed Mateen had previously aligned himself with known affiliates of terror organization al-Qaeda. And in 2013, Mateen made "inflammatory and contradictory" comments in which he purportedly told co-workers he was a member of Hezbollah, the Shiite militia based in Lebanon, Comey said. Comey said Mateen may not have understood the distinctions between the various groups.
What is lone-wolf terrorism?
While it is still unconfirmed whether Johnson acted alone, authorities have so far declined to call his actions an act of terrorism.
"In some cases this violence has been associated with traditional criminal activity but we have also had to confront a growing number of mass casualty attacks such as those in San Bernardino, Orlando and now Dallas, carried out by angry, unstable individuals who adopt extremist ideological beliefs to justify mass murder," said John Cohen, ABC News Contributor and former counter terrorism coordinator at the Department of Homeland Security.
The National Security Critical Issue Task Force of Georgetown University published a report last year analyzing domestic "lone-wolf terrorism" defining it as the "deliberate creation and exploitation of fear through violence or threat of violence committed by a single actor who pursued political change linked to a formulated ideology, whether his own or that of a larger organization, and who does not receive orders, directions, or material support from outside sources."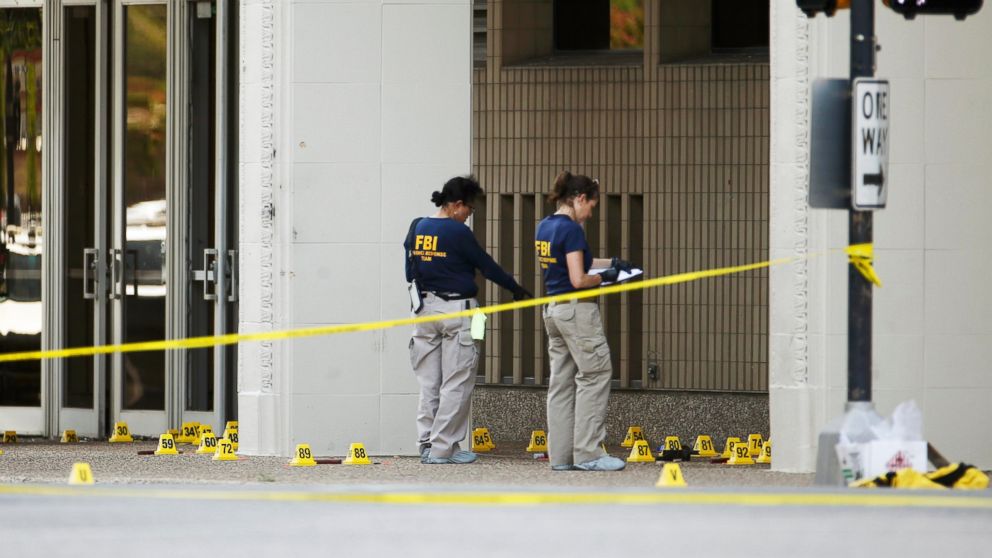 The parallels between Mateen and Johnson grow more evident as information is released.
"Even if there's a difference in motive, people like the Orlando and Dallas shooters posses common behaviors," Cohen said.
There are four measurable trends in domestic lone-wolf terrorism that security experts have tracked over the years, according to the NSCITF report. Lone wolves are increasingly targeting law enforcement and military personnel; they overwhelmingly use firearms to conduct attacks; they are radicalized via the internet or extremist media and the civilian work space, and they proclaim an individual ideology instead of claiming affinity to any specific, organized extremist group.
Between 2009 and 2013 alone, according to the report, domestic lone-wolf terrorists killed or injured 24 law enforcement officers, primarily retaliating "perceived government overreach and in support of white supremacy movements."
Terrorists generally share a parallel radicalization process, each starting with a personal, social, or political grievance, according to the report. They often experience a crisis event that exacerbates these grievances, often projecting their anger and moral outrage with escalating irritation. As the cycle of anger continues, the terrorist "eventually reaches a trigger point where they determine it is time to act."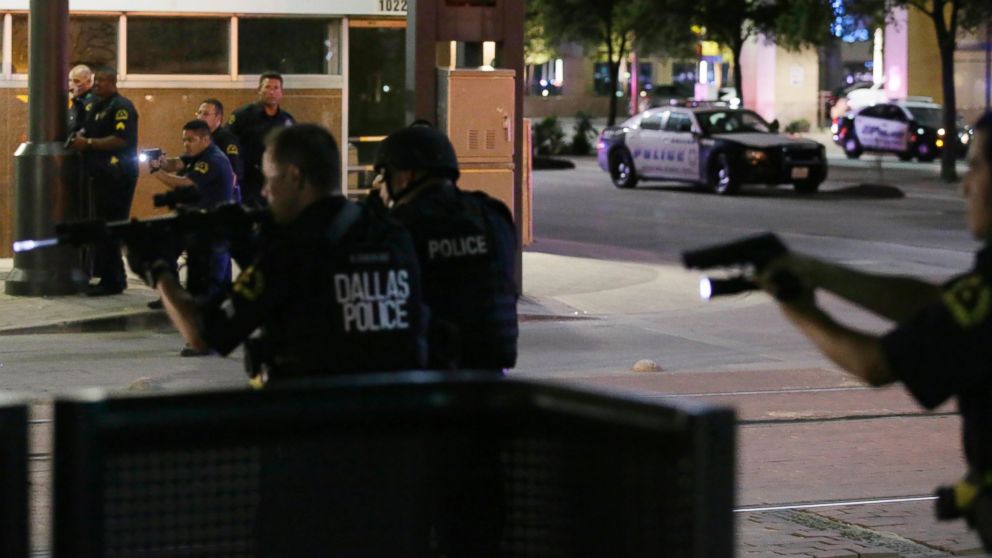 It is at this point of extreme anger when these lone wolves decide to "act alone or with a group" either in a "lone-wolf pack" or as a "group of lone wolves who operate together but remain independent of formal command and control structures."
In addition, the report says, a lone-wolf terrorist's personal and sociopolitical grievances influence the selection of his or her enemy. For example, those who ascribe to hate-based ideologies rooted in white supremacy and neo-Nazi movements blame minorities for the world's decline. The report cites David Copeland, the London nail bomber, who blamed his inability to obtain employment on immigrants, leading him to believe that it was necessary to "trigger a race war."
The motives behind domestic lone-wolf terrorists aren't as clear, researchers say. The lone wolves tend to "mix personal grievances with ideological causes, and it is often difficult to discern the degree to which a [lone-wolf terrorist] acts on behalf of his own idiosyncratic ideology or if he assumes the ideology of an existing organization."
"In the days ahead we will learn whether the Dallas shooter or shooters share the behavioral and psychological characteristics that all too often have been the underlying factors leading to these violent attacks," Cohen said.
Three potential suspects – two men and one woman – have been detained by police. Their alleged roles in the shooting are still unknown.
"Through our investigation of some of the suspects, it's revealed to us that this was a well-planned, well thought out, evil tragedy by these suspects," Dallas Police Chief David Brown said. "And we won't rest until we bring everyone to justice."
Black Lives Matter
All reports indicated that Black Lives Matter advocates and protesters marched peacefully in Dallas shortly before the shootings occurred.
"There are some who would use these events to stifle a movement for change and quicken the demise of a vibrant discourse on the human rights of Black Americans. We should reject all of this," the organization said in a statement posted on its website.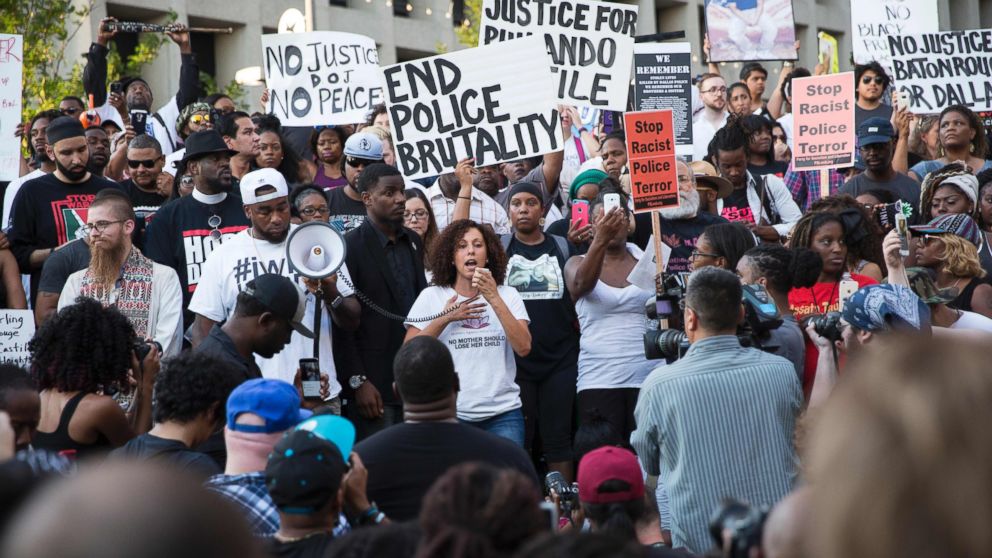 However, a statement released Friday by Richard Cohen, president of the Southern Poverty Law Center, a nonprofit civil rights organization, called the attack not only an act of terrorism, but one motivated by racism.
"We condemn the racially motivated killings of law enforcement officers in Dallas and mourn the loss of life. This was an act of domestic terrorism."
"Racial tensions are extremely high in this country," he said. "Not just in the wake of the most recent highly visible killings of black men by law enforcement but in the overheated rhetoric of our politics and hate deliberately stoked from all corners."
Law enforcement experts are bracing for additional acts of violence in the months ahead, calling all the recent acts of violence -- no matter the motivations -- a "national crisis."
"Over the past six months, we have witnessed an increased level of violence in cities across the nation particularly impacting communities of color," ABC's Cohen said. "At the same time, we are witnessing increased anger directed at law enforcement and as a nation we are becoming increasingly polarized."