The death of George Floyd, a black man who was seen pinned down in a video by a white police officer and later died, has caused outrage in the city of Minneapolis. What started as mostly peaceful protests in the beginning of week had turned into chaos by Friday.
City leaders have pleaded with the community to voice their outrage in a lawful manner.
Charges have been filed against one of the four officers at the scene, who were all fired, however, the Department of Justice has said a full investigation of the incident is a "top priority."
This story will be updated as protests continue throughout the country. Please check back for updates. All times Eastern.
1:48 a.m.: Shots fired at law enforecment officers in Minnesota
Shots were fired at law enforcement officers in Minneapolis early Saturday morning near the police department's Fifth Precinct, according to Minnesota State Police. No officers are believed to have been hit.
Following the shots, authorities warned residents to leave the area immediately or they would be arrested.
The Minnesota Department of Public Safety said there are 350 officers and troopers in the area and "officers have arrested several people who ignored multiple dispersal orders."
Minnesota Gov. Tim Walz pleaded with protesters overnight to go home.
"Minnesotans, please go home. It's time to restore peace on our streets and in our neighborhoods," Walz said in a statement. "The situation has become dangerous for Minnesotans and first responders."
Protesters took over the Minnesota Police Department's Third Precinct building late Thursday night and ignited several fires.
12:58 a.m.: LAPD asks residents to stay inside, businesses to close in downtown LA
The Los Angeles Police Department has asked downtown Los Angeles residents to stay inside and for all businesses to close due to the escalating protests in the city.
"We have declared an unlawful assembly throughout downtown LA," the department said in a statement Friday. The areas impacted are from the 10 Freeway to the 101 Highway and the 110 Freeway to Alameda.
"This is being made following repeated acts of violence & property damage," LAPD said. "Those on the street are to leave the area."
The department previously asked people to avoid downtown Los Angeles Friday, including nearby side streets and freeways.
12:27 a.m.: Georgia issues State of Emergency, activates National Guard
Georgia Gov. Brian Kemp announced Friday night that he has issued a State of Emergency for Fulton County, where protests have turned violent in downtown Atlanta. He also announced that he's activating 500 Georgia National Guard members.
"At the request of Mayor @KeishaBottoms & in consultation with public safety & emergency preparedness officials, I have issued a State of Emergency for Fulton County to activate as many as 500 @GeorgiaGuard troops to protect people & property in Atlanta," Kemp tweeted Frida.
He said the troops would deploy immediately to help local and state law enforcement officials get control of the "unlawful activity" and to "restore peace."
"We will continue to make all state resources available to local leaders during this emergency situation," he said.
10:21 p.m.: Protests grow violent in Brooklyn
Protests over the death of George Floyd in Minneapolis erupted Friday night in Brooklyn where there have been at least 150 arrests, police sources told ABC News.
The protest outside Barclays Center, the home of the NBA's Brooklyn Nets, began peacefully, but drew what police sources described as professional agitators and turned ugly.
There were more than 100 protesters detained outside the arena, mainly for throwing bottles and other disturbances.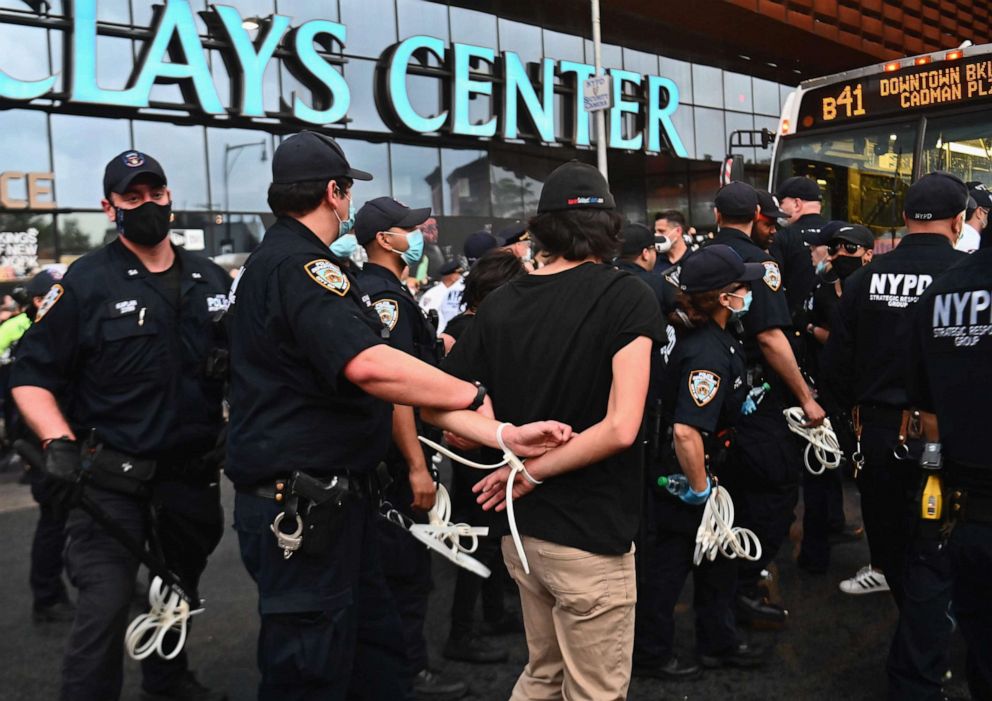 Protesters moved toward two police precincts in northern Brooklyn, the 88th Precinct in Fort Green and the 79th Precinct in Bedford-Stuyvesant. Along the way, a police van was set on fire and several cruisers were defaced with graffiti and broken windows.
Some 500 demonstrators massed outside the 88 Precinct, where the van was set on fire. There were about 40 arrests there.
Some demonstrators made it inside the 79 Precinct but were immediately arrested
There have been about a dozen officers hurt so far in clashes with the protesters.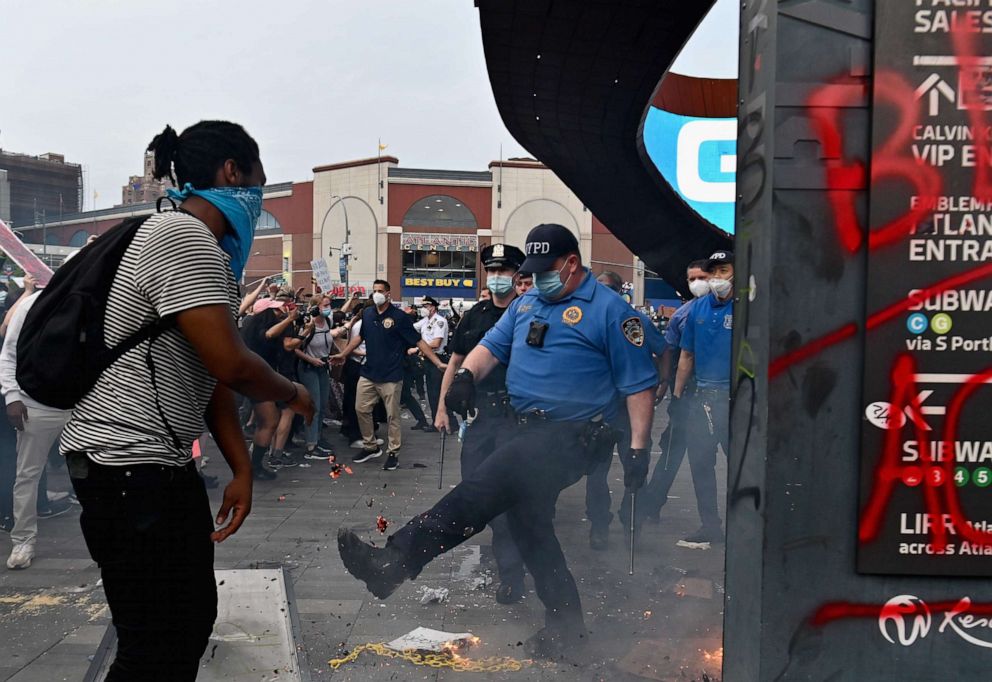 9:21 p.m.: Atlanta sees violence spark outside CNN
A protest in Atlanta grew violent this evening as a handful of protesters began smashing the doors to CNN Headquarters just after 8 p.m., according to Atlanta ABC affiliate WSB.
After defacing the outside of the news network's HQ and lighting a police car on fire, protesters began throwing objects at police who are inside the building's lobby. Police were holding a line with shields.
"Above everything else, I am a mother. I am a mother to four black children in America, one of whom is 18 years old," Mayor Keisha Lance Bottoms said at a press conference Friday night. "When i saw the murder of George Floyd I hurt like a mother would hurt. And yesterday when I heard about rumors of violent protests in Atlanta, I did what a mother would do, I called my son and said, 'Where are you?' I cannot protect you and black boys should not be out today."
"So you're not gonna out-concern me or out-care about where we are in America," she added. "I wear this each and every day and I pray over my children each and every day."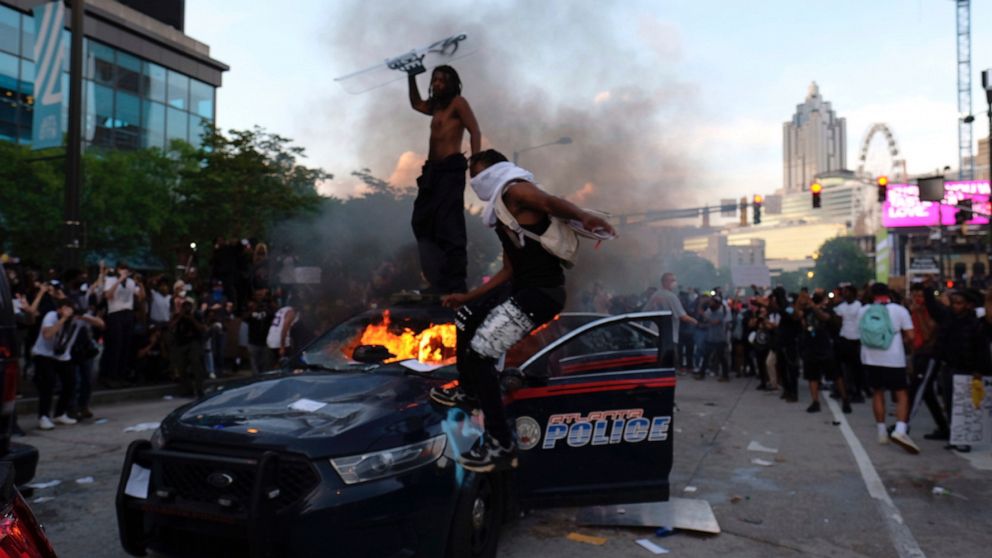 8:19 p.m.: Protest outside White House draws Secret Service
A protest this evening in Lafayette Park just north of the White House has drawn the assistance of the Secret Service.
Chants of "Let him breathe," and, "don't shoot," could be heard.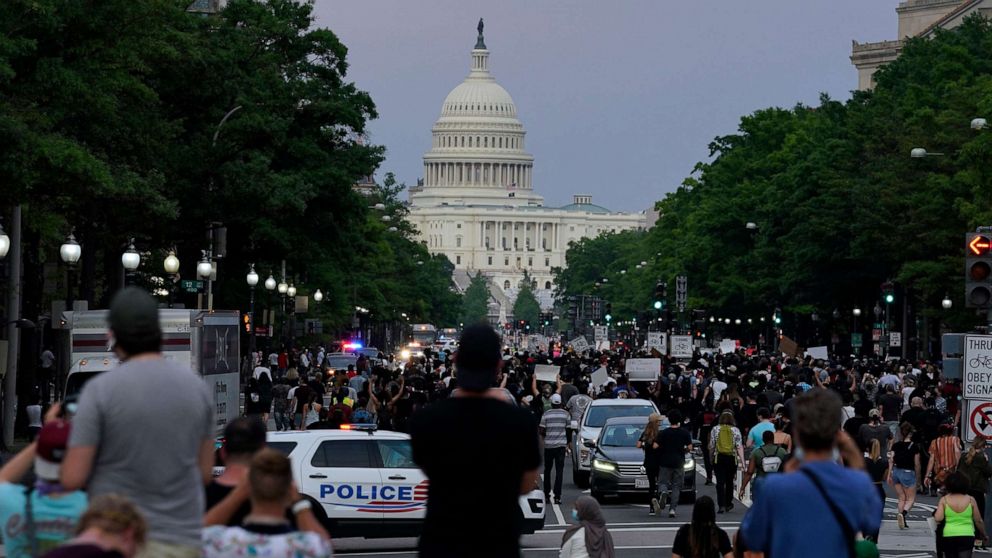 The U.S. Secret Service tweeted, "Secret Service personnel are currently assisting other law enforcement agencies during a demonstration in Lafayette Park. In the interest of public safety we encourage all to remain peaceful."
5:31 p.m.: Trump says he spoke to Floyd's family
Trump told reporters at a business roundtable event Friday afternoon that he had spoken to the family of George Floyd, four days after his death.
"I spoke to members of the family. Terrific people. And we'll be reporting as time goes by. We think that we'll also have to make the statement," Trump said. "It's very important, I believe, to the family, to everybody that the memory of George Floyd be a perfect memory -- let it be a perfect memory."
The president also took the chance to emphasize peaceful protests, following controversial tweets earlier Friday in which he said "when the looting starts the shooting starts."
"It's very important that we have peaceful protesters and support the rights for peaceful protesters. We can't allow a situation like happened in Minneapolis to descend further into lawless anarchy and chaos, and we understand that very well," the president said. "The looters should not be allowed to drown out the voices of so many peaceful protesters."
4:21 p.m.: Minneapolis, St. Paul enforce curfew
Gov. Tim Walz has said a curfew will be in place starting Friday night from 8 p.m. to 6 a.m. on Saturday in the entire Twin Cities region.
No one will be allowed in the streets in public except for first responders and media. The curfew will also be in place Saturday night at 8 p.m. to Sunday 6 a.m.
"It's time to rebuild our community and that starts with safety in our streets," Walz said in a statement. "Thousands of Minnesotans have expressed their grief and frustration in a peaceful manner. But the unlawful and dangerous actions of others, under the cover of darkness, has caused irreversible pain and damage to our community. This behavior has compromised the safety of bystanders, businesses, lawful demonstrators, and first responders. Now, we come together to restore the peace."
Officers will arrest those who do not comply, Walz said.
Earlier, Minneapolis Mayor Jacob Frey had already issued a curfew order for the city for the same times.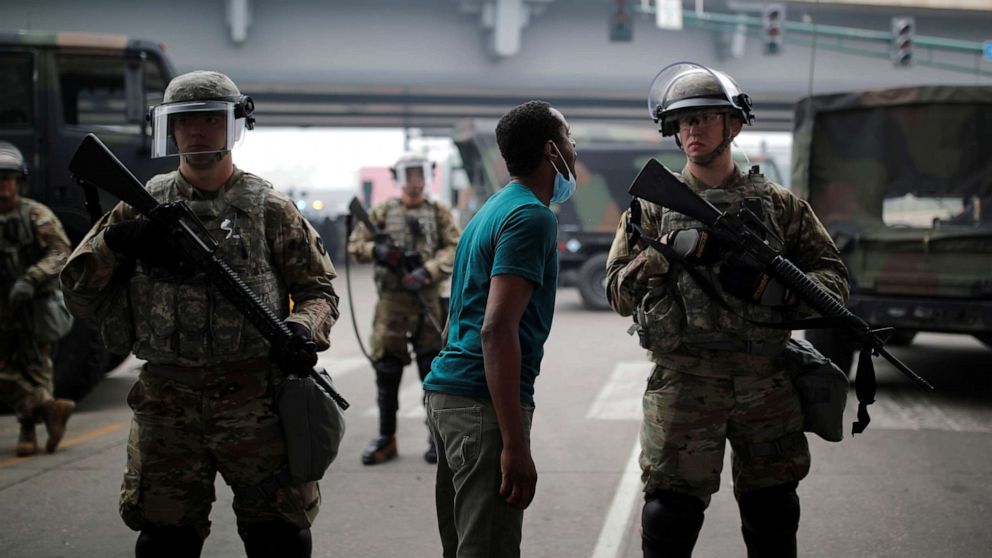 3:40 p.m.: Prosecutors reveal more details about charges on former officer
The Hennepin County Attorney released the full criminal complaint for former officer Derek Chauvin.
The 44-year-old officer who was filmed putting his knee on Floyd's neck faces a maximum sentence of 25 years in prison for third-degree murder charges and a maximum of 10 years behind bars for manslaughter charges.
"Derek Michael Chauvin caused the death of George Floyd by his culpable negligence, creating an unreasonable risk and taking a chance of causing death or great bodily harm to George Floyd," the complaint read.
"The defendant had his knee on Mr. Floyd's neck for 8 minutes and 46 seconds in total. Two minutes and 53 seconds of this was after Mr. Floyd was non-responsive," according to the complaint.
3:07 p.m.: Floyd's family responds to former officer's arrest