How the deadly New York City truck attack unfolded
Eight people were killed and 12 were wounded.
November 1, 2017, 12:12 PM
— -- Police officials have offered new details of how the deadly truck attack in lower Manhattan on Tuesday took place.
The rampage, which killed eight and injured 12 others, is being investigated as an act of terrorism.
John Miller, the NYPD's deputy commissioner of intelligence and counterterrorism, said today that the suspect, Sayfullo Saipov, 29, had been "planning this [attack] for a number of weeks."
Here's the latest timeline of the attack, according to police officials.
2:06 p.m. Tuesday, Oct. 31, 2017: Saipov rents truck
Saipov rented a truck from a Home Depot store in Passaic, New Jersey. He and his wife and three children live in Paterson, New Jersey, a short distance from the Home Depot.
2:43 p.m.: Truck enters Manhattan
Miller said that license plate readers on the George Washington Bridge recorded that the rented truck exited the bridge at that time. The vehicle then headed south on Manhattan's Henry Hudson Parkway, which farther south becomes the West Side Highway and West Street.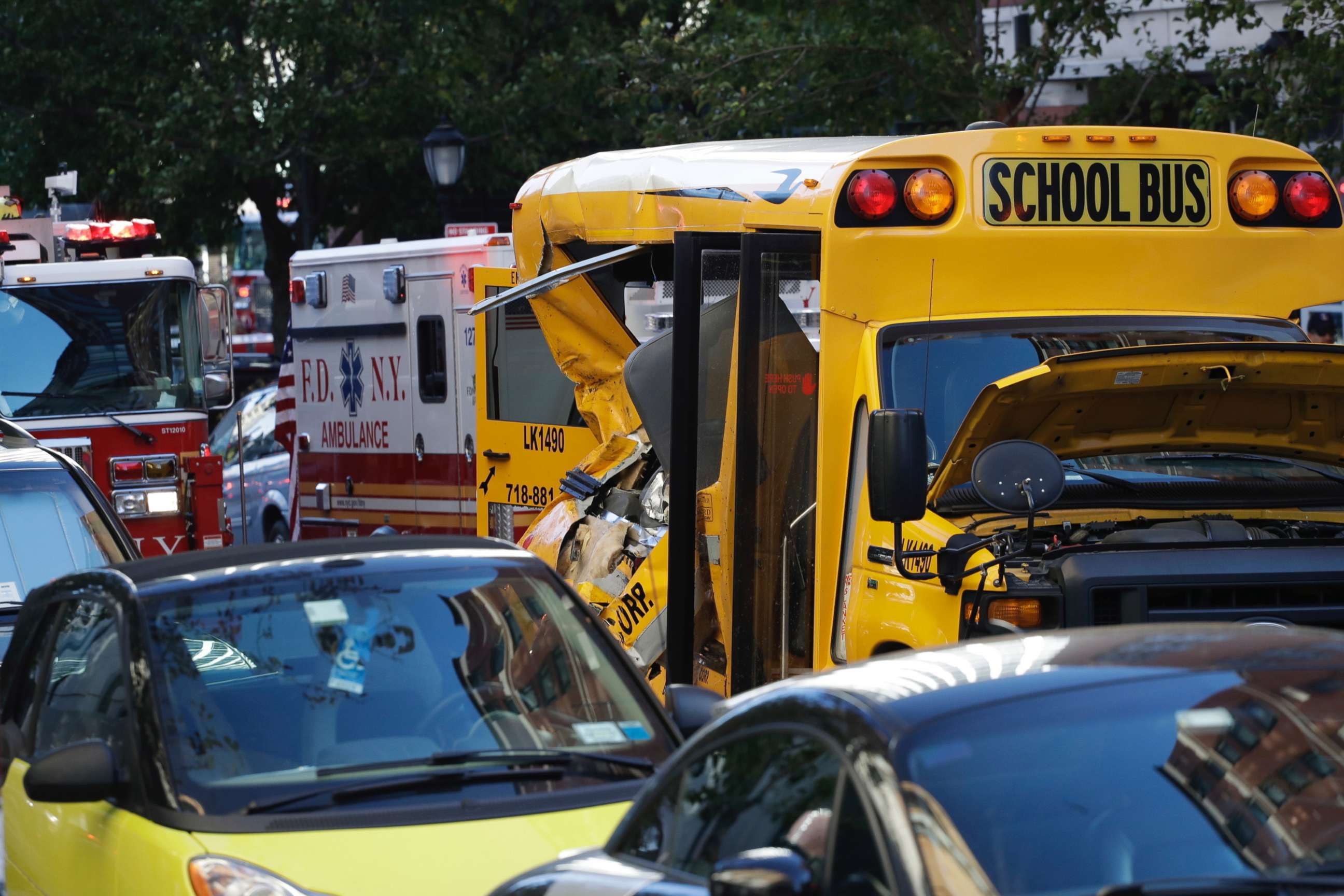 3:04 p.m.: Truck turns onto bike path
A Port Authority camera recorded the truck turn at the intersection of Houston Street and West Street and onto the bike path, traveling south.
Miller said the video shows that the driver "appears to target bicycle riders and pedestrians."
The truck, which then reportedly accelerated, stopped when it collided with a school bus at Chambers Street.
The truck traveled about three-quarters of a mile on the bike path.
3:08 p.m.: 911 calls start coming in
Miller said that at this point the police received "more than a dozen 911 calls reporting people down, the school bus accident and a man with a gun in the street."
The suspect exited the truck, carrying a pellet gun and paintball gun.
NYPD Commissioner James O'Neill said Tuesday that the suspect "did make a statement when he exited the vehicle." Sources told ABC News that he shouted, "Allahu Akbar," which means "God is great" in Arabic.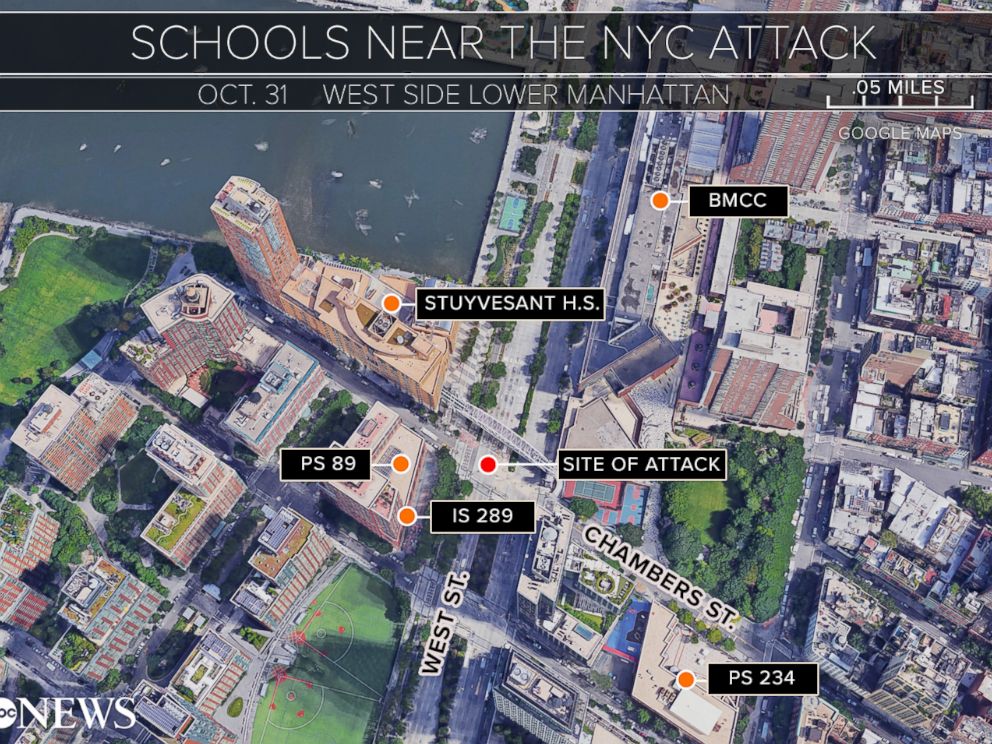 O'Neill said that the nature of the rampage, which echoes other terrorist attacks globally, and "the statement [made by the suspect] has enabled us to label this a terrorist attack."
Police officer Ryan Nash was one of several officers who happened to be in the area after responding to an unrelated call at nearby Stuyvesant High School. Nash shot the suspect in the abdomen after he exited the vehicle, and the suspect was apprehended. Saipov was transported to an undisclosed hospital.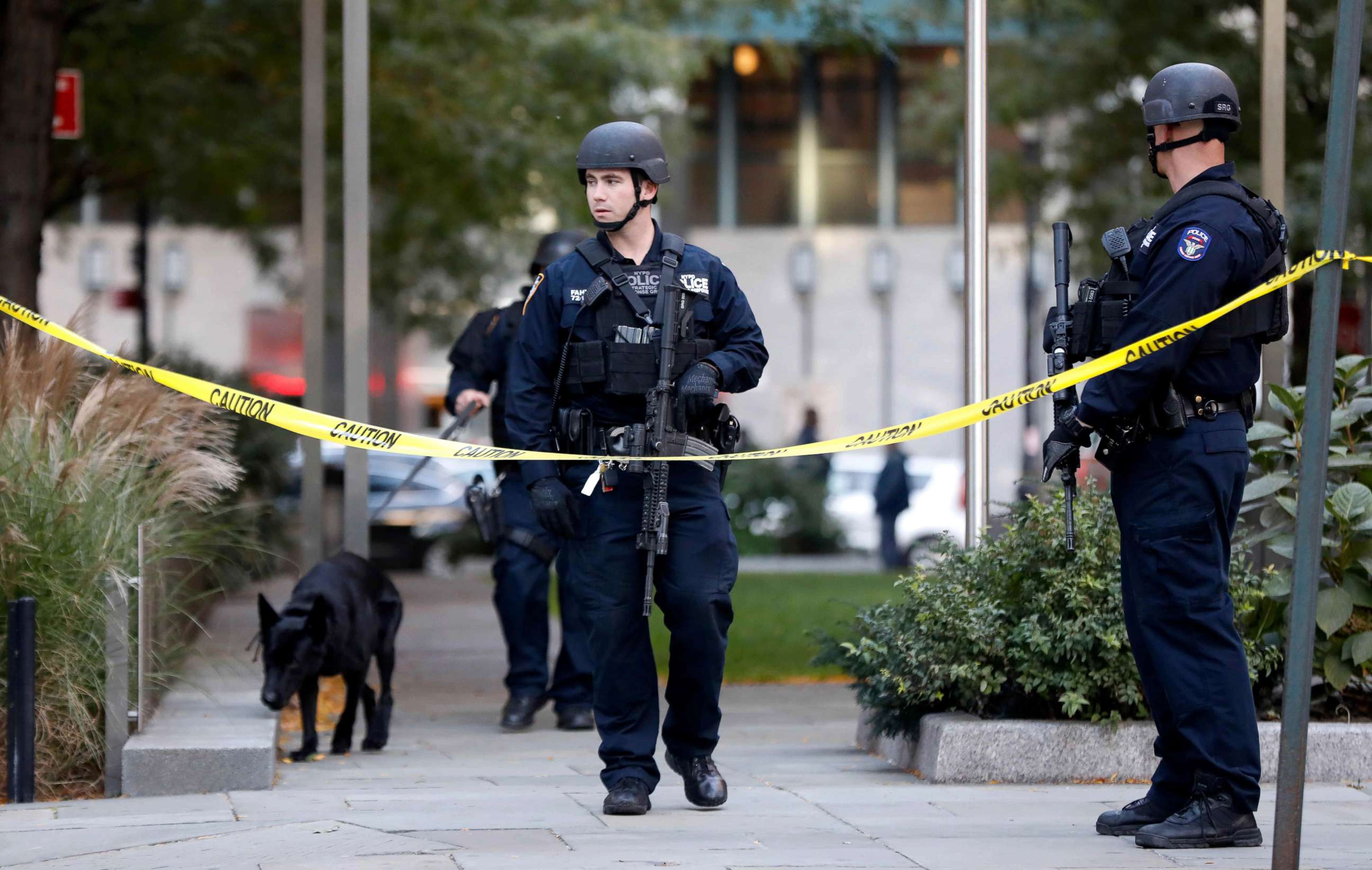 Six people were pronounced dead at the scene, and two others died at a nearby hospital. At least a dozen others were injured.