Alleged shooter cased El Paso Walmart before rampage that killed 22: Law enforcement officials
A gunman opened fire Saturday morning at a Walmart in El Paso.
The suspect in the killing rampage at a Walmart in El Paso, Texas, allegedly cased the store, looking for Mexicans to kill before he came back and unleashed a barrage of gunfire that left 22 people dead and more than two dozens injured, law enforcement officials told ABC News.
The latest twist in the investigation of the mass shooting came just hours after doctors in El Paso confirmed that two more victims had died from bullet wounds suffered in the Saturday morning massacre -- increasing the death toll to 22.
The suspect, identified as Patrick Crusius, 21, told investigators following his arrest that he allegedly set out to kill as many Mexicans as he could, according to authorities.
On Monday, law enforcement officials told ABC News that Crusius cased the Walmart, going inside on Saturday without any weapons, apparently to size up the clientele inside the store, which is about 5 miles from the U.S.-Mexico border.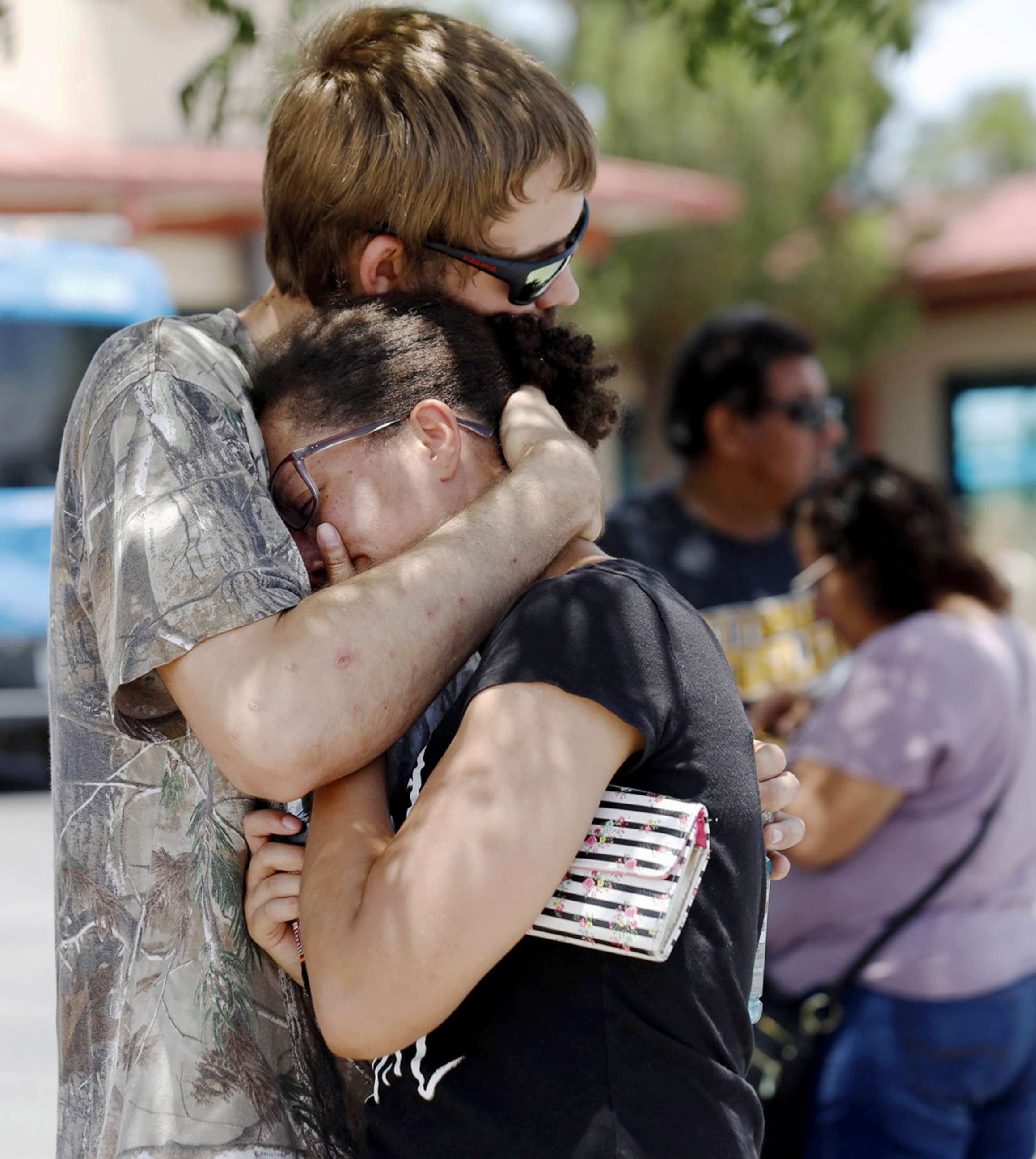 Satisfied with what he saw among the 1,000 to 3,000 people that police estimate were inside at the time, Crusius exited the store and allegedly armed himself.
He returned wearing protective ear muffs, safety glasses and wielding a high-powered assault-style rifle, according to video surveillance of him inside the store.
Police officials said he allegedly started firing indiscriminately at victims before he even walked through the front door.
David Shimp, chief executive officer at Del Sol Medical Center in El Paso, said one patient died late Sunday night and another Monday morning.
The victims were among more than two dozen people wounded in the massacre that erupted about 10:39 a.m. local time on Saturday inside the Walmart, including children and parents drawn to a back-to-school sale.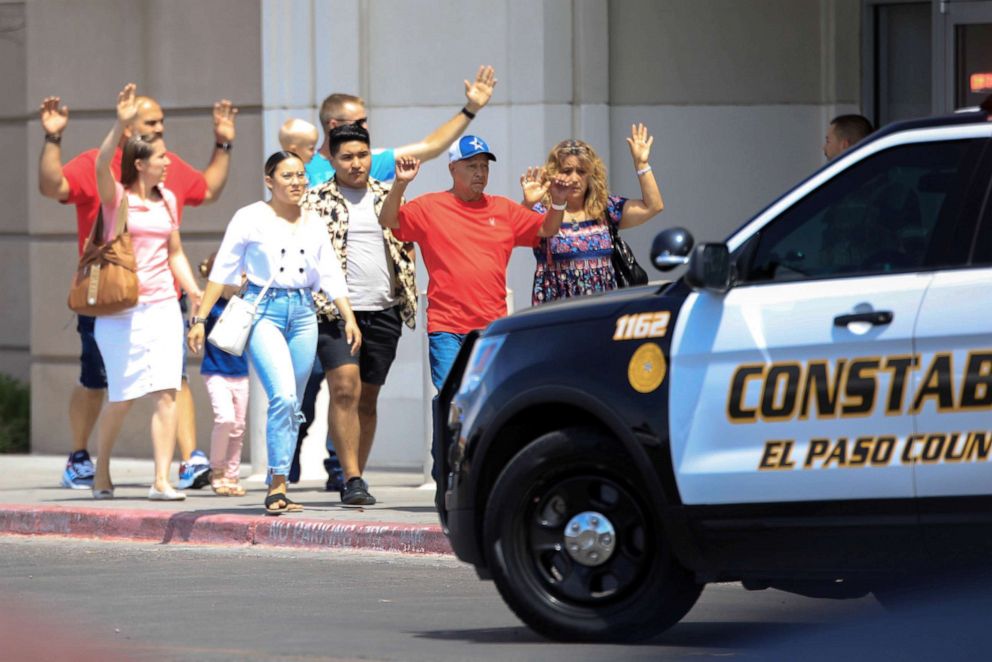 Alvaro Mena confirmed to ABC News that his father, 78-year-old Juan Valazquez, died Monday morning.
Mena said his family is "devastated" by the loss of his father and are now afraid for their own lives after police said the suspect told investigators his motive was to kill Mexicans.
"We are afraid to go out," Mena said. "We are afraid to go out into the streets because we feel like we are being hunted because of skin color."
Those wounded in the mass shooting ranged in age from 2 years old to 82, according to authorities.
Mena said both his mother and father were shot outside the Walmart when they went to the store to exchange merchandise they had purchased there. He said he believes the gunman targeted his parents because they are Hispanic.
He said his mother remains in the hospital and is expected to survive.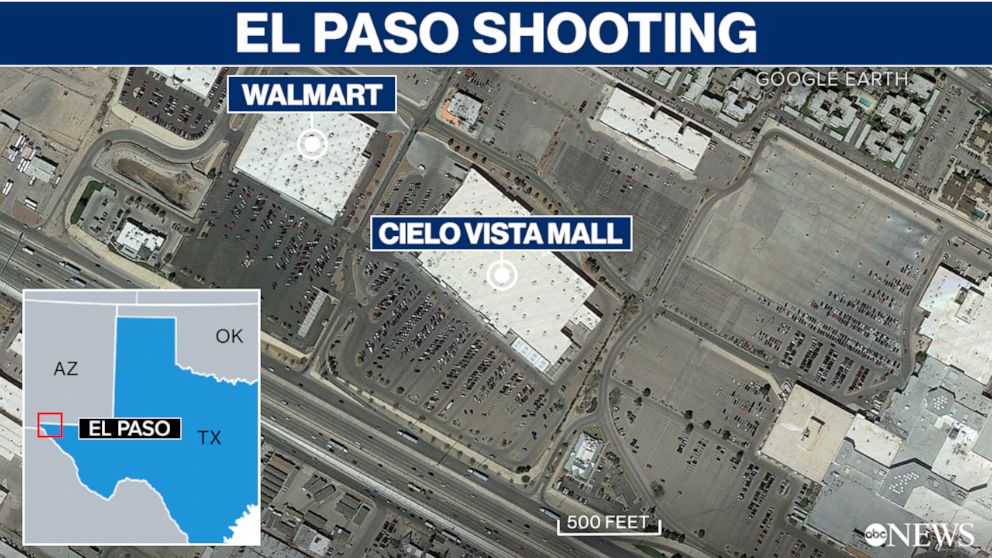 Dr. Stephen Flaherty, director of trauma at Del Sol Medical Center, said the second patient who died was an elderly woman.
Both patients suffered "major and devastating" wounds that were consistent with high-velocity gunshots, he added.
"We are truly heartbroken to have to be here to report this," said Flaherty, his voice cracking with emotion.
He said he could only speak of the female victim who died.
"The patient had major intra-abdominal injuries affecting the liver, the kidney and the intestines," Flaherty said. "She received massive blood transfusion, utilizing all types of blood products."
Flaherty said the carnage he saw after the El Paso massacre reminded him of what he'd seen overseas as a military surgeon.
"Of course, in Iraq and Afghanistan, we did see things like this," he told ABC News' David Muir on Monday. "We had a slow but continuous arrival of patients with severe injuries. It was really amazing the number of patients who had injuries inside their abdomen. … Looking at people who had injuries to their arms and legs. Much more reminiscent of a war-time injury than something I typically see in the civilian sector."
Shimp added that six other wounded victims remain at Del Sol Medical Center, one in critical condition and five in stable condition. He said two other patients were discharged and one was transferred to another local hospital.
News of the latest death came just hours after the El Paso County Coroner's Office removed the last victim's body from the premises.
Crusius who lives in Allen, Texas, approximately 600 miles from the Walmart, is being held on a charge of capital murder, court records show. Crusius, who court documents showed was unemployed for the last 5 months, made an appearance in court early Sunday morning and was ordered held without bond. He was granted a court-appointed public defender.
John Bash, the U.S. Attorney for the Western District of Texas, said Sunday that federal authorities are investigating the incident as an act of "domestic terrorism," meaning the suspect was allegedly intent on "coercing and intimidating a civilian population."
Bash said federal authorities are also considering bringing hate crimes and federal firearms charges against Crusius that carry the penalty of death.
Investigators believe Crusius is the same man who allegedly posted a four-page racist, anti-immigrant document on the dark website 8chan before launching the attack, officials said.
"We consider this an act of terrorism against the Mexican-American community and the Mexicans living in the United States," Mexico's Foreign Secretary Marcelo Ebrard said in a video statement.
At least eight of the 22 people killed were Mexican nationals and nine additional Mexicans were among those wounded, Ebrard said.
Ebrard called the shooting an "act of barbarism," and threatened to take legal action against those responsible for selling the assault-style rifle Crusius allegedly used in the rampage.
"We're going to ask for access to the investigation to see how it was sold to him and how the gun got into the hands of this individual," Ebrard said. "We consider the issue of weapons to be a crucial issue."
In an interview Monday with ABC News anchor David Muir, Sylvia Saucedo described how she and her mother survived the Walmart shooting by hiding under a table in a McDonald's inside the store.
"We were having breakfast and my mom said, 'I think there's a sale going on because there's a lot of people running around, let's just go see what's going on,'" Saucedo said. "And then we heard the gunshots. And the lady at the cash register said, 'Everybody down.'"
Saucedo said she immediately got on the floor and crawled under a table, pulling her 91-year-old mother alongside her.
"So then we were just hiding there," Saucedo said. "So then I saw the guy. I just saw the guy walking from the knees down. And actually, I saw two people going in and then people started running and he went straight and started shooting."
Despite being terrified, Saucedo said she took out her cellphone and started making a video of the incident, recording the rapid fire of the shooting and the screams of people running for their lives.
"I was so scared," she said. "I called 911 but they never answered because they had so many calls. So, I decided to just start recording. I have faith, I knew that we were going to get back home safe. And I said, 'I need to see this video, later on.'"
When she looked at the video later she saw that she had recorded one person dead on the floor.
"We were praying," she said of what she and her mother did as they hid under the table. "She was praying and she was crying. And I was holding her hand."
Octavio Lizarde was with his 15-year-old nephew, Javier Rodriguez, when they both came face-to-face with the alleged gunman.
Lizarde told ABC News' David Muir Monday that he and Rodriguez had gone to the bank inside the Walmart on Saturday to open a bank account. While they were standing in line, Lizarde, who works in construction, said the two heard gunshots and ran to the back of the bank but the door was closed. He said he told his nephew to knock on the door but the workers would not unlock it.
"I told him to come here. 'Come here.' And, I guess he was just in shock. ... He turned around and saw a guy. And I saw him too and the guy was aiming at him," Lizarde said.
Rodriguez was shot in the head and killed. He was to turn 16 in November.
Lizarde, who suffered a gunshot to the foot, told Muir that Rodriguez was like his son and that the two did everything together.
"It's hard because he was like my son. I was always there for him when he needed it -- and it hurts. Just those images that I saw. I really wish I didn't see them," Lizarde said. "I close my eyes. I still see them. I see them open. I see everything. ... Everybody knows what he meant to me."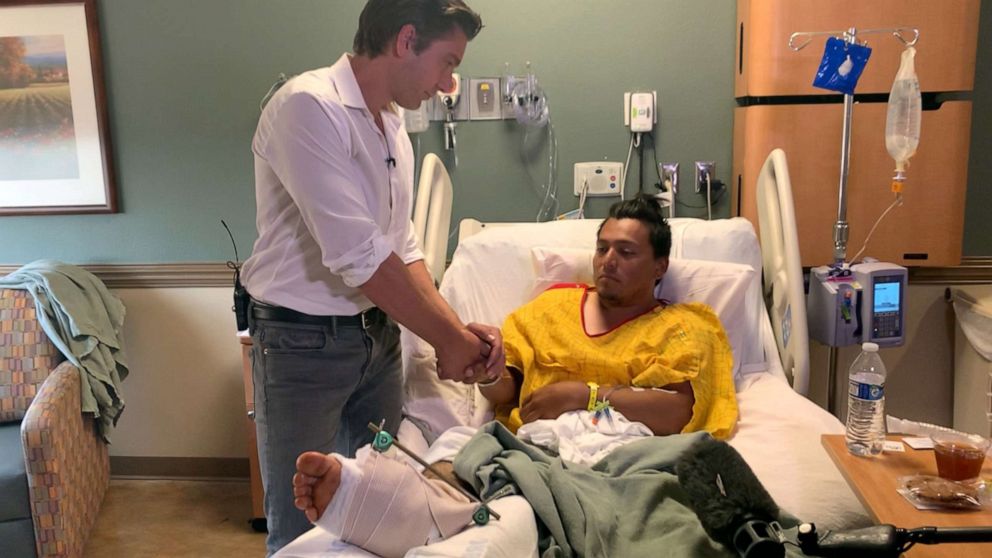 Lizarde said there was nothing that he could do to stop the gunman, who he said shot about six people in the bank.
"He wanted everybody dead," he said. "He didn't talk. You could see in his face his intentions. ... He could have easily killed me but he just shot my foot and took off."
Lizarde said he remembered the gunman wearing tactical glasses. He told Muir that a lady next to him was also shot in the head.
"I honestly wish him the best and if God was able to forgive those men who hung him on the cross, then I'm able to forgive him. It's hard. ... I have very good memories with my nephew and I'll never forget him. I'll see him soon," Lizarde said.
ABC News' David Muir, Stephanie Wash, Will Carr, Enjoli Francis and Esther Castillejo contributed to this report.