Gunman who ambushed 3 Texas deputies, killing 1, remains on the run: Police
The suspected shooter was described as a Hispanic male in his early 20s.
A gunman authorities said shot three Texas constable deputies, one fatally, during an "ambush" outside a Houston nightclub remained at large on Sunday afternoon.
The incident unfolded around 2:15 a.m. on Saturday outside the 45 Norte Sports Bar in the Independence Heights neighborhood of north Houston, according to the Houston Police Department, which is leading the investigation.
Three Harris County Precinct 4 constable deputies were working an extra job at the club when they went outside to address "a disturbance" that "may have been a robbery," Houston Police Executive Assistant Chief James Jones said during a news conference.
Two of the deputies entered the parking lot and began to arrest a possible suspect when a second suspect emerged and opened fire with an AR-15 rifle, striking both, precinct officials said Saturday.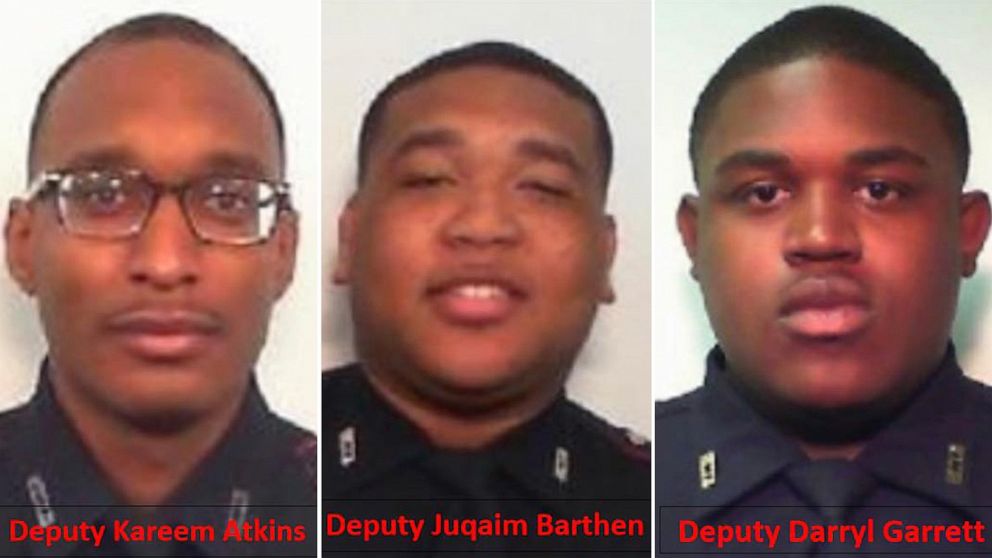 The officers were identified on the precinct's Facebook page as deputy Kareem Atkins, 30, who had been with Precinct 4 since January 2019 and died of his injuries, and deputy Darrell Garrett, 28, who was employed at Precinct 4 since March 2018 and was shot in the back and underwent surgery. He is in the intensive care unit at Memorial Hermann-Texas Medical Center in Houston, authorities said.
Atkins had recently returned to work from paternity leave, officials said. He leaves behind a wife and two children, including a 2-month-old baby, officials said.
Upon hearing the gunshots, deputy Juqaim Barthen, 26, who was employed at the precinct since September 2019, rushed to help and was also shot in the foot, James said.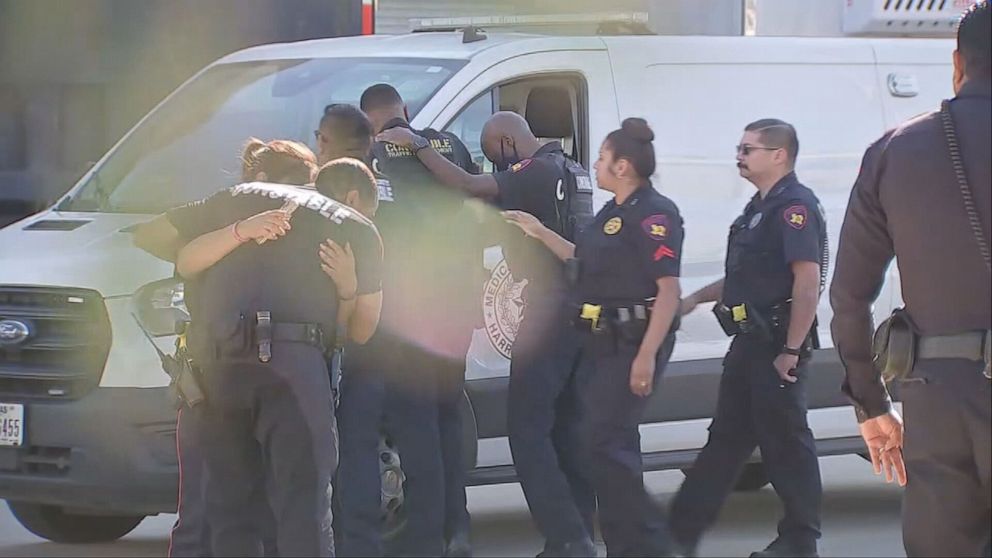 The Houston Police Department said an individual was detained near the scene and was interviewed by detectives.
"At this time, he is not believed to be the shooter," the agency said in a post on Twitter.
Officer Keith Smith, a spokesperson for the Houston Police Department, told ABC News on Sunday afternoon that a massive search is ongoing for the suspected gunman and that police are asking for the public's help in identifying and capturing him. The suspect is described as a heavy-set, bearded Hispanic man in his early 20s who was wearing a white T-shirt and blue jeans.
"We hope a suspect is in custody soon and I hope for swift and quick justice for that individual because he ambushed my deputies," said Constable for Precinct 4 Mark Herman. "This is very tragic. I do believe that good always trumps evil and what happened ... was evil."
Jones, with Houston Police, also described the shooting as an "ambush."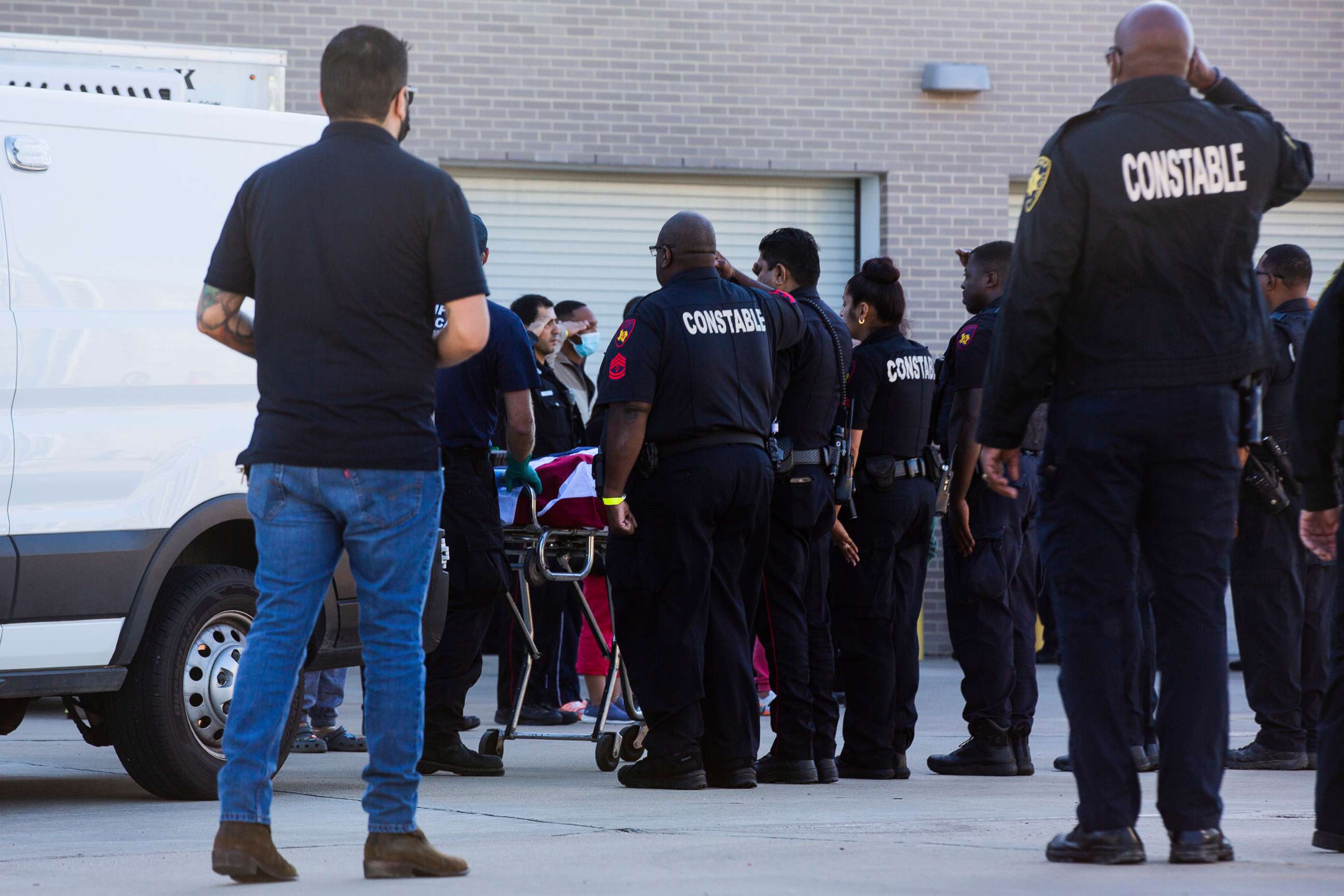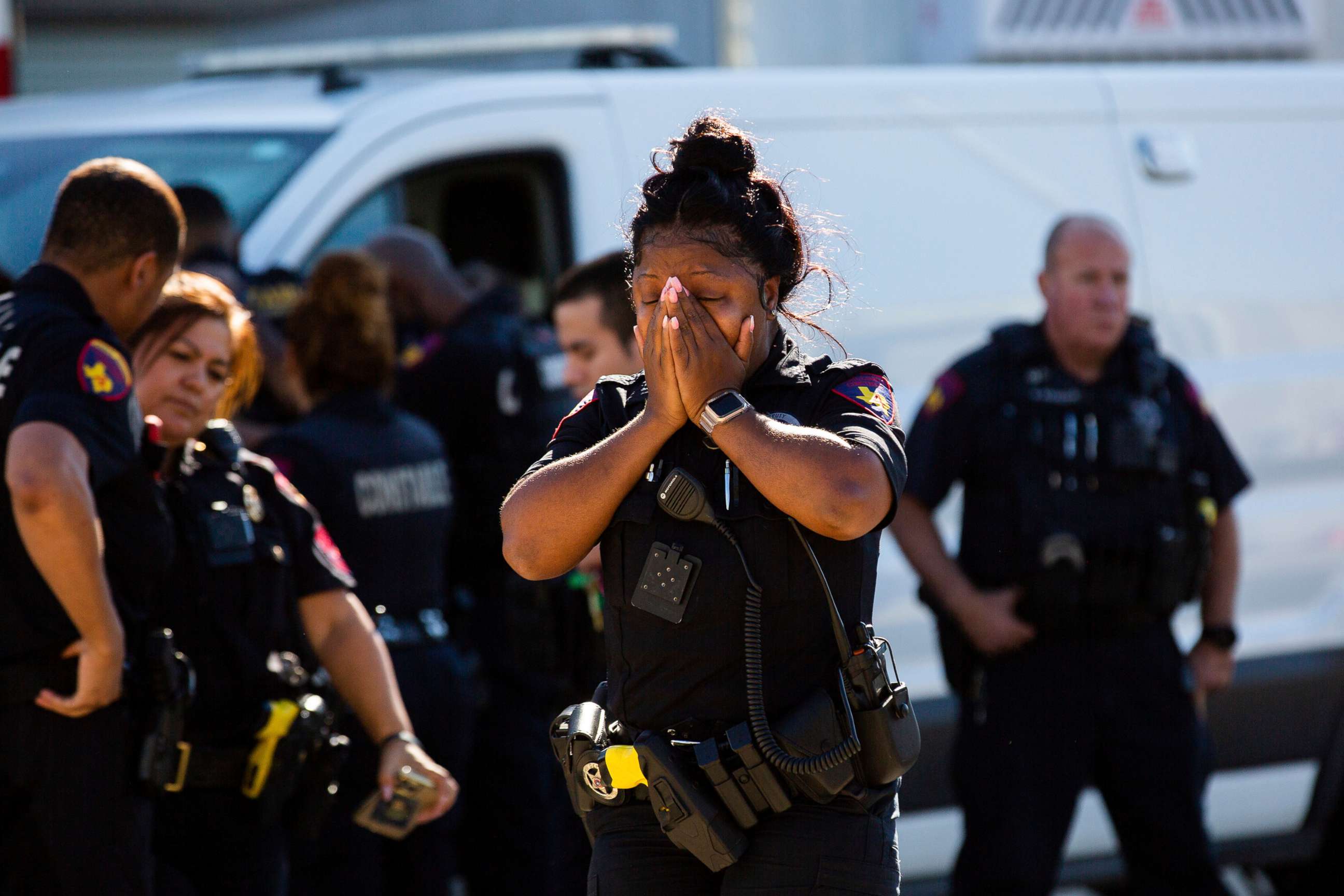 Garrett's fiancee, Lajah Richardson, described the three deputies who were shot as not just colleagues but "best friends."
"They called each other brothers, did everything together," Richardson told ABC station KTRK in Houston, adding that she has yet to tell Garrett that Atkins was killed.
She said her heart goes out to Atkins' widow.
"I hurt for her because she has two babies she has to look after and she has to be the mom and the dad," Richardson said.
She said Garrett was conscious after undergoing surgery but has yet to speak.
"When the nurse spoke with him, he asked if he could understand and he asked him to 'squeeze my hand if you can understand me,'" she said. "Darrell squeezed his hand a little bit."