Key takeaways from the Derek Chauvin murder case, Day 14
"I will invoke my 5th Amendment privilege today," Chauvin said.
The evidence phase in the murder trial of former Minneapolis police officer Derek Chauvin, who is accused of killing George Floyd, wrapped up on Thursday morning with the judge telling the jury to be prepared to be sequestered on Monday following closing arguments.
Prior to the jury being called into the courtroom on Thursday, Chauvin addressed the court, telling Judge Peter Cahill that he would not testify in his own defense.
"I will invoke my 5th Amendment privilege today," Chauvin said, using a microphone in court.
Chauvin announced his decision after he and his defense attorney, Eric Nelson, had an open on-the-record discussion in court, in which Nelson emphasized, "This is your decision and your decision alone."
Nelson said that he and Chauvin have had numerous conversations on whether or not he should take the witness stand, including a lengthy conversation Wednesday night.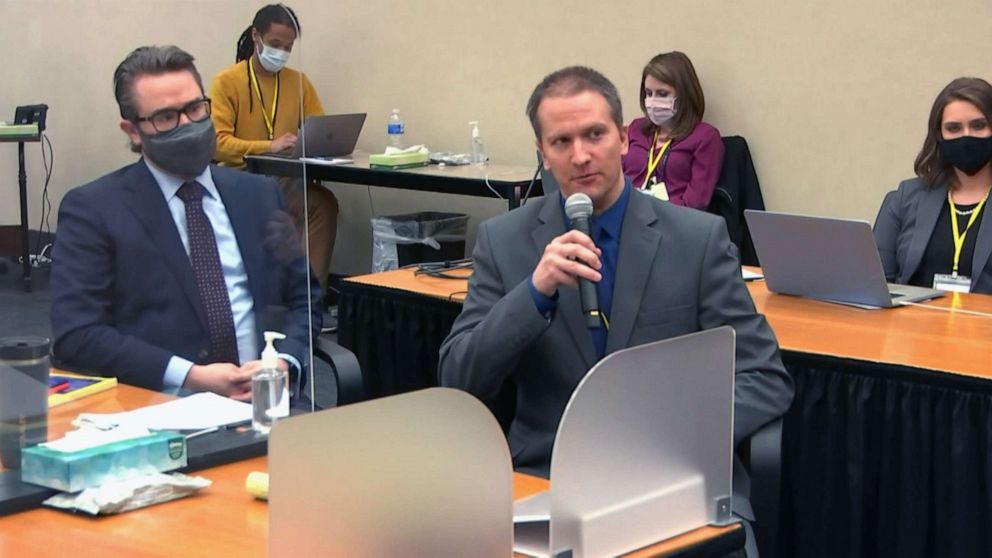 Judge Cahill questioned Chauvin about his decision, asking if he was pressured in any way in making it.
"No promises or threats, your honor," Chauvin said.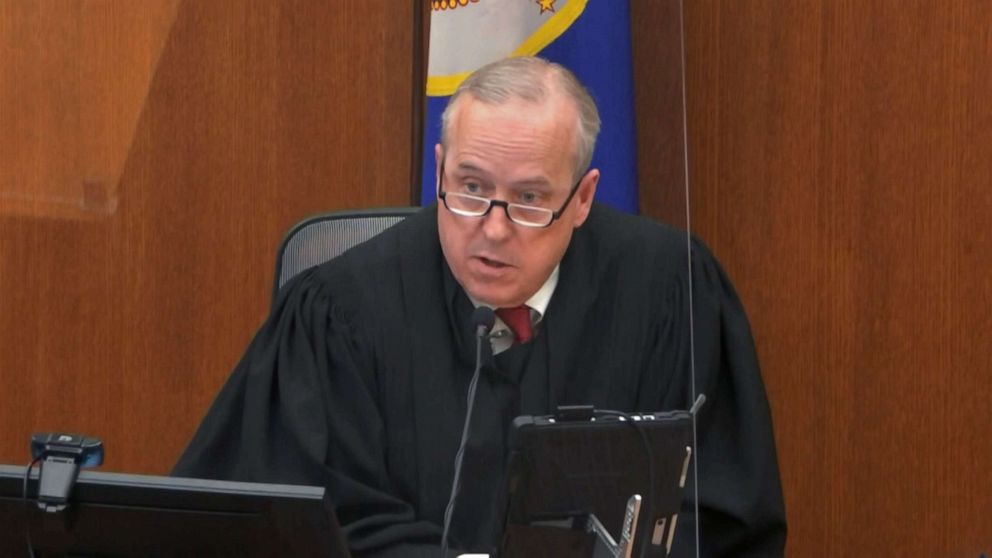 Cahill said he will comply with Chauvin's request to instruct the jury that they "should not draw any inference" on his guilt or innocence by exercising his right not to testify.
The development in the high-profile murder trial came as the defense wrapped its case Thursday morning.
"Your honor, at this time the defense rests," Nelson said.
Prosecution rebuts defense medical expert
Prosecutor Jerry Blackwell then recalled Dr. Martin Tobin, a physician in pulmonary and critical care medicine at Loyola University Medical Center and at the Hines Veteran Administration Hospital in Illinois, to rebut the testimony of a defense medical expert witness, Dr. David Fowler, a former Maryland chief medical examiner.
Fowler, a forensic pathologist, testified on Wednesday that carbon monoxide released from a nearby police car Floyd was placed on the pavement next to played a "significant" role in his death, as well as Floyd's heart disease and his drug use, specifically fentanyl and methamphetamine. It was the first time in the trial that a medical expert has said carbon monoxide played a role in Floyd's death.
Prior to Tobin's rebuttal testimony, Blackwell informed Cahill of new evidence that came to light on Wednesday night. He said Dr. Andrew Baker, the Hennepin County Medical Examiner, contacted prosecutors to inform them of a blood gas test that was done on Floyd at the Hennepin County Medical Center on the night he died.
The result of the test, which required drawing blood from Floyd's wrist, showed a low level of carbon monoxide in his system.
Despite an objection from the defense, Cahill ruled that Blackwell could recall Tobin to the stand, but limited his testimony, saying, the late disclosure of the test results "prejudice the defense." He said Tobin would not be allowed to testify about lab results on the test.
Cahill said Tobin, however, could testify about carbon monoxide "if he sticks to the environmental factors and as a pulmonologist looking at the videos, for example, and seeing Mr. Floyd's location and not knowing whether the vehicle is even on or not, which the state brought out in cross-examination."
He also allowed Tobin to testify about oxygen saturation in Floyd's blood drawn on the day he died based on a test result that has already been submitted in the trial by the prosecution.
"But if he even hints there are test results the jury has not heard about, it's gonna be a mistrial. Pure and simple," Cahill said. "This late disclosure is not the way we should be operating here."
With that, Blackwell recalled Tobin to the stand.
'It's simply wrong'
Tobin said the oxygen saturation in Floyd's blood measured 98%, saying the amount of carbon monoxide in his system could only be about 2%, which he said was low to normal.
Blackwell showed a graphic Fowler presented to the jury during his testimony, indicating that carboxyhemoglobin, the process of carbon monoxide combining with hemoglobin protein in the blood, could have increased 10% to 18%. He asked Tobin if Fowler's findings were reliable.
"No, I believe it is not reliable," Tobin said.
Blackwell asked, "So, in other words, as to the statement that his carboxyhemoglobin could have increased by 10% to 18%, in your view, that is not possible?"
Tobin replied, "It's simply wrong."
Blackwell also asked Tobin about research Fowler said he conducted on the potential that applying pressure on the back of Floyd's neck could have caused a narrowing in the hypopharynx of his throat, severely restricting his ability to breathe. Fowler testified that he had canvassed the literature and he could not find anything to support that.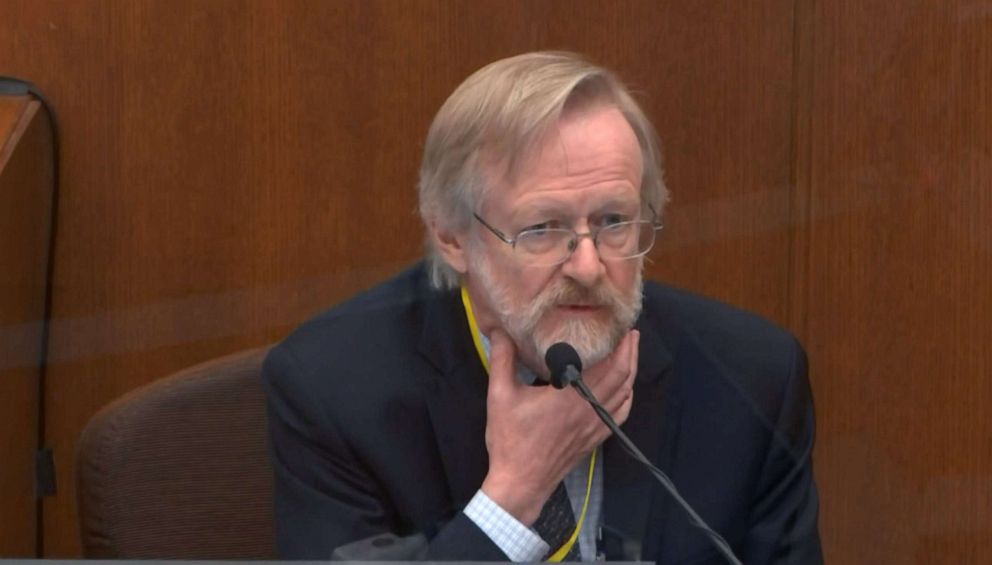 Tobin testified last week that Floyd's hypopharynx opening likely narrowed from the normal size of a dime to the size of a straw. Tobin said on Thursday that there are "probably at least a dozen, maybe 20 studies" that look at whether the pressure on the neck narrows the hypopharynx.
Blackwell then informed Cahill that the prosecution had no further rebuttal witnesses, and Cahill informed the jury that "the evidence is now complete for this case" and that closing arguments will commence on Monday morning. He told jurors they will be sequestered during deliberations.
"I think the one thing that you need to know today as you leave is how much do I pack," Cahill told the jury. "If I were you I would plan for long and hope for short. Basically, it's up to the jury how long you deliberate, how long you need to come to a unanimous decision on any count. And so because that's entirely up to you whether it's an hour or a week, it's entirely within your province."