"Say his name" and "I can't breathe." Words that became a national chorus in the months following the death of George Floyd, a Black man killed while being taken into police custody in Minneapolis on Memorial Day 2020.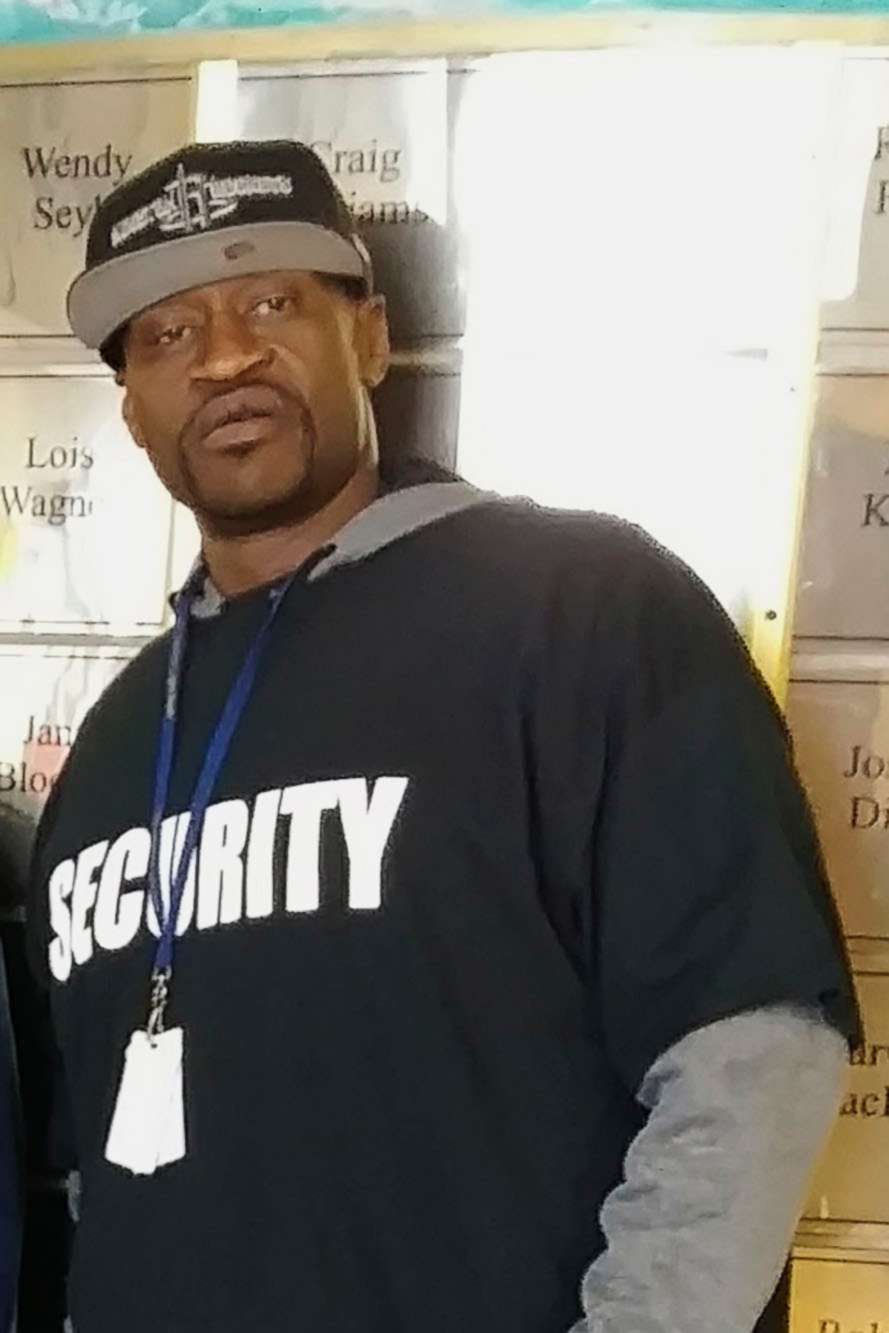 In demonstrations that drew millions in cities across the country and abroad, protesters called for police reform while mourning the death of yet another unarmed Black person at the hands of police in the United States.
Here is a timeline of major events that have unfolded since Floyd's death: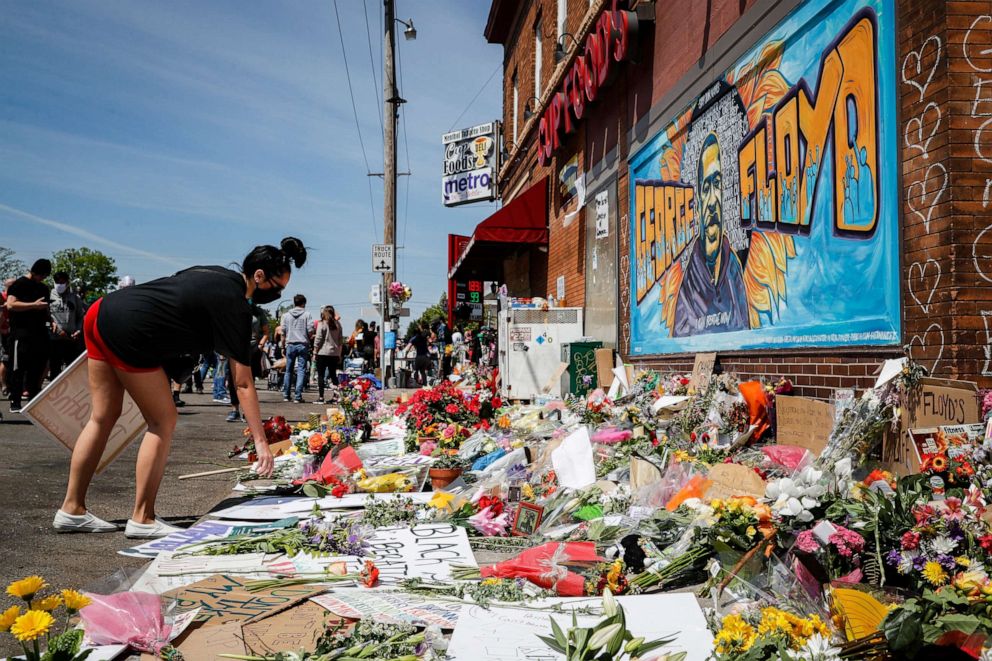 May 25, 2020: George Floyd dies in police custody
Floyd, 46, is arrested shortly after 8 p.m. after allegedly using a fake $20 bill at a local Cup Foods. A disturbing cellphone video later posted to Facebook shows an officer pinning Floyd to the ground with his knee on the back of Floyd's neck while a handcuffed man repeats "I can't breathe" and goes unconscious. He later dies at a hospital. The video goes viral.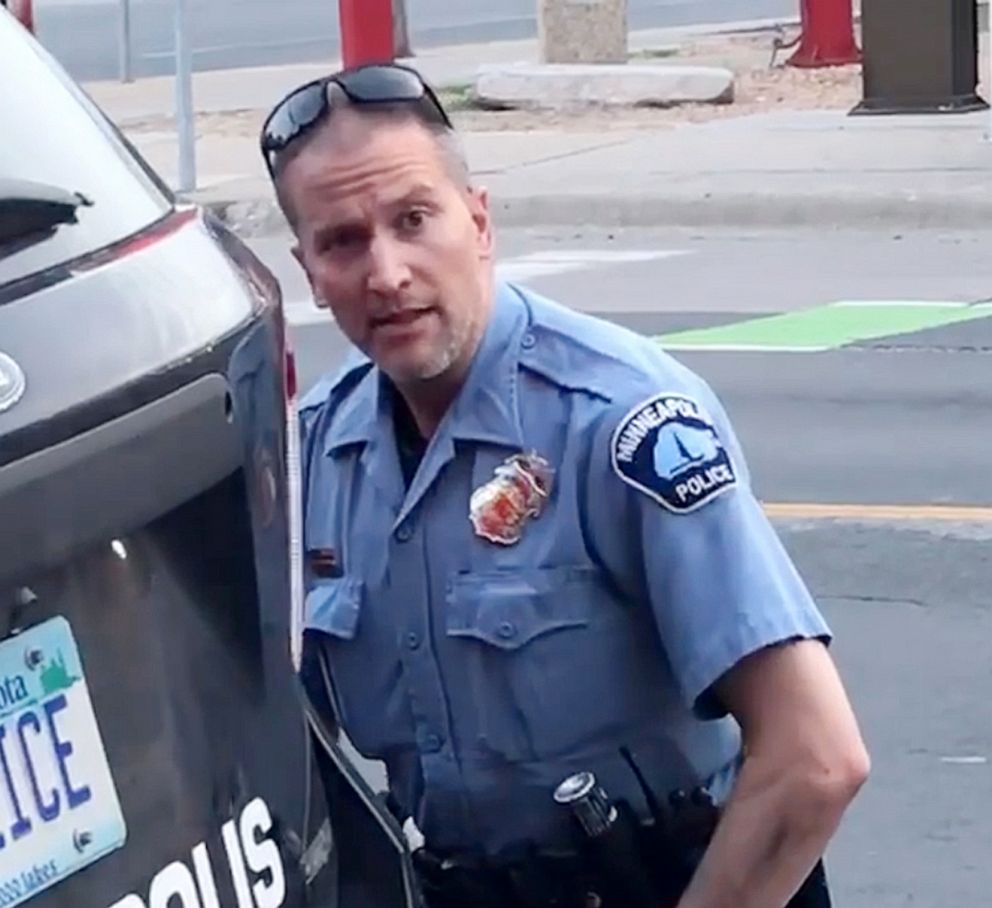 May 26: Responding officers fired as protests begin
Civil rights attorney Ben Crump announces he is representing Floyd's family and "will seek justice." The four officers involved in Floyd's death are fired. Demonstrators gather at the Third Precinct and the site of the incident in what becomes the first night of protests in Minneapolis.
May 27: Protests spread to other cities
Demonstrators in other cities, including Los Angeles and Memphis, start to march in outrage over the death of Floyd. In Minneapolis, peaceful protests turn violent as fires and looting break out and cops attempt to disperse crowds with rubber bullets and tear gas.
May 28: Governor activates National Guard
In the wake of the previous night's protests, Minnesota Gov. Tim Walz signs an executive order activating the Minnesota National Guard. In the coming days, other governors will follow suit as tensions escalate.
May 29: Officer arrested and charged in Floyd's death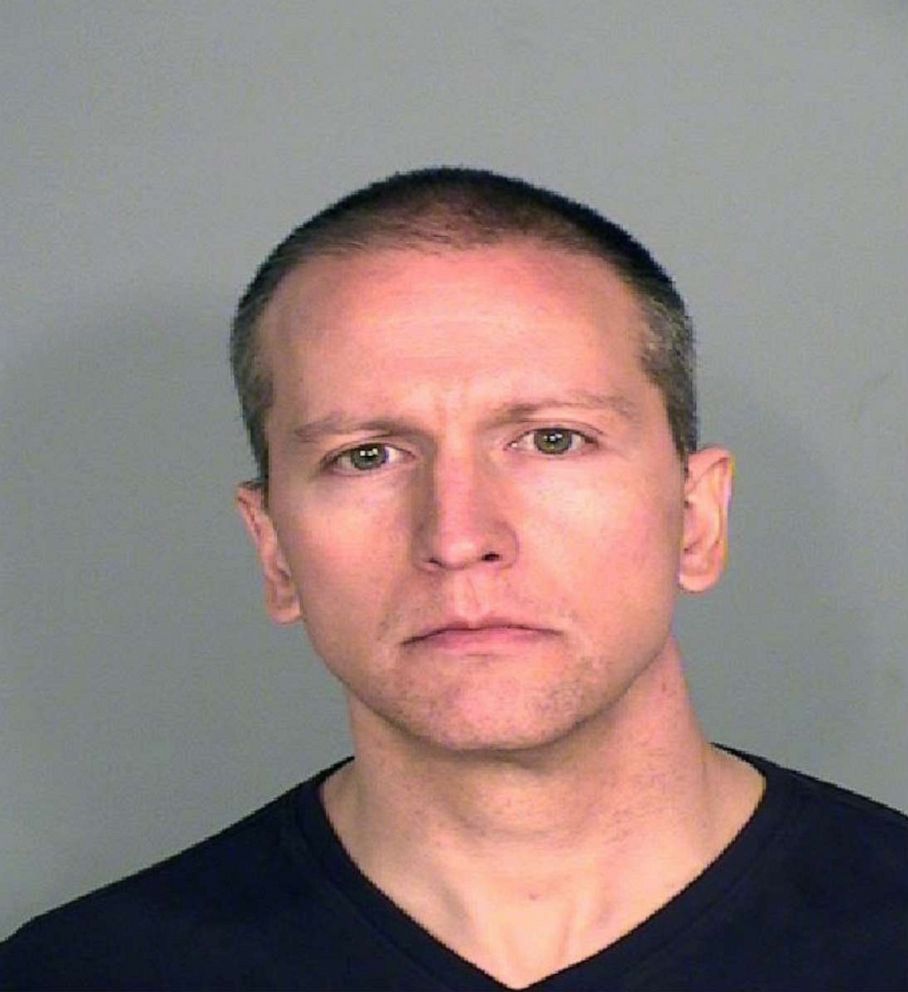 Derek Chauvin, the officer seen in the video kneeling on Floyd's neck, is arrested and charged with third-degree murder and second-degree manslaughter in Floyd's death. If convicted, maximum penalties for all of the charges are severe -- 40 years in prison for second-degree murder, 25 years for third-degree and 10 years for the manslaughter charge.
But presiding Judge Peter Cahill is required by Minnesota law to follow sentencing guidelines. Under these, the penalty for both second degree unintentional murder and third degree is about 10 to 15 years. For the manslaughter charge, the common sentence under the guidelines is four years.
Walz issues a curfew for the entire Twin Cities region; at least a dozen cities will issue curfews as bouts of violence and looting in the coming days overshadow the mostly peaceful protests. Then-President Donald Trump sparks controversy when, in response to the violent unrest, he tweets that "when the looting starts, the shooting starts." Twitter flags the tweet, saying it violates its rules about "glorifying violence."
May 31: Prosecution changes hands
Walz announces that state Attorney General Keith Ellison will take over prosecutions in Floyd's death from the county prosecutor.
Thousands protest peacefully across the country, though some demonstrations continue to be marred by acts of vandalism and clashes with police, including near the White House.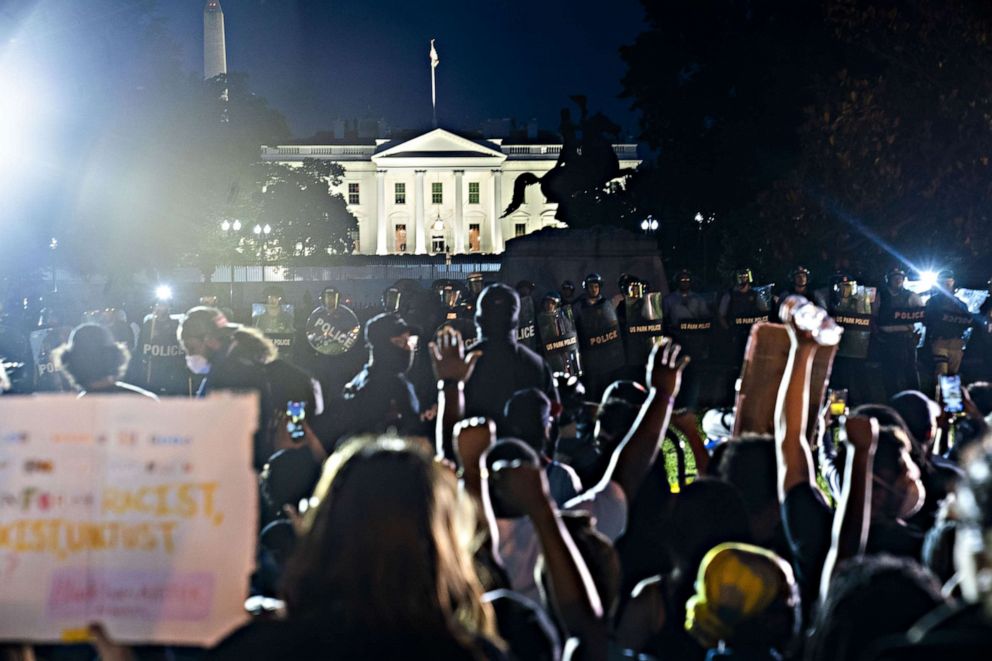 June 1: Autopsy results revealed
The Hennepin County Medical Examiner's autopsy report found that the 46-year-old Floyd died of a combination of causes including "cardiopulmonary arrest complicating law enforcement subdual, restraint, and neck compression" and that his system showed "fentanyl intoxication; recent methamphetamine use." The ME called the manner of death "homicide," but goes on in the report to state that this "is not a legal determination of culpability or intent."
Floyd's legal team says an independent autopsy determined that his death was a homicide caused by asphyxia "due to neck and back compression that led to a lack of blood flow to the brain." On June 2, Floyd family Crump derides the Medical Examiner's report…attacking its inclusion of toxicology results: "The cause of death was that he was starving for air. It was lack of oxygen. And so everything else is a red herring to try to throw us off."
That same day, Ellison tells SiriusXM's "The Joe Madison Show" that he is "very seriously looking" at prosecuting the other officers in the case, but that the process could take months.
June 2: Civil rights charge filed against Minneapolis police
Minnesota's Department of Human Rights files a civil rights charge related to Floyd's death and launches an investigation into the Minneapolis Police Department.
Officials announce the investigation will examine the "policies, procedures, and practices over the past 10 years" to determine if the police department "has engaged in systemic discriminatory practices towards people of color and ensure any such practices are stopped."
June 3: All 4 officers now charged in Floyd's death
The other three officers involved in the incident are charged with aiding and abetting second-degree murder and aiding and abetting second-degree manslaughter, both felonies, court records show.
Chauvin also received an additional second-degree murder charge, a felony, according to court records.
June 7: Minneapolis City Council members announce intent to replace police department
Minneapolis City Council members announce their intent to disband the city's police department in favor of a more community-oriented agency. "Our commitment is to end our city's toxic relationship with the Minneapolis Police Department, to end policing as we know it and to recreate systems of public safety that actually keep us safe," City Council President Lisa Bender said at a rally.
June 8: Democrats introduce policing reform bill
Congressional Democrats introduce a sweeping police misconduct reform bill, called the Justice In Policing Act, that would look to demilitarize the police and address police brutality. Measures include banning chokeholds and no-knock warrants. While the Democrat-controlled House later approved the bill, the then-Republican-controlled Senate voted it down.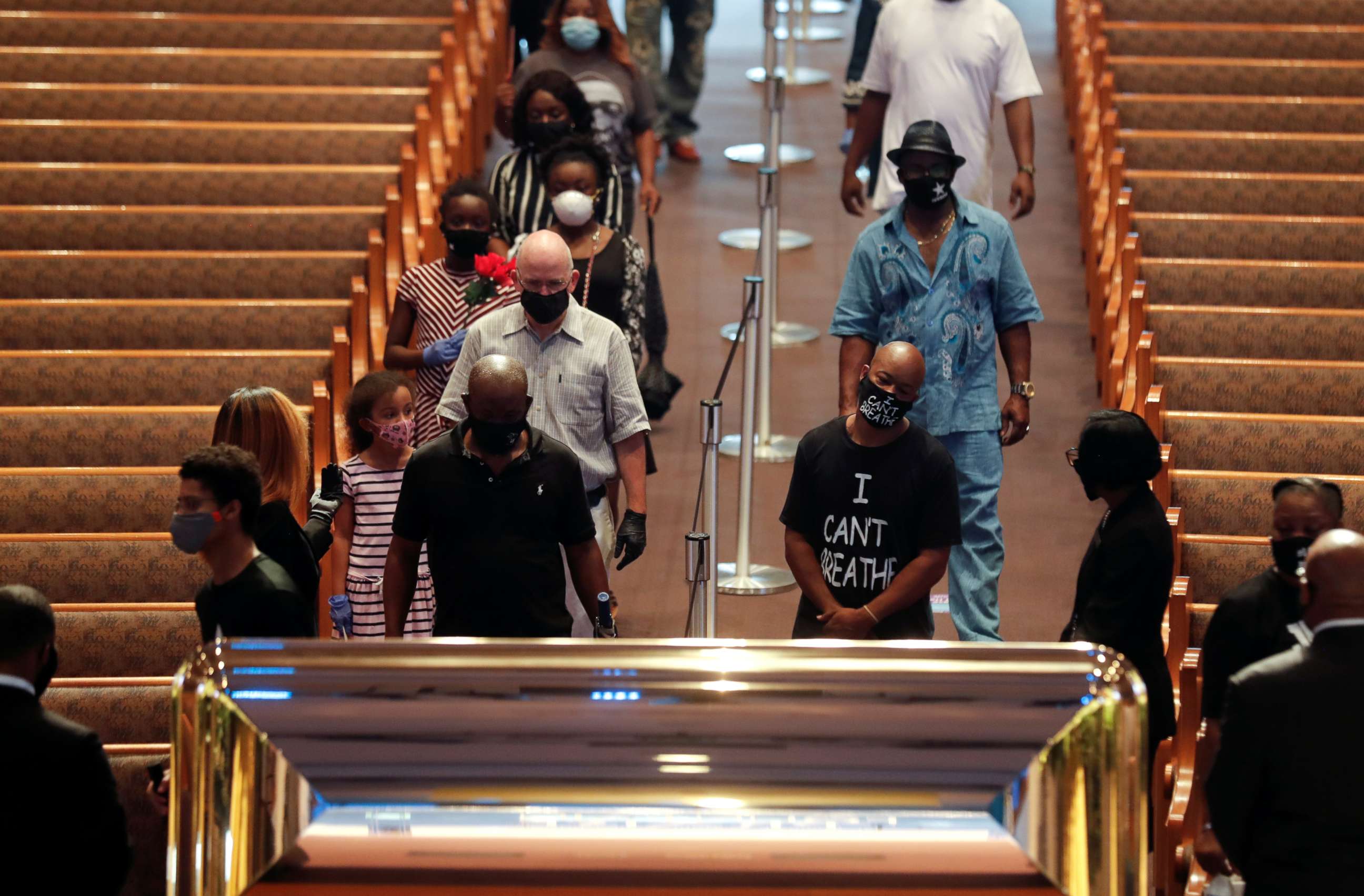 The same day as the legislation is introduced, thousands of mourners turn out in Houston, Floyd's hometown, for a public viewing of Floyd ahead of his funeral. Among those in attendance are former Vice President Joe Biden and Texas Gov. Greg Abbott.
June 9: Floyd is laid to rest in Houston
Thousands gather for Floyd's final funeral service. Dignitaries in attendance include the Rev. Al Sharpton, U.S. Rep. Al Green, actor Jamie Foxx and Houston Texans player J.J. Watt. Biden also speaks via video, calling for change for Black Americans.
June 10: Floyd's brother testifies on policing reform
Floyd's younger brother, Philonise, testifies before Congress during a hearing on police brutality.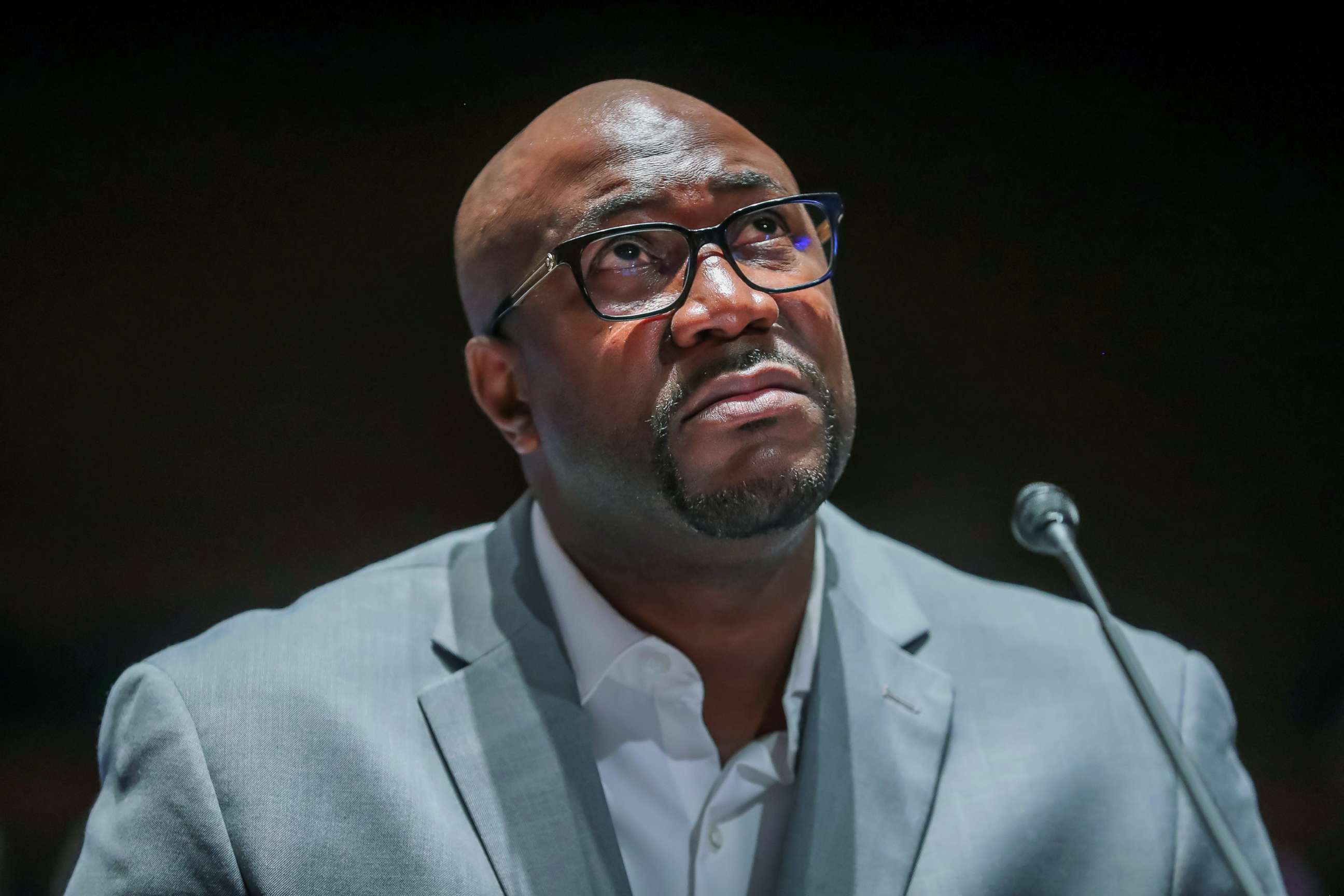 In a powerful opening statement, he calls on lawmakers to make law enforcement "part of the solution, not the problem," so his brother's death isn't in vain.
June 29: Floyd's relatives watch as 4 officers charged in killing appear in court
The four fired Minneapolis police officers criminally charged in the death of Floyd appear before a judge for back-to-back pre-trial hearings attended by Floyd's aunt and uncle.
Judge Peter Cahill also instructs both prosecutors and defense attorneys to limit pre-trial publicity about the case. Thao's attorney, Robert Paule, says in court that he is considering a motion for a change of venue due to what he describes as prejudicial pre-trial publicity.
Sept. 18: City renames intersection George Floyd Square
The Minneapolis City Council unanimously votes to rename the intersection of 38th Street and Chicago Avenue, near the spot of Floyd's fatal arrest, "George Floyd Square."
Oct. 14: Supporters celebrate Floyd's birthday
Dozens of friends, relatives and supporters gather at George Floyd Square and celebrate what would have been his 47th birthday.
Oct. 21: 3rd-degree murder charged dropped against Chauvin
Judge Cahill dismisses the third-degree murder charge against Chauvin, ruling that it required evidence that Chauvin's alleged actions put multiple people at risk and resulted in a death. Cahill rules that since Chauvin is accused of only targeting Floyd, the count does not apply to his case.
Nov. 5: Judge rejects change of venue motion
Judge Cahill rejected defense requests to move the trial of the four former police officers.
"No corner of the State of Minnesota has been shielded from pretrial publicity regarding the death of George Floyd. Because of that pervasive media coverage, a change of venue is unlikely to cure the taint of potential prejudicial pretrial publicity," Cahill writes in his ruling.
Jan. 12, 2021: Judge separates Chauvin's trial from other officers
Chauvin is ordered by Judge Cahill to stand trial alone. In separating Chauvin's trial from his three co-defendants, Cahill cited COVID-19 concerns, specifically the court's ability to ensure adequate social distancing among the defendants, their lawyers and other support personnel.
March 1: Appeals Court weighs reinstating 3rd-degree murder charge against Chauvin
The Minnesota Court of Appeals hears oral arguments on an appeal filed by prosecutors requesting it to overturn Judge Cahill's decision to toss out third-degree murder charge against Chauvin. The three-judge panel says it will issue an expedited decision as soon as possible.
The hearing comes as Minneapolis city officials hold a briefing on plans to ramp-up security for Chauvin's trial to protect property and ensure the First Amendment rights of protesters.
March 3: House passes George Floyd Justice in Policing Act
The U.S. House of Representatives passes the George Floyd Justice in Policing Act with a 220-212 vote. The legislation, which still needs the approval of the Senate, would ban no-knock warrants in certain cases, mandate use-of-force data collection on police encounters, prohibit racial and religious profiling and redirect funding to community-based policing programs.
March 5: Appeals Court rules on 3rd-degree murder charge
The Minnesota Court of Appeals orders Judge Cahill to reconsider reinstating a third-degree murder charge against Chauvin, finding the judge erred in October when he dropped the charge.
March 8: Chauvin trial begins with request to delay jury selection
Chauvin's attorney, Eric Nelson, informs the court that he is filing a petition for the Minnesota Supreme Court to review the Court of Appeals decision asking Judge Cahill to consider reinstating a third-degree murder charge against Chauvin.
A prosecutor asks for a delay in jury selection when Cahill says he has no jurisdiction in the matter until the Supreme Court reaches a ruling, or the appellate court provides guidance on how to proceed. Cahill says that unless the appeals court tells him otherwise, jury selection will proceed.
March 11: Judge reinstates 3rd-degree murder charge
Judge Cahill grants the motion by prosecutors to reinstate the third-degree murder charge against Chauvin after hearing arguments from both sides of the case. The trial starts March 29.
March 12: $27M settlement for Floyd's family approved
The Minneapolis City Council unanimously approves a $27 million settlement to Floyd's family for a civil lawsuit brought against the city of Minneapolis and the four officers involved in his death.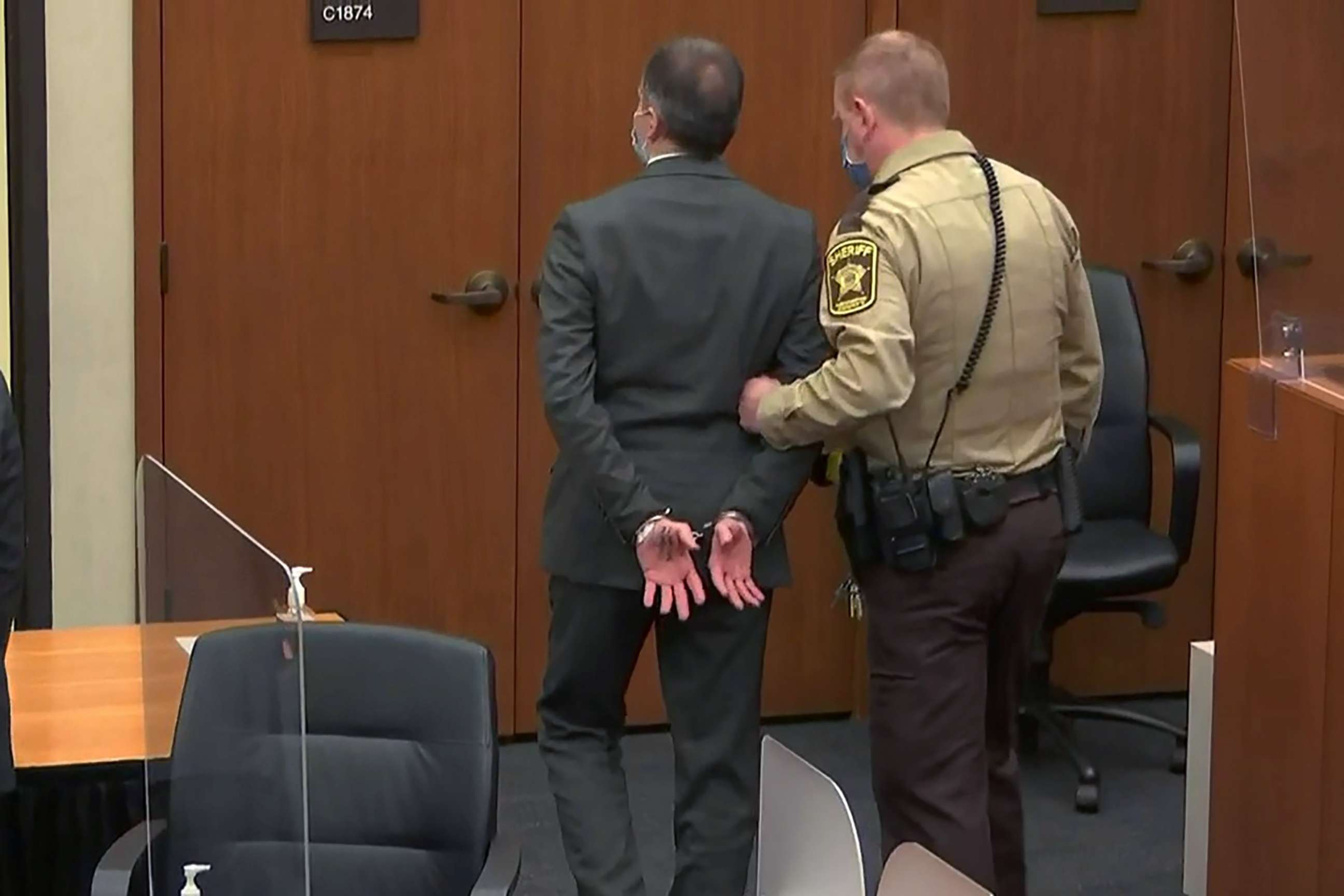 April 20: Chauvin found guilty on all 3 counts
After three weeks of testimony, Chauvin is found guilty on all three counts in Floyd's death. His sentencing hearing will be in eight weeks. The maximum sentence for second-degree murder is 40 years in prison, but Minnesota sentencing guidelines suggest he could get up to 15 years.
President Joe Biden and Vice President Kamala Harris addressed the verdict, with both calling for Congress to pass the George Floyd Justice in Policing Act.
ABC News' Andy Fies, Whitney Lloyd and Bill Hutchinson contributed to this report.