New details emerge in chaotic moments after Breonna Taylor shooting
Body camera video shows the chaos after the shooting.
November 18, 2020, 6:48 AM
Police were executing multiple search warrants in connection to a drug investigation that involved Taylor's ex-boyfriend, Jamarcus Glover. In the late-night search that ensued at her home, Taylor, a 26-year-old certified emergency medical technician, was killed and an LMPD Sgt. Jonathan Mattingly was shot and seriously injured.
Glover, the main target of the investigation, was already in custody at the time of the shooting at Taylor's home. No drugs were found at Taylor's home, according to police.
While there is no video of the shooting itself, body camera video from the responding officers shows the chaos in the moments that followed.
In addition to showing dozens of officers responding to the scene, video also shows Walker being placed under arrest while he was bewildered by the shooting, still shell-shocked over his girlfriend's fatal wounds.
Walker was taken into custody on charges of attempted murder of a police officer. Two months later, the charges were dismissed.
The video shows an officer telling Walker he's "going to -------- prison … for the rest of your -------- life."
ABC News has been covering the Breonna Taylor case in collaboration with Louisville's Courier Journal. Watch the full story on "20/20" Friday at 9 p.m. ET on ABC.
Dueling stories about the shooting at 3003 Springfield Drive
The evening of March 12 was supposed to be a sweet one for the young couple. It was one of the first nights Taylor had off from work in some time. She and Walker decided to have a night out at Texas Roadhouse.
"It was a normal day. We went out to eat," Walker said in an interview with ABC News and Courier Journal. "Then we went home."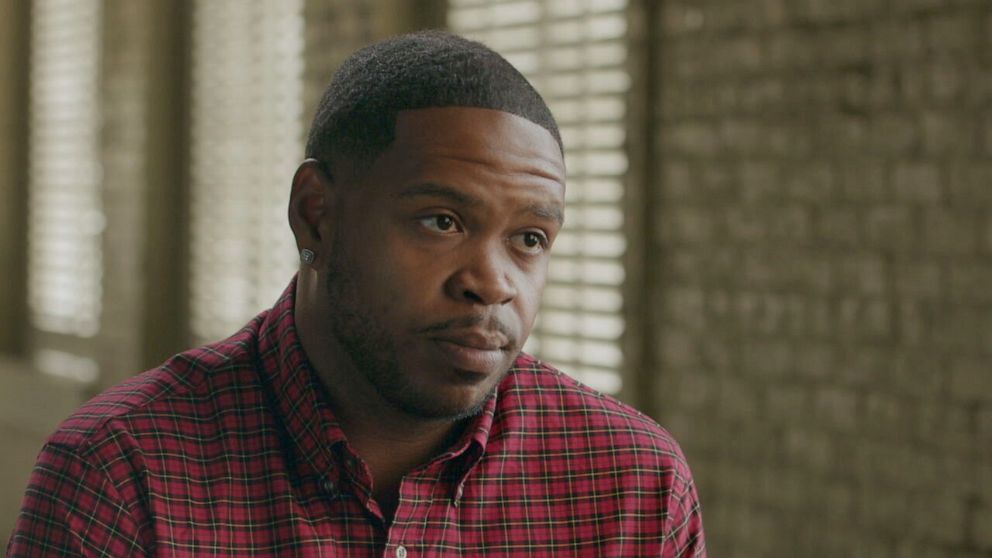 Taylor's younger sister, Ju'Niyah, was out of town, leaving the apartment alone to the couple. They spent the evening playing cards, then watching the 2010 film "Freedom Riders."
"It was just chilling, playing UNO, you know, watching the movie," Walker said. "[We] didn't even get to finish. … She was falling asleep, and so was I."
Then, at 12:40 a.m., "there was a loud bang at the door," he said.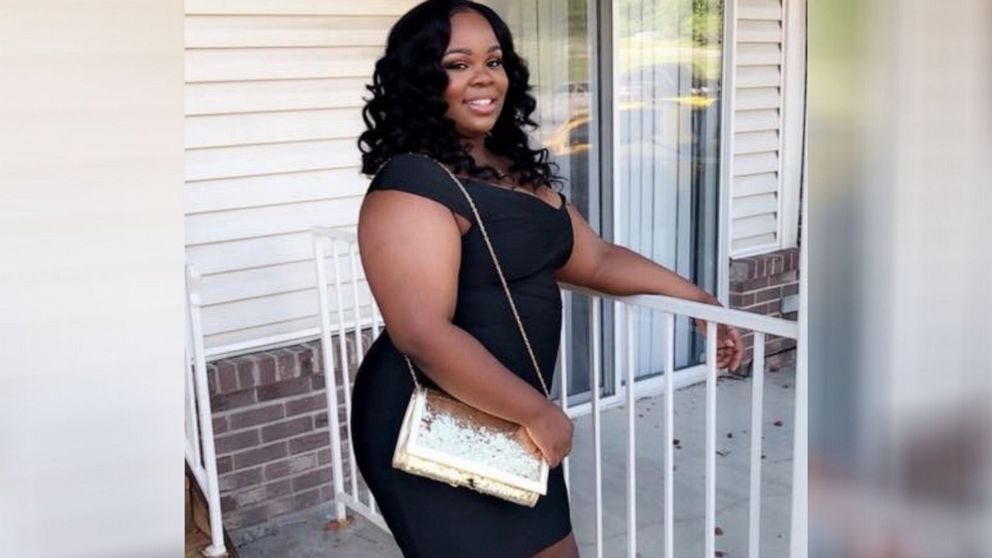 Walker disagrees with the police account of what happened in the next crucial seconds.
Mattingly said in an exclusive interview with ABC News and Courier Journal that he remembers "bangin' on the door" himself. He was one of seven Louisville police officers executing a narcotics search warrant that night.
He says he was not part of the team that had been investigating Glover, and was just called to help that night. He says he "verbally heard" the warrant was issued as a "no knock," but claimed the police planned to knock anyway because Taylor's home was what police called a soft target.
"We were told that their main target, [Glover], had packages sent to this location. [Taylor] had possibly held dope for him, received the packages, and held his money," Mattingly said in a statement to LMPD's Public Integrity Unit.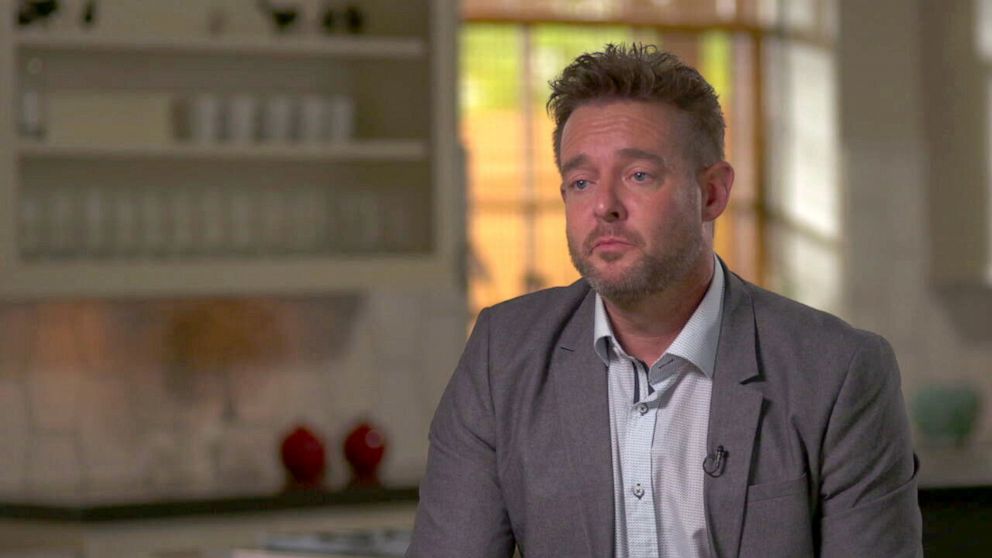 Later, Glover said in an interview with ABC News and Courier Journal that "nothing [had] ever been illegal" at Taylor's home.
"Shoes and clothes and ---- coming through the mail is not illegal," he said. "I'm not bringing no box, she's not bringing me no box, none of it. She's not bringing nothing." Glover says he also has not been involved with drugs.
Mattingly said police smacked the door with an "open hand" the first time they knocked.
"First time [we] didn't announce [we were police]," he said. "Just hopin' [Taylor would] come to the door so everything was quiet, neighbors wouldn't come out."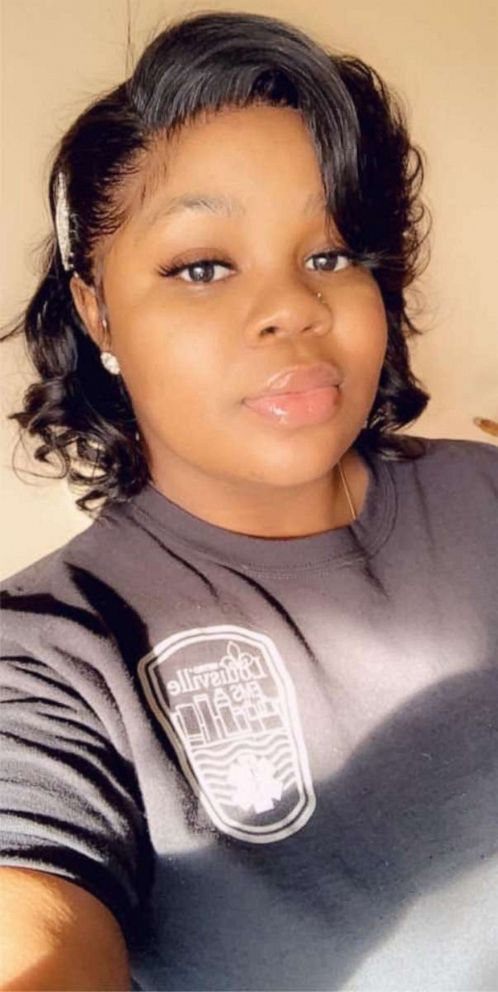 Walker remembered Taylor called out, "'Who is it?'"
"Nobody said anything," Walker said. "So at this time we're getting up to put on clothes to see who it is, and then there was another loud bang at the door."
Mattingly claims police did then announce themselves.
"I yelled, 'Police, search warrant. Police, search warrant,'" he said. "There was a total of six bangs, six different knocks at the door while we're doing this."
"It's too late for anybody to be knocking on the door," Walker said. "So I grab my gun, then we proceed to go answer the door." Walker said he and Taylor never heard the police announce themselves.
Mattingly remembered his lieutenant giving the order to ram the door open.
"When we get right in the doorway of the bedroom, the door flies open," Walker remembered.
Mattingly says there were no lights on in the apartment. He says his line of sight was illuminated solely by a TV in the back bedroom and the lights on the officers' guns.
"I step in the doorframe to clear the hallway; I can see two figures," Mattingly said. "I've done probably 2,000 search warrants where I've made entry. And I've never seen two people lined up like this down a hall."
The police and the young couple were standing off on opposite sides of a narrow hallway, only about 25 feet apart, when the shooting started.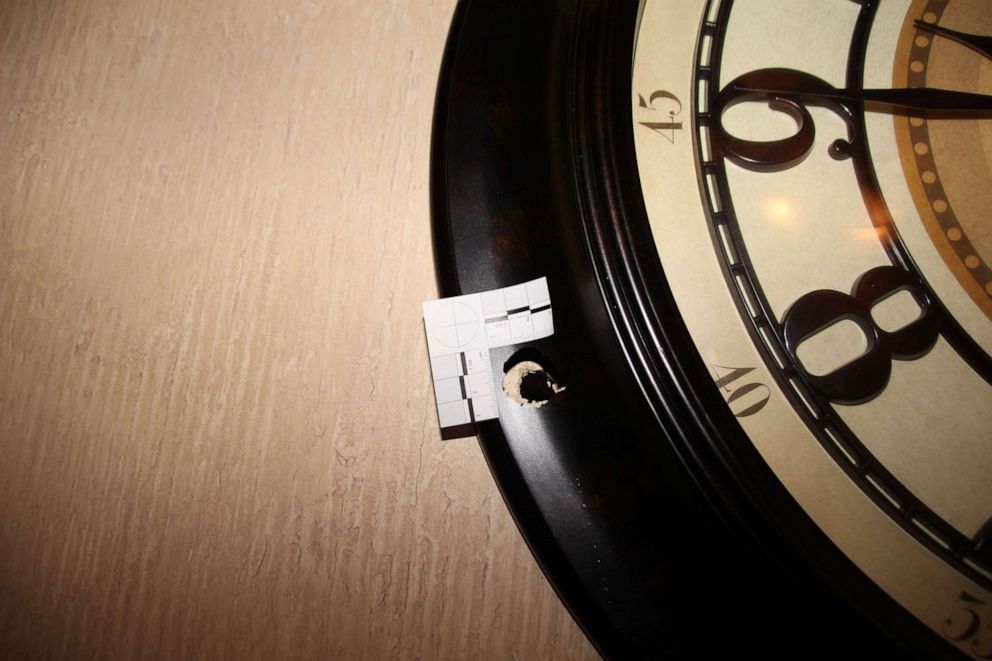 "Protect Breonna, protect myself," Walker said. "That's what was going through my head."
Mattingly said he could see that Walker was holding a gun.
"My eyes went straight to the barrel of this gun," Mattingly said. "I could see the tip of it. And my eyes just focused in on it."
Walker, a legal gun owner, said he "let out one shot at the ground," which he later described as a warning shot.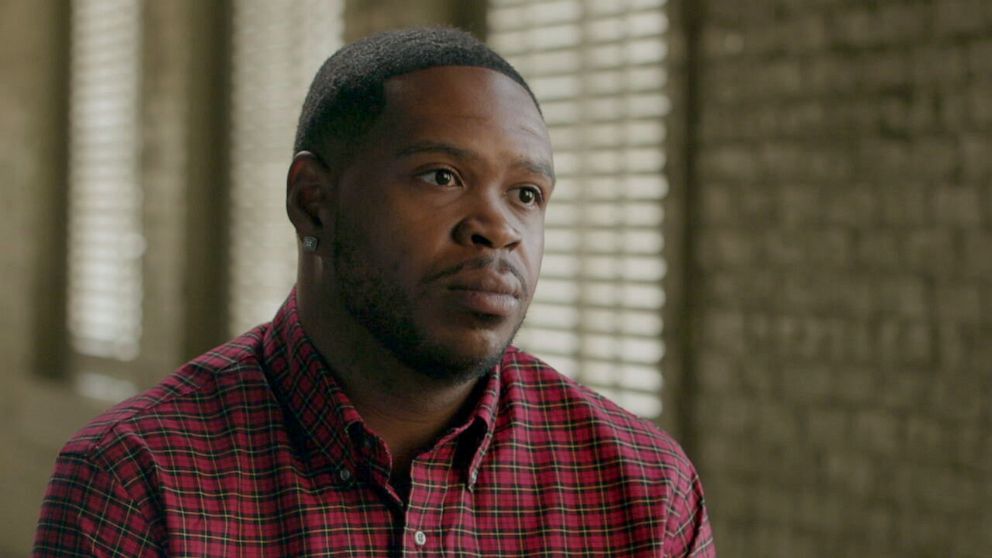 "I'm figuring it's intruders or somebody trying to break in and harm us," he said. "I couldn't see anybody. It was pitch black in there."
Mattingly told a different story.
"[Walker] wasn't shooting at the ground," he said. "He was in a stretched out [position] with two hands, looking straight at me. Our postures were the same, looking at each other. "
Deja Moore, who lives directly across from Taylor's apartment, said she woke up in the middle of the night to gunshots.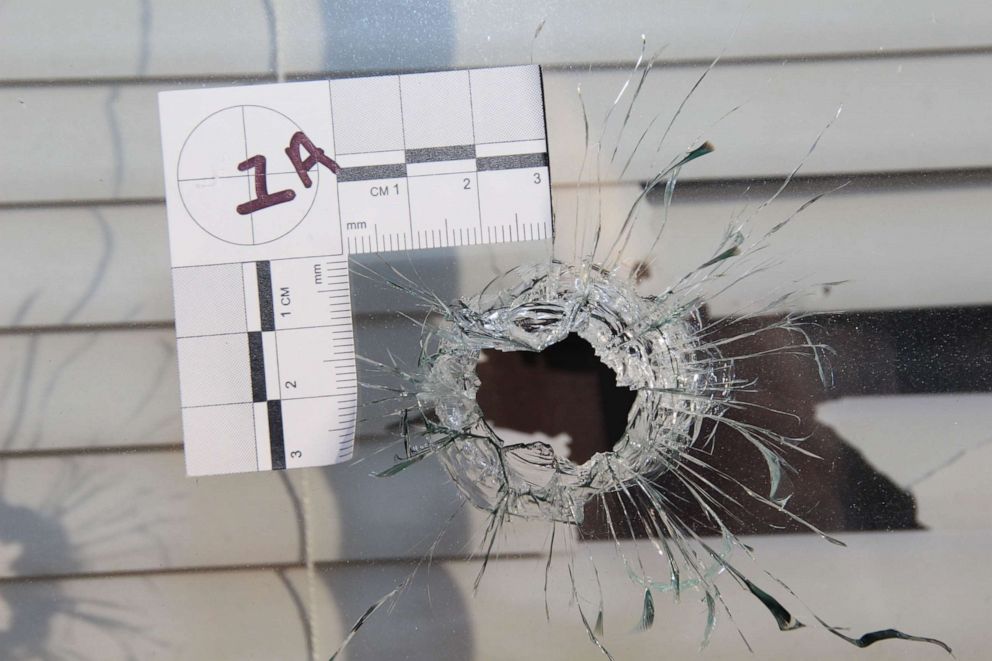 "I jumped out of my sleep," she said. "It just felt like you was in a movie, because you just heard, 'Boom, boom, boom, boom, boom,' and the[re] was a short break and then it just started firing off again."
"All these gunshots started just going and it was just insane," another neighbor, Summer Dickerson, told ABC News. "So I immediately called 911."
"There was a lot of gunshots just now. ... They are still shooting," Dickerson said in the released 911 call. "Come on, come on, y'all need to get over here, they're shooting the hell like crazy."
Mattingly and two other officers immediately returned fire after Walker's one shot. Police fired thirty-two shots into the apartment.
"Everything happened in milliseconds. 'Boom, boom, boom,' returned four shots," Mattingly said. "I reached down and felt my leg. And I could feel a handful of blood. And I thought, 'That's my femoral artery.'"
He said he immediately knew to "get a tourniquet on it or I'm gonna die."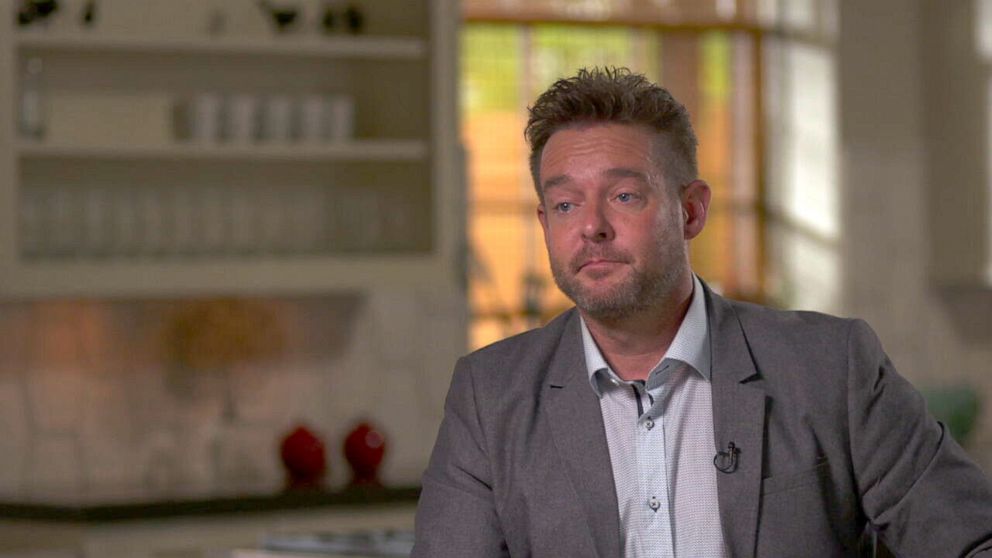 "There was just a hail of gunfire, and I grabbed Breonna and I dropped to the ground, and I was holding her hand while we went down," Walker said.
He remembers his girlfriend cried out in her final moments.
"She was scared to death, as was I, but she did scream at some point in time when she got hit," he said. "I assume she had to get hit, or either she got hit or she was scared, either one, but she screamed. That's the last sounds that she made."
Mattingly said in that moment, his intent was "to stop the threat, whatever that was. I wanted to get home to my family."
He remembered seeing Walker dive into a room and remembered shooting at the room's opening "to neutralize the threat," Mattingly said.
"[The gunfire] was coming from every which direction," Walker said. "It was coming from a window that was, like, in the room next to us. They was coming down the hallway. They was coming in the living room."