BOSTON— -- Activists planning a "Die In" demonstration at this city's historic First Night festivities will be allowed to protest, but Boston public safety officials urged them not to disrupt the family event that draws hundreds of small children for New Year's Eve.
"We're going to accommodate the protesters if they choose to do so. But we will not let it disrupt the events," Boston Police Commissioner William Evans said at a City Hall news conference today where he was flanked by officials, including Mayor Martin Walsh and Boston Fire Commissioner Joseph Finn.
"I can only appeal that if people are going to demonstrate, just realize there are a lot of young kids out there, a lot of families.
According to the activist group's First Night Against Police Violence Facebook page, demonstrators plan to meet at the Boston Public Library and to eventually join the Grand Processions Parade of floats and marching bands that will take over Boylston Street Wednesday at 5 p.m., one of multiple events planned for what Boston officials insist is the country's oldest New Year's Eve celebration. The activists have not responded to ABC News' requests for comment through their Facebook page.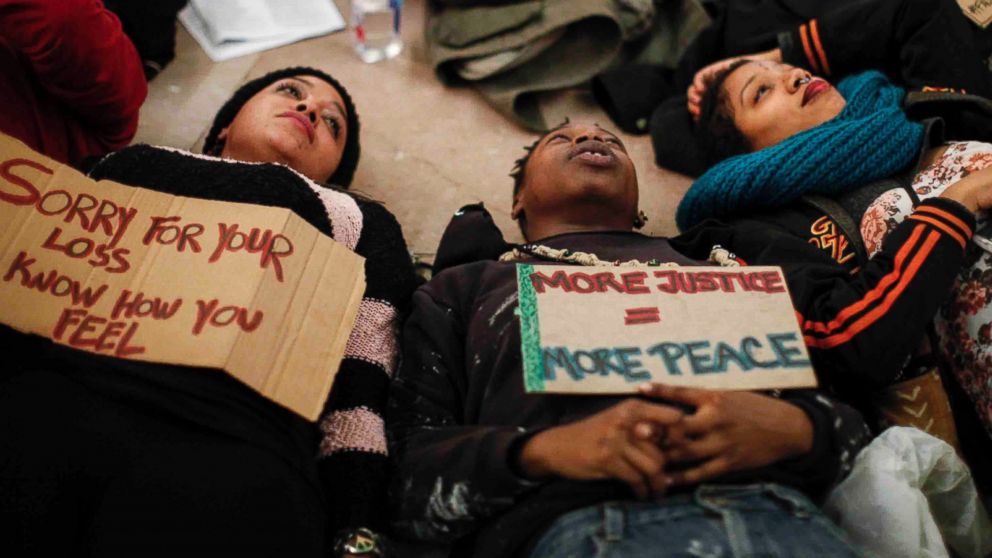 The "Die In" activists plan to fall to the ground along the route as if lifeless to honor Eric Garner, who died after an arrest by the NYPD, and Michael Brown, shot and killed during an altercation with a police officer in Ferguson, Missouri. The officers involved in those killings were investigated but not criminally charged.
"We're going to protect their right to demonstrate and, hopefully, we can both make this event a successful event,'' commissioner Evans said. "First Night is a long tradition in the city. I hate to see anything spoil what is usual a great family fun night in the City of Boston."
Evans urged activists to remember that young children and toddlers will be in attendance at the family event. Pretending to die could be traumatic for them, Evans added, and urged protestors to be mindful with a public plea, "please don't upset these young kids' night."
Much of the First Night party, which includes ice sculptures, musical acts, and fireworks, will be held on the same street where two bombs were detonated near the Finish Line of the Boston Marathon April 15, 2013. Many of the police officers expected to patrol the First Night festivities were among the emergency responders who raced to the blasts and saved lives, Mayor Walsh reminded the public.
"I ask everyone who comes out tomorrow respect our police officers, respect their roles as keepers of peace in our city, and not distract them from their responsibility of keeping our families and our city safe," Walsh said.
Boston City Councilor Sal Lamattina urged First Night attendees to "wear something blue" as a show of support for police officers.
Boston city officials Monday night attended a prayer service for Garner, Brown and two NYPD officers ambushed and executed by a career criminal who then took his own life. Walsh said the prayer service at Roxbury's 12th Baptist Church was part of his ongoing effort to reach out to anyone who feels disaffected by police.