— -- The country's new education secretary has already hit a roadblock in her job.
Betsy DeVos, in her first visit to a public school as head of the U.S. Department of Education, tried to enter a Washington, D.C., middle school this morning but was met with a small group of protesters.
They created a barrier to the entrance of Jefferson Middle School Academy, forcing DeVos to turn around and return to her vehicle.
"She doesn't represent anything that they stand for," one protester said.
"Shame. Shame. Shame," chanted another protester, who followed DeVos to her car.
The protesters also hindered DeVos' vehicle from quickly driving away. DeVos did eventually enter the school building.
DeVos met with the DC Public Schools chancellor and superintendent, the school's principal, teachers and students. She later addressed the protest in a statement.
"I respect peaceful protest, and I will not be deterred in executing the vital mission of the Department of Education. No school door in America will be blocked from those seeking to help our nation's school children," the statement read.
DeVos added, "Focusing on their students and families is at the heart of Jefferson Academy's approach, and that's exactly what I believe is at the heart of providing an exceptional education. Great teachers and leaders help make great schools, and I was honored to speak with Jefferson's team about our shared commitment to strengthening public education."
D.C. Chancellor of Public Schools Antwan Wilson told reporters that DeVos intends on visiting several schools across the country and she talked about the importance of school choice.
"It was really a high level conversation because the focus was primarily on highlighting the needs of our schools and then also highlighting the great work that's happening here in our schools," Wilson said.
The protest sparked responses from Kellyanne Conway, former Education Secretary Arne Duncan, American Federation of Teachers president Randi Weingarten and D.C. mayor Muriel Bowser.
The former Michigan education activist was confirmed Tuesday as education secretary in a tie-breaking vote from Vice President Mike Pence. DeVos has been a vocal supporter of charter schools and vouchers. During her contentious confirmation hearing, DeVos left open the possibility that she would allow public school funding to be directed to private options.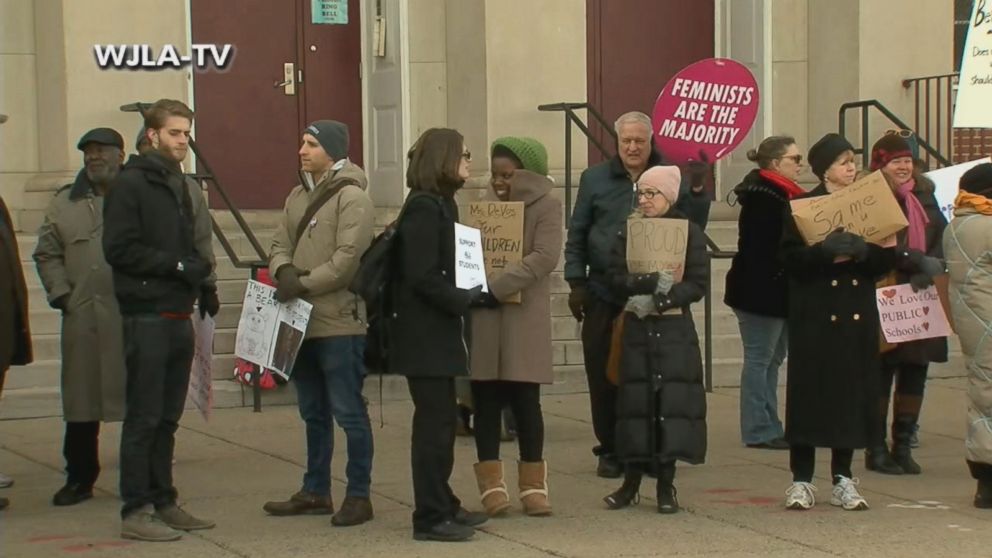 ABC Washington affiliate WJLA-TV and ABC News' Kenneth Moton and Janet Weinstein contributed to this report.