'Look at me, you coward': Relatives of El Paso Walmart shooting victims confront gunman
Patrick Crusius, 24, pleaded guilty to the 2019 racist mass shooting.
Nearly four years after 23 people were killed in a racist mass shooting at a Walmart in El Paso, Texas, the victims' families are confronting the gunman in court.
Patrick Crusius, 24, pleaded guilty in February to dozens of federal hate crimes and firearms charges in connection with the August 2019 mass shooting.
During the ongoing sentencing hearing in the federal trial, family members of many of the victims have shared their grief and anger in the wake of the tragedy.
Francisco Javier Rodriguez, the father of 15-year-old Javier Amir Rodriguez, the youngest victim killed in the shooting, addressed Crusius directly while wearing a T-shirt featuring a photo of his son.
"Look at me, you coward. Look at my son's picture," the father said in court on Thursday, according to ABC El Paso affiliate KVIA. "Because of you he never graduated from high school. I carry my son's ashes with me everywhere I go."
"You branded your family like the coward you are," Rodriguez continued, according to KVIA. "They are marked for life. When everyone hears your name, all they'll see is the coward that you are. All they're going to see is the killer. The coward."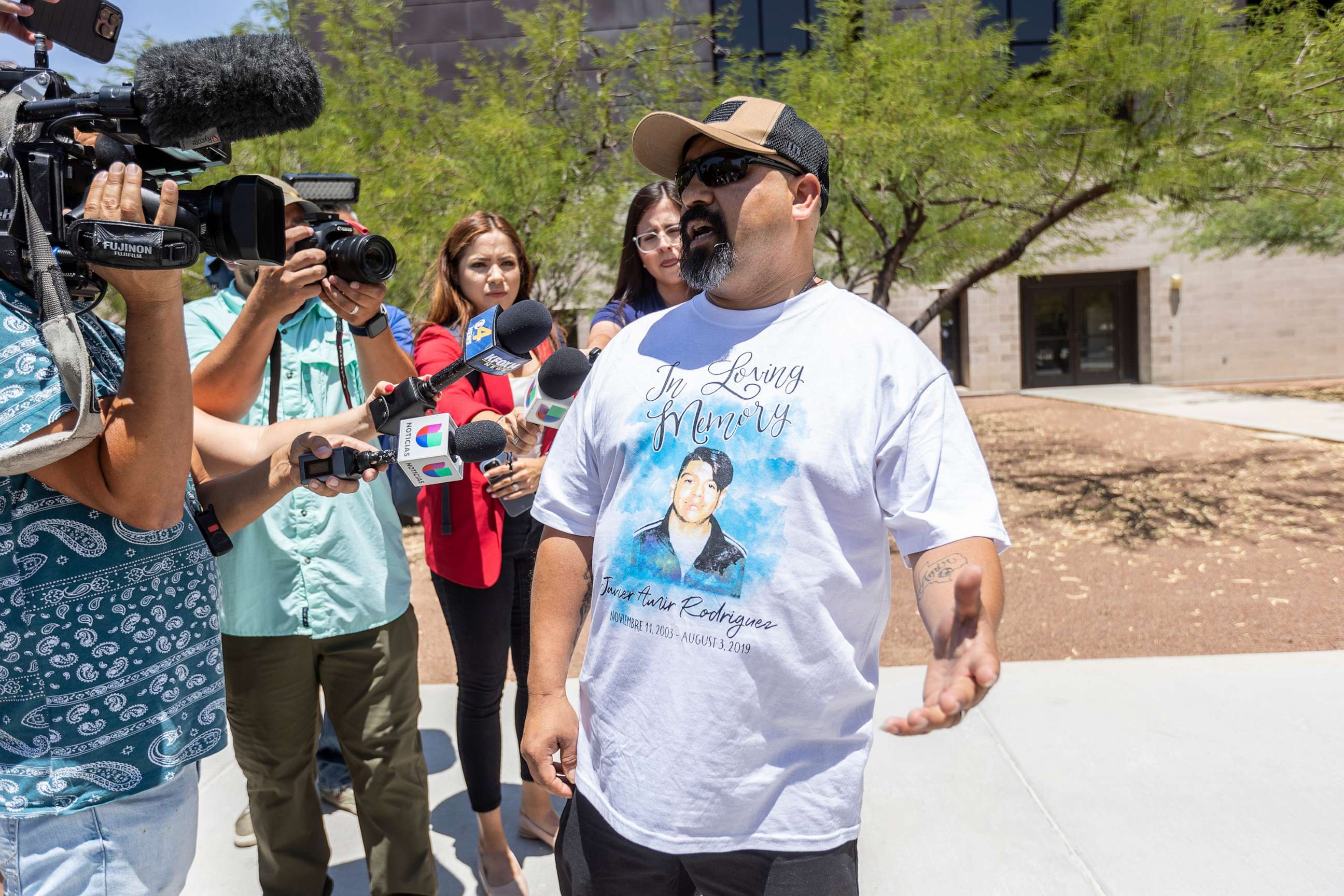 The judge heard two days of emotional impact statements from victims and family members of victims, ahead of the formal sentencing on Friday.
Twenty-two shooting victims died within days of the attack, while a 23rd person died eight months later. There were also 22 people injured in the attack.
Crusius allegedly told investigators following his arrest that he set out to kill as many Mexicans as he could after driving from his home in Allen, Texas, about 650 miles east of El Paso, officials said.
Among those to address the court on Wednesday were the family members of Jordan Anchondo and Andre Anchondo, who were killed while shielding their 2-month-old son during the attack.
"He set out to hurt people because he said Hispanics were taking over. I just want him to know his efforts were in vain," Tito Anchondo, Andre's brother, said, according to The Associated Press. "Yeah, we lost a lot of people. … The ones that are still here, we're still pushing forward."
Dean Reckard's mother, Margie Reckard, was among those killed. He and his wife traveled to El Paso from Omaha, Nebraska, to "stand up to hate," his wife, Hilda Reckard, said, according to the AP.
"I just think that us coming here is to take a stand," she said on Wednesday, according to the AP. "You knocked us down, you didn't knock us out."
The sentencing hearing is scheduled to resume at 10 a.m. MT on Friday. Prior to the judge's sentencing, defense attorney Joe Spencer told ABC News he will be giving an allocution on Crusius' behalf. Crusius will not be speaking at the hearing, according to Spencer.
Crusius had initially pleaded not guilty to the federal charges but requested a re-arraignment hearing after federal prosecutors agreed to not seek the death penalty in their case.
He pleaded guilty to 90 federal charges, including 23 counts for hate crime acts that resulted in death, 22 hate crime acts that caused bodily injury, 23 counts of using a firearm in a federal crime of violence resulting in death and 22 counts of using a firearm in a federal crime of violence.
Crusius is also facing capital murder charges in state court. He has pleaded not guilty to those charges.
El Paso District Attorney Bill Hicks told reporters Thursday he still plans to seek the death penalty in the state's case, which could go to trial as soon as next year. A jury would ultimately decide whether Crusius faces the death penalty, Hicks said.
"I am committed to seeking justice for the people of this community," Hicks said.