— -- In an urgent message, officials announced that a levee in a county south of Houston was breached, after days of torrential rain from Hurricane Harvey.
"NOTICE: The levee at Columbia Lakes has been breached!! GET OUT NOW!!!" Brazoria County said on Twitter on Tuesday morning.
A total of 1 trillion gallons of water have fallen, Houston Mayor Sylvester Turner said in a press conference Tuesday evening.
The National Weather Service announced Tuesday afternoon that preliminary data indicates the all-time record for total rainfall from a tropical system in the continental U.S. was broken in Cedar Bayou, Texas -- about 30 miles from downtown Houston -- at 51.88 inches.
If confirmed, the record is .12 inches shy of the record for total rainfall from a tropical storm in the entire U.S., including Hawaii and Alaska.
The death toll has climbed to at least eleven in the Lone Star State, amid "epic and catastrophic" flooding since Harvey made landfall on Friday, according to the NWS.
Among the fatalities announced on Tuesday by The Beaumont Police Department was a woman who died after the car she was driving in with her young daughter ended up in high water. She and her daughter exited the vehicle, only to be swept up into the canal. First responders rescued the pair, but the mother was unresponsive and died. The child is in stable condition.
Houston police Sgt. Steve Perez drowned in floodwaters while driving to work early Sunday, Houston Police Chief Art Acevedo said at a press conference Tuesday.
Four other storm-related deaths occurred in La Marque, Montgomery County, East Montgomery County and the coastal city of Rockport.
The storm, which dropped a foot of rain from Galveston to Beaumont overnight, according to ABC News' meteorologists, is not expected to relent until Wednesday afternoon.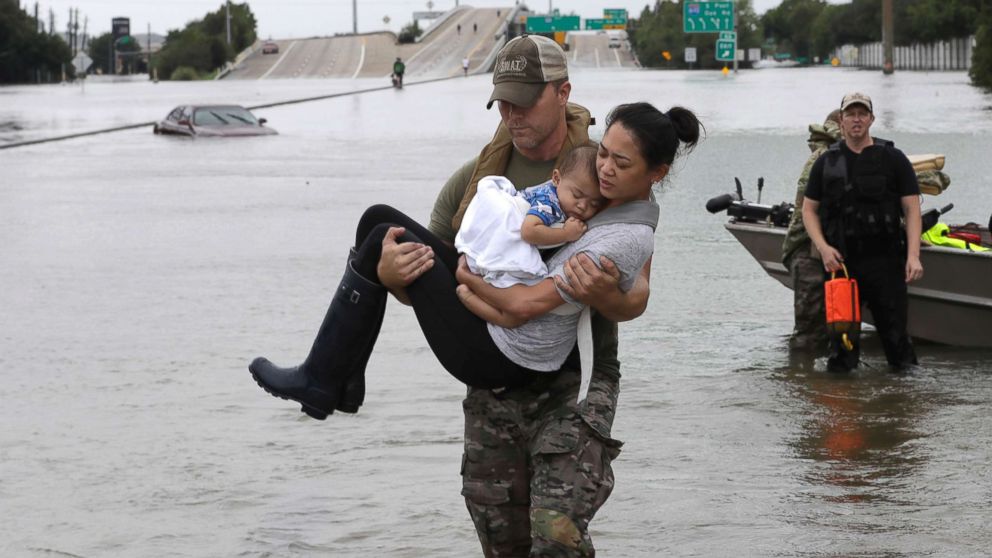 Turner imposed a mandatory curfew on the city from midnight to 5 p.m. to prevent further robberies from occurring, he announced Tuesday evening.
The curfew is a "tool to assess the intentions of the people who are out there," Acevedo said, warning residents to stay off the streets during the curfew unless "absolutely necessary."
The Houston Police Department is going to stop assisting in search-and-rescue missions to focus on "going after criminals and keeping the good people of Houston safe," Acevedo said.
"We're not going to tolerate victimizing people who are at the lowest point in their life," he added.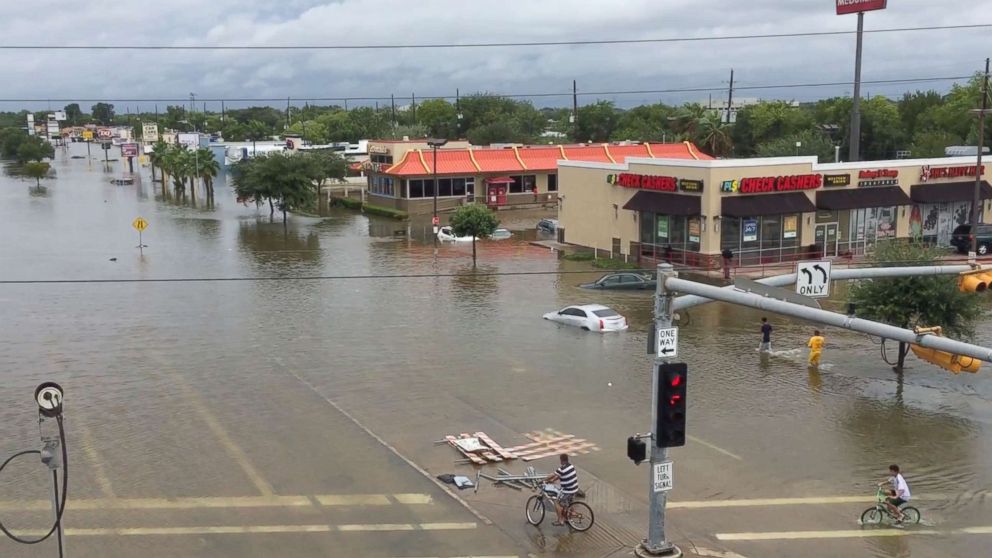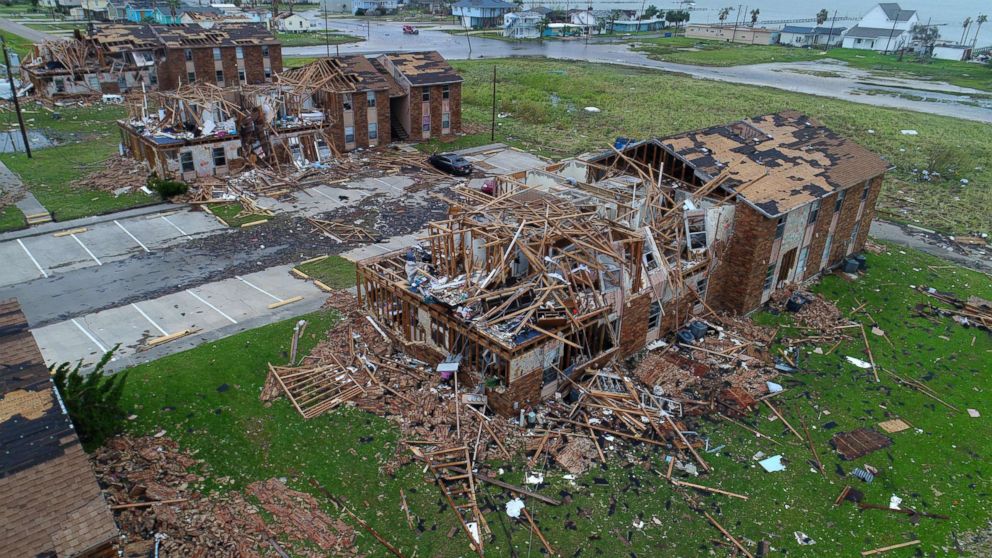 Texas Gov. Greg Abbott has activated the entire Texas National Guard to address the disaster.
The total number of guards available to the state is roughly 12,000, and all of them will be used in recovery efforts in southeastern Texas, according to Abbott.
"These guys have saved our lives," one woman rescued by Texas National Guard members said in a video by Staff Sgt. Tim Pruitt. Her husband and dogs were also rescued. "We've been in water all day, actually since last night, and we didn't think help was coming. ... Thank you so much."
Abbott told ABC News' "Good Morning America" on Monday that he expects the aftermath of Harvey to be "horrific" -- a mess that will "take years" to rebuild.
Gulf Coast residents struggle to recover after Hurricane Harvey
Members of First Baptist Church of Loeb chain saw pews and clean up the church on U.S. 69 that had eight feet of water in it due to Hurricane Harvey flooding in Lumberton, Texas, Sept. 7, 2017.

undefined
Crews and good Samaritans conduct rescues
Turner reiterated on Tuesday that rescues were officials' top priority.
Various agencies, including the U.S. Coast Guard and police and fire departments, have made more than 9,000 rescues in the state since the hurricane hit, officials said Tuesday evening.
Today, the Houston Police Department said officers have conducted more than 3,500 rescues since the onset of the storm.
About 529 calls for rescue are still pending, Acevedo said.
Crews have been working long hours since the storm hit, with some on duty for the past two and a half days, Houston Fire Chief Samuel Peña said Tuesday evening. He hopes to "get them rested and back in the game" so they can continue to "serve the demand as expected," Peña said.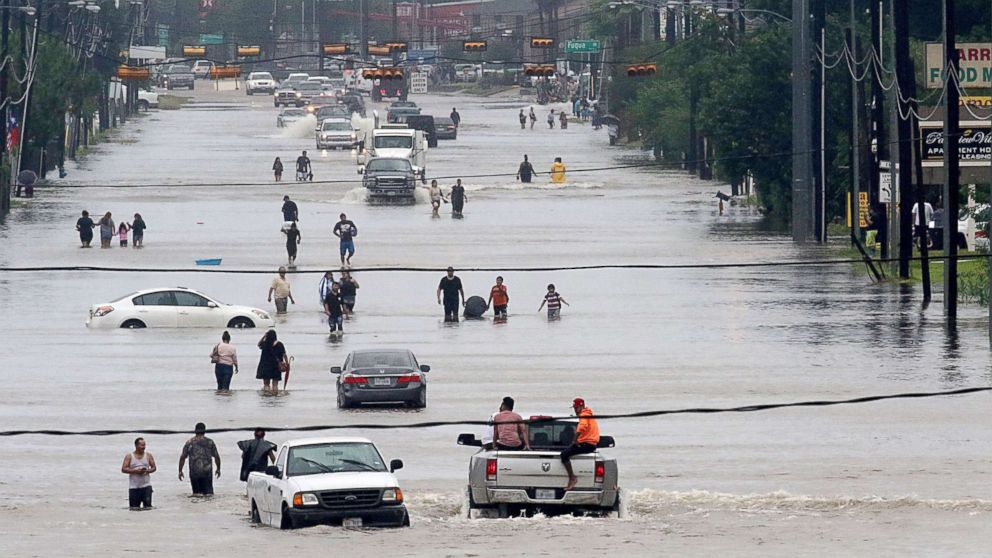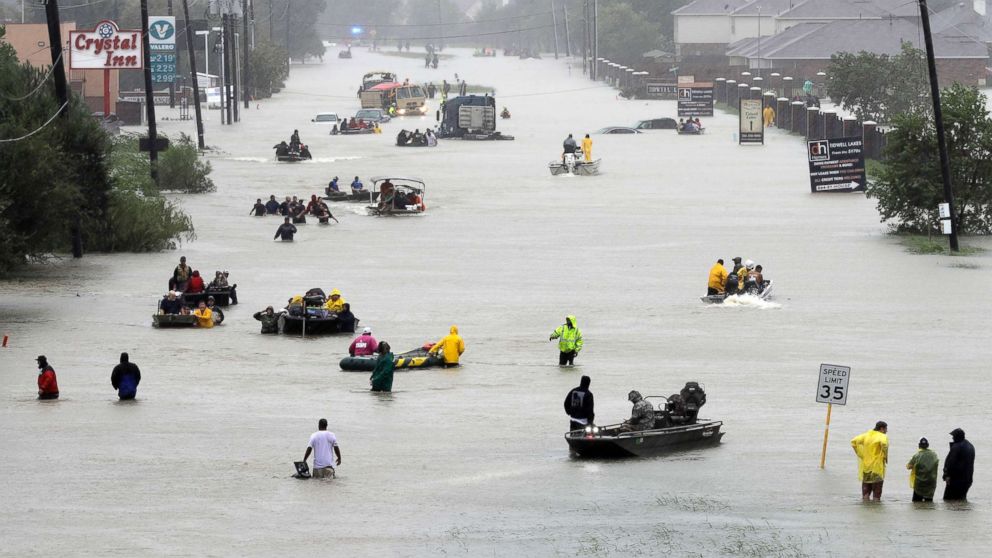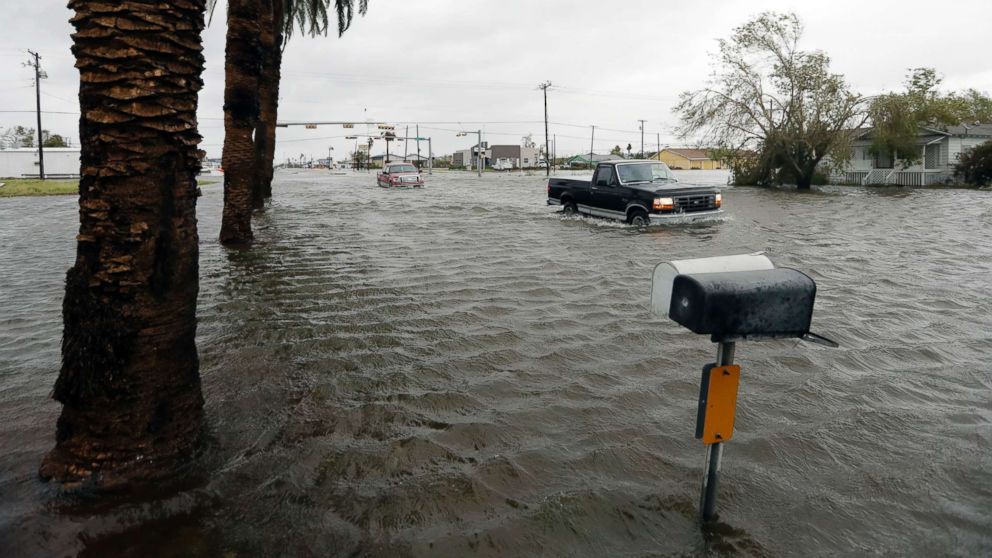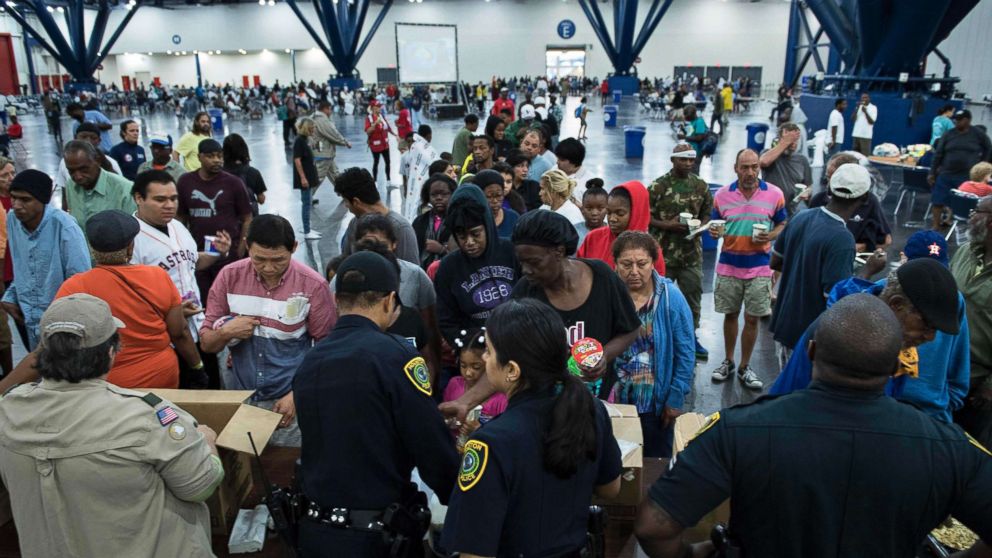 In addition to the professionals, amateur rescuers have snatched up people from submerged streets and flooded homes, using motorboats, kayaks and canoes.
"People were screaming out, 'Help, help, help!' And you know, 'We'll come back for you. We'll come back for you,'" Abe Minor, a UPS worker who volunteered to help, told "GMA." "One turned to two. Two turned to three. Three turned to four. Next thing you know, there's 20 different people you've rescued, along with their animals."
ABC News' Jessica Hopper, Karma Allen, Lindsey Jacobson, Emily Shapiro, Evan Simon and Lana Zak contributed to this report.
Take part in Disney's Day of Giving: To support people impacted by Hurricane Harvey, call 1-855-999-GIVE, donate at www.RedCross.org/ABC or text "HARVEY" to 90999 to make a $10 donation.